GIRLS
Saratoga and Ramsay Kavan dominate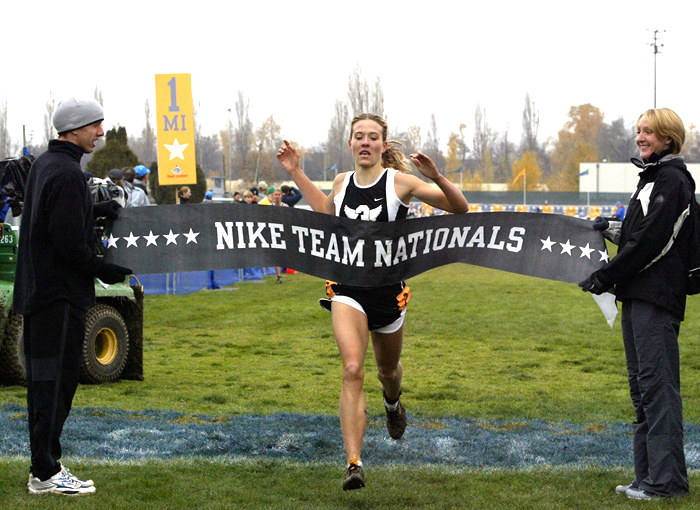 Yankton SD sr Ramsay Kavan talked to Heartland regional editor Tony Bozarth after the race:
What was your strategy coming into the race?
"Really just to run relaxed, to run my own race. I ran it for my team."
With all the talented runners here, were their any races that had prepared you for this field? "The Footlocker Races were very valuable. I had raced Nicole Blood and the others there, so I knew a little about how they raced"
You took the lead on the roller-coaster hills about a 1/2 mile into the race. Was that a planned move?
"No, it just sort of happened. I kept my pace over them, and just came off them in front. I knew the other girls would come after me. People kept yelling they were back there, but some were yelling 'She's 10 yards back', and someone else "She's 30 yards back', so I knew they were there, but I didn't know how far back."
You really powered away at the end: "That's part of the way we run. We're taught to run how we fill, and I felt really good."
When people see a runner of your caliber, that's sometimes all they see, the runner. What do you do for fun when your not running? "I'm pretty much like any other team age girl. I like to hang out with my friends, I like to snow-board and I like to ski."
You can ski in Yankton? "Well, no! We go to Colorado or Rapid City."
What's your favorite class? "Calculus, I really enjoy math and I have an awesome teacher!"
Any final thoughts on the race? "It was really the best way to finish up my senior season, and it makes me that much more excited for Foot Locker next week!
first stride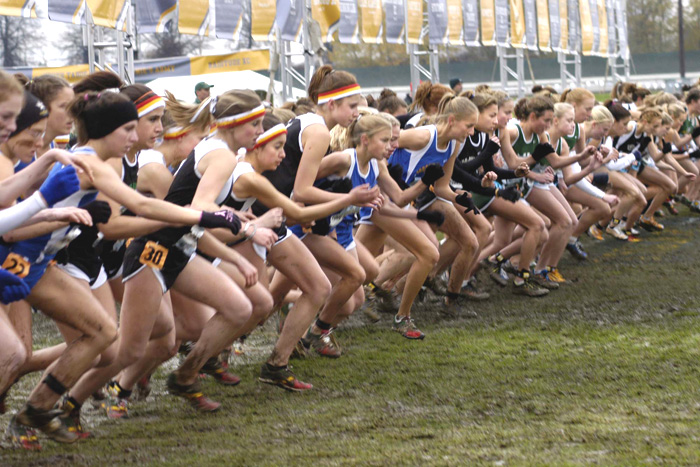 photo by Julian Aguirre
Results
Flash Results, Inc.                                        Hy-Tek's Meet Manager
                         Nike Team Nationals - 12/4/2004                         
                                  Portland, OR                                   
                              Last Completed Event        
							  
							  
							                                     Team Scores                                   
=================================================================================
Rank Team                      Total    1    2    3    4    5   *6   *7   *8   *9
=================================================================================
   1 Kinetic RC                   51    3    6    7   12   23   55   74          
      Total Time:  1:34:07.62                                                    
         Average:    18:49.53                                                    
   

2 Sisu XC                     125    4    5    8   49   59   87   99          
      Total Time:  1:36:14.62                                                    
         Average:    19:14.93                                                    
   3 3-D Running                 154    1   15   30   48   60   68   92          
      Total Time:  1:37:38.19                                                    
         Average:    19:31.64                                                    
   4 Hilltop Belles              211    2   24   43   45   97  127  130          
      Total Time:  1:39:10.39                                                    
         Average:    19:50.08                                                    
   5 Kamataie XC Club            221   18   37   40   61   65   89  125          
      Total Time:  1:40:20.72                                                    
         Average:    20:04.15                                                    
   6 Los Alamos XC               228   20   25   33   39  111  118  135          
      Total Time:  1:40:20.48                                                    
         Average:    20:04.10                                                    
   7 Kingwood XC                 232   19   36   38   56   83   85   90          
      Total Time:  1:40:34.12                                                    
         Average:    20:06.83                                                    
   8 Southlake XC                236   11   14   58   69   84  112  134          
      Total Time:  1:39:44.26                                                    
         Average:    19:56.86                                                    
   9 Roxbury XC                  245   16   29   34   62  104  107  114          
      Total Time:  1:40:26.32                                                    
         Average:    20:05.27                                                    
  10 Runwest                     248   17   22   51   64   94  124  126          
      Total Time:  1:40:29.98                                                    
         Average:    20:06.00                                                    
  11 Fountain Valley XC Club     250    9   42   47   52  100  106  136          
      Total Time:  1:40:31.65                                                    
         Average:    20:06.33                                                    
  12 Raditude XC Club            253   26   41   44   63   79   82  119          
      Total Time:  1:41:02.70                                                    
         Average:    20:12.54                                                    
  13 Bethlehem Youth XC Club     269   28   35   53   75   78  110  122          
      Total Time:  1:41:16.15                                                    
         Average:    20:15.23                                                    
  14 Four-Pointers XC            275   10   13   57   80  115  123  139          
      Total Time:  1:40:29.20                                                    
         Average:    20:05.84                                                    
  15 Team Ohio                   313   21   67   71   73   81   88  113          
      Total Time:  1:42:00.12                                                    
         Average:    20:24.03                                                    
  16 Crusader Harriers           351   27   54   70   95  105  121  132          
      Total Time:  1:42:41.98                                                    
         Average:    20:32.40                                                    
  17 SouthTahoe XC               365   46   50   77   91  101  129  137          
      Total Time:  1:43:03.28                                                    
         Average:    20:36.66                                                    
  18 The Edge XC Club            383   32   76   86   93   96   98  108          
      Total Time:  1:43:17.17                                                    
         Average:    20:39.44                                                    
  19 Alabama Runners XC          402   31   66   72  116  117  131  133          
      Total Time:  1:43:49.93                                                    
         Average:    20:45.99                                                    
  20 Harford Harriers            562  102  103  109  120  128  138  140          
      Total Time:  1:46:45.20                                                    
         Average:    21:21.04                    
		 
		 Event 1  Girls 5k Run CC
=======================================================================          
    Name                    Year Team                    Finals  Points          
=======================================================================          
  1 Ramsey Kavan                 3-D Running           18:05.37    1             
  2 Brianna Felnagle             Hilltop Belles        18:15.02    2             
  3 Nicole Blood                 Kinetic RC            18:20.72    3             
  4 Katelyn Kaltenbach           Sisu XC               18:24.41    4             
  5 Keara Sammons                Sisu XC               18:24.72    5             
  6 Hannah Davidson              Kinetic RC            18:34.66    6             
  7 Lindsey Ferguson             Kinetic RC            18:36.40    7             
  8 Morgan Schulz                Sisu XC               18:47.24    8             
  9 Crystal Reed                 Fount Val             18:52.72    9             
 10 Krista Eckert                Four-Pointers XC      18:54.29   10             
 11 Brooke Upshaw                Southlake XC          18:55.10   11             
 12 Caitlin Lane                 Kinetic RC            18:58.57   12             
 13 Allison Eckert               Four-Pointers XC      19:07.31   13             
 14 Miranda Walker               Southlake XC          19:07.70   14             
 15 Elizabeth Bies               3-D Running           19:08.51   15             
 16 Jennifer Ennis               Roxbury XC            19:11.49   16             
 17 Sarah Wickman                Runwest               19:13.18   17             
 18 Cassie Ricks                 Kamataie XC Club      19:20.44   18             
 19 Brenna Williamson            Kingwood XC           19:26.41   19             
 20 Kristen Hemphill             Los Alamos XC         19:30.96   20             
 21 Christy Titus                Team Ohio             19:32.64   21             
 22 Janet Dobyns                 Runwest               19:33.75   22             
 23 Karyn Delay                  Kinetic RC            19:37.27   23             
 24 Nicole Cochran               Hilltop Belles        19:40.10   24             
 25 Marisa Sandoval              Los Alamos XC         19:41.16   25             
 26 Lynne Fletcher               Raditude XC Club      19:41.98   26             
 27 Patricia Loughlin            Crusader Harriers     19:42.49   27             
 28 Roxanne Wegman               BethYouth             19:42.59   28             
 29 Alison Caruana               Roxbury XC            19:44.20   29             
 30 Amanda Kuchta                3-D Running           19:45.82   30             
 31 Caitlin Chitwood             Alabama Runners XC    19:49.36   31             
 32 Liana Boucher                The Edge XC Club      19:52.43   32             
 33 Anna Miller                  Los Alamos XC         19:53.31   33             
 34 Kristen Stevens              Roxbury XC            19:55.15   34             
 35 Kristin Kenney               BethYouth             19:56.07   35             
 36 Danielle Carin Selner        Kingwood XC           19:58.00   36             
 37 Alexis Meyer                 Kamataie XC Club      20:01.33   37             
 38 Megan Munoz                  Kingwood XC           20:01.40   38             
 39 Megan Stockton               Los Alamos XC         20:02.70   39             
 40 Katie Chugg                  Kamataie XC Club      20:02.84   40             
 41 Kaitlyn Sullivan             Raditude XC Club      20:04.28   41             
 42 Elizabeth Coe                Fount Val             20:06.03   42             
 43 Rita Troup                   Hilltop Belles        20:06.44   43             
 44 Kathleen Vance               Raditude XC Club      20:06.45   44             
 45 Megan Kelly                  Hilltop Belles        20:09.00   45             
 46 Kelsey Mc Clurg              SouthTahoe XC         20:11.29   46             
 47 Nicole Giove                 Fount Val             20:12.30   47             
 48 Tiffany Leader               3-D Running           20:12.52   48             
 49 Erin Stratton                Sisu XC               20:13.35   49             
 50 Kate Lambdin                 SouthTahoe XC         20:14.03   50             
 51 Claire Hall                  Runwest               20:15.16   51             
 52 Melinda Rackliffe            Fount Val             20:16.93   52             
 53 Emily Malinowski             BethYouth             20:17.17   53             
 54 Katie Sullivan               Crusader Harriers     20:18.63   54             
 55 Ashley Campbell              Kinetic RC            20:20.37   55             
 56 Elizabeth Alexander          Kingwood XC           20:22.37   56             
 57 Brittany Thune               Four-Pointers XC      20:22.53   57             
 58 Kirsten Brown                Southlake XC          20:23.17   58             
 59 Renee Mayer                  Sisu XC               20:24.90   59             
 60 Kristin Sternhagen           3-D Running           20:25.97   60             
 61 Jessie Chugg                 Kamataie XC Club      20:26.08   61             
 62 Ashley Cromartie             Roxbury XC            20:27.84   62             
 63 Miranda Houston              Raditude XC Club      20:28.36   63             
 64 Julia Frudden                Runwest               20:28.80   64             
 65 Heidi Krebs                  Kamataie XC Club      20:30.03   65             
 66 Hannah Thompson              Alabama Runners XC    20:30.45   66             
 67 Kylie Korsnack               Team Ohio             20:30.47   67             
 68 Jade Steinberg               3-D Running           20:30.83   68             
 69 Emily Denny                  Southlake XC          20:31.43   69             
 70 Samantha Sondag              Crusader Harriers     20:33.76   70             
 71 Shannon Titus                Team Ohio             20:34.39   71             
 72 Lacey Wright                 Alabama Runners XC    20:36.08   72             
 73 Barbara Powers               Team Ohio             20:38.00   73             
 74 Alysha Mc Elroy              Kinetic RC            20:38.51   74             
 75 Kristin Peck                 BethYouth             20:39.45   75             
 76 Jessica Walker               The Edge XC Club      20:40.10   76             
 77 Megan Hillyard               SouthTahoe XC         20:40.38   77             
 78 Claire Luke                  BethYouth             20:40.87   78             
 79 Heather Benton               Raditude XC Club      20:41.63   79             
 80 Caitlyn Crowley              Four-Pointers XC      20:43.20   80             
 81 Alyssa Glenn                 Team Ohio             20:44.62   81             
 82 Alix Kitka                   Raditude XC Club      20:44.92   82             
 83 Stefanie Hanselka            Kingwood XC           20:45.94   83             
 84 Christina Ferber             Southlake XC          20:46.86   84             
 85 Kristen Hanselka             Kingwood XC           20:47.64   85             
 86 Karen Camburn                The Edge XC Club      20:47.77   86             
 87 Lindsey Dezman               Sisu XC               20:48.39   87             
 88 Kelly May                    Team Ohio             20:51.34   88             
 89 Lindsey Slater               Kamataie XC Club      20:51.75   89             
 90 Lauren Bonds                 Kingwood XC           20:53.24   90             
 91 Jordan Dalton                SouthTahoe XC         20:53.74   91             
 92 Julie Selves                 3-D Running           20:53.87   92             
 93 Randi Alvarado               The Edge XC Club      20:57.09   93             
 94 Christine Skopec             Runwest               20:59.08   94             
 95 Anna Imperati                Crusader Harriers     20:59.11   95             
 96 Courtney Dixon               The Edge XC Club      20:59.78   96             
 97 Sarah Lorch                  Hilltop Belles        20:59.83   97             
 98 Celia Pourtau                The Edge XC Club      21:01.10   98             
 99 Michelle Wenino              Sisu XC               21:03.58   99             
100 Kirsten Lake                 Fount Val             21:03.67  100             
101 Kimberly Arroues             SouthTahoe XC         21:03.83  101             
102 Sara Bailey                  Harford Harriers      21:05.47  102             
103 Kelli Buck                   Harford Harriers      21:07.03  103             
104 Casey Campbell               Roxbury XC            21:07.64  104             
105 Kathryn Humm                 Crusader Harriers     21:07.99  105             
106 Kristen Simek                Fount Val             21:08.58  106             
107 Sarah Tencza                 Roxbury XC            21:09.25  107             
108 Danielle Calhoun             The Edge XC Club      21:10.24  108             
109 Megan Ravenscraft            Harford Harriers      21:10.27  109             
110 Megan Gallagher              BethYouth             21:11.79  110             
111 Lora Chastain                Los Alamos XC         21:12.35  111             
112 Brittney Duffy               Southlake XC          21:18.72  112             
113 Amanda Lane                  Team Ohio             21:19.41  113             
114 Lauren Penney                Roxbury XC            21:21.06  114             
115 Allison Duba                 Four-Pointers XC      21:21.87  115             
116 Emily Thompson               Alabama Runners XC    21:23.28  116             
117 Haley Hancock                Alabama Runners XC    21:30.76  117             
118 Maria Analisa Sandoval       Los Alamos XC         21:31.31  118             
119 Alexandra Sinclair           Raditude XC Club      21:33.48  119             
120 Allison Barnes               Harford Harriers      21:35.93  120             
121 Bailey Schutte               Crusader Harriers     21:38.04  121             
122 Taylor Jackson               BethYouth             21:38.74  122             
123 Cassie Swain                 Four-Pointers XC      21:39.03  123             
124 Elise Walz                   Runwest               21:40.21  124             
125 Katie Pluim                  Kamataie XC Club      21:40.96  125             
126 Maggee Mitchell              Runwest               21:41.63  126             
127 Emily Mosich                 Hilltop Belles        21:42.44  127             
128 Danielle Burcham             Harford Harriers      21:46.50  128             
129 Anna Lambdin                 SouthTahoe XC         21:49.15  129             
130 Alissa Vaughn                Hilltop Belles        21:50.59  130             
131 Lauren Williams              Alabama Runners XC    21:51.79  131             
132 Shannon Fraser               Crusader Harriers     21:55.11  132             
133 Courtney Brown               Alabama Runners XC    21:57.28  133             
134 Lauren Dickens               Southlake XC          22:02.09  134             
135 Margaret Wood                Los Alamos XC         22:02.23  135             
136 Kaylynn Gallo                Fount Val             22:04.44  136             
137 Laurel Morrow                SouthTahoe XC         22:09.77  137             
138 Lindsay Lippencott           Harford Harriers      22:24.72  138             
139 Amber Abbott                 Four-Pointers XC      22:44.94  139             
140 Leah Estremera               Harford Harriers      23:09.30  140