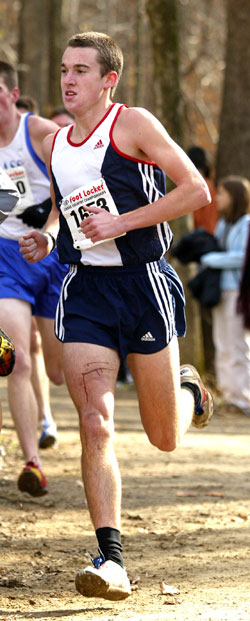 Sandy Roberts of Broughton HS, Raleigh, NC, (at right in the Foot Locker South regional Nov 27) was hoping to get a call from someone in Portland Saturday learning whether or not he had qualified for Foot Locker Nationals.
He did not expect to receive it from Bernard Lagat.
"I was blown away," Roberts said a few hours later. "He's one of the greatest runners of all time."
Indeed Lagat is, with the second-fastest 1500 meters (3:26 and change) of all time and multiple Olympic and World-Championship medalist. And while hanging with the kids at Portland Meadows he was slyly put up to the task of calling Roberts by the latter's former coach, Dan Lee, one of the do-everything volunteers for Nike Saturday. But more on that later.
In one sense the interaction had nothing to do with the exciting, new Nike Team Nationals event in the land of the Swoosh Saturday. In another sense, it had plenty to do with it, epitomizing the connection between this brand spanking-new team championship and the elder individual title race which is in its 26th year.
For many of the runners both here and waiting back home, the outcomes of the boys and girls NTN races would decide the final field of runners to toe the line in San Diego next Saturday, thanks to a deal worked out by the organizations of the two meets. It was determined because of NTN being on the same day as FL West, it was an undesirable scenario for a top runner on one of the western teams to feel like he/she had to choose between NTN and Foot Locker.
In the end, it was worked out that from the top finishers in each NTN race would be extracted the top two runners from each of the four FL regions to receive an invite to next week's event. That way, elites who chose to train through with their teams and skip the other three FL regions last week, would also have a chance to run NTN and still qualify. Kind of a best-of-both-worlds thing.
So where did Roberts come in? Well, another aspect of the agreement was that if a runner already qualified from one of the Nov. 27 region races happened to finish first or second among his region peers in Portland, then the 9th or 10th finishers from that FL region race the previous week would get elevated into a qualifying spot.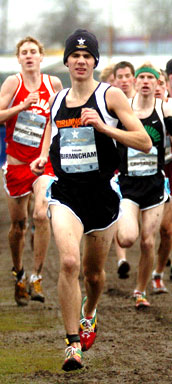 So it was that Roberts was a non-qualifying 9th in FL South at McAlpine in Charlotte and knew that Robert Bedsole (Hoover HS, Birmingham, AL), two spots ahead of him with a San Diego ticket, would also be at NTN with a good chance be that first or second South finisher -- giving Roberts his trip of a lifetime. "I've become a huge Robert Bedsole fan the past week," he laughed.
Well, Bedsole (left) came through for him, taking 8th at NTN, the first to cross the line from the states that make up the FL South region. Ben Schulz (The Woodlands, TX), who didn't run FL South, was 8th Saturday to get the 2nd FL Nationals spot. But all Roberts needed was Bedsole.
Lee knew what the score was, too, and in the midst of a thousandother things he was scrambling to do over the weekend, he had the chutzpah to pull out his cell phone and enlist a certain Mr. Lagat to make that congratulatory call. "Coach Lee is a crazy guy," said Roberts. "It's no surprise for him to do something crazy like that."
The only problem was that the Broughton HS junior was in the stands in Chapel Hill when the call came, cheering the University of North Carolina basketball team to victory over Kentucky. The roar of the crowd made it difficult to hear the call and Roberts thought it was a prank. So it was after he left the stands and called Lee back that he was really blown away.
Lagat, brought in for NTN along with Bob Kennedy, Alan Webb, Suzy Hamilton, and others as Olympic role models for the kids, didn't mind being part of the fun. "I'm happy for this kid," he said. "It made me think back on my days running in high school in Kenya. He was very excited. I told him 'congratulations.' He said, 'Thank you very much.' "
Roberts' story was one of many; a story for each region amidst the glory of this new team event. Even while immersed in the emotions of the excitement and competition at Portland Meadows, and either being thrilled or disappointed with their team and individual results, the FL possibilities were also in the backs of the minds of a big handful of elites.
West
Of course, four NTN runners from FL West region states qualified for San Diego, including NTN runner-up Brie Felnagle (WA) and 9th-place finisher Crystal Reed (CA) on the girls side, and runner-up Brandon Bethke (CA) and 3rd-place finisher (Robbie Barany (WA) on the boys.
Northeast
The top two runners to cross the line for NTN boys runner-up Fayetteville-Manslius, Thomas Gruenewald and Andrew McCann, got the San Diego berths for FL Northeast. But with Saratoga Springs' Nicole Blood and Hannah Davidson, two of the incredible four that the school qualified for FL Nationals last week, finishing 3rd and 6th to lead those states' runners for the girls, 9th and 10th FL NE placers Chantelle Dron and Brittany Sedberry got in.
Midwest
The situation was similar among those from Midwest states. Sean McNamara and Matt Dettman, 1st and 4th in the Kroy (York HS, Elmhurst, IL) boys championship effort, were rewarded with next week's trip. But since NTN champ Ramsey Kavan (Yankton, SD) and 4th-place Katelyn Kaltenbach made it the previous week, Michigan's Rebekah Smeltzer and Molly Waterhouse got moved up.
South
In the South, it was a split decision with both genders. Southlake XC (TX) teammates Brooke Upshaw (11th) and Miranda Walker (14th) were the top NTN finishers from that region, with the former having already made FL and the latter having not. So Upshaw lifted another Texas harrier, Carlene Mayfield, to a qualifier.
For the boys, well, you've already heard that story.
In each case, stories unfolded that spoke of the runners' commitments to their teams, as well as their drive for individual success -- the twin pillars of any successful harrier.
In more detail:
Northeast Boys
No FL Northeast regional qualifier was in Portland, so everyone knew the top two NTN guys would get in and the 9th and 10th guys from Van Cortland were out. A look at the NTN field made it apparent that the fastest finishers just might be whoever had the best day for Stotan XC (Fayetteville-Manlius HS, Manlius, NY), and so it was with Thomas Gruenewald and Andrew McCann.
But if ever there were a group of guys who were totally focused on the team concept, certainly very appropriate for this landmark event, it was the Stotans. Not only did they not know the order they would finish in among themselves, let alone the NTN field, but they had the huge motivation and task of trying to win the event, confirm their ranking, and beat the likes of Kroy XC (York HS, Elmhurst, IL).
Not quite being able to do that, despite a very good effort, left them a tad melancholy and getting to do the Foot Locker thing, too, well, it just wasn't truly sinking in yet.
Reflecting first on Saturday's race, McCann, who was 18th in 16:33, said, "We were in it the whole time. There were so many great teams here, I don't think you can really say it was an upset that we were second. It was a race to the end."
"It was disappointing that York beat us, but we're always aiming to run our best. It was a really great learning experience."
Said Gruenewald, 9th in 16:16: "The idea of running Foot Locker wasn't something we were really into until after we learned we had qualified. It's kind of sad to be running without the rest of the guys. But coach told us that we will be running for everyone and to go out and represent the team."
Northeast Girls
When the Saratoga Springs HS girls (Kinetic RC) decided to run both FL Northeast and NTN, it was pretty much a done deal that the No. 9 and 10 girls at Van Cortland were going to get to go to FL Nationals. The chances of anyone else at NTN from the northeast beating Nicole Blood (FL NE champ and 3rd in 18:20 here) and/or the rest of her teammates were slim. As it turned out, the gap between 6th-place finisher (2nd qualifier; 18:34) Hannah Davidson and the next runner who could have made it from the NE was 37 seconds.
So it was that Chantelle Dron, home-schooled and running for Lynx Elite, and New Jersey's Brittany Sedberry, will break the stranglehold New York had on the region's qualifiers. Along with the four Saratoga stars, four other Empire State standouts had earned the 8 spots Nov. 27.
As for Saratoga, they will nearly be able to score a full team with their record qualifiers to San Diego. With their quality so high, few of their runners will ever have to know the feeling of running individually, no matter what the type of competition.
"We're very pleased with how they ran today," said Saratoga/Kinetic Co-Coach Art Kranick after the 51-point effort and 74-point margin. "They feel more confident running in a group. Nicole and Lindsey (Ferguson) went last year, so they'll be able to help the younger two. Hannah just keeps coming up; her confidence is really building. Caitlyn also did a real good job."
Midwest Girls
With Kavan and the Smoky Hill gang in both Kenosha and Portland, the No. 9-10 girls from the Midwest regional might have seemed as good a bet to earn tickets as their Northeast counterparts. But the big storyline was whether another girl from the "Sisu" club (Smoky Hill) could join two of her teammates in extending the season another week.
That girl was Morgan Schulz, 11th last year at FL nationals, but an under-the-weather 33rd last week. There was a little buzz that her teammates might work to help her get 2nd, but there was too much at stake in the team race to risk that. Schulz ran much better this time, joining her teammates and the Kinetic stars in a pack that had the look of a Saratoga-Smoky Hill duel meet behind leader Kavan. But she eventually drifted back to 8th, where she held on gamely to the end.
"The girls ran great," said Coach Greg Weich, whose club was 2nd with 125 points. "First, I've got to hand it to Nike for letting us bring the kids and coach; to be with the team like any other meet.
"Katelyn has had two good rust-busters now and should keep improving for Foot Locker nationals," he continued. "And Keara -- I can't convince her yet she can be a top-8 runner. Morgan had a great race, too, and our 4th and 5th girls passed 10-12 people at the end."
Actually, Schulz wasn't the only one with a shot as Krista Eckert (Four-Pointers XC, Sioux Falls Roosevelt HS, SD) came back from a slightly disappointing run last week to supplant her twin sis as the team's No. 1 runner and got 10th. Her team was 14th, just ahead of its pre-meet ranking.
"I was hoping I had a chance to qualify again," she said. "I tried to get as many runners as I could. We really had a lot of fun here and it was a really fun course."
Meanwhile, with her second huge victory, Kavan made it ever more clear she's a true contender for the Gold in San Diego. She grabbed the lead in the first kilometer and despite the best efforts of a really stellar field, was never really challenged at all. Although there's several girls who could win on a given day, Marie Lawrence (NV) and Jenny Barringer (FL) are the only girls she's never beaten.
"I just ran the way I felt today," she said. "I went out conservative at first, then the momentum from the hills put me ahead."
It was a testament to Kavan's character that she wanted to give Nicole Blood a hand when she slipped briefly on the second hill on the first trip through. "I was going to stop and pick her up, but it went by so fast." Blood was able to regain her feet quickly on her own, it turned out.
So was this race an indicator of what she can do in San Diego? "I hope so," she said. "I'm just going to run the way I feel. I'm learning to have confidence."
Midwest Boys
In the thrilling celebration of victory in Portland Saturday, there was plenty to occupy the minds of the Dukes of York besides the next meet. While the theme of the total team effort was undoubtedly the overriding reason for the victory by "Kroy" Saturday, the dominating win of Sean McNamara and the outstanding effort of Matt Dettman certainly got them off to a killer start.
But even for them, FL Nationals was not forgotten. "I grabbed him after the race and said, "Sean, I'll be seeing you next week!" said Dettman.
McNamara was certainly one of the favorites to win Saturday, if not THE pick, but he also had a little bit of the unknown quality vibe going since the Dukes hadn't raced outside of Illinois. He trailed by 7 and 6 seconds at the first two kilo marks, though he had moved up to 2nd by the latter. But then the senior left little doubt by taking the lead in the next kilo and extending it to seven seconds in the 15:43 triumph.
"I was feeling my way around at first --- and I knew we would come back," said McNamara of both the early deficit he and his team faced in the first 2k. And regarding Foot Locker: "I was planning on it."
But just as emphatic was the commitment of Kroy/York to NTN as they skipped the close-to-home FL regionals (though they trained on the course that day). "This means more to me," he said. "It wasn't about me winning, it was about the team winning. That's what's stressed at York, the team concept. When you win as a team, you can share it with your teammates."
The story of the Dettmen twins efforts Saturday was at least as intriguing and heroic. With brother Eric having battled illness all week, Matt did what he had to do with a rare "solo" effort (the two almost always finish very close) and surpassed the expectations of many with a fantastic 4th-place run (16:08). Eric, for his part, held on gamely after starting to fall back, getting 29th in 16:43, still more than good enough to help ensure the win.
"We usually run together and I kept looking for him," said Matt of his bro. "The rest of us had to step it up. We wanted to bring the trophy home to Mr. Newton."
Even Mrs. Dettman, naturally proud of the effort of both sons, knew what had to be done during the week before to keep at least one twin healthy. "We had Matt and Eric sleep in different rooms."