NTN fun away from the course
Nike Team Nationals or NTN began on the Nike Campus in Beaverton Oregon
Taking Advantage of the Nike Campus....
Athletes ran and walked around.
Murietta Valley taking a break after working out.
WE ARE HERE AND READY FOR FUN AND RUN!
NTN was loaded with activites for the athletes including: games, films, shoe fittings, socializing, running on the Nike campus and a get acquainted one-minute skit that each team presented at an all teams gathering in the Stanford Hall in the Tiger Woods Building.
NTN IS A MEET TO DYE FOR.....

Roxbury NJ Gals
NTN Fun Before the Run
The NTN tag line: Every teammate counts!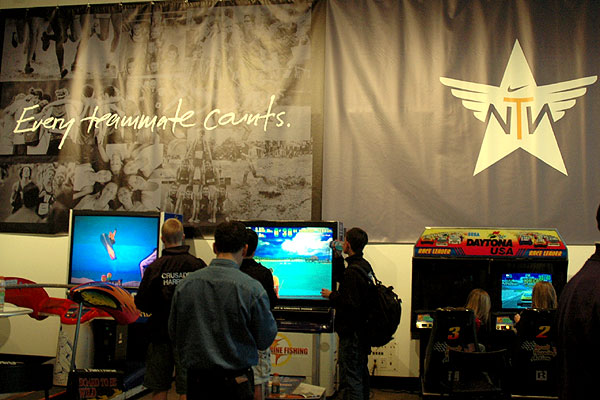 Texas Guys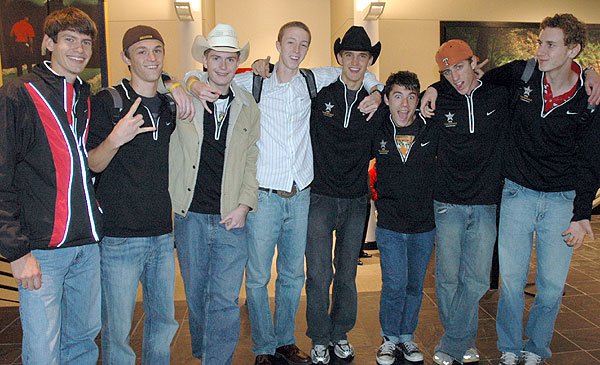 Jesuit Gals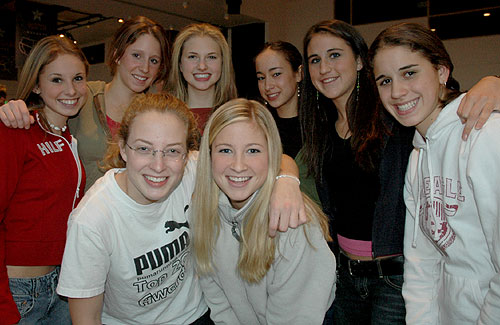 Jesuit OR--the hometown team.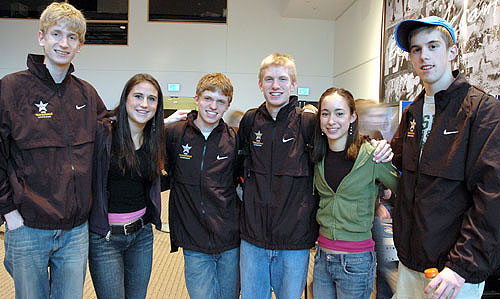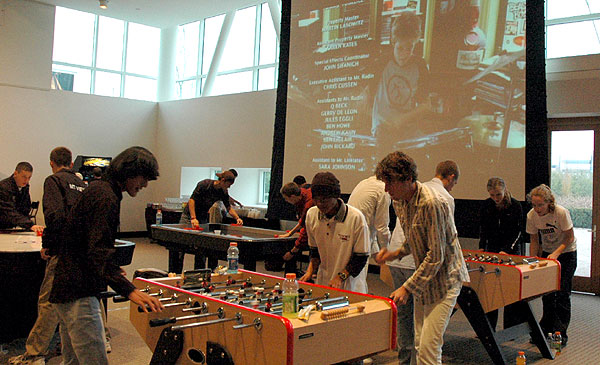 Checking out some new ideas in footwear.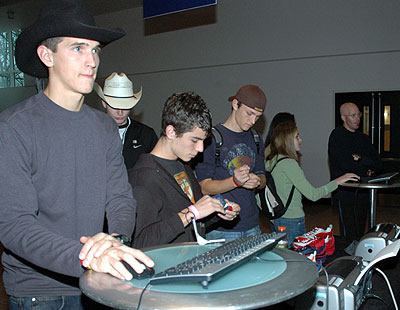 Shoes-Bags-Shoes-Bags
Athletes picking up bags and shoes.....good stuff!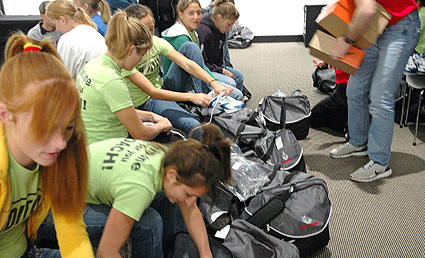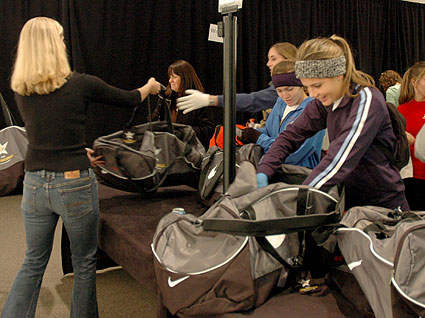 A.J. Holzherr, Joy Kamani of NSSF with Rich Gonzales of DyeStatCal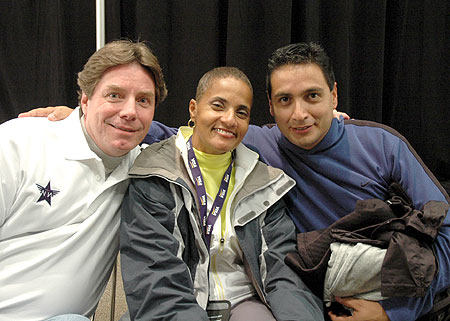 A BLAST FOR ALL!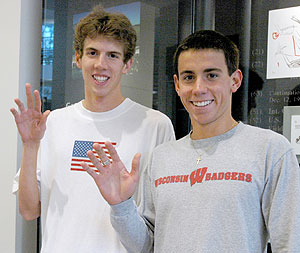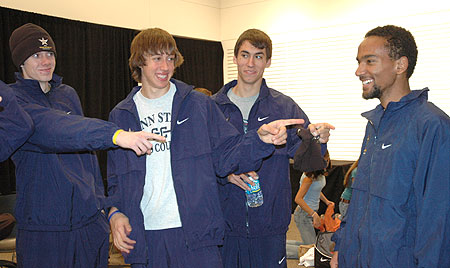 Harford Harriers from Maryland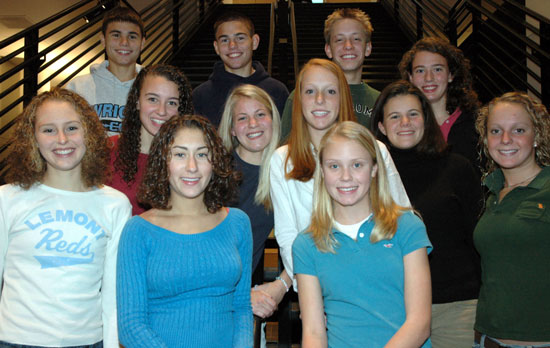 Mike Byrnes, NSSF, with the Murietta Valley CA ladies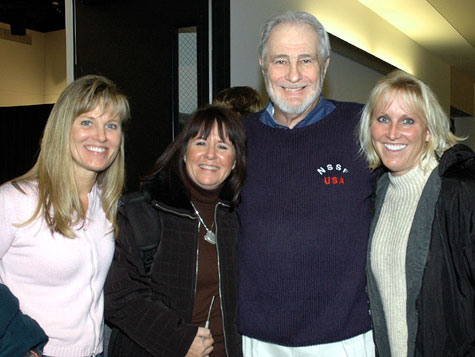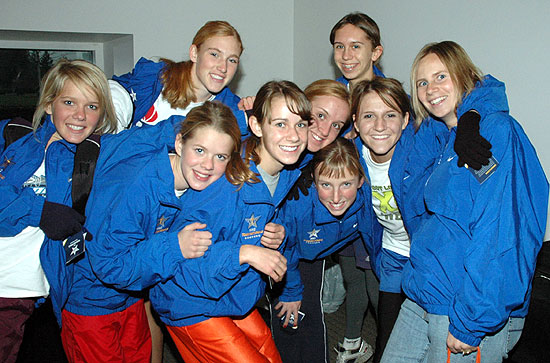 Alabama Gals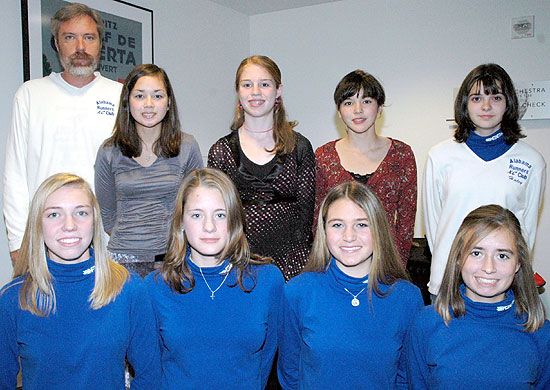 Kingwood TX Gals
Minnesota Guys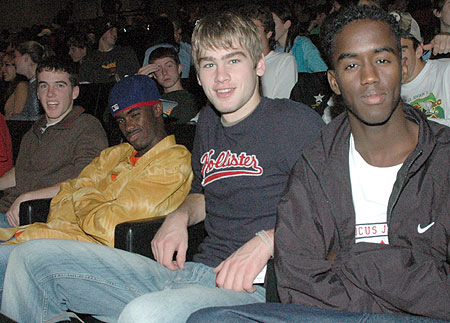 Elizabeth Alexander and Brenna Williamson from Kingwood TX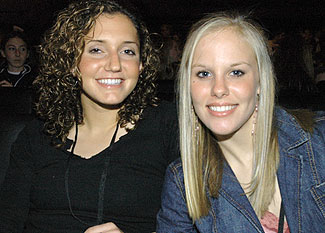 Parents had fun too!
Hardford Harriers MD
Minnesota Delegation
Getting Acquainted
Once the fun was done and the pasta dinner finished, teams put on one minute skits that told a story
about the team, home state, or a message to tell. The skits were judged by a distinguished crew of elite
athletes: Bob Kennedy, Bernard Lagat, Alan Webb and the "peoples rep" Ry Benevides, a Nike employee.
The best skit as judged by this illustrious group won dinner with elite atheletes. It was a tough gig. Skits judged
as poor or not worthy of stage time were "gonged." The audience was a tough crowd to please. In the end,
the Los Alamos girls won with a creative and well performed skit.
Skit Highlights
It's a tough crowd!

The Winner----Los Alamos New Mexico

The End
One of a Kind--Decorating the team buses
Each team was provided a plain white van for transportation to and from the Portland Meadows along with materials to decorate each van to their own liking. Here are the results.
Before

After

Getting it done.

Finished Products
Formal Awards Ceremony
Congratulations from Elite athletes:
Bob Kennedy, Suzy Favor Hamilton, Bernard Lagat, Alan Webb

Suzy Favor Hamilton and Ramsey Kavan, 3D running (Yankton SD), individual winner of the NTN.
Sean Mc Namara, Kroy IL (York, Elmhurst IL), winner of the individual NTN and Bernard Lagat.
Alan Webb and Brie Felangle
Can this be true? A kiss from Suzy Favor Hamilton!
Bob Kennedy and Laef Barnes Tyson's Army (Mead WA)
Katelyn Kaltenbach SISU (Smoky Hill CO) and Bernard Lagat.

Number 1 in High School Cross Country

Kinetic Running Club-Saratoga Springs, NY

Kroy--(York-Elmhurst IL)
The Anchor--Fifth Runner Award
An award for the valuable 5th runner--the golden anchor award goes to the winning team's fifth runner.
Golden Anchor goes to John Schroeder Kroy XC (second from left).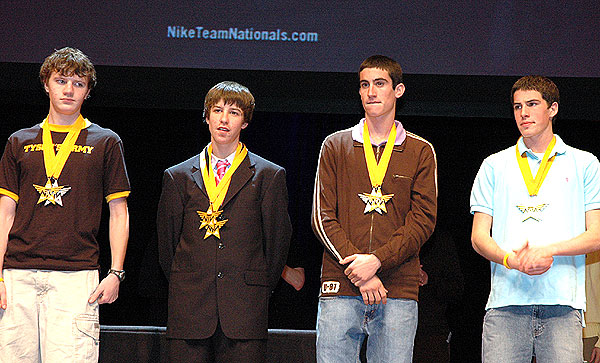 Golden Anchor goes to Karen Delay of Kinetic NY (second from right)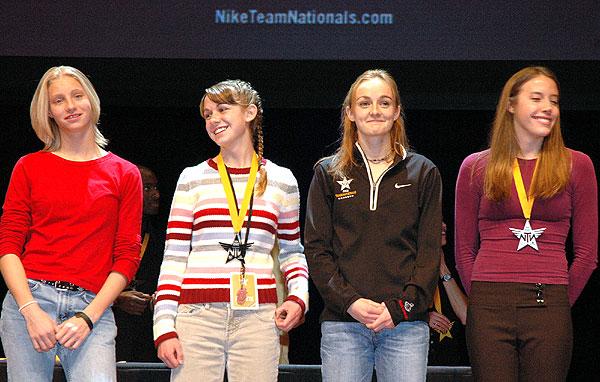 Thank You Nike's Josh Rowe
A.J. Holzherr of NSSF, the meet managers, presents an award to Josh Rowe for making the NTN dream come true.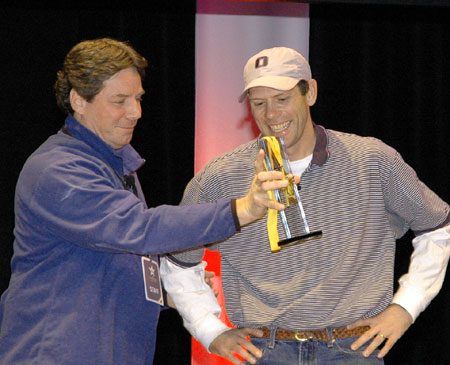 Josh clowns with and thanks his two right arms, Nike's Misty Payne and Kristen Wall