100/200 - a double for Tenille Wilson

left, 100m finish. below, 200m finish
400 - big win for Katrina Taylor 55.12
Jr Katrina Taylor, who spent most of her day anchoring Magnet Baton Rouge relays,
picked up an individual win with ease, with nearly 3 seconds over the runner-up..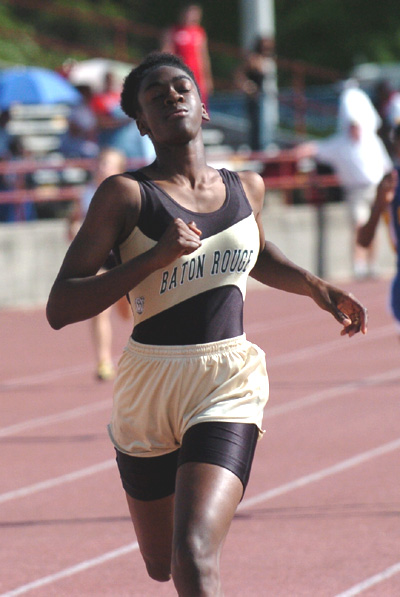 800 - Kirby Patterson 2:14.58
Daphne AL sr Kirby Patterson turned back a determined bid by Lindsay Day, St. Thomas 2:16.72 on the far turn to win this event for the second straight year, breaking her own meet record time. Day also bettered the old record.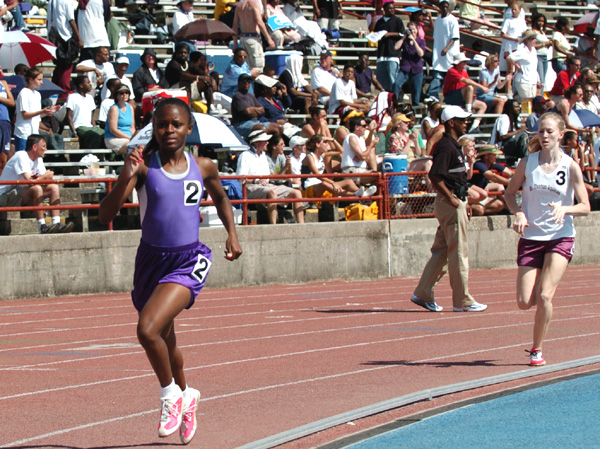 1600 - Laurel Pritchard 5:06.47 MR
Vestavia Hills AL soph Laurel Pritchard broke up a tight 3-way race in the last 200 meters. "The field was incredibly stiff, but I felt good on the last lap," Pritchard said. "I thought I had a little sprint in me." That "little sprint" carried Pritchard past front runner Terrica Hamilton 5:08.41 (Magnet Baton Rouge) and Aubrey Phillips 5:09.17 (Woodlawn Baton Rouge). All three runners beat the old meet record, and it was a one-second PR for Pritchard.