100 - Michael Cooley 10.84
Lanky sprinter from Blount Pritchard AL starts his MVP runner performance with win in 100. He followed up in short order with a second in both the 400 and 200.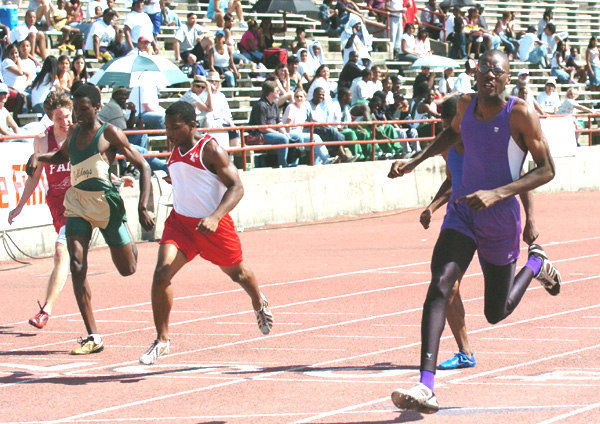 200 Wayne Points 22.20 +2.2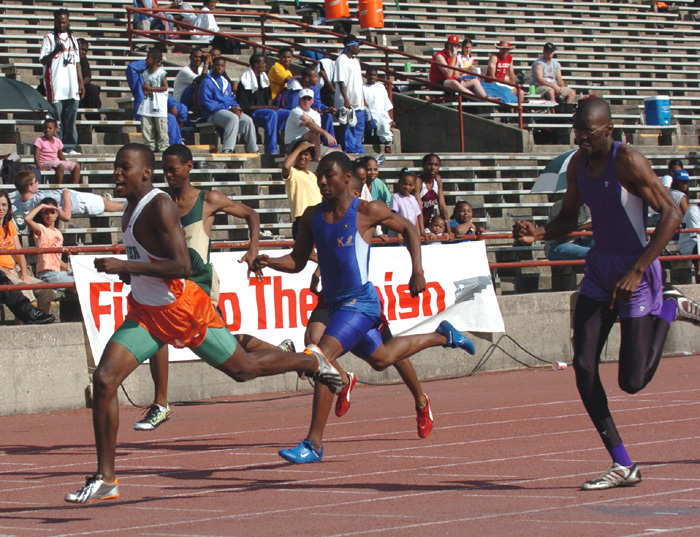 | | |
| --- | --- |
| St. Augustine New Orleans jr Shyron Champagne won the 400 and followed up with a come from behind anchor for St. Aug's winning 4x400 relay (below). | |
800 Trevor Middleton 1:59.45
A routine race became a desparate charge to the finish,
with Middleton and Brandon Dixon 1:59.67 passing front runner Kendall Raines 2:00.37.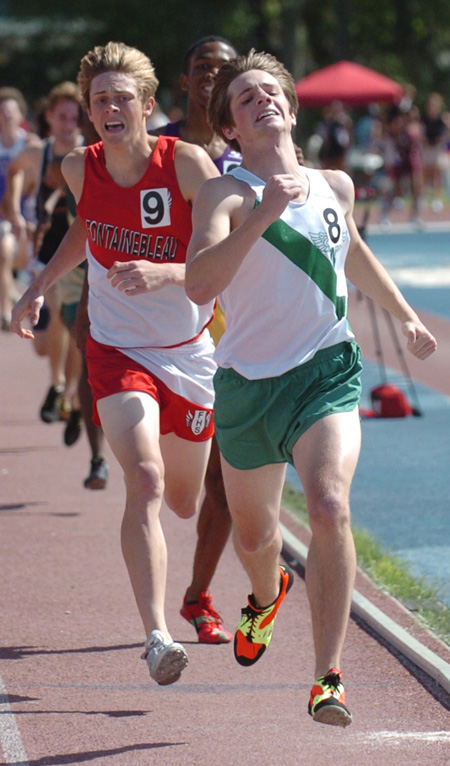 1600 - John Brigham repeats in meet record 4:18.47
St. Paul's Episcopal Mobile AL sr John Brigham had the last surge in a see saw battle with Montgomery Academy AL sr Wallace Campbell 4:20.24. After Homewood AL jr Josh Pawlik, who would finish third in 4:22.71, led through one lap, Brigham took lead through 800 meters in 2:09. Campbell moved in front on lap 3, only to be caught by Brigham on the first turn of the last lap.

Brigham (2) made his move on Campbell at the bell.


the finish

3200 Brett Guidry, Jesuit 9:33.63
Kyle Lewis, St. Stanislaus MS, appeared to have won when he passed the front running Guidry on the last lap, but Guidry rebounded down the stretch (below) to win by 0.14 second.
110H - Ryan Fontenot with ease
Although not approaching his sizzling prelim time of 14.11, Ryan Fontenot, of Magnet Baton Rouge LA, was a dominating winner.
High Jump

- Meet record 6-8.75 for Ruston LA soph Nathan Burks
Burks jumps a foot over his head with one of the shortest approaches ever seen. Burks said his steps were off with a normal approach, so he moved up to where you would normally turn toward the pit. The change netted Burks the MVP award for boys field events.

Burks applauds the record.
Relays - St. Augustine triples: 42.81, 1:27.90, and 3:20.35.