photo albums by the PhotoRun crew of Vic Sailer, the Olympian T&F photographer
Where did they go to high school? - Jim Spier answers that question for Team USA. Thirteen states are represented by three or more athletes, headed by -- surprise! -- California with 20 and Texas with 11. Three high schools can claim two grads at Athens: SW Dekalb, Decatur GA (Terrence Trammell and Angelo Taylor), J.W. North Riverside CA (Chaunte Howard and Joanna Hayes) and St. Thomas Aquinas, Fort Lauderdale FL (Sanya Richards and Seilala Sue). Westbury HS in Houston TX has two hurdlers in the Olympics -- Bennie Brazell on the US team and Bayano Kamani on the Panama team. Kamani has tri-citizenship in Barbados, Panama, and USA.
caribtrack.com - Jack Pfeifer of the New York Armory is in Athens with his sons Zeke and Ira and will tell us what they see, including the exploits of former HS stars of the Armory's big indoor track scene.
Walt Murphy - Walt Murphy of New York City, one of the leading T&F statisticians in the world and the publisher of Eastern Track and XC Express, is in Athens (his 9th Olympics) in his usual role of supporting the television broadcasts. He writes from Athens when he has time.
W-HJ final - Amy Acuff 6-6.25 is fourth in greatest women's high jump competition ever. Russia's Yelena Slesarenko 6-9 wins gold, and Hestrie Cloete of South Africa and Viktoriya Styopina of Ukraine clear 6-7.5.
W-1500 final - 800m winner Kelly Holmes, of Great Britain, wins in 3:57.90 as USA is shut out of final.
M-Jav final - Breaux Greer 74.36 (243-11.5) is last as Norway's Andreas Thorkildsen 86.50 wins gold.
M-5000 final - Hicham El Guerrouj 13:14.39 outkicks 5000m winner Kenenisa Bekele 13:14.59 as Tim Broe 13:33.06 is 11th.
M-4x100 final - USA 38.08 (Shawn Crawford, Justin Gatlin, Coby Miller, and Maurice Greene) can't overcome poor handoffs and loses to Great Britain by 0.01.
W-4x400 final - USA 3:19.01 (DeeDee Trotter 49.19, Monique Henderson 50.28, Sanya Richards 49.81 and Monique Hennagan 49.73) wins easily
M-4x400 final - USA 2:55.91 (Otis Harris, Derrick Brew, Jeremy Wariner, and Darold Williamson) blows away field by more then 4 seconds, with Baylor supplying the third and fourth legs.
M-PV final - US is 1-2, same as Sydney, with Tim Mack 19-6.25 Olympic Record and Toby Stevenson 19-4.25. Derek Miles 18-10.25 was seventh.
W-LJ final - USA has Marion Jones 22-5.5 misses medal in fifth. Grace Upshaw 21-9.25 is 10th.
M-4x100 round 1 - USA 38.02 (Shawn Crawford, Darvis Patton, Coby Miller, Maurice Greene) wins heat.
W-4x400 round 1 - USA 3:23.79 (Crystal Cox, Moushami Robinson, Monique Henderson, Sanya Richards) wins heat.
M-4x400 round 1 (9 pm) - USA 2:59.30 (Kelly Willie, Derrick Brew, Andrew Rock, Darold Williamson) wins heat.
W-10k final (9:50 pm) - USA has Elva Dryer 32:18.16 is 19th and Kate O'Neill 32:24.04 is 21st.
W-4x100 final (10:45 pm) - USA (Angela Williams, Marion Jones, Lauryn Williams and Latasha Colander) does not finish after Jones to Lauryn Williams handoff extends out of the zone.
W-200 final - Allyson Felix wins silver. Felix, 18 years old and just one year out of Los Angeles Baptist high school, ran 22.18 for second behind Jamaica's Veronica Campbell 22.05 +0.8. Felix claimed the world junior record that was denied her when she ran 22.11 in Mexico City last year but there was no drug testing.
M-200m semi - Team USA sweeps into finals with three best times: Shawn Crawford 20.05 -0.1 and Bernard Williams 20.18 are 1-2 in heat 1, and 100m gold medal winner Justin Gatlin 20.35 +0.2 edges Francis Obekwelu POR 20.36 and Stephane Buckland MRI 20.37 in heat 2.
W-400H final - Sheena Johnson (Gar-Field VA high school 2000) was fourth in 53.83, missing a medal by 0.39. USA's Brenda Taylor 54.97 was 7th.
M-PV round 1 - US team of Tim Mack, Toby Stevenson and Derek Miles all advance to finals with automatic qualifier of 5.70 (18-8.25).
M-5000 prelim - - Tim Broe USA 13:20.29 was sixth in his heat behind Ali Saidi Siefr of Algeria 13:18.94 to advance to finals on time. 10k champion Kenenisa Bekele of Ethiopia 13:21.16 won the other heat.
M-800 round 1 - Jonathan Johnson (Abilene TX 2001 - 2000 champ of Golden West and FLO Raleigh) 1:45.31 is second in his heat and advances to the semis.
W-LJ qual - Marion Jones 6.70 -0.4 (21-11.75) and Grace Upshaw 6.68 made the finals for Team USA. Jones was fifth best of the day behind three Russians and heptathlon gold medal winner Carolina Kluft 6.73.
M-110H round 2 - World and Olympic record holder Allen Johnson DNF, ending his quest to avenge his loss at Sydney. Duane Ross 13.50, fourth in his heat, and Terrence Trammell 13.34 +0.8, third in his heat, gave USA two spots in the semifinals.
Aug 24
Felix in 200m final - Westbury TX high school puts two in 400H final - USA men sweep three 200m heats - Joanna Hayes wins 100H - Pappas out of decathlon, but Clay rises to silver - Sanya 6th in 400m final.
W-200 semi - Allyson Felix, who has the three fastest high school times ever, breezed into the finals with her third straight preliminary win in 22.36. Felix turned pro right out of Los Angeles Baptist high school last year. LSU star Muna Lee, 2000 Missouri HS sprint champ and 100m national champ at Raleigh, ran 22.69 for fourth behind Felix and also made the finals. Lashauntea Moore, the 2001 Ohio sprint champ and Golden West 100m champ, was sixth in her heat in 22.93 and missed the final.
M-400H semi - Westbury Houston TX high school can claim two of the eight finalists. Bennie Brazell, 2001 Texas 5A 300H champ, was second in heat 2 in 48.19. Running for Panama, dual citizen Bayano Kamani was second in his heat in 48.23. James Carter, whose Baltimore MD high school (Mervo Tech) had no track, won Kamani's heat in 48.18 and hopes to move up from a silver medal in Sydney. Fastest into the finals was world champion Felix Sanchez 47.93. .
M-200 quarterfinals - Team USA won all three of its heats -- US champion Shawn Crawford 19.95, 100m gold Justin Gatlin 20.03, and former Carver Baltimore MD star Bernard Williams 20.40. Running for Antigua, US high school 200m indoor record holder Bernard Christian 20.63 was 7th in Gatlin's heat and failed to advance.
W-100H final - USA's Joanna Hayes stepped into the gap left by Gail Devers' injury to take gold in 12.37, world #8 all time, as favorite Perdita Felicien of Canada crashed into the first hurdle and did not finish.
Decathlon - US champ Brian Clay, who starred at Punahou Honolulu HI high school, stepped up when 2003 world champion Tom Pappas, returning to the land of his grandparents, had to withdraw after injuring his foot in the pole vault. Clay rose all the way to the silver medal with 8,820 points, not far behind the winner, world record holder Roman Sebrle of Czechoslovakia.
W-400 final - Sanya Richards 50.19 finished sixth, with Tonique Williams-Darling of the Bahamas 49.41 dethroning Ana Guevara of Mexico 49.56. Richards, multiple Florida state champ at St. Thomas Aquinas high school, set the US high school record of 50.69 winning the Junior Nationals in 2002, and she also was a double national sprint champion at AOC Raleigh the same year (11.39 and 23.03).
Usain (Thunder)
Bolt
out of 200m

Jamaican 18-year-old Usain Bolt (left), who was the youngest winner of the World Juniors in Jamaica 2 years ago and was second fastest in the world this year (19.93) finished fifth in his 1st round heat in 21.05 and did not advance. Bolt was injured last month and apparently had not fully recovered. The US team of Justin Gatlin, Shawn Crawford and Bernard Williams all qualified for the second round.

photo by PhotoRun
Aug 23
Jeremy Wariner leads 1-2-3 US sweep in 400m
ATHENS 8/23/04 -- Just 2 years away from high school heroics on DyeStat, Jeremy Wariner won the Olympic Games 400 meters in 44.0, eighth best world time ever. Otis Harris 44.16 and Derrick Brew 44.42 complete the USA sweep. In 2002, Wariner doubled in the Texas 5A high school state meet (200/400 in 20.48w and 46.52). He ran 45.85 in the Golden West, but was second to Kelly Willie. He was fourth in the US Junior Nationals in 46.10. Harris, of Hinds MS high school, was the 2000 champion at Mobile Meet of Champions (47.41), Golden West (46.70) and FLO Raleigh (46.66). -- photo by PhotoRun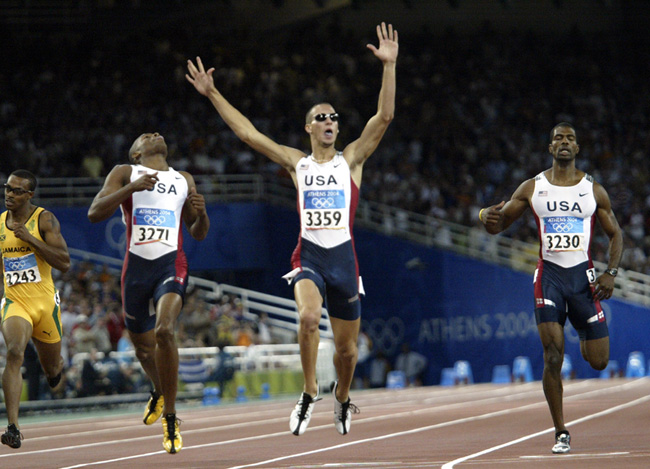 Lauryn Williams - "just run for your life"
That was the former Detroit and Pittsburgh high school star's formula for winning silver in the 100 meters in 10.96, just caught at the wire by Yuliya Nesterenko BLR 10.93. As NBC's Tom Hammonds was putting her achievement in context, the bubbly Williams added, "and I'm just 20 years old -- don't forget that." She was the youngest women's 100m medalist in many Olympics, and she is already thinking of Beijing 2008. "I want revenge. I want that gold medal. I've heard it's only gold plated so maybe my silver is worth more. But I really want that gold medal around my neck." Three years ago she was winning silver at AOC Raleigh in 11.65 for Rochester Pittsburgh PA high school. Early that year she doubled 100/200 at the Don Mitchell Roosevelt Memorial in Dayton and the Pennsylvania State Meet. In 2000, running from Detroit where her mother lives, Williams was 4th in the 100m at Raleigh (11.70) and won the USATF Junior Olympics young women's title.
Lauryn Williams


Sanya Richards wins her preliminary heat of 400m in 50.11. She set the US high school record of 50.69 in 2002 while running for St. Thomas Aquinas high school in Florida.


Lashinda Demus is second in her preliminary heat of 400H in 54.66. She set the US high school 300H record of 39.98 in 2001 for Wilson Long Beach CA high school. She is the only US prep ever under 40 seconds in that event.

| | |
| --- | --- |
| Jeremy Wariner | Lauryn Williams |
Opening ceremonies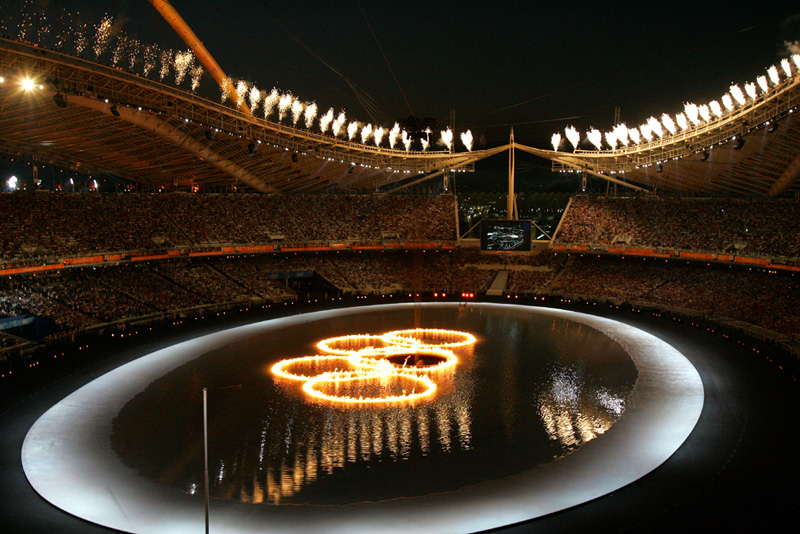 LINKS - Click on these links and add them to your Favorites list.
NBC - the network is going all out with seven television channels and up to the minute web site
TV - NBC has hourly viewing schedule on all seven channels, with printable versions and you pick your day and sport. I'll take T&F and basketball (or is it the other way around; I grew up in Indiana) and keep my TiVo boxes armed and ready.
USATF - news of Team USA
IAAF - great coverage by the international T&F governing body
Athens 2004 - the official web site of the games - your choice of English, Greek or French.
BBC - The British network has a terrific web site and will have live audio from Athens.