Boys MVP

Lashawn Merritt
100/200 double

Girls MVP

Laura Cummings
Won 3200 and led Bay Shore to relay double
Event Summary
Boys - Girls - Complete Results - Action Photos: Boys - Girls - 3200 - DMR
Boys
Winner

Comment

Lashawn Merritt VA 10.74 -0.9

Merritt overcame a slow start to catch Jamesville Dewitt NY sr Jordan Lester 10.92, with Thomas Dale VA jr Dennis Boone third in 10.94.

Lazshawn Merritt VA 21.02 -3.3

Merritt completed a sprint double, with felldow Virginian Dennis Boone second in 21.93.

Durano Griffith NY 48.37

Griffith was clearly the best. Next were Todd Lorett 49.36, Lendel McClean 49.37, and Andre Easton 49.91.

Kevin Dacres NY 1:55.98
Kevin Tschirhart NY 4:16.27

Tschirhart launched a long kick in the stretch of lap 3 and won easily. Falmouth ME sr Brandon Bonsey, led Tschirhart through 2 laps in 2:11. On lap 3, Jim Butcher NY surged to the lead, but Tschirhart covered the move quickly. 2. Andrew Levy 4:17.44, 3. Geary Gubbins 4:18.91, 4. Bonsey 4:18.98, and 5. Paul Ahern 4:19.86.

Jon Anderson NJ 9:14.61

Cinnaminson NJ sr Jon Anderson broke away from Woodford County KY sr Zachary Wilder and O'Neill NY sr David Weart at the bell.

3k
Steeple

Bryce Wilk, Millbrook 9:37.61
Saidu Ezike NY 14.61 -2.0

Ezike outleaned Westhampton sr Randy Nixon 14.64.

Patrick Gazzini NY 54.80
Amityville NY 43.70

Amityville in lane 1 nipped Stamford by a hundredth of a second.

Mt. St. Michael 3:23.43
Northport NY 8:01.70

Northport fought off Curtis with Kevin Tschirhart's 1:57 anchor preserving the victory.

Westfield VA 10:14.52

Senior David Groff put Virginia squad on top with a sharp 3:02 opening leg and they never trailed.

Chris Taussig, Horace Mann 6-2
Arie Dixon NY 22-3 +0.8
Arie Dixon NY 45-5.25 +1.1
Daniel Brennan VA 14-6
John Hickey NY 58-11.75
Kyle Morse 169-10
Joe George NJ 180-2

Walk

Penta

Freddie Wills NH 3158
Girls
Winner

Comment

Natasha Hastings NY 11.90 -0.5

Hastings was on top from beginning to end over Jessica Retelny 12.26, Latoya Shippy 12.31 and Lynne Layne 12.35.

Natasha Hastings NY 24.18 +0.3

Hastings completing a sprint double, with Latoya Shipppy second in 24.76.

Nicole Leach PA 54.75

Leach shook off a bid by Dominique Blake 55.96 on the turn and cruised home . Natasha Emmanuel was third in 56.24.

Latavia Thomas PA 2:13.03

Thomas held off a determined bid in the stretch by Bronxville sr Liz Bergold 2:13.60.

Sarah Bowman VA 4:52.40

Bowman duplicated her front running Penn Relays victory, leading all the way through splits of 1:07, 2:22, and 3:40. Bay Shore's Mary Liz McCurdy 4:55.72 gained ground on the last lap but never seriously threatened. Next were Allison Kieffer 5:03.75, Aalexandra Brown 5:04.15, and Leah Ryan 5:05.33.

Laura Cummings NY 10:35.16

Bay Shore NY jr Laura Cummings caught Old Town ME soph Cassie Hintz 10:36.54 on the last turn.

2k
Steeple

Kara McKenna NY 6:54.36
Danette Wright NY 14.77 -2.6
Selena Sappleton NY 1:02.09
A.P. Randolph NY 48.63

With Natasha Hastings anchoring, Randolph beat the host team, White Plains 48.96.

Dewitt Clinton NY 3:54.66
Bay Shore NY 9:14.20

Bay Shore NY added to their Thursday night DMR victory. Splits: Laura Cummings 2:14, Ryann Hoffman 2:25, Sarah McCurdy 2:19, and Mary Liz McCurdy 2:16.

Bay Shore NY 11:42.49

US#4 all time, US#1 2004. Young Bay Shore team, which has run second to the indoor and outdoor national records in the past year, got a PR here.

Lauren Biscardi NY 5-8

Fourth major title this year (NSIC, NIC, Penn Relays)

Dionne Griffiths NY 17-5.75 -3.2

Kirsten Fields NY 38:2.25

Liz Anderson NY 10-3
Felicia Yearwood NY 40-8
Felicia Yearwood NY 120-11
Amanda Choquett MA 112-9

Walk

Kate Cannon NY 8:01.52

Penta

Angelica Reed NY 3265
New this year - Thursday night DMR
One of the top quality meets in the East every year, the Loucks Games is not resting on its laurels. They are starting the meet one day early and running distance medley relays for the first time. Boys will run at 5:30 pm Thursday, and girls will run at 6:15 pm.
White Plains has famous alums

- Three athletic alums of White Plains High School, site of the Loucks Games, are Craig Masback, CEO of USA Track and Field, winner of the Loucks 880 in 1973 and a career best of 3:52.02 in the mile; Larry James, silver medalist in the 1968 Olympic 400m and a member of the National Track and Field Hall of Fame (he couldn't win Loucks because the meet wasn't established yet when he came through high school); and Art Monk, double hurdles champion at Loucks in 1976 before he became one of the greatest pass receivers ever for the Washington Redskins.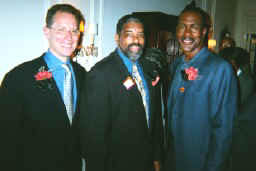 Prior Years
2003 - Freshman Andria Smallwood 2:10.22, Bronxville girls 8:57.90, sprint double for Canadian Hank Palmer,
2002 - Juanita Broaddus, Greg Simonds are voted most outstanding.
2001 - Stacy Ann Livingston, Travis Von Staden win Most Outstanding awards.
2000 - Shenae Dawkins gets Loucks' first triple ever
1999 - Lance Bennett, Jetoya Moore star.