| Results | Highlights | Photo Album | Preview | Entries | Schedule | the meet's own web site |

Saratoga NY girls move up to 4th all time in DMR -
Andrew Jesien MD and Nicole Blood NY win miles -
Kevin Tschirhart NY and Laura Cummings NY win 3000m

Maryland's Andrew Jesien (749) and Gavin Coombs CT hit the finish line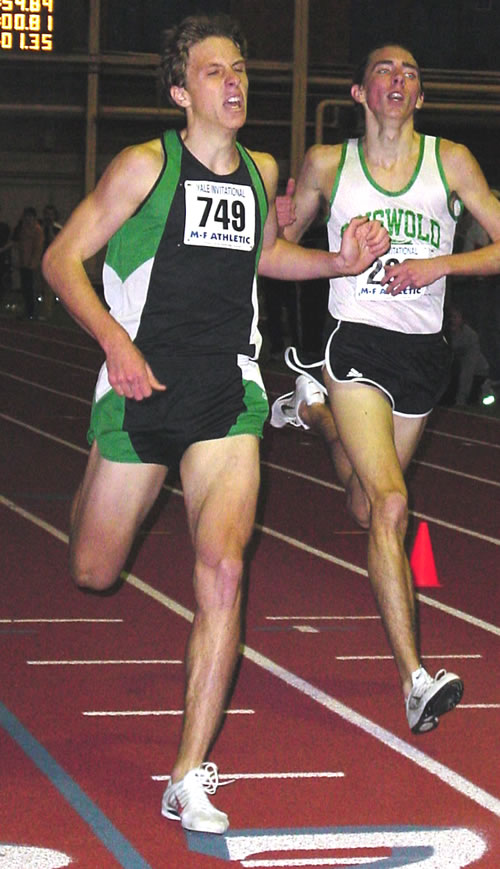 photo by Mike Boucher

The girls of Saratoga NY moved up one notch to fourth on the all time lists in the Yale DMR, winning by 21 seconds over a good Bay Shore NY squad, 11:49.99 to 12:11.92. Saratoga's young squad is now only a split second behind the three teams ahead of them in Jack Shepard's HIGH SCHOOL TRACK annual -- 11:49.34 by Red Bank NJ in 2002, 11:49.61 by Bronxville NY in 2002, and 11:49.68 by Mountain View UT in 2003.
Saratoga Springs distance aces continue full-throttle excellence
by Rich Gonzalez on DyeStatCal
-- Was Saratoga Springs going for the national record?
"Our philosophy is, every time we step on the track we're going for the record," said Saratoga Springs coach Linda Kranick. "We're ready for the record right now."
They got one -- albeit a school record.
The Saratoga Springs crew toiled with rewriting the history books yet again on Friday night, with sophomore All-American Nicole Blood's anchor-leg tote of 4:51.8 on the 1600-meter segment bringing the quartet home in a 11:49.99, leaving just 0.66 seconds -- barely enough time to clap one's hands a single time -- between them and undisputed ownership of the 11:49.34 national record by Red Bank Regional of New Jersey in 2002.
The biggest nemesis on Friday was not the clock, but rather the setting. Competing on a flat/slow track and not challenged by rivals during the final stages, conditions were less than ideal for a record attempt. Even so, Lindsey Ferguson's 3:37.8 opening-leg carry, frosh Alysha McElroy's 1:02.9 for the 400, and Ruby Solomon's high-2:17.5 split for the 800 put the group into contention, with Blood then barreling down the final straight just short of the record.
"Given everything, this was good for us," Kranick added. "Our freshman (McElroy) is new to all this and she will come along fine. Everyone is doing their part, which is what relays are about. We've got other good chances for the records including the (Nike Indoor Classic in) Maryland. That's a great meet for us."
With three team members now under 5:00 for the full mile, both the 4xmile and distance medley relay records apper to be in serious trouble.
Coach Kranick also reported that 10 Saratoga Springs girls have already dipped under 11 minutes for 3,000 meters this winter, a sensational show of depth, even by the program's annual lofty standards. Blood also clocked 4:54.33 in the mile on Saturday, when the school also captured the 4x800 victory in 9:21.00.
Highlights
Saratoga doubles with a 9:21.00 4x800, and their Nicole Blood wins mile by 11 seconds in 4:54.33 US#3. Andrew Jesien MD 4:22.02 catches Gavin Coombs CT 4:22.19 in mile. With 500 meters to go, a girl crossed the track in front of Coombs and Jesien, causing Jesien to stop and fall back several meters. Calhoun sisters double in sprints.National leaders Felipe Reyes 23-8.5 and Lauren Biscardi 5-8 win their specialties. Kevin Tschirhart NY 8:35.79 3000m (Ahmed Haji 8:41.42), two best times in US this season. Laura Cummings NY 9:54.62 3000m US#3.
Boys - Northport NY jr Kevin Tschirhart 8:35.79 3000m over Conard CT sr Ahmed Haji 8:41.42, the two best times in the US this season, with seven more runners under 9 minutes. Northport NY sr Terry Ross 7.56p 55H. Wilbur Cross' Claude Greene 6-8 HJ. Shenendehowa's pole vault duo, Nick Jones and Jared O'Connor are 1-2, both at 15 feet. US Christian Brothers NY sr Felipe Reyes wins LJ in 23-8.5, less than his US leading 24-5. LaSalle sr Brian Holland 56-4.5 SP. Shenendehowa NY 10:36.26 DMR. Uniondale NY 1:32.17 4x200.
Girls - Saratoga NY 11:49.99 DMR US#4 all time. Saratoga soph Nicole Blood is an easy winner in the mile in 4:54.33 over Samantha Gawrych 5:05.42, with four more girls under 5:15. Wilbur Cross' Calhoun sisters get a sprint double 1-2, with Shantia winning the 55m (7.23) and Shanea winning the 300m (41.12). Fair Haven Union VT sr Mary Heitkamp 2:16.74 800m. Bay Shore NY jr Laura Cummings 9:54.62 3000m US#3, with 11 more girls under the DyeStat Elite cutoff of 10:35, including four Saratoga girls. Shoreham Wading Riving NY jr Lauren Biscardi, the national co-leader in high jump (5-9), won at 5-8. Branford CT sr Tahari James edged Mary Hetikamp in long jump, 18-4.5 to 18-2.25. Saratoga sr Tina Villa 38-8 SP. Dewitt Clinton's Danelle Wright 8.52 55H. Saratoga NY, the national leader in 4x800 (9:15.99) won by 44 seconds in 9:21.00. Dewitt Clinton NY 1:46.70 4x200.
Preview
Saratoga NY girls and Millrose Games mile qualifiers headline 2-day meet
Saratoga, fifth best high school DMR team ever (11:52.60 at Brown Dec 30), may move up on the all time lists in Jack Shepard's HIGH SCHOOL TRACK annual. The national record is 11:49.34 by Red Bank NJ in 2002. Saratoga is also US#1 in the 4x800 (9:15.99 at the Hispanic Games Jan 10). Saratoga ace Nicole Blood is also entered in both the 3000 meters and the mile Saturday afternoon 2 hours apart. Blood is #1 in the US in the 3000 this season with her 26-second win Jan 10 at the Hispanic Games in 9:47.58.
Yale is one of the last meets with a mile that is reviewed for Millrose Games high school mile selections. Top boys entered are Connecticut rivals and Foot Locker national finalists Gavin Coombs and Ahmed Haji. Haji is also entered in the 3000 meters, which is scheduled 2:20 before the mile, so he may be making a last minute choice. In addition to Blood, the girls mile entries include Maxine Davila of Notre Dame Academy, Riverhead NY jr Ellen Dougherty, Westerly RI soph Samantha Gawrych, Saratoga's Lindsay Ferguson and Ruby Solomon (1-3 in the Brown mile Dec 30), Bay Shore NY jr Mary Liz McCurdy, and Holy Cross CT soph Amie Schumacher.
In field events, there are two US#1 performers: Christian Brothers NY sr Felipe Reyes 24-5 in long jump and Shoreham Wading River NY jr Lauren Biscardi 5-9 in high jump.
Boys Track - Conard CT sr Ahmed Haji and Northport NY jr Kevin Tschirhart, both former Foot Locker national finalists, square off in the 3000m. Uniondale NY's Scott Facey (49.94 400m).
Boys Relays - Uniondale NY, Xavier CT, Shenendehowa NY, Walter Johnson MD, Wilbur Cross CT, East Lyme CT, Xaverian MA, Northport NY, St. Anthony's NY
Boys Field -- Christian Brothers NY sr Felipe Reyes 24-5 US#1. Uniondale sr Rahmel Huffman 6-7 HJ
Girls Track -- Big group of distance stars are entered in the 3000m: Saratoga's Nicole Blood, Lindsey Ferguson, and Ruby Solomon, Bay Shore NY jr Laura Cummings, East Meadow NY sr Brittany Criscuolo, Tri Valley NY sr Heather Iatauro, Northport NY sr Lindsay Sundell, and Niskayuna NY sr Caitlin McTague. In the 800m are Ferguson, Solomon, Fair Haven Union VT sr Mary Heitkamp, and Connetquot NY sr Colleen Gribbin. Murry Bergtraum NY jr Jessica Clarke (7.17 55m).
Girls Relays -- Saratoga NY (11:52.6 DMR US#1), Wilbur Cross CT, Shenendehowa NY, Connetquot NY, Bay Shore NY, Walter Johnson MD, Uniondale NY, Half Hollow Hills NY, East Meadow NY, Holy Trinity NY, Niskayuna NY, Bayport Blue Point NY, Poolesville MD, Murray Bergtraum NY, Dewitt Clinton NY, Colonie Central NY.
Girls Field -- Shoreham Wading River NY jr Lauren Biscardi (5-9 HJ US#1).
Schedule
FRIDAY, JANUARY 16
Event # Time Description
1 1:00 PM Connecticut Girls 300m Dash
2 1:15 Connecticut Boys 300m Dash
3 1:30 Connecticut Girls 3200m Relay
4 1:55 Connecticut Boys 3200m Relay
5 2:15 Girls 800m Relay – Schools Over 600 Girls
6 2:30 Boys 800m Relay – Schools Over 600 Boys
7 2:45 Girls 3200m Relay – Schools Over 600 Girls
8 3:05 Boys 3200m Relay – Schools Over 600 Boys
9 3:30 Connecticut Girls 1600m Relay
10 3:50 Connecticut Boys 1600m Relay – Large Schools
11 4:00 Connecticut Boys 1600m Relay – Small Schools
12 4:15 Girls 1600m Relay – Schools Over 600 Girls
13 4:40 Boys 1600m Relay – Schools Over 800 Boys
14 4:50 Boys 1600m Relay – Schools 600 – 800 Boys
55 5:15 Connecticut Girls Distance Medley Relay
15 5:30 Connecticut Boys Distance Medley Relay
16 5:45 Girls Distance Medley Relay – Schools Over 600 Girls
17 6:20 Boys Distance Medley Relay – Schools Over 600 Boys
18 6:40 Girls CHAMPIONSHIP Distance Medley Relay
19 6:55 Boys CHAMPIONSHIP Distance Medley Relay
20 7:10 Girls Distance Medley Relay – Schools Under 600 Girls
21 7:45 Boys Distance Medley Relay – Schools Under 600 Boys
22 8:15 Girls 1600m Relay – Schools Under 600 Girls
23 9:00 Boys 1600m Relay – Schools 400 – 600 Boys
24 9:10 Boys 1600m Relay – Schools Under 400 Boys
25 9:30 Girls 3200m Relay – Schools Under 600 Girls
26 10:00 Boys 3200m Relay – Schools Under 600 Boys
27 10:30 Girls 800m Relay – Schools Under 600 Girls
28 10:45 Boys 800m Relay – Schools Under 600 Boys
11:00 PM END

SATURDAY, JANUARY 17
Event # Time Description
7:40 AM Girls 3000 Meters - Section Seven (See Event #39 – if necessary)
7:50 Boys 3000 Meters - Section Nine (See Event #40 – if necessary)
8:00 Boys 3000 Meters - Section Eight (See Event #40 - If necessary)
8:15 Girls 3000 Meters - Section Six (See Event #39 - If necessary)
8:30 Girls 3000 Meters - Section Five (See Event #39)
8:45 Boys 3000 Meters - Section Seven (See Event #40)
9:00 Boys 3000 Meters - Section Six (See Event #40)
9:15 Girls 3000 Meters - Section Four (See Event #39)
9:30 Girls 3000 Meters - Section Three (See Event #39)
9:45 Girls 3000 Meters - Section Two (See Event #39)
54 10:00 Girls Pole Vault - STARTING HEIGHT - 8'
29 Boys Pole Vault - STARTING HEIGHT -12' To Follow Girls PV
10:00 Boys 3000 Meters - Section Five (See Event #40)
10:15 Boys 3000 Meters - Section Four (See Event #40)
10:30 Boys 3000 Meters - Section Three (See Event #40)
10:45 Boys 3000 Meters - Section Two (See Event #40)
30 11:00 Girls Long Jump - Trials & Final. JUMPS UNDER 15' NOT MARKED
31 11:00 Boys 55 Meters Hurdles - Trials
32 11:30 Girls 55 Meters Hurdles - Trials
33 12:00 pm Boys 55 Meters - Trials
34 12:00 Boys High Jump - STARTING HEIGHT 5'8
35 12:30 Girls 55 Meters - Trials
36 12:30 Girls Shot Put - Trials & Final – THROWS UNDER 30' NOT MARKED
1:10 Girls 55 Meters Hurdles - Semi-Finals
1:25 Boys 55 Meters Hurdles - Semi-Finals
1:40 Girls 55 Meters - Semi-Finals
1:50 Boys 55 Meters - Semi-Finals
37 Girls High Jump - STARTING HEIGHT 5' –To Follow Boys HJ
38 Boys Long Jump - JUMPS UNDER 19' NOT MARKED. To Follow Girls LJ
39 2:00 Girls 3000 Meters - Seeded Section
40 2:15 Boys 3000 Meters - Seeded Section
41 2:30 Girls 400 Meters - ENTRY STANDARD – 65.0
42 Boys Shot Put - To Follow Girls SP - THROWS UNDER 40'- NOT MARKED
43 3:00 Boys 400 Meters - ENTRY STANDARD – 55.0
3:30 Boys 55 Meter Hurdles - Final
3:35 Girls 55 Meter Hurdles - Final
3:40 Boys 55 Meters - Final
3:45 Girls 55 Meters - Final
44 4:00 Girls 800 Meters - ENTRY STANDARD – 2:30.0
45 4:20 Boys 800 Meters - ENTRY STANDARD – 2:05.0
46 4:40 Girls One Mile - ENTRY STANDARD – 5:30.0
47 5:05 Boys One Mile - ENTRY STANDARD – 4:45.0
48 5:30 Girls 800 Meter Relay
49 5:45 Boys 800 Meter Relay
50 6:00 Girls 3200 Meter Relay
51 6:15 Boys 3200 Meter Relay
52 6:30 Girls 1600 Meter Relay
53 6:45 PM Boys 1600 Meter Relay