by Don Rich, PennTrackXC.com
(Special thanks to Walt Murphy, Jack Pfeiffer, and Jonathan Berenbom for a steady stream of splits during a hectic three days of racing. )
2 more national records Sunday at NSIC

Shalonda Solomon finishes Poly Long Beach's 3:38.91 4x400


X-man Xavier Carter strikes for big record 20.69 in 200m, a US HS record and 10th in the world this year by anyone.


photos by Don Rich / PennTrackXC
Nicole Leach 52.19 is US#2 all time 400m and a national junior class record. Quotes by Nicole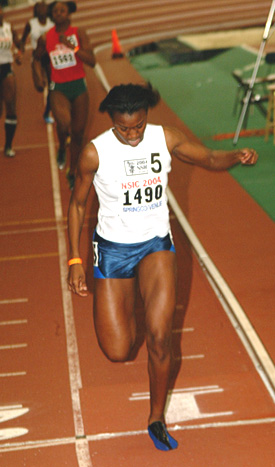 Two more records left jaws open and eyes popping at the Armory on the last day of the National Scholastic Indoor Championships. And those were just class records. The other two were national marks that left even the veterans of the sport looking for comparisons. The four records on Sunday left a staggering total of six National Records and five Class Records for the three-day meet.
Xavier Carter, aka The X-Man, a Florida senior who is headed to LSU as a star football player, lined up in lane five with the crowd quiet with anticipation The music blared as the announcer extolled Carter's accomplishments along with those of his competitors in a great 200 field. The race was over as soon as it started. As Carter crossed the line and stop watches clicked in unison, there were sideway glances to see if somehow everyone was wrong. They weren't. In an instant, the scoreboard confirmed the first prep one-lapper under 21 seconds, 20.69 to be precise. And as Walt Murphy noted, it was as impressive a performance, relatively, as Michael Johnson's WR 19.32 in 1996. "Johnson broke the existing record by .34. Carter broke the existing record by .33. Those are big numbers."
With one event remaining, the hot heat of the girls' 4x400 lined up. Long Beach Poly was competing against some tough teams, but the toughest was their 2003 US Record-setting squad. The 2004 race proved the better of the two and established a new National Record of 3:38.91, a new mark by over two seconds.
The class records came in the 400 and the 800. Almost as impressive as Carter's 200, was the over two-second PR by West Catholic's Nicole Leach. The Philly junior was the top American at the Penn Relays in 2003 in the 400 Hurdles in 59.00. And her 54.35 earlier this season proved she was going in the right direction. But a PR that comes within .09 of the US record of Sanya Richards was totally unexpected by everyone there, even Nicole. "I was nervous before the race. And I was scared during the race. After a lap (which she toasted in an unearthly 24.1), I was afraid someone was coming, so I just tried to keep it going. Now that I know it can be done I am going to go for it next year." The time? 52.19. Again, jaws on the floor. The junior class record she erased was the 53.25 set in 2001 by Angel Perkins. Ever the humble champion she also added:
"I talked to my West Catholic teammates last night, they won the 1600 Spring Medley relay (at the Nike Indoor Championships in Maryland) and I was so happy for them."
The freshman 800 record was also obliterated. Maryland's Devon Williams stayed with the pack through 500 meters and then simply took off. The result was a blistering 2:06.48, erasing the 20-year-old record of 2:08.04 set by Shola Lynch, Hunter College, NY. An interesting note is that it also was better than the junior record set by one Joetta Clark in 1979. Oh, and it was the 9 th fastest high school 800 of all-time.
There were a myriad of other performances not to be lost in the brilliance of Sunday's records.
In the 400, Elzie Coleman posts the 3rd fastest time ever, 46.12. He already holds the National Record of 45.92, set earlier this year.
Gavin Coombs , CT , merely doubled in the distance races, taking the Mile in 4:10.93 and the 2-mile in 9:13.08 after a 59-second final quarter.
1)Gavin Coombs(CT) 4:10.93
2) Michael Banks(MA) 4:11.00
3) Brian McCabe(NY) 4:14.03
Splits: 62 - 2:07.7 - 3:11.5
Boys 2 mile:
Gavin Coombs ( Griswold, CT) wins in 9:13.08. Justin Scheid(NJ) was second in 9:18.68. Alex Genest was third in 9:25.51. Brian Goldberg ( Haddonfield, NJ) was fourth in 9:25.90. Coombs led from the gun, being overtaken briefly during the 6th lap before taking over with a lap to go and closing in 59 seconds, with Banks right on his heels to the line. Coombs time is the 2nd fastest in the country this year.
Francois Gatson of Lousiana also won both his events, taking the Long Jump Friday with a leap of 24-03.50, then completing the double by taking the Triple (Jump) by over a foot with a great jump of 47-06.25.
Boys 4x400:
Newburgh NY won with a 3:16.71. That is the fastest time in the country this year, and #7 all-time. Second was Dewitt Clinton with a time of 3:17.55, the second fastest time in the country this year. Third was Transit Tech NY with a 3:18.13, the third fastest time in the country this year.
Newburgh 's splits:
Jason Pearson 50.2
Ed Jackson 50.5
Justin Pearson 49.3
Elzie Coleman 46.7
The day began with Westfields lead-off, Chris Courson, getting spiked on the first turn and losing his shoes. The race was delayed until after the second heat ran. But the news wasn't good. Courson was out with a puncture wound in his heel. Philippe Tondereau, a 400 specialist who had never run in a 4x800 volunteered to replace his injured teammate and split 2:02.3 to start the team's victory 3200 meter relay run. Their time of 7:50.44 was the 2nd fastest this year (behind their own US#1 7:48.63 in the Virginia AAA state meet)..
Boys 4x800 results:
1) Westfield 7:50.44
2) Shenendahowa 7:53.19
3) South Shore 7:53.51
4) O'Hara 7:53.74
Westfields splits: Philippe Jondereau 2:02.3 - James Scheiner 1:54.9 - Chris Black 2:00.7 - David Groff 1:52.5
South Shore 's splits: 2:01.6 - 2:00.5 - 1:55.6 - 1:55.8
O'Hara's splits: Steve Hallinan 1:56.4, Greg Thomas 1:59.0, Matt Willard 1:59.7, Jack Braconneir 1:57.7
Girls 4x800 Relay:
1)Boys & Girls(NY) 9:19.32
2) Bronxville High School(NY) 9:22.83
3) Baton Rough Elite(LA) 9:25.27
Boys & Girls splits: Makiela Mogil 2:20.7, Jamela Dunbar 2:25.7, Chanelle McGregor 2:13.7, Adreenee Sterrett 2:19.2
Girls Mile Results:
1) Samantha Gawrych(RI) 4:53.02
2) Allison Keiffer 4:53.37
3) Heather Iatauro 4:53.4
4) Brittany Sheffey(NY) 4:54.5
Samantha's time is the 4th fastest girls mile run this year.
Girls 60 meter Hurdles:
1) Dashanta Harris(CA) 8.60
2) Marie-Eve Dugas(CAN) 8.70
3) Mycaiah Clemons(PA) 8.71
Girls 200:
Shalonda Solomon(CA) ran 23.44 to win. 2nd was Courtney Champion with a 23.73. 3rd was Nicole Leach with a 24.10. 4th was Lauren Burns with a 24.31.
Shalonda's time improved on her US#1 23.46 at Simplot last month.
Boys 800:
First place was Gregory Gomez(Franklin HS, NJ) 1:52.83
Second place was Bryan Scotland 1:52.88
Boys 4x200:
Newburgh NY won the race with a time of 1:27.76.
Camden High NJ initially appeared to have won with a time of 1:27.55, but they were disqualified due to being out of the exchange zone on the last hand-off due to a bungled hand-off.
Girls 4x200:
F.T. Marshall (TX) won in 1:39.58, and Wilson, Long Beach(CA) was second in 1:40.00
Girls 2 mile:
Aislinn Ryan ( Warwick Valley, NY) won with a time of 10:37.45.
Quotes
from Don Rich
Xavier Carter
Q: Did you think you'd run that fast after a quick 21.08 in the prelims,
and never having run on an indoor track before?
Carter: I just had to get used to it. This is my second time indoors,
and my first time on a banked track. Last weekend I ran indoors at the
University of Florida. I ran 21.04. We were shooting for 20.85 today. I
never thought I'd get to .69.
Q: Are you going to run the Olympic Trials if you qualify?
Carter: Yeah, if I qualify, I will.
Sholonda Solomon, Long Beach Poly
After her 200 win in 23.44
Q: Did you expect to run that fast?
Solomon: I was in lane six, and that's the first time I have run in the
outside lane, so I'm glad I ran well.
Q: Are you comfortable with the banked track?
Solomon: I've been here for four years, so I'm comfortable with it.
Q: Would you have been able to go faster from lane four or five?
Solomon: Probably not.
Solomon after the 4x400 USR
Q: Were you tired after all your previous events, the 200 and 60 dash?
Solomon: I was OK. The record was a big surprise. But our goal was to go
for it.
Q: Is the plan to go on to Penn Relays and break you own record?
Solomon: We're gonna try.
Devon Williams, 800
Q: Was the Freshman National Record your goal for today?
Williams: My goal was really to come out here and to be healthy. I just
wanted to come out here and run a good time because I just came off a
five-week injury. The only thing I wanted to do was to PR.
Q: You made a big move after the third lap. Is that your usual strategy,
or was that a surprise move?
Williams: That was a surprise move, because I knew if I stayed with
them, then Magill would go.
Q: Do you think you can break two minutes by the time you are out of
high school?
Williams: Hopefully. That's one of my goals.

Nicole Leach
Q: Was fear your motivation?
Leach: Yeah, fear was my motivation. Because I knew I had to be at the
break first. And once I got to the break first, I realized that I had to
keep running. There were a lot of horses in that race, and the worst
thing that could happen was for me to get out and run a good 200 and
then wind up losing the race because I didn't continue to run.
Q: Did you realize you were running that fast? 24.1 through the 200?
Leach: I didn't know what I was coming through at. I usually get the
time, but today I was so nervous, I was just looking straight ahead and
running.
Q: Did you stay strong through the whole race?
Leach: Down the last stretch, I think I tightened up a little bit, but I
tried to stay relaxed and just finish up.
Q: How'd you feel when you saw the time?
Leach: I had no words. I just said 'thank God.' I had no idea of running
52. I mean, I was looking at the (record) board out there and seeing
52.10 and I said that record is going to be there a long time. I just
wanted to go 53-high. That's what I wanted to do. But I was so nervous
that I just ran.
Q: Is that what you came here to do?
Leach: I didn't want to break any records. I just wanted a ring. That
record is so awesome, because obviously, it's going to take a lot to
beat it. I know I was working hard today. But now that I know that it's
not impossible to beat, maybe next year I'll come back up here, and
that'll be the goal. But right now, I'm just taking the first place. I'm
happy.
Q: Are you going to have to rethink your goals? Maybe run the Olympic
Trials in the summer?
Leach: No, I really don't think so. I don't want to rush it. I'm going
to go to Junior Nationals, and I want to make the team. I don't think
I'll be at the Olympic Trials. Not yet. Maybe if I could run these three
days in a row, then maybe.
Q: Are you going to run the 400 Hurdles this spring?
Leach: Yes, I'm going to run it at the Penn Relays. But with the time
that I ran today, I may or may not run it as AOC. I may run the 400& I
don't know. It depends. But I definitely will be in the Penn Relays.
Q: So a watch from the Penn Relays is in your goals?
Leach: Oh, yeah.
Q: Your West Catholic teammates are at the NIC in Maryland. Have you
talked to them since you've been here?
Leach: Yeah, I talked with them last night. They called me and told me
that they had won (the SMR) and I was really happy for them.