Donna on the Side
Donna on the Side at BorderClash 5
Part 1 - the Nike Campus Scene
Part 2 - Awards
Part 3 - Washington athletes, fans, and coaches
Part 4 - Oregon athletes, fans, and coaches
Part 5 - Celebrity Coaches
The Scene
The Border Clash is a cross country meet between the states of Oregon and Washington. Each state's top 40 boys and girls (based on the results from each state meet) are invited to participate. The meet is held on the Nike campus--beautiful grounds, modern, sleek buildings and lovely landscape including a lake, and Japanese garden.. The Nike buildings are all named after accomplished athletes: Tiger Woods Center, Dan Fouts, Jerry Rice Mia Hamm, Pete Sampras, Michael Jordan and many others. Plaques honoring great athletes line the outdoor corridors that link various buildings, along with bigger than life size photos hanging from light poles.
The meet is modeled somewhat on a medieval battle. It's begun with drum rolls and a cannon blast as each team starts the race running into the faces of their opponents--as was the custom in medieval times. The prize: honor and a Nike statue.
But unlike medieval times, this meet had a helicopter and plasma computer screens. Overhead during the race, a helicopter followed the runners and transmited video pictures so that all could follow the meet in real time.
For the most part you are either for or against Oregon or Washington. Unless of course you are a grandparent caught living in the wrong state. But then grandparents cheer for the grandkids no matter what!
It's a fun meet for all
The Land of Nike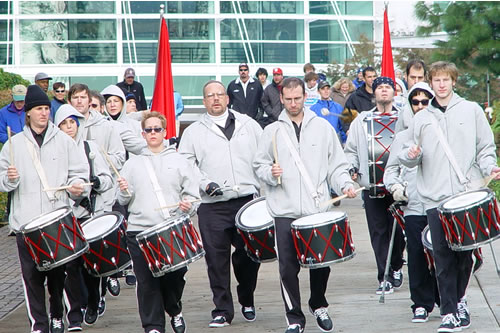 When the cannon blasts the race begins.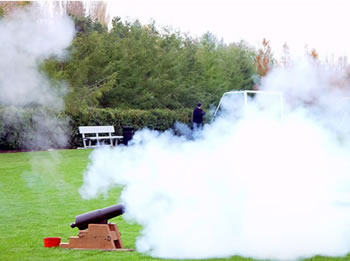 And they are off through the cloud of smoke.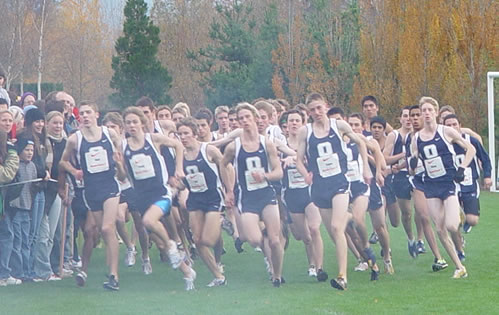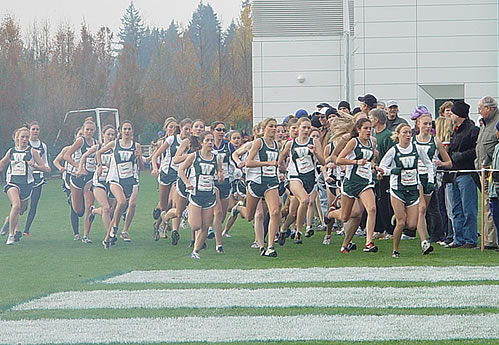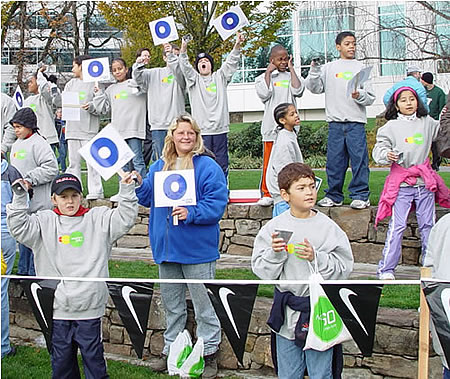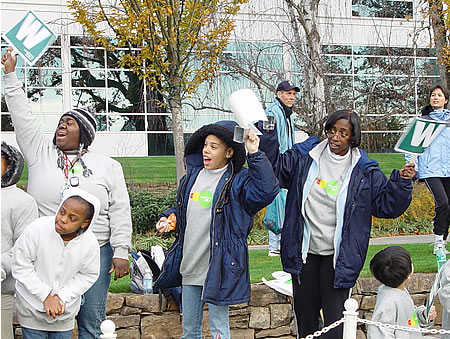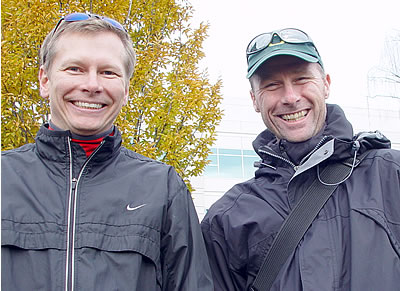 Bells are handed out freely and add to the clamor.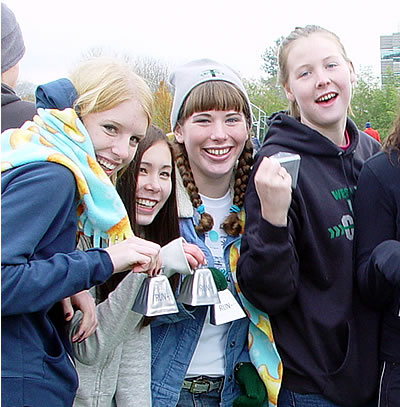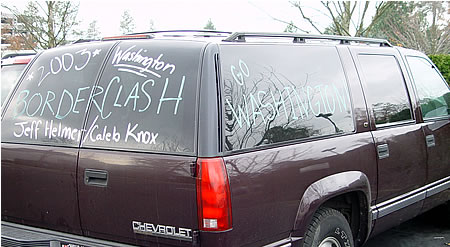 The finish line crew: (from left) Erin Faulhaber, Toni Rowe, Johneta Johnson, Cathie Twomey Bellamy, Kathy Tinkle, Jenifer Pleus
High above, the helicopter transmits the race as it happens to the plasma screens.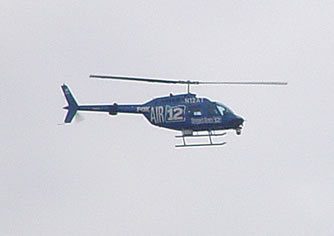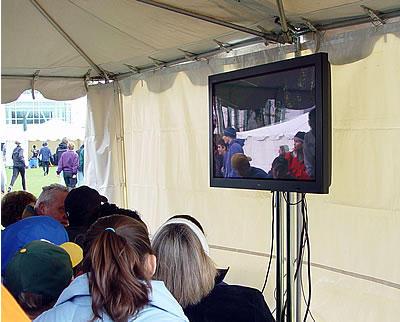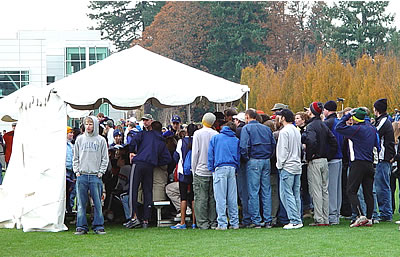 Donna on the Side at BorderClash 5
Part 1 - the Nike Campus Scene
Part 2 - Awards
Part 3 - Washington athletes, fans, and coaches
Part 4 - Oregon athletes, fans, and coaches
Part 5 - Celebrity Coaches