Bob Kennedy remembers Balboa Park
by John Dye
Bob Kennedy is a 2-time Olympian and the American record holder at 5000 meters, but all that was in the future in 1986 when he came to Balboa Park to run Foot Locker (then Kinney) national finals for the first time.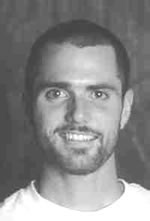 "It was my first national competition," recalls Kennedy, then a junior from Westerville OH. "I was like a deer blinded in headlights. I had no idea if I was really good or just good in Ohio."
Kennedy's only "strategy" was to follow Todd Williams. Kennedy had finished second to Williams in the regional, and Williams ran away from everyone at nationals except Marc Davis, with Kennedy tagging along for third.
Kennedy went back to Ohio with high expectations. "My only goal was to win the following year." He gave up snow skiing because now he thought of himself as a serious runner. And when he came back to Balboa Park in 1987 he was ready.
"I just went out hard and pushed and pushed until I was alone," Kennedy remembers.
There was one last trauma before victory. On the steep downhill with a half mile to go, Kennedy had a huge lead when he suddenly tripped and fell. "My spikes were too long. I went head over heels for three full rotations. Panic set in. But I jumped back up and started running again without missing a beat." He crossed the finish line with dirt all over his back in 14:59, with 6 or 7 seconds added by the tumble. This time it was fellow Ohioan John Sence who was pulled along. They finished 1-2 in state, regional, and national meets.
It was the turning point in Kennedy's life, and it still ranks "pretty high" on his list of big thrills in life.
"It was the stepping stone for me in building confidence, to make me understand what it takes to do well at a high level. It made me want to keep going as a runner," Kennedy said. He still remembers how "very motivating" Billy Mills was as the banquet speaker.
The Hill is Kennedy's biggest recollection of the Balboa Park course. The figure 8 course is travelled twice, which means you go over The Hill twice.
"It's a very difficult hill. Just walking it is tough. The second time is harder than the first.
"If you are a top runner and want to win, you have to take the hill into account in your strategy. If you are a strength runner, you might want to take the lead early. If you have a lot of leg speed, you might want to delay your move until after the second time over the hill."
Kennedy's senior year training pattern was designed with the national finals in mind. He ran about 45 miles a week of "quality" workouts. He had 3 weeks from his state meet to the regionals and 2 more weeks until the national finals. In the last 3 weeks, he ran time trials on Wednesdays at successively shorter distances: mile, 1200 and 800. "I ran the mile in 4:16 by myself, and the 800 in 1:54. I knew I was fit."
One of Kennedy's first thoughts after doing well in 1986 was that he might get a scholarship, and that proved true. He went to Indiana University and won the NCAA cross country championship his freshman year. He is still the only man ever to win the high school and college titles back to back.
Four years later he was in the Olympics as a world class 5000 meter runner. And it started at Balboa Park.
At the 2002 Northeast regional in New York, a new generation of runners lines up to get the 1987 national champion's autograph.