| FL home | Finals | Midwest | Northeast | South | West | Midwest rules finals
2003 Foot Locker National Champions

Matt Withrow IL


Katelyn Kaltenbach CO


DONNA ON THE SIDE
Killer Kat and Cowboy Matt


National champs Katelyn Kaltenbach and Matt Withrow after they showered and dressed up to collect their hardware.

Donna on the Side
Pix

the flow of the races


Photo sequences, stories, results and notes tell how the races were run. Photos of every finisher.
BOYS - Galen Rupp of Oregon went out hard, contrary to instructions from coach Alberto Salazar to wait for a late move, and duelled favorite Shadrack Kiptoo of New Mexico throughout, beating him by 1 second. However, Illinois and Midwest region champ Matt Withrow passed them both with a rush in the last 300 meters to win the title.
GIRLS - The race was as close and wide open as expected until freshman Marie Lawrence of Nevada opened a 10-meter lead coming down The Hill in the third mile. Then Katelyn Kaltenbach of Colorado unleashed her killer kick to win the title.
Introductions - Midwest - Northeast - South - West - portraits of the finalists before they got sweaty - by John Dye.
PhotoRun's Finals - photos by the premier track photographers
Friday at Finals - Fab Four Sub-4 and getting acquainted with the course
Kirby Lee photo album
Track and Field PhotoMagazine - by Randy Miyazaki
Stories
Matt Withrow Shows Sharp Eye For Opportunity, Enormous Heart For Victory - Rich Gonzalez tells the story of a Ritz-esque performance. "Crossing the road with about 250 meters to go, Shadrack turned around and looked back at me and our eyes met. I could tell by the look in his eye he was done... I knew right there that the race was mine." -- Withrow on the race's defining moment.
Blisterin' Sisters !!! - Younger Kaltenbach claims first title for family that has been in the finals four straight years - She beats another younger sister, freshman Marie Lawrence of Reno NV - Doug Speck's account.
It was a grand day; no losers and many winners - Leo Collins describes the races
Fab Four Sub-Four - the four US high school runners to break 4 minutes in the mile were together for the first time
Previews

John Dye - a crowd of contenders and The Hill - could be the closest and deepest finishes ever, unless Shadrack Kiptoo runs back to his Kenyan form - The Hill, which is repeated at one mile and 2.5 miles, will be critical.
SteveU - Stephen Underwood weighs in from the Upper Peninsula with his top 13 picks. A clue: the winners names begin with K.

Bob Kennedy remembers Balboa Park - the Olympics and US 5k records were still in the future when an inexperienced runner from Ohio came to the finals in 1986. Read his tips for conquering The Hill, which is encountered at the mile and 2.5 mile marks.
the course - Doug Speck describes the Morley Field course at Balboa Park, which will be used for the 17th out of 25 national finals - "fair" but demanding.
25 years of Foot Locker - Doug Speck, who was there at the beginning and every year in between, chronicles highlights of a quarter century of Foot Locker finals.
More
Much more text and pix on DyeStatCal, the Internet home of California track
Regional Honor Roll - all DyeStat Elite national ranking performances in the four regions.
Qualifiers - Chart of the 64 finalists by region.
Killer Katelyn Kaltenbach beats another little sister, Marie Lawrence of Reno NV. Freshman Marie, who had refused to pass senior sister Collier previously, pounded the second crossing of The Hill in the third mile to take the lead. But Smoky Hill CO junior Kaltenbach maintained contact and bided her time until the last 400 meters, when she unleashed her killer kick and had the lead at 125 meters (below). Katelyn said she got an inspiring email Friday night from her older sister Megan, now a freshman at U. of North Carolina who never won in three finals appearances. "I was thinking of her at the end, and I was so happy to win it for Megan," Katelyn said.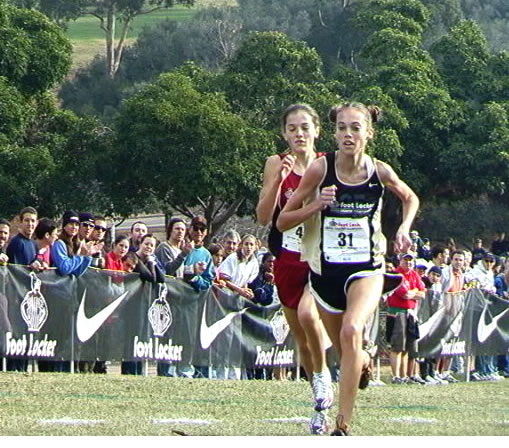 photo by John Dye

Bill Leung's collage of the girls race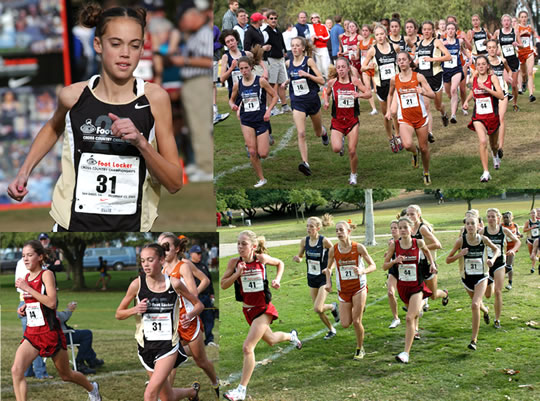 Cowboy Matt Withrow gets another big W - Midwest champion's mid-race surge failed this time as Shadrack Kiptoo NM sailed down The Hill in the third mile to take the lead. But Withrow 14:55 regained the lead from Kiptoo 14:58 with 125 meters to go (below). Galen Rupp OR 14:57 (behind Kiptoo's right shoulder), who led much of the race, rallied for second in the last strides of a see saw race. Kiptoo was bothered by a sore knee. Withrow was the sixth straight Midwest runner to win the national championship. He wore a big cowboy hat to collect his trophy at the awards banquet.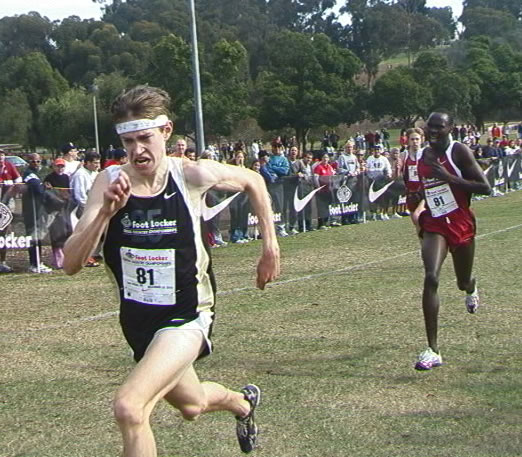 photo by John Dye
Bill Leung's collage of the boys race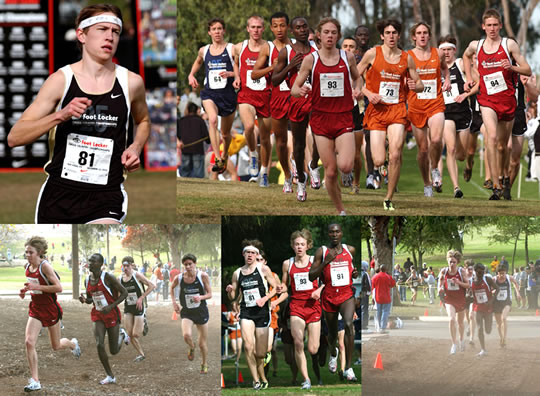 Both were races decided in last 200 meters with come from behind kicks. The first 12 boys finishers were seniors, while the girls race was dominated by underclassmen (6 of top 8 could return next year). The Midwest region swept the team titles.
Fab Four Sub-Four at Foot Locker Finals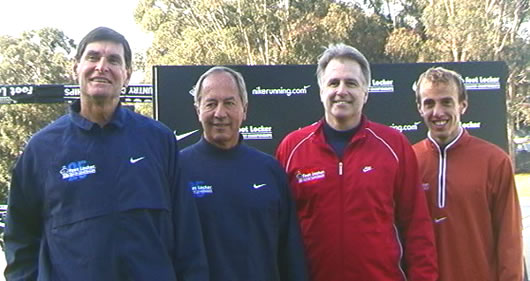 The four US high school runners who have broken 4 minutes in the mile got together for the first time Friday morning at Balboa Park, San Diego, site of the 25th Foot Locker Cross Country Championship national finals on Saturday. (from left) Jim Ryun, Tim Danielson, Marty Liquori, and Alan Webb gave interviews as the 64 finalists did a course walk through and light runs. The four famous runners were scheduled for a panel discussion with the athletes Friday evening at meet headquarters, the luxurious Hotel del Coronado. [photo by John Dye] DyeStatCal's conversation with the Fab Four.
25 years of Foot Locker -- Doug Speck was there at the beginning and every year since, and now the announcer-coach-athletic director-webmaster-statistician chronicles on DyeStatCal, the Internet home of California track, the history of the only national championship competition for high school athletes.
1979-1983 - The first girls champion, Ellen Lyons of Idaho, was too fast for the pace cart on the downhills, and she did NOT oblige the camera man's strange request for the lead runners to stay together so it would look better on TV!. In 1983, Janet Smith and Matt Guisto had dramatic victories as the finals moved to the Morley Field Balboa Park course that has been the home for the majority of national finals.
1984-1988 - Quick Times - Great Competition - Local Stars - super deep 1985 fields stock all-time Balboa Park record list.
1989-1991 - Dominating and History Making Winners - Bryan Dameworth - Melody Fairchild - Louie Quintana - Liz Mueller, a mighty mite who later was a boxer!
Foot Locker Finals brings the high school cross country season to a close,
just as the setting sun brings a day on the beach at San Diego to a close.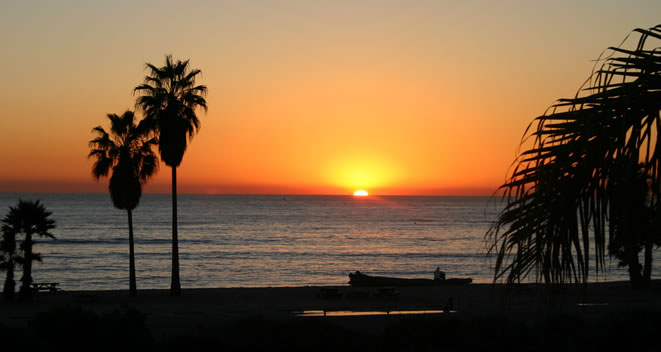 BOYS
GIRLS
6 Heath, Garrett 2004, Winona MN 15:15
7 Trafeh, Mohamed 2004, Duarte CA 15:15
8 Haji, Ahmed 2004, Conard CT 15:16
9 True, Ben 2004, Greely ME 15:16
12 Deak, Ryan 2004, Maclay FL 15:21
20 Devries, Hakon 2004, John Jay EF NY 15:33
21 Gottesfeld, Ian 2004, Henderson WC PA 15:34
27 Wagner, Christian 2004, Columbus N. IN 15:48
28 Gras, Victor 2004, Belmont MA 15:56
29 Tschirhart, Kevin 2005, Northport NY 15:59
1 Nelson, Zoe 2005, Flathead MT 17:30
3 McTague, Caitlin 2004, Niskayuna NY 17:47
4 Cummings, Laura 2005, Bay Shore NY 17:48
5 Smith, Amber 2004, Westwood Ish MI 17:48
6 Magill, Heidi 2004, Mtn View UT 17:51
7 Kaltenbach, Katelyn 2005, Smoky Hill CO 17:51
9 Blood, Nicole 2006, Saratoga Sprgs NY 17:52
10 Olding, Sunni 2004, Minster OH 17:53
16 Bryan, Rachel 2004, Laguna Creek CA 18:06
17 Harrington, Katie 2004, Carmel IN 18:08
18 Dron, Chantelle 2005, home schooled NH 18:11
19 Forish, Rachael 2004, Arlington Lamar TX 18:14
23 Schueler, Maddie 2004, Sacred Heart KY 18:43
24 Picchetti, Natalie 2004, San Antonio TX 18:49
25 Wood, Heather 2004, Los Alamos NM 18:50
26 Chock, Caitlin 2004, Granite Bay CA 18:51
27 Lenn, Tara 2005, St. Paul's AL 18:54
28 Honeyman, Staci 2004, Bowman ND 18:56
Prior Years
2002 - The Rocket and The Zephyr - Chris Solinsky and Zoe Nelson dominate with surges in the third mile. Zoe returns as a junior this year.

.
2001 - Tim Moore edges Bobby Lockhart in closest boys final ever; Amber Trotter romps by 40 seconds in one of the most lopsided.

.
2000


| | |
| --- | --- |
| Dathan Ritzenhein leaves Alan Webb and Ryan Hall in the Disney dust to become the fifth repeat winner of Foot Locker. Sara Bei rallies past Anita Siraki at the wire. | |

.
1999 - Dathan Ritzenhein gets his first title; Vicki Chang sweeps to victory after Felicia Guliford falters in the last 200 meters.

.
1998 - Erin Sullivan repeats, Jorge Torres wins boys race in his fourth try..
1997 - New England sweeps with Abdirizak Mohamud and Erin Sullivan.
Foot Locker Championships home page