the flow of the race

- Girls

Pix: half mile | mile and a half | 2 miles | finish | results |
Stories: Doug Speck - Leo Collins

by John Dye

The race was as close and wide open as expected. Florida and South region champion Jenny Barringer pushed the early pace but never opened a significant gap. Colorado and Midwest region champ Katelyn Kaltenbach and freshman Marie Lawrence of Nevada joined Barringer in front of a lead pack at two miles in 11:12, framing the argument for the fight to the finish. Right on their heels were Sunni Olding OH and Kate Harrington IN, rounding out the ultimate first five finishers, with defending national champion Zoe Nelson and Northeast regional champ Nicole Blood in the top 10. The second climb of The Hill reduced the title contenders to two - Kaltenbach and Marie Lawrence - with Nelson dropping back instead of charging to the lead as she did last year. The precocious "MEL" (Marie Elizabeth Lawrence) made a bold surge on the downhill slope along Upas Street, taking a 10-meter lead. Amazingly, it would have been her first high school cross country victory; she had deferred to senior sister Collier in every previous race this season. But Kaltenbach unleashed her killer kick with 300 meters to go, and it carried her to the title that eluded older sister Megan the three previous years. With Katelyn just a junior, she will have a chance next year to put a Kaltenbach in the finals a fifth straight year.
half mile
Marie Lawrence (44) and Jenny Barringer (21) in front of a big lead pack.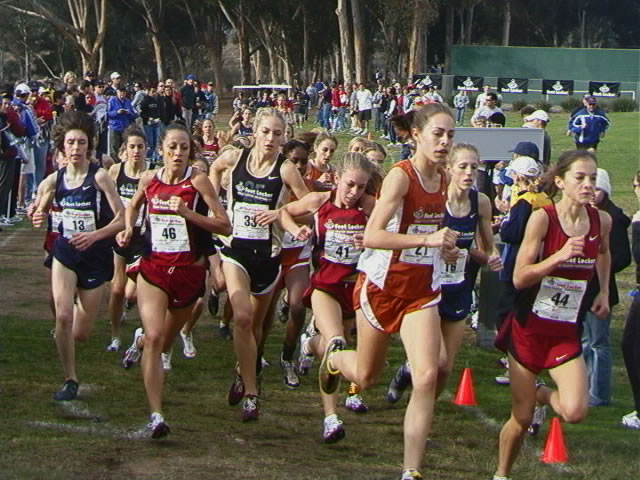 mile and a half
Barringer, Donaldson and Olding in front of a smaller lead pack.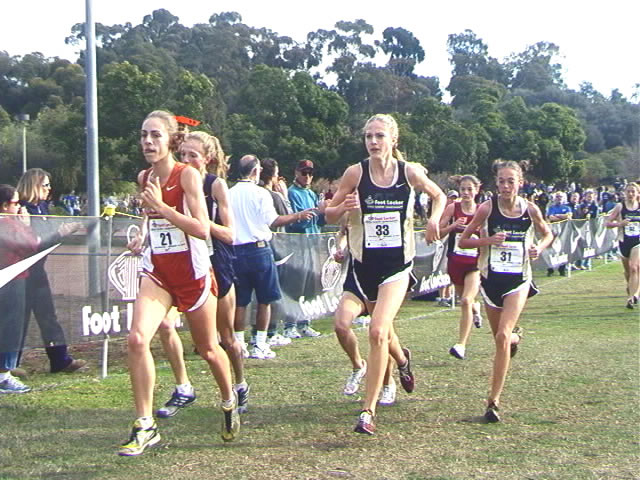 2 miles
top 3 shapes up - Barringer, Kaltenbach, M Lawrence.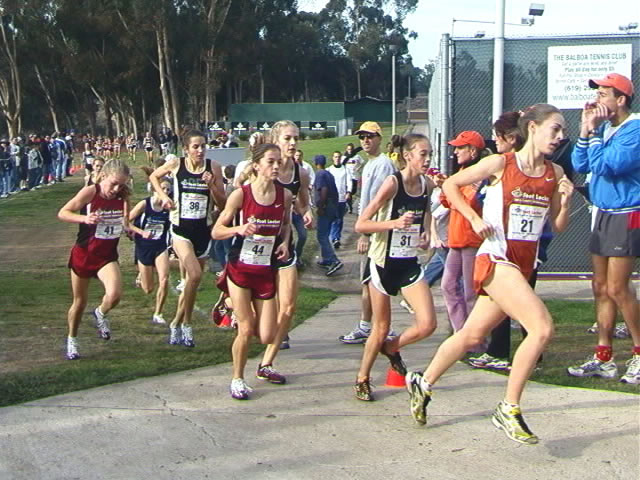 finish
Kaltenbach eases by M. Lawrence with 125 meters to go.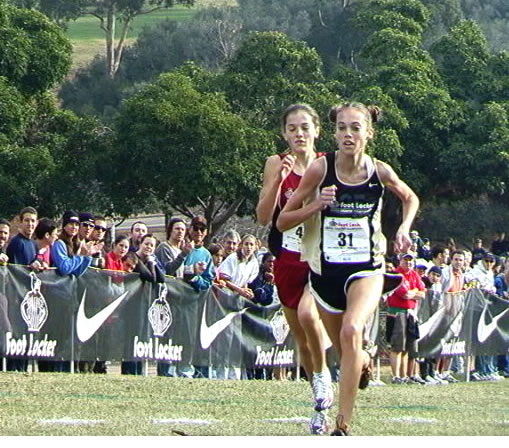 results
1. Midwest 26 (1 4 5 6 10 11 20 23)
2. West 57 (2 8 14 15 18 19 24 29)
3. Northeast 65 (7 9 12 16 21 22 26 30)
4. South 85 (3 13 17 25 27 28 31 32)
1 Katelyn Kaltenbach (11) Midwest Smoky Hill H.S. Aurora CO 17:24
2 Marie Lawrence (9) West Reno H.S. Reno NV 17:25
3 Jennifer Barringer (11) South Oviedo H.S. Oviedo FL 17:35
4 Katie Harrington (12) Midwest Carmel H.S. Carmel IN 17:39
5 Sunni Olding (12) Midwest Minster H.S. Minster OH 17:42
6 Ramsey Kavan (11) Midwest Yankton H.S. Yankton SD 17:47
7 Nicole Blood (10) Northeast Saratoga H.S. Ganesvoort NY 17:48
8 Zoe Nelson (11) West Flathead H.S. Kalispell MT 17:49
9 Frances Koons (12) Northeast Allentown Central Catholic H.SAllentown PA 17:52
10 Racheal Marchand (12) Midwest Valparaiso H.S. Valparaiso IN 17:53
11 Morgan Schulz (11) Midwest Smoky Hill H.S. Centennial CO 17:56
12 Aislinn Ryan (10) Northeast Warwick Valley H.S. Bellvale NY 18:01
13 Rachael Forish (12) South Lamar H.S. Arlington TX 18:03
14 Claire Rethmeier (12) West San Pasqual H.S. Escondido CA 18:05
15 Melissa Grelli (12) West Presentation H.S. Cupertino CA 18:08
16 Lindsay Donaldson (12) Northeast Lincoln-Sudbury Regional H.S. Lincoln MA 18:10
17 Kate Niehaus (10) South Spring Valley H.S. Columbia SC 18:11
18 Rachel Bryan (12) West Laguna Creek H.S. Elk Grove CA 18:13
19 Collier Lawrence (12) West Reno H.S. Reno NV 18:18
20 Alissa McKaig (12) Midwest Concordia Lutheran H.S. New Haven IN 18:25
21 Jennifer Clausen (10) Northeast Jackson Memorial H.S. Jackson NJ 18:27
22 Allison Kieffer (11) Northeast West Islip H.S. West Islip NY 18:32
23 Amber Warren (11) Midwest Lutheran H.S. St. Charles MO 18:32
24 Lindsay Flacks (12) West Harvard Westlake H.S. Calabasas CA 18:36
25 Erin Bedell (11) South Plano West Senior H.S. Plano TX 18:38
26 Lindsey Ferguson (10) Northeast Saratoga H.S. Greenfield Center NY 18:39
27 Beth Fahey (12) South Forest Park H.S. Dumfries VA 18:39
28 Maddie Schueler (12) South Sacred Heart Academy Louisville KY 19:00
29 Liz Pasciuto (12) West Murrieta H.S. Murrieta CA 19:09
30 Brittany Sedberry (10) Northeast Ocean City H.S. Beesley's Point NJ 19:23
31 Laura Bowerman (12) South King H.S. Tampa FL 19:28
32 Angelina Blackmon (12) South Northwestern H.S. Rock Hill