the flow of the race

- Boys

Pix: | start | mile and a half | 2 miles | finish
Stories: Rich Gonzalez - Leo Collins - results |

by John Dye

Contrary to coach Alberto Salazar's instructions, Galen Rupp of Oregon went out hard instead of waiting for pre-race favorite Shadrack Kiptoo's move in the third mile. Ryan Deak of Colorado and Mohamed Trafeh of California also vied with these two through the first mile, covered in 4:40. First time up The Hill a half mile later, hill climber Stuart Eagon of Oregon and Evan Garber of Washington joined the leaders. At the top of the hill, Kiptoo was on Rupp's shoulder as the leaders started to string out, but there were still 12 runners within 15 meters. Kiptoo surged on the downhill, but Rupp answered the move to have a slight lead as the runners crossed the start line halfway through the course. Josh McDougal moved into contention at this point. At the 2-mile mark, Illinois and Midwest region champ Matt Withrow joined Rupp, Kiptoo and McDougal in the first group, with Deak and Northeast champ Ben True close behind and expected contenders like Christian Wagner of Indiana, Mark Matusak of California and Garrett Heath of Minnesota close enough to think about moving up.

In the next half mile before the second climbing of The Hill, Withrow tried the mid-race surge that won for him in the Midwest region, but Rupp and Kiptoo covered it. Kiptoo was first up the hill, trailed by Rupp and McDougal. Kiptoo tried to seal the victory on the Upas Street downhill slope by opening up a 5 meter lead, but Rupp responded to close within 2 meters. Then came the defining moment of the race. Withrow somehow came up with another surge and flew past both Rupp and Kiptoo in the last 300 meters. Rupp also closed strongly to catch Kiptoo at the finish, with all three runners hitting the line within 3 seconds. McDougal was there in another 3 seconds, followed by True a second later. Then there was an 11-second gap before Deak and Wagner finished a second apart in sixth and seventh place.

When will we see these three talented runners together again? Maybe not until the post-season meets next June. Illinois' travel restrictions will generally keep Withrow close to home before then. The Nike Indoor Championships could see a matchup of Rupp and Kiptoo in March. Rupp's next big race will be the New Balance Games in January at the New York Armory, hoping to get a fast time in an open 2 mile race with elite runners. Rupp's outdoor plans are targeting the 5k at the Junior Nationals and/or the US Olympic team trials. Kiptoo is committed to Arcadia in April (where he says he might run BOTH the mile and 2-mile).
the start
from left: Rupp, Kiptoo, Wagner, Gasper, Withrow, Deak, and Harkrader.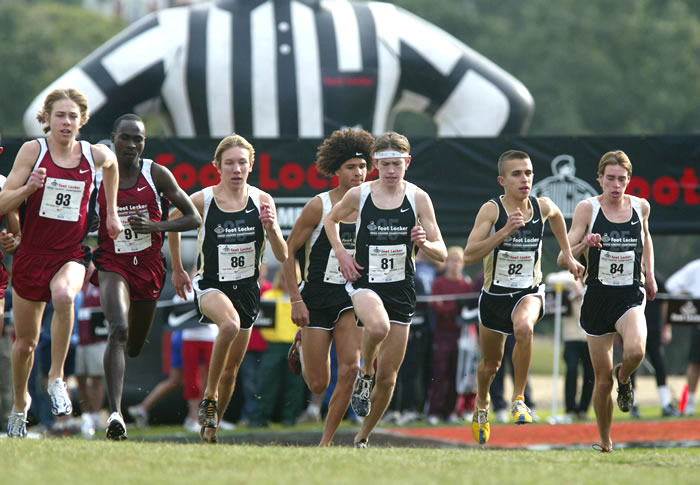 photo by PhotoRun
mile and a half
Galen Rupp (left) continues to lead near the halfway mark.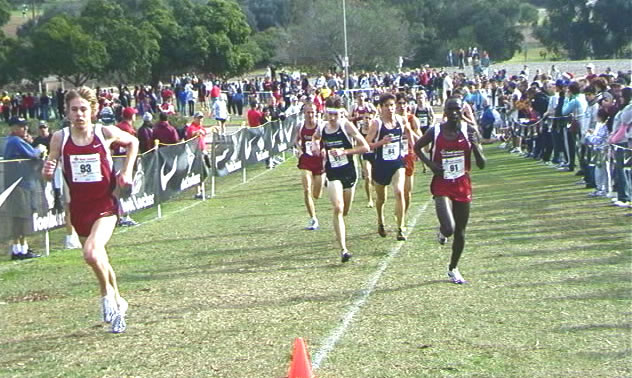 2 miles
the final top 4 are established - from right, Rupp, McDougal, Kiptoo, Withrow.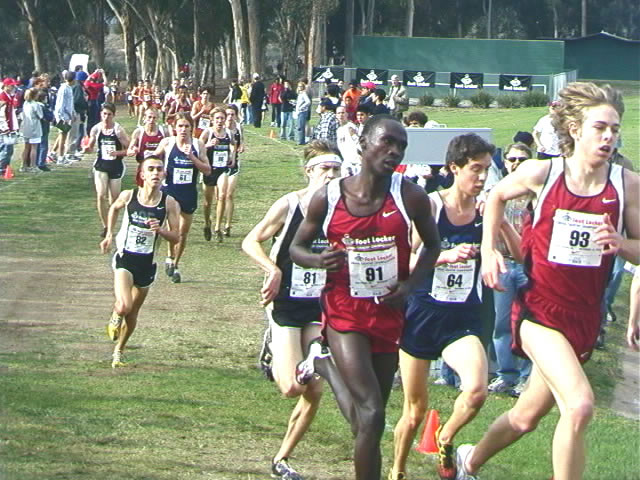 finish
Matt Withrow's second surge, this one with 300 meters to go,
put him alongside Kiptoo as the first four turned for home with 200 meters to go.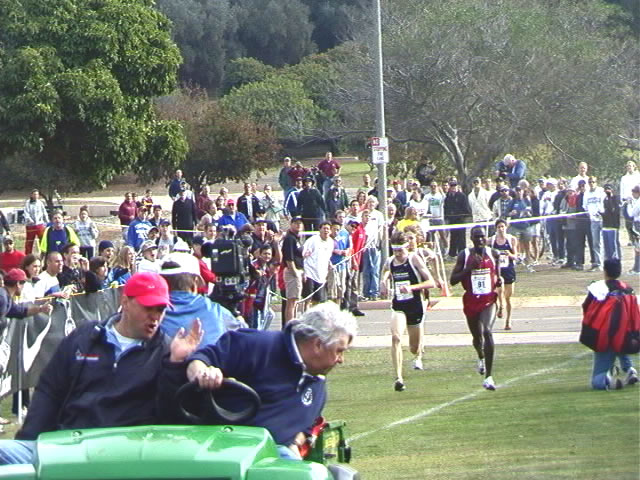 results
1. Midwest 36 (1 6 7 10 12 18 24 27)
2. West 39 (2 3 8 11 15 22 25 26)
3. Northeast 55 (4 5 9 17 20 21 29 32)
4. South 85 (13 14 16 19 23 28 30 31)
1 Matthew Withrow (12) Midwest VJ Andrew H.S. Tinley Park IL 14:55
2 Galen Rupp (12) West Central Catholic H.S. Portland OR 14:57
3 Shadrack Kiptoo (12) West La Cueva H.S. Albuquerque NM 14:58
4 Joshua McDougal (12) Northeast Home School Peru NY 15:01
5 Benjamin True (12) Northeast Greely H.S. North Yarmouth ME 15:02
6 Ryan Deak (12) Midwest Smoky Hill H.S. Aurora CO 15:13
7 Christian Wagner (12) Midwest Columbus North H.S. Columbus IN 15:14
8 Stuart Eagon (12) West Beaverton H.S. Portland OR 15:19
9 Victor Gras (12) Northeast Belmont H.S. Belmont MA 15:21
10 Garrett Heath (12) Midwest Winona Senior H.S. Winona MN 15:22
11 Mohamed Trafeh (12) West Duarte H.S. Duarte CA 15:24
12 Bradley Harkrader (12) Midwest Thornton H.S. Westminster CO 15:24
13 Andrew Bumbalough (11) South Brentwood Academy Brentwood TN 15:30
14 Scott MacPherson (11) South Plano Senior H.S. Plano TX 15:30
15 Evan Garber (12) West Mead H.S. Spokane WA 15:31
16 James Strang (12) South Baylor H.S. Signal Mountain TN 15:31
17 Cory Thorne (11) Northeast Portsmouth H.S. Portsmouth NH 15:32
18 Ryan Gasper (11) Midwest Fort Atkinson H.S. Fort Atkinson WI 15:34
19 Nicholas Hutchins (12) South Millbrook H.S. Raleigh NC 15:35
20 Lopez Lamong (12) Northeast Tully H.S. Marietta NY 15:36
21 Ahmed Haji (12) Northeast Conard H.S. West Hartford CT 15:39
22 Mark Matusak (11) West Loyola H.S. Torrance CA 15:41
23 Eric Mack (12) South North Forsyth H.S. Winston-Salem NC 15:43
24 Neal Naughton (12) Midwest Walled Lake Western H.S. Walled Lake MI 15:45
25 Alex Dunn (12) West San Lorenzo Valley H.S. Santa Cruz CA 15:51
26 Tom Wyatt (12) West Charles Wright H.S. Tacoma WA 15:53
27 Justin Switzer (11) Midwest Waterford Kettering H.S. Waterford MI 15:59
28 Erik Stanley (12) South Klein H.S. Spring TX 16:07
29 Jonathan Anderson (12) Northeast Cinnaminson H.S. Cinnaminson NJ 16:07
30 Brian Sullivan (12) South The Woodlands H.S. The Woodlands TX 16:24
31 Kyle Miller (12) South Cinco Ranch H.S. Katy TX 16:59
32 Gavin Coombs (12) Northeast Griswold H.S. Griswold