Donna on the Side - Friday
| Celebrities | Course Walk |
by Donna Dye

The Big Day is here! Foot Locker Finals at Balboa Park.
In case there is any doubt, Balboa Park was named after the explorer, Vasco Núñez de Balboa to celebrate the first European to see the Pacific. The Park got its name through a contest, conducted by the city of San Diego to rename City Park as it was known at the time. The park was established in 1868. Early on, horticulturist Kate O. Sessions was given 30 acres for a private nursery. In return she planted 100 trees a year in the park and 300 trees and other plants throughout San Diego. Sessions became known as the "mother of Balboa Park" because of her many plantings and exotic plant introductions to the area (From www.balboapark.org). Today the park is a cultural complex filled with numerous attractions and activities including museums, exhibits, gardens and many activities. As the park proudly proclaims, "There's Something For Everyone at San Diego's Balboa Park!
Foollocker Finals held at Morley Field fits in very well in the park. This year is the return of Foot Locker to San Diego and Balboa Park. Back in 1979 the Kinney Cross Country Championship was first run. Named after the sponsor Kinney shoes, it was held in Balboa Park San Diego for two years, 1979 and 1980. In 1981 it moved to Orlando Florida where it stayed for two years, then moved back to Balboa Park for another 14 years, moving back to Orlando from 1997 through 2001 and finally moving back to San Diego again in 2002. Along the way, the name was changed from Kinney to Foot Locker.

The Scene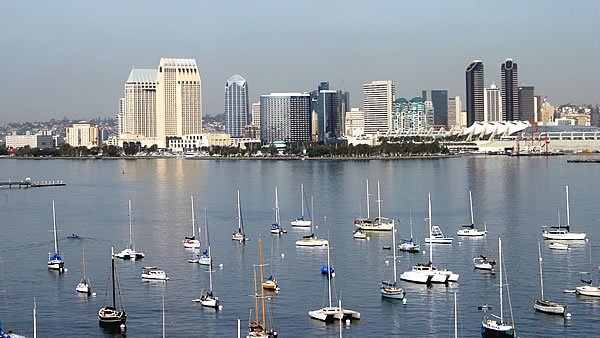 Derek's sunset view from the Del.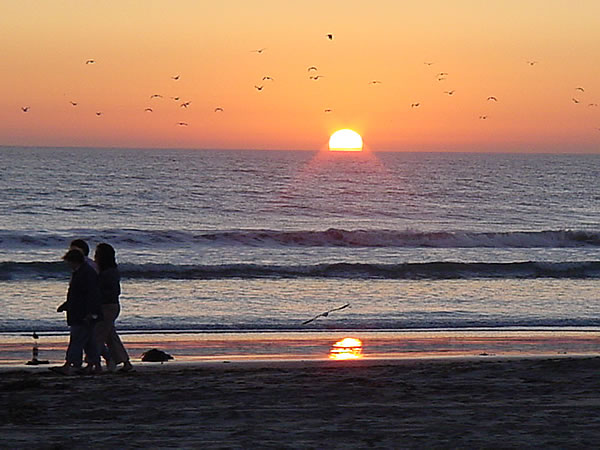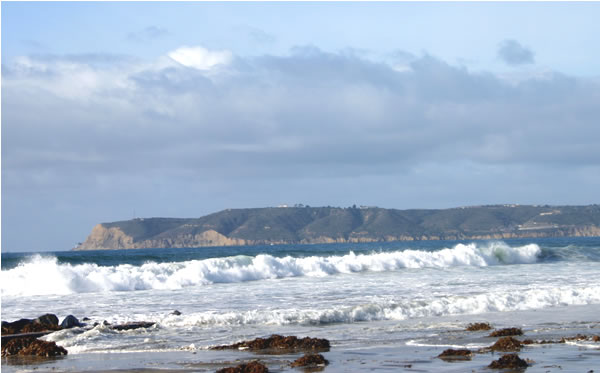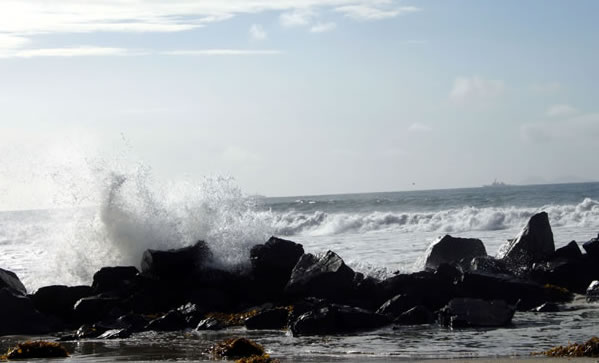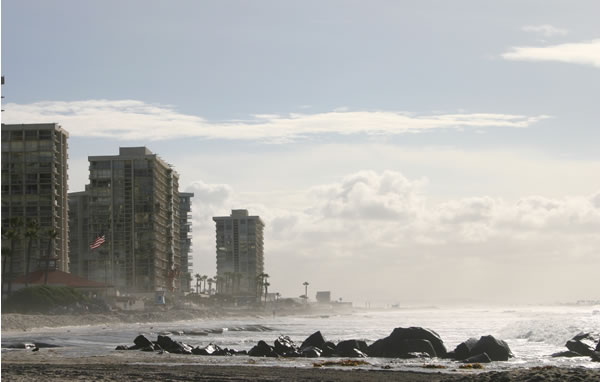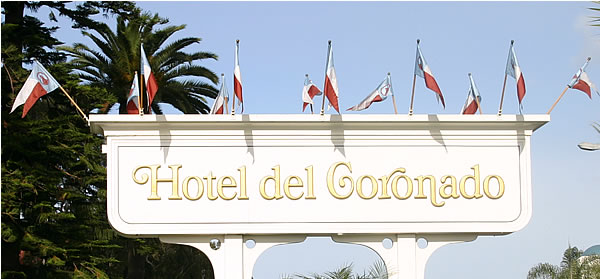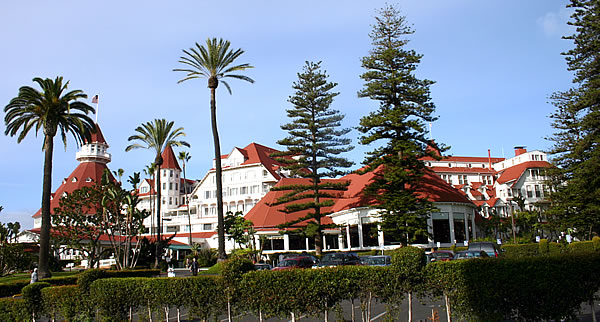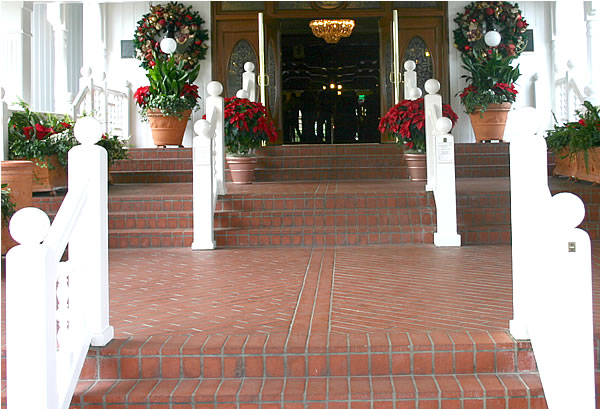 Balboa Park
Horton Plaza
by Derek Dye
Tis the Season
Getting Acquainted and Course Walk
Erik Stanley TX and Ahmed Haji CT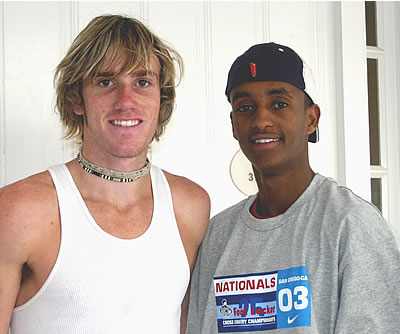 From the Northeast: Lindsay Donaldson MA, Jennifer Clausen NJ,
Aislin Ryan NY, and Allison Kieffer NYs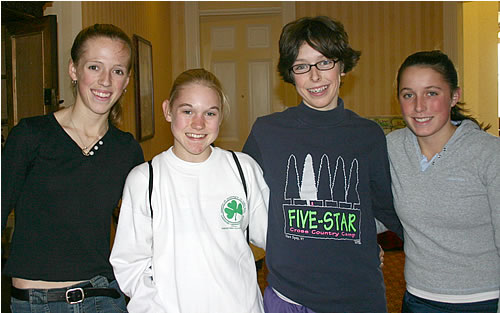 Girls on the Go: (top) Katy Harrington IN, Clair Rethmeier CA, Brittany Sedberry NJ, Ramsay Kavan SD, Kate Niehaus SC, Beth Fahey VA
(bottom left) Sunni Olding OH, Alissa McKaig IN, Frances Koons PA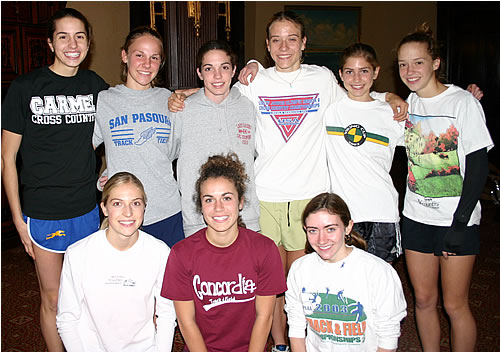 Nike Elite Athletes plus Josh Rowe: Sarah Schwald, Josh Rowe from Nike,
Steve Slattery and Pascal Dobert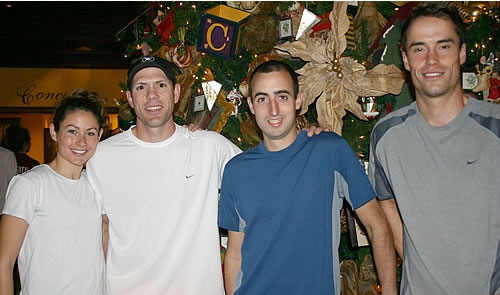 Zoe Nelson MT Family: Dad, Bill; Mom, Brooke; Cousins Bree and Ani Kame'enui; Aunt Brenda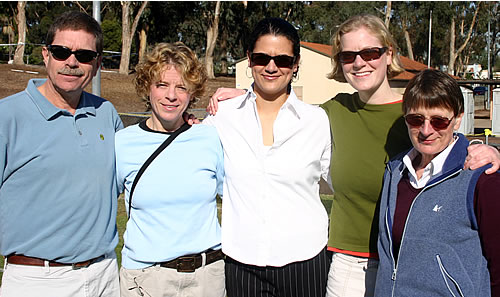 From Valparaiso, IN: Coach Mick Cananaugh, Karen DeVries and
Coach Rick and Amy Wienheima, here to cheer for Rachael Marchand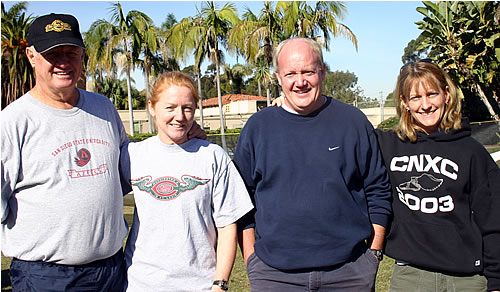 Thrilled to stand with a legend: Coach Wienheimer IN, Sam Wagner, Christian Wagner's Dad IN; Marty Liquori, Sub 4 legend; Coach Mike Rivera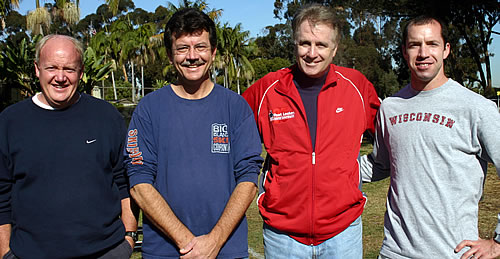 Part of Team Indiana: (l) Katie Harrington, Carmel IN and Alissa McKaig New Haven, IN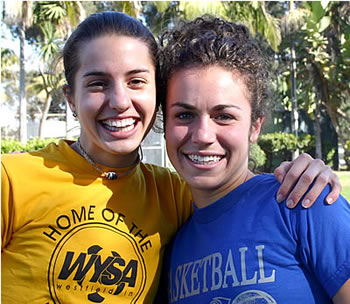 The Oldings OH: Mom, Jackie; Dad, Kurt; (front left) Sunni; brothers Jack and Kregg and
Coach Jessie Magoto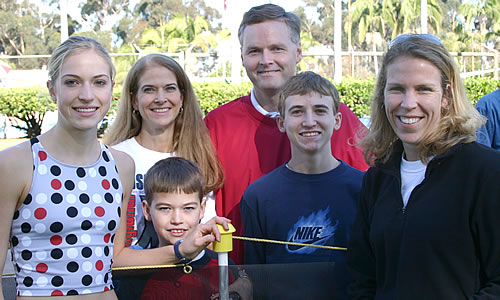 Sunni Olding's OH-- Enthusiastic Fan Club of Family and Friends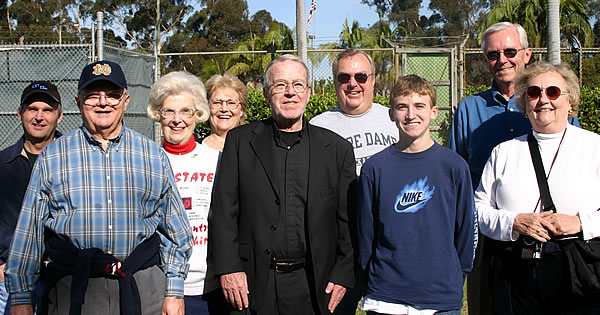 A Forish amoung the Bedells--The Texas Delegation: Lyndsy Bedell, Rachael Bedell and Erin Bedell; Rachael Forish; Mom, Cindi Bedell and Dad, Dave Bedell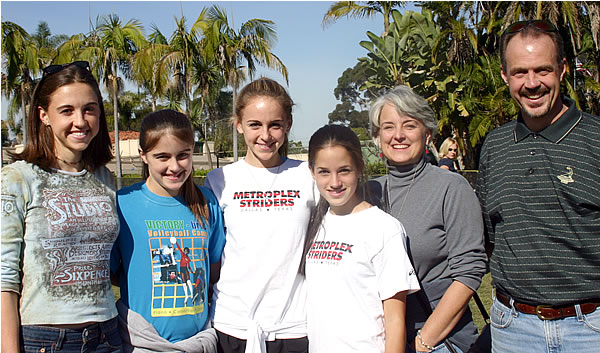 Celebrities
Foot Locker Finals had its share of celebrities: Nike Elite Athletes as Team Captains, the Fabulous Four sub-4 milers, other Nike Elite athletes, and the first Foot Locker Hall of Fame induction ceremonies.
Fabulous Four
There have been four high school athletes who have broken 4 minutes in the mile: Jim Ryun, Tim Danielson, Marty Liquori and Alan Webb. For the first time all four were together at the Foot Locker Finals to share their experiences and secrets about running.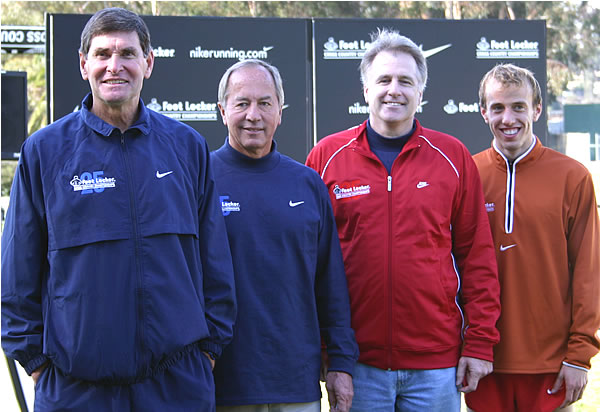 Fab Four Panel tell their secrets.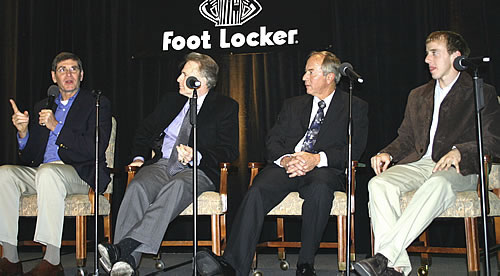 Praises for the Panel from the audience.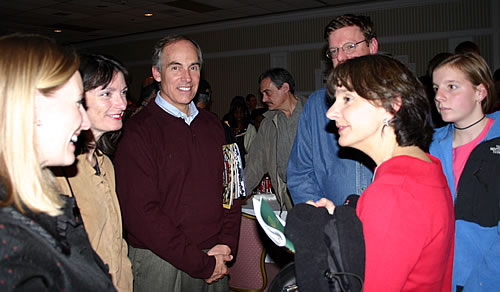 Foot Locker Hall of Fame
The first Foot Locker Hall of Fame induction was held at this finals celebration. Suzy-Favor Hamilton and Bob Kennedy earned the honor of being the first selections.
| | |
| --- | --- |
| | Bob Kennedy has set American Records in the 3,000m, 2 miles and 5000m. He's been ranked #1 in the US eight years, finished th in the 1996 Olympic Games at the 5,000m and has been ranked as high as #4 in the world. In 2002 he was top-ranked US 5,000m runner. He has a BS in finance from Indiana University. During his college career he won twenty Big Ten Championships, four individual NCAA Championships and made the 1992 Olympic team. |
| | Suzy Favor-Hamilton won 9 NCAA Titles, 23 Big Ten Championships, and 14 All American Awards. She was NCAA Championship record holder at both 800 and 1500m and NCAA Cross-Country Championship runner-up two times. She was World University Games silver medalist. She was earned 4 Big Ten Athlete of the Year Awards, now called the "Suzy Favor Award." She earned the NCAA Top Six ward, the Honda Broderick Cup Award, the Babe Zaharias Award and NCAA Woman of the Year. She was a U.S. Olympian 3 times and won 6 U.S. National Championships. |