| Results | Quotes | Pix | PhotoRun's South region photo album - 28 shots from A to W
Girls
Jennifer Barringer FL 17:27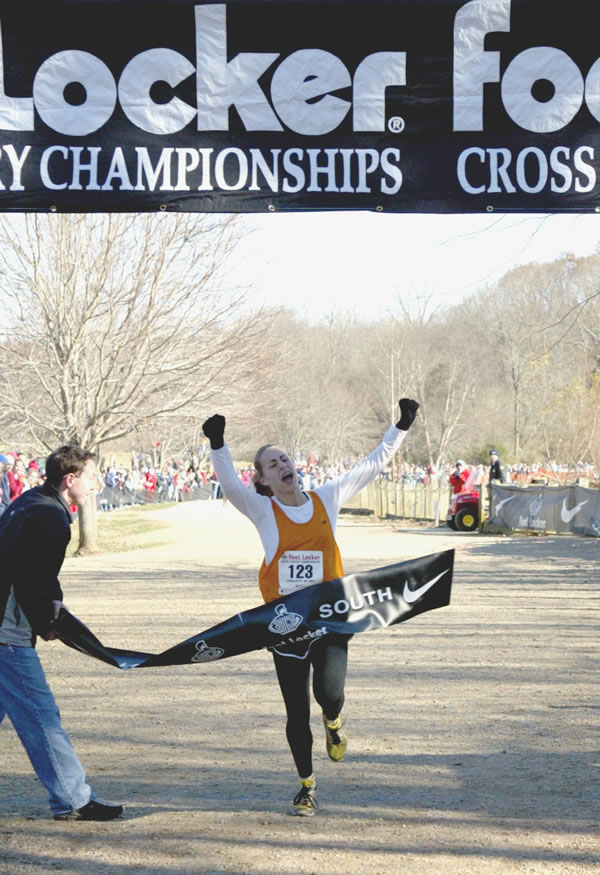 photo by Brian J. Myers, PhotoRun
Ricky Quintana's Quotes
Jenny Barringer, 1 st place

Barringer: It was amazing. The whole race was very competitive. I'm very proud of how I ran.

RQ: Can you go through the race?
Barringer: The first mile, oh my gosh, the girls went out so fast. You know people are going to do that. The straightaway really encourages that. So we went out quick. I went with the pack and tucked in behind everybody. We ran real smart the first mile. We came through in about 5:27. Everyone was still warming up. It was really cold. Then, I came up on the first hill, and being from Florida, you know that you have to attack the hill or you are not going to get over it. So, I totally took over the hill. No one went with me. So, from that point, I knew I could do it. I'm very proud of what I did.

RQ: Once you got away, you looked very relaxed.
Barringer: First of all, I was so happy I was here healthy. Last year, I had come after being sick all week. I was so excited about that. Running by myself is familiar territory so once I got out there by myself, I was like, "This is where I'm usually at," so I felt really relaxed going around and very comfortable.

RQ: And the time, are you happy with that?
Barringer: Yes, I'm very happy with that. I was freezing cold when I got to the line. Last year, 17:51 was the fastest time. I'm just very happy. My goal was top eight and I came out and won the thing. I was very happy and competitive. I'm very proud of how I performed.

RQ: This is new for you. Your season is extended a couple of weeks. What are you going to do between now and nationals?
Barringer: I'm going to train hard. It's been different. Our high school season was two weeks shorter. It's been three weeks between this race and states and it's another two weeks to train for San Diego . It's different. I find that every now and then I find a few people to run with. Getting those hard workouts in by myself is kind of weird. I think it's really helped me focus. And it really helped me mentally for this race today.

RQ: For the hills at nationals, are you going to do anything special? You've had a lot of success on hilly courses.
Barringer: In Florida, there are no hills to train on, period. I get out there and do my two workouts. I do the different things that I can do in Florida . I think the hills, in my situation, is mental toughness. That's where my mental toughness comes in.

Laura Bowerman, 7 th place
RQ: Can you go over your strategy? It looked like you were pretty far back.
Bowerman: Well, my strategy was to get out with the leaders I think I did a pretty good job of getting out with them. I was up there leading the race with the other girls. Then, several girls passed me on the downhill. That's where I lost ground. The last mile, I was in ninth or tenth place. In the last 200m, I kicked down a couple of girls.

RQ: Were you in any panic, when you saw you were in ninth or tenth place?
Bowerman: Yeah, it was worrisome. I knew I had to fight through it and kick down the last couple of girls.

RQ: Can you go through some of the adversity you faced this year getting to this point?
Bowerman: The path wasn't the ideal season. I had to fight through an injury in the middle of the season. That held me back a little Looking back on it, maybe it was good I had a little rest and was able to refocus on my goal.

RQ: What are your plans for San Diego ?
Bowerman: Go and have fun, really. It's been a goal of mine since my sophomore year. I wanted to make it to San Diego and I didn't care if I finished 1st or 32nd there, that's where I wanted to be.

Rachael Forish, 6 th place

RQ: You qualified again.
Forish: Yeah. I really didn't know what I wanted to do. Last year, it was just great trip. I tried to count the number of people in front of me. I'm so excited to come back and qualify again because I know how much fun it is. It was a really good experience. It's awesome. I think my mouth was glued with a smile when I finished. It's great.

RQ: You had a pretty close state meet. You kind of duplicated what you did last year.
Forish: Yeah, it is kind of like last year. After region, I went to state and felt ok. Then I came here and felt good. It is kind of a lot like last year, but it's good because I was proud of this year and last year. I did my best

RQ: Did you feel any pressure coming in?
Forish: Yes because last year I didn't know anything. I don't think I was in shock. This time, my mom says I wasn't really stupid. Definitely, there was a little bit more pressure. I was a little bit more nervous. I just kept telling myself to have fun because I had fun last year. I wasn't sure how I was going to end up. It was good.

Erin Bedell, 3 rd place

Erin Bedell: It was fun. I liked it a lot. I just wanted to go out there and run fast and have fun.

RQ: Did you think you had a good shot at top eight?
Bedell: I really didn't know what to expect. I just wanted to get out there and have a good start. Stay in the top half and see what happens. All I was thinking was just stick here, stick here.

RQ: Texas did really well here.
Bedell: Yeah, we showed really well. We're one of the only state that runs two miles. I think it's kind of impressive for us to come out here and have so many people in the top 20.

RQ: Did you have to adjust for that?
Bedelll: We adjusted a little bit by doing a couple of longer tempos after state so we could get used to the longer mileage. As long you can stick for that middle mile and kick it in to the end, it's not that big a difference. There's always a difference between a two mile where you go out and sprint the whole way vs a three mile, where you get to relax a little bit.

RQ: For Footlocker, what kind of plans do you have?
Bedell: I'm just going to go out there and have fun and see what happens. Anyone can go out there and have a good day.

RQ: Are you going to do anything special for the hills?
Bedell: I have no idea yet. I haven't even thought about that.
Pix
Results
2003 Foot Locker South Regional
Seeded Girls Results

November 29, 2003
McAlpine Greenway
Charlotte, NC

Seeded Girls Results
3.10 Miles, 5.00 Kilometers 



1    Jennifer Barringer (1)            Oviedo, FL               17:27
2    Angelina Blackmon (12)            Rock Hill, SC            17:42
3    Erin Bedell (11)                  Plano, TX                17:47
4    Kate Niehaus (10)                 Columbia, SC             17:49
5    Madonna Schueler (12)             Louisville, KY           17:50
6    Rachael Forish (12)               Arlington, TX            17:50
7    Laura Bowerman (12)               Tampa, FL                17:53
8    Beth Fahey (12)                   Dumfries, VA             17:54
9    Miranda Walker (10)               Southlake, TX            17:56
10   Krystal Rodriguez (12)            Grand Prairie, TX        18:00
11   Christina Henderson (10)          Coppell, TX              18:01
12   Emily Harrison (12)               Front Royal, VA          18:03
13   Kerry Allen (10)                  Saint Petersburg, FL     18:06
14   Dacia Barr (12)                   Austin, TX               18:11
15   Kirsten Hagen (12)                Blacksburg, VA           18:12
16   Amy Fowler (11)                   Austin, TX               18:13
17   Brenna Burns (12)                 Weaverville, NC          18:14
18   Lyndsy Bedell (12)                Plano, TX                18:14
19   Kate Merrill (12)                 Durham, NC               18:15
20   Robyn DeBenedet (12)              Jacksonville, FL         18:16
21   Elizabeth Bruce (10)              Winston Salem, NC        18:17
22   Cheryl Spring (10)                Spring, TX               18:19
23   Ashley Williams (11)              Little Rock, AR          18:20
24   Nicole Schappert (11)             Delray Beach, FL         18:21
25   Heather Fisher (12)               Herndon, VA              18:21
26   Brittney Alberto (11)             Southlake, TX            18:22
27   Jennifer Beury (12)               Roanoke, VA              18:22
28   Anna Chase (10)                   Martinsville, VA         18:23
29   Jessica Fanning (12)              Charlottesville, VA      18:27
30   Kiah Vernon (12)                  Atlanta, GA              18:28
31   Morgan Phelan (12)                Fairfax Station, VA      18:33
32   Laurel Pritchard (10)             Birmingham, AL           18:34
33   Elisabeth Molen (9)               Birmingham, AL           18:34
34   Brooke Upshaw (10)                Southlake, TX            18:35
35   Faith Barlow (10)                 San Antonio, TX          18:35
36   Melissa Dewey (11)                Alexandria, VA           18:36
37   Amanda Patterson (11)             Midlothian, VA           18:39
38   Catherine Lynn (9)                Centreville, VA          18:39
39   Kristen Johnson (12)              Atlanta, GA              18:40
40   Tasmin Fanning (11)               Charlottesville, VA      18:41
41   Stefanie Slekis (10)              Dumfries, VA             18:43
42   Lindsay Traudt (12)               Midlothian, VA           18:44
43   Ginna Ellis (11)                  Virginia Beach, VA       18:45
44   Ritchie Vaughn (11)               Richmond, VA             18:48
45   Elizabeth Hilligoss (12)          Houston, TX              18:49
46   Emily Crow (9)                    Belden, MS               18:51
47   Bethani Massey (11)               Louisville, KY           18:53
48   Kathleen Leonard (12)             Mission, TX              18:54
49   Katie Doswell (10)                Richmond, VA             19:00
50   Haley Kolff                       Atlanta, GA              19:02
51   Tara Gruber (11)                  Flower Mound, TX         19:03
52   Jessica Dyke (12)                 Marietta, GA             19:04
53   Courtney Bowen (9)                Winston Salem, NC        19:06
54   Marianne Fusselman (11)           Irving, TX               19:07
55   Genevieve Calloway (12)           Boone, NC                19:08
56   Sara Raiser (10)                  Lilburn, GA              19:08
57   Katherine Alcorn (10)             Hebron, KY               19:09
58   Sunday Ford (11)                  Piedmont, SC             19:09
59   Fallon Heffernan (12)             Neptune Beach, FL        19:09
60   Kristin Hart (12)                 Herndon, VA              19:10
61   Jackie Areson (10)                Lake Worth, FL           19:10
62   Denise Bargiachi (11)             Cordova, TN              19:10
63   Katy Grant (10)                   Mustang, OK              19:11
64   Lindsey Nadolski (11)             Chapel Hill, NC          19:12
65   Kipling Hill (10)                 Louisville, KY           19:15
66   Genevieve Miller (12)             Herndon, VA              19:17
67   Jacy Kruzel (11)                  Hollywood, FL            19:18
68   Christina Porter (12)             Fredericksburg, VA       19:19
69   Anissa Angelosante (11)           Kingsland, TX            19:21
70   Katie Almand (11)                 Lithonia, GA             19:23
71   Nici Thomas (12)                  Mechanicsville, VA       19:24
72   Caroline Payne (12)               Gainesville, FL          19:26
73   Emily Wauford (11)                Midlothian, VA           19:26
74   Valeria Rodriguez (12)            Miami, FL                19:28
75   Jillian Lammers (12)              Acworth, GA              19:29
76   Alissa Williams (12)              Emporia, VA              19:30
77   Laura Mayo (10)                   Gainesville, GA          19:33
78   Kelsey Stafford (11)              Culpeper, VA             19:35
79   Rebecca Zuhlke (10)               Satellite Beach, FL      19:35
80   Britany Reilly (10)               GA                       19:35
81   Kelsey Snowden (11)               Fairfax Station, VA      19:39
82   Patricia Bradbury (12)            Hot Springs, AR          19:40
83   Becca Bell (12)                   Montgomery, AL           19:41
84   Rebecca Mullen (12)               Atlanta, GA              19:42
85   Clara Grandt (11)                 West Union, WV           19:47
86   Jodi Hulett (12)                  Arlington, TX            19:48
87   Laura Hamilton (11)               Louisville, KY           19:49
88   Claire Berryman (11)              Morgantown, WV           19:50
89   Emily Roff (12)                   Bradenton, FL            19:52
90   Sarah Brown (11)                  Atlanta, GA              19:57
91   Stephanie Poore (11)              Douglasville, GA         19:57
92   Elizabeth Snyder (10)             Oklahoma City, OK        19:58
93   Casey Vinson (12)                 Tupelo, MS               19:58
94   Amanda Quick (10)                 Lutz, FL                 19:58
95   Beth Mahalak (11)                 Fredericksburg, VA       19:59
96   Callie Rabun (12)                 Alpharetta, GA           20:00
97   Jamie Loy (10)                    Salina, OK               20:01
98   Leigh Ann Taylor (10)             Monroe, NC               20:01
99   Kristen Geiger (11)               Ft Mitchell, KY          20:01
100  Lisa Jennings (9)                 Columbia, SC             20:01
101  Rachel Chouteau (11)              Tahlequah, OK            20:03
102  Kelly Weinel (11)                 Wake Forest, NC          20:05
103  Kelly Payne (12)                  Mechanicsville, VA       20:10
104  Barbara Garner (12)               Buford, GA               20:12
105  Gina Casella (12)                 Charlottesville, VA      20:14
106  Brittany Copeland (9)             Stafford, VA             20:15
107  Hannah Bohlen (12)                Chapel Hill, NC          20:17
108  Maureen Campbell (12)             Charlotte, NC            20:17
109  Ashley Hurst  (12)                Mission, TX              20:21
110  Emily Pellegrini (11)             Louisville, KY           20:21
111  Emily Mertz (12)                  Fredericksburg, VA       20:22
112  Teresa Jones (12)                 San Antonio, TX          20:23
113  Lauren Klas (10)                  Simpsonville, SC         20:30

114  Ashley Whiteman (11)              Cumming, GA              20:34
115  Melissa Casey (10)                Snellville, GA           20:36
116  Tara Salem (12)                   Stafford, VA             20:39
117  Chelsea Metheny (12)              Elkins, WV               20:40
118  Jessica Hoppe (12)                Stafford, VA             20:43
119  Shiyrah Mielke (12)               Hendersonville, NC       20:46
120  Sharon Rogers (12)                Palm Coast, FL           20:46
121  Maggie Lester (10)                Glade Spring, VA         20:48
122  Sarah Holcomb (9)                 Vian, OK                 20:50
123  Alicia Ivanhoe (9)                Winter Park, FL          20:51
124  Christy Zirkle (12)               Prairieville, LA         20:52
125  Jeannine Noble (11)               Sanford, NC              20:53
126  Jaala Spencer (12)                Conway, AR               21:02
127  Jamie Vogt (12)                   Goldsboro, NC            21:05
128  Farrah Stewart (11)               Jay, FL                  21:10
129  Megan Heyduck (9)                 Murfreesboro, TN         21:12
130  Kimberly Garner (12)              Buford, GA               21:13
131  Holly Stewart (12)                Norcross, GA             21:19
132  Kathleen Wilkerson (11)           Rock Hill, SC            21:23
133  Rochelle Emerson (12)             Clinton, AR              21:31
134  Ashlea Hutchins (12)              Monroe, GA               21:38
135  Caroline Binnion (12)             Stone Mountain, GA       21:51
136  Ashley Osborne (11)               Bristol, VA              21:53
137  Solange Adams (12)                Bristol, TN              22:00
138  Sandra Paepper (12)               Little Rock, AR          22:17
139  Megan Bradshaw (11)               Alexander, AR            22:45