Results | steveu's story | Photo Albums: John Ceplina -
Girls
Katelyn Kaltenbach CO 17:29 makes it two in a row for the Kaltenbach family; Smoky Hill places two in finals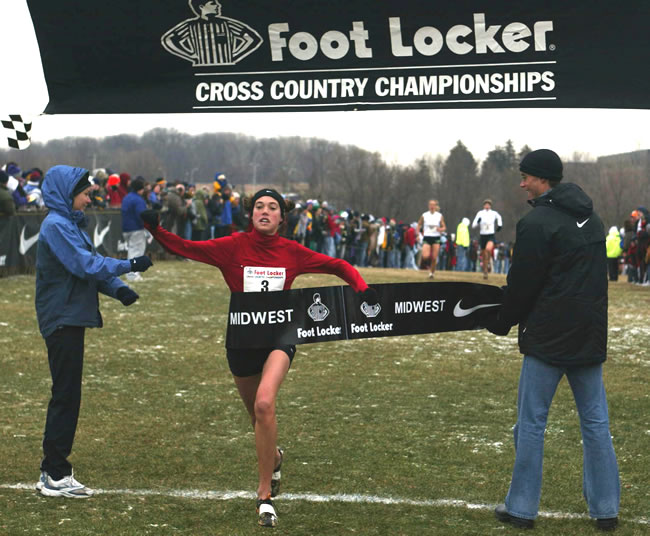 photo by Victah Sailer, PhotoRun
Smoky Hill and Indiana Grab Five of Eight
by Stephen (steveu) Underwood
How you assess the Foot Locker Midwest girls' race Saturday in Kenosha, Wis. depends on whether your preferences take more of diehard Hoosier or on a Rocky Mountain high.
Did Smoky Hill (Aurora, Colo.) HS rule? Yes, they did. Was it an incredible day for Indiana runners? No doubt.
With a strong surge in the final 300 meters that broke open a 3-girl race, junior Katelyn Kaltenbach gave the Kaltenbach family back-to-back Foot Locker Midwest girls titles, following Megan's title in 2002. With junior teammate Morgan Schulz stunning in 5th and Ryan Deak making it on the boys side, Smoky Hill and Coach Greg Weich actually have 3 runners in the finals.
But look a little further down the list of qualifiers, and Indiana's all over the place. Racheal Marchand took 4th, Katie Harrington 6th and Alissa McKaig 7th. Boom, boom, boom. Add in two more surprises (South Dakota's Ramsey Kavan in 2nd and Missouri's Amber Warren in 8th), plus a solid performance by another one of the national favorites (Ohio's Sunni Olding in 3rd), and you have a pretty formidable Midwest team going to San Diego on December 13.
Kaltenbach, who had tucked in and run patiently all race, made her first and only move when she surged past Olding and Kavan to win in an impressive 17:29. Kavan then passed Olding late for 2nd (17:34-17:35). The trio had been among the leaders all race, going through miles of 5:46 and 5:36 (11:22), but separated themselves in the last mile.
Other contenders from around the country wouldn't have felt too good about their San Diego chances if they'd seen Kaltenbach. She appeared to be cruising out there and showed an impressive turn of speed at the end to make it look easy. "I just went out smart and I felt really good," she said. "I didn't want to risk anything because the top 8 is what matters."
But, she added, she felt really good on one of the last downhills and just carried it all the way into the chute. Scary thought: The only time Kaltenbach says she's really redlined was trying to set a school record at the Liberty Bell meet in Colorado. "Otherwise, I haven't really pushed it yet."
Smoky Hill teammate Schulz pushed it pretty good today, though, and was rewarded with an improvement from 17th last year to 5th this year (17:51). "It was kind of surprising," she said, "but I knew I had a chance."
Schulz was just in the top 12, however, until late in the final mile, and passed three runners in the final 100 meters. "I had to kick hard to make it," she said.
The kick for 2nd, behind Kaltenbach, went to Ramsey, a junior from Yankton, SD who was just 34th last year. But a hard summer and a dominating fall paid off for her, and as the race unfolded, the result was a #597 among the leaders that almost nobody knew. On top of that, she was about the only runner without any kind of cold-weather apparel ("I just like to run without any kind of restrictions.").
"It's a pretty big jump," she said of her improvement. "But having my teammates here really helped me and my training was really strong this year. Also, I didn't train with states being my peak race."
Olding, who broke the wind most of the race and was starting to take control of the race with a half-mile left, took the loss in stride. There will be bigger fish to fry in two weeks. "I was kind of surprised to have to be leading the whole race," the senior said, "but I wanted to keep the pace honest. I didn't quite have anything today to counter Katelyn's move, though."
Meanwhile, the Indiana trio - could hardly have been happier. Marchand was one of the two biggest surprises of the day, McKaig confirmed the impressive running she's done all year and Harrington successfully continued her comeback from knee surgery in July. All three found the 5k distance agreed with them (Indiana races 4k, as does South Dakota) and that each other's presence was a benefit. "I just stayed with Alissa," said Marchand of her early-race strategy.
Marchand (Valparaiso HS) separated herself from the rest of the trailing group late in the race for a solitary 4th (17:43) – the same place she had at state behind McKaig, Harrington and Rachel Stichter. "As the race got longer, I felt better," she said. "Toward the end, I just felt really good."
Harrington (Carmel HS) was nosed out by Schulz to finish 6th (17:51) but was a tick ahead of McKaig (17:52), who beat her at state. "I gave it my best shot," the senior said. "I'm so excited we got four (including Christian Wagner for the boys) from Indiana. I felt good most of the race and I just want to improve on last year in San Diego."
The Indiana state champ, McKaig, incredibly, has only been running since her sophomore year. The Fort Wayne Concordia Lutheran HS senior was 27th here last year after finishing 15th in her state meet. "The year-round training has really started to pay off," she said. "I definitely wanted to be in the top 8. It's awesome; this is so fun, I can't believe it."
Just another tick back was the final qualifier, junior Amber Warren of St. Charles, MO (17:53). While the 4A state champ just told herself she could do it, the truth came out upon further reflection. "I'm actually totally shocked," she said. "I was kind of in shock the whole way. But at the end two girls passed me and I realized I had to hold on."
Amber Smith of Ishpeming, MI, the leading returnee, started strong, but faded late and was 10th in 17:57 – a second behind Jenny Morgan of Barnesville, Ohio, who was the only underclassman (sophomore) in the top 10.
Results
Individual Results 
 
   
   Place 
    Number 
    Name 
    Grade 
    Hometown 
    Time 
    
                  
   17:29    
   1    3    Katelyn Kaltenbach    11    Aurora, CO       
            
         
   17:34    
   2    597    Ramsey Kavan    11    Yankton, SD       
            
         
   17:35    
   3    5    Sunni Olding    12    Minster, OH       
            
         
   17:43    
   4    149    Racheal Marchand    12    Valparaiso, IN       
            
         
   17:51    
   5    471    Morgan Schulz    11    Aurora, CO       
            
         
   17:51    
   6    2    Katie Harrington    12    Carmel, IN       
            
         
   17:52    
   7    155    Alissa McKaig    12    New Haven, IN       
            
         
   17:53    
   8    398    Amber Warren    11    St. Charles, MO       
            
         
   17:56    
   9    165    Jenny Morgan    10    Barnesville, OH       
            
         
   17:57    
   10    1    Amber Smith    12    Ishpeming, MI       
            
         
   18:04    
   11    502    Carol Eckerly    12    Beavercreek, OH       
            
         
   18:06    
   12    164    Adele Mitchell    11    Fort Wayne, IN       
            
         
   18:10    
   13    4    Angela Bizzarri    10    Cincinnati, OH       
            
         
   18:11    
   14    206    Rebekah Smeltzer    9    Monroe, MI       
            
         
   18:11    
   15    156    Maddie McKeever    11    Littleton, CO       
            
         
   18:13    
   16    284    Paulina Garcia    10    Streamwood, IL       
            
         
   18:16    
   17    10    Shannon Bergstedt    12    Minnetonka, MN       
            
         
   18:20    
   18    79    Sara Fassbinder    12    Dubuque, IA       
            
         
   18:24    
   19    9    Julie Eckerly    12    Columbus, IN       
            
         
   18:28    
   20    357    Rachel Wittum    9    Rockford, MI       
            
         
   18:28    
   21    223    Nelle Trefz    12    Iowa City, IA       
            
         
   18:33    
   22    293    Alison Coren    12    Wheeling, IL       
            
         
   18:34    
   23    89    Rachel Gioscia    11    Buena Vista, CO       
            
         
   18:39    
   24    512    Sarah Leeper    9    Cincinnati, OH       
            
         
   18:40    
   25    211    Jennifer Spieldenner    12    Findlay, OH       
            
         
   18:42    
   26    260    Kristin Hood    9    Independence, IA       
            
         
   18:43    
   27    27    Trista Baye    11    Green Bay, WI       
            
         
   18:46    
   28    451    Maggie Infeld    12    University Heights, OH       
            
         
   18:46    
   29    84    Katie Follett    10    Fort Collins, CO       
            
         
   18:47    
   30    208    Merideth Snow    10    Wildwood, MO       
            
         
   18:47    
   31    191    Hannah Roeder    10    Des Moines, IA       
            
         
   18:47    
   32    343    Kayla Omara    9    Goodrich, MI       
            
         
   18:48    
   33    236    Megan Young    11    Rochester Hills, MI       
            
         
   18:48    
   34    298    Maggie Carroll    12    Brimfield, IL       
            
         
   18:50    
   35    495    Ladia Albertson-Junkins    12    Stillwater, MN       
            
         
   18:50    
   36    72    Allison Eckert    9    Sioux Falls, SD       
            
         
   18:50    
   37    73    Krista Eckert    9    Sioux Falls, SD       
            
         
   18:51    
   38    7    Staci Honeyman    12    Reeder, ND       
            
         
   18:53    
   39    61    Kelli Denny    12    Lee's Summit, MO       
            
         
   18:53    
   40    86    Alysha Galbraith    12    Olathe, KS       
            
         
   18:55    
   41    91    Steph Greer    11    Greenwood, IN       
            
         
   18:55    
   42    6    Nikki Bohnsack    12    Rockford, MI       
            
         
   18:56    
   43    247    Michelle Corrigan    11    Green Bay, WI       
            
         
   18:58    
   44    183    Jennifer Reekie    12    St. Peters, MO       
            
         
   18:58    
   45    132    Laura Kelley    12    Leawood, KS       
            
         
   18:58    
   46    46    Caitlin Chrisman    12    Carbondale, IL       
            
         
   18:59    
   47    278    Sarah Wickman    9    Iowa City, IA       
            
         
   19:00    
   48    169    Abbey O'Connell    11    Hartland, WI       
            
         
   19:00    
   49    318    Rachael Button    12    Farmington Hills, MI       
            
         
   19:02    
   50    118    Megan Jackson    10    Middlebury, IN       
            
         
   19:02    
   51    359    Erin Batt    11    Hillsdale, MI       
            
         
   19:02    
   52    131    Ali Kelley    11    Denver, CO       
            
         
   19:02    
   53    235    Natalie Yarbrough    11    Apple Valley, MN       
            
         
   
   Saturday, November 29, 2003    1    
                        
   2003 Foot Locker Cross Country Championships - Girls    
   Girls Seeded Race    
Individual Results 
 
   
   Place 
    Number 
    Name 
    Grade 
    Hometown 
    Time 
    
                  
   19:03    
   54    370    Jennifer Harper    11    West Plains, MO       
            
         
   19:03    
   55    466    Carolyn Rauen    12    Cincinnati, OH       
            
         
   19:04    
   56    100    Hayley Harbert    12    Shawnee, KS       
            
         
   19:05    
   57    307    Stephanie Seng    9    Olmsted Falls, OH       
            
         
   19:06    
   58    353    Christy Severy    10    Aspen, CO       
            
         
   19:08    
   59    338    Kasey Kimball    12    Eureka, MO       
            
         
   19:09    
   60    431    Kaitlin OMara    9    Goodrich, MI       
            
         
   19:11    
   61    228    Bria Wetsch    10    Chaska, MN       
            
         
   19:13    
   62    280    Lisa Bokios    11    LaGrange Park, IL       
            
         
   19:15    
   63    410    Allison Pritchard    11    Dickinson, ND       
            
         
   19:16    
   64    71    Mallory Dragon    11    Ashtabula, OH       
            
         
   19:17    
   65    130    Magin Kebert    12    West Lafayette, IN       
            
         
   19:18    
   66    553    Lisa Senakiewich    12    Davison, MI       
            
         
   19:19    
   67    317    Marie Borner    11    Hastings, MN       
            
         
   19:19    
   68    480    Emily Thompson    10    Cincinnati, OH       
            
         
   19:19    
   69    172    Jessica Ordway    12    Holgate, OH       
            
         
   19:19    
   70    592    Jaqui Aubert    12    Crystal Lake, IL       
            
         
   19:20    
   71    62    Kelsey Devereaux    10    Jackson, MI       
            
         
   19:20    
   72    161    Becca Miller    12    Jefferson City, MO       
            
         
   19:21    
   73    571    Katie Ellis    10    Barrington, IL       
            
         
   19:21    
   74    501    Shelby Brice    12    Troy, IL       
            
         
   19:23    
   75    148    Sarah Manck    12    Fort Wayne, IN       
            
         
   19:24    
   76    13    Gillian Allen    11    Fort Collins, CO       
            
         
   19:24    
   77    348    Theresa Schamberger    10    Kendallville, IN       
            
         
   19:25    
   78    146    Kelsey Maloney    11    Sioux Falls, SD       
            
         
   19:25    
   79    40    Meg Brunick    12    Naperville, IL       
            
         
   19:26    
   80    19    Jessica Armstrong    9    Dorr, MI       
            
         
   19:26    
   81    74    Melissa Engelmeier    11    Saginaw, MN       
            
         
   19:27    
   82    55    Eileen Creutz    10    Saline, MI       
            
         
   19:31    
   83    77    Molly Esche    12    Waukesha, WI       
            
         
   19:34    
   84    36    Lisa Bonistalli    12    Naperville, IL       
            
         
   19:35    
   85    534    Kellyn Johnson    12    Sussex, WI       
            
         
   19:37    
   86    170    Kristina Olsen    10    Jackson, MI       
            
         
   19:39    
   87    67    Allison Duba    11    Sioux Falls, SD       
            
         
   19:39    
   88    306    Lindsay Pierson    10    Lee's Summit, MO       
            
         
   19:39    
   89    510    Amanda Kuchta    10    Yankton, SD       
            
         
   19:39    
   90    583    Melissa Manke    11    East Troy, WI       
            
         
   19:40    
   91    545    Claire Otwell    12    Traverse City, MI       
            
         
   19:40    
   92    8    Nicole Bush    12    Wyoming, MI       
            
         
   19:40    
   93    288    Sara McKinley    11    Dodgeville, WI       
            
         
   19:41    
   94    213    Carie Steil    11    Eau Claire, WI       
            
         
   19:41    
   95    129    Valerie Kazmer    12    Grand Rapids, MI       
            
         
   19:42    
   96    421    Kelly Hertneky    12    Greeley, CO       
            
         
   19:43    
   97    154    Sarah McCort    11    N. Canton, OH       
            
         
   19:43    
   98    566    Kellie Schneider    10    Pleasant Prairie, WI       
            
         
   19:44    
   99    358    Katie Anderson    11    Coon Rapids, MN       
            
         
   19:45    
   100    38    Alicia Boynton    10    Muskegon, MI       
            
         
   19:45    
   101    246    Emily Cochard    12    Kendallville, IN       
            
         
   19:45    
   102    585    Kathryn Olson    12    Ann Arbor, MI       
            
         
   19:48    
   103    349    Jessica Schmidt    12    Hilliard, OH       
            
         
   19:49    
   104    110    Alicia Hoffman    11    Monroe, MI       
            
         
   19:49    
   105    200    Emilie Schur    10    Pagosa Springs, CO       
            
         
   19:50    
   106    18    Kirsten Anthony    12    Colorado Springs, CO       
            
         
   19:52    
   107    321    Maggie Chaney    10    Maineville, OH       
            
         
   19:52    
   108    122    Megan Johnson    11    River Falls, WI       
            
         
   19:53    
   109    363    Lauren Clark    10    LaGrange, IL       
            
         
   
   
   Saturday, November 29, 2003    2    
                        
   2003 Foot Locker Cross Country Championships - Girls    
   Girls Seeded Race    
Individual Results 
 
   
   Place 
    Number 
    Name 
    Grade 
    Hometown 
    Time 
    
                  
   19:53    
   110    347    Tricia Rozeboom    10    Saugatuck, MI       
            
         
   19:53    
   111    478    Emma Tauchman    11    Stevens Point, WI       
            
         
   19:53    
   112    209    Meghan Soltis    12    Albion, MI       
            
         
   19:54    
   113    82    Mia Fiegelist    12    Columbus, OH       
            
         
   19:56    
   114    319    Elizabeth Carpenter    12    Whitehall, MI       
            
         
   19:56    
   115    189    Mollie Ringer    10    Kent City, MI       
            
         
   19:58    
   116    387    Dana Peters    11    Nerstrand, MN       
            
         
   19:58    
   117    405    Amanda Knussman    12    East Peoria, IL       
            
         
   19:59    
   118    544    Annie Otwell    10    Traverse City, MI       
            
         
   19:59    
   119    580    Alexa Glencer    10    Ann Arbor, MI       
            
         
   20:00    
   120    153    Taryn May    12    Overland Park, KS       
            
         
   20:01    
   121    301    Janet Dobyns    11    Iowa City, IA       
            
         
   20:01    
   122    575    Kayla Alexander    10    Terre Haute, IN       
            
         
   20:02    
   123    257    Caroline Hillman    12    Westerville, OH       
            
         
   20:02    
   124    177    Rachel Poremski    11    West Lafayette, IN       
            
         
   20:05    
   125    355    Kristin Williams    11    Quincy, IL       
            
         
   20:06    
   126    327    Kara Eckard    11    Warrensburg, MO       
            
         
   20:07    
   127    465    Marcy Rahn    12    Coralville, IA       
            
         
   20:07    
   128    204    Shauna Simpson    11    Burton, OH       
            
         
   20:07    
   129    166    Molly Morgan    12    Barnesville, OH       
            
         
   20:08    
   130    20    Shannon Bailey    11    Farmington Hills, MI       
            
         
   20:09    
   131    524    Taylor Bennett    10    Bourbonnais, IL       
            
         
   20:10    
   132    145    Jennifer Lohner    12    East Grand Rapids, MI       
            
         
   20:11    
   133    303    Claire Hall    10    Iowa City, IA       
            
         
   20:11    
   134    217    Mia Supanich-Winter    12    Libertyville, IL       
            
         
   20:11    
   135    237    Brooke Zeller    11    Centennial, CO       
            
         
   20:11    
   136    253    Megan Foreman    12    Valparaiso, IN       
            
         
   20:12    
   137    285    Cara Gozzard    11    Hudson, OH       
            
         
   20:12    
   138    240    Annie Beecham    10    Granville, OH       
            
         
   20:13    
   139    37    Alex Bourlas    11    North Canton, OH       
            
         
   20:13    
   140    83    Lisa Floran    11    Valparaiso, IN       
            
         
   20:13    
   141    184    Jessica Reyes    11    Cincinnati, OH       
            
         
   20:14    
   142    190    Jennifer Roberts    11    Bolingbrook, IL       
            
         
   20:15    
   143    239    Mary Ballinger    10    Chesterton, IN       
            
         
   20:15    
   144    400    Laura Cross    12    Metamora, IL       
            
         
   20:16    
   145    514    Tianna ONeill    11    Arlington Heights, IL       
            
         
   20:16    
   146    411    Ariel Smith    11    New England, ND       
            
         
   20:17    
   147    425    Sarah Kemple    12    Arlington, IN       
            
         
   20:17    
   148    232    Amy Wike    12    Waukesha, WI       
            
         
   20:17    
   149    407    Hayley Herauf    11    Dickinson, ND       
            
         
   20:18    
   150    114    Jennifer Homan    12    Cincinnati, OH       
            
         
   20:19    
   151    368    Meaghan Flack    10    Durant, IA       
            
         
   20:20    
   152    579    Phoebe Garcia    10    Newtown, ND       
            
         
   20:21    
   153    485    Sarah Urbut    11    Naperville, IL       
            
         
   20:22    
   154    64    Bailey Diveley    12    Westfield, IN       
            
         
   20:24    
   155    382    Marisa Mele    12    Naperville, IL       
            
         
   20:24    
   156    196    Kelly Sampson    11    Detroit, MI       
            
         
   20:25    
   157    335    Janee Jones    11    Goodrich, MI       
            
         
   20:26    
   158    479    Kara Tauchman    11    Stevens Point, WI       
            
         
   20:26    
   159    106    Kelly Higgins    12    Corunna, MI       
            
         
   20:28    
   160    133    Gina Kennison    12    Moberly, MO       
            
         
   20:31    
   161    406    Michelle Hanson    12    Dickinson, ND       
            
         
   20:32    
   162    590    Erin Weber    11    Golden, CO       
            
         
   20:34    
   163    591    Alaina Zanin    11    Kenosha, WI       
            
         
   20:35    
   164    397    Ashley Tryban    11    Cheboygan, MI       
            
         
   20:35    
   165    263    Kayla Jelen    9    Sioux Falls, SD       
            
         
   
   
   Saturday, November 29, 2003    3    
                        
   2003 Foot Locker Cross Country Championships - Girls    
   Girls Seeded Race    
Individual Results 
 
   
   Place 
    Number 
    Name 
    Grade 
    Hometown 
    Time 
    
                  
   20:36    
   166    309    Esther Walker    11    Grand Forks, ND       
            
         
   20:37    
   167    376    Leslie Kraus    11    Cleves, OH       
            
         
   20:37    
   168    120    Ashley Johnson    11    Romeoville, IL       
            
         
   20:38    
   169    613    Ariella DePrenger-Gottfried    11    Eau Claire, WI       
            
         
   20:38    
   170    182    Leah Reames    10    Kalamazoo, MI       
            
         
   20:38    
   171    323    Sarah Cunningham    12    Warrensburg, MO       
            
         
   20:39    
   172    308    Danielle Stein    12    Kalkaska, MI       
            
         
   20:41    
   173    492    Christina Blackwell    10    Portage, IN       
            
         
   20:42    
   174    332    Sarah Jackson    12    Hillsdale, MI       
            
         
   20:43    
   175    160    Erica Mientus    9    Green Oaks, IL       
            
         
   20:43    
   176    227    Kristina Werner    12    Moberly, MO       
            
         
   20:43    
   177    388    Denise Petry    12    Columbus, IN       
            
         
   20:43    
   178    52    Tara Connolly    10    River Falls, WI       
            
         
   20:45    
   179    550    Amanda Raley    11    Traverse City, MI       
            
         
   20:46    
   180    198    Megan Schmitz    10    Pewaukee, WI       
            
         
   20:46    
   181    356    Heather Wittum    11    Rockford, MI       
            
         
   20:50    
   182    472    Caitlin Shagena    12    Cincinnati, OH       
            
         
   20:52    
   183    14    Alyssa Anderson    10    Chester, SD       
            
         
   20:53    
   184    80    Rachel Fechik    11    Lawton, MI       
            
         
   20:54    
   185    266    Jackie Oestreich    11    Merrill, WI       
            
         
   20:54    
   186    414    Nicole Braunsdorf    11    St. Francis, WI       
            
         
   20:56    
   187    105    Angela Hibbard    12    Howell, MI       
            
         
   20:58    
   188    530    Jennifer Hockman    11    Colorado Springs, CO       
            
         
   21:00    
   189    107    Danielle Hockstra    11    Grand Rapids, MI       
            
         
   21:02    
   190    375    Jill Kennelly    11    Brimfield, IL       
            
         
   21:04    
   191    92    Joanna Gruber    12    Minster, OH       
            
         
   21:06    
   192    261    Natalie Hopwood    9    Dayton, OH       
            
         
   21:06    
   193    109    Leslie Hofland    12    Bowman, ND       
            
         
   21:08    
   194    48    Katie Ciosek    11    Ada, MI       
            
         
   21:10    
   195    265    Kara Niekamp    11    Minster, OH       
            
         
   21:11    
   196    339    Kelsey Meyers    9    Goodrich, MI       
            
         
   21:12    
   197    267    Natalie Scatena    11    Buffalo Grove, IL       
            
         
   21:13    
   198    449    Ann Hennig    12    Oak Park, IL       
            
         
   21:13    
   199    59    Kathleen Davis    12    Lenexa, KS       
            
         
   21:13    
   200    525    Kelsey Campbell    10    Traverse City, MI       
            
         
   21:15    
   201    158    Michelle Mercer    11    Muskegon, MI       
            
         
   21:16    
   202    295    Allyson Bevins    12    Westfield, IN       
            
         
   21:21    
   203    552    Erika Ross    11    Colorado Springs, CO       
            
         
   21:22    
   204    556    Liz Zbrozek    12    Sterling Heights, MI       
            
         
   21:23    
   205    341    Samantha Minkler    10    Goodrich, MI       
            
         
   21:25    
   206    117    Rebecca Ingraham    11    Lenexa, KS       
            
         
   21:26    
   207    220    Carolyn Tegge    11    Cincinnati, OH       
            
         
   21:26    
   208    139    Jessica Koster    10    Grand Rapids, MI       
            
         
   21:26    
   209    522    Becca Bauman    11    Grand Rapids, MI       
            
         
   21:28    
   210    259    Lindsey Hogle    12    Dayton, OH       
            
         
   21:29    
   211    505    Mary Foley    11    Watertown, SD       
            
         
   21:29    
   212    252    Jocelyn Figg    10    Iowa City, IA       
            
         
   21:30    
   213    99    Alicia Hanson    11    Grand Rapids, MI       
            
         
   21:30    
   214    21    Beth Baird    12    Waukesha, WI       
            
         
   21:31    
   215    121    Jennifer Johnson    10    Howell, MI       
            
         
   21:31    
   216    424    Gwendolyn Kemple    12    Arlington, IN       
            
         
   21:32    
   217    125    Sara Julsrud    11    Grand Forks, ND       
            
         
   21:32    
   218    366    Carrie Crofford    12    Cieves, OH       
            
         
   21:33    
   219    218    Cassie Swain    11    Sioux Falls, SD       
            
         
   21:33    
   220    212    Kari Splitt    12    Sun Prairie, WI       
            
         
   21:34    
   221    352    Ashley Schweikl    11    South Milwaukee, WI       
            
         
   
   
   Saturday, November 29, 2003    4    
                        
   2003 Foot Locker Cross Country Championships - Girls    
   Girls Seeded Race    
Individual Results 
 
   
   Place 
    Number 
    Name 
    Grade 
    Hometown 
    Time 
    
                  
   21:36    
   222    291    Jessie Morgenthal    11    Wheeling, IL       
            
         
   21:36    
   223    450    Becky Herbert    12    Tinley Park, IL       
            
         
   21:37    
   224    111    Sarah Hofman    12    Grand Rapids, MI       
            
         
   21:38    
   225    572    Gena Parker    12    Sioux Falls, SD       
            
         
   21:38    
   226    568    Katie Beaverson    12    Moberly, MO       
            
         
   21:38    
   227    258    Stephanie Hillman    12    Westerville, OH       
            
         
   21:40    
   228    412    Kristin Barnett    11    Evergreen, CO       
            
         
   21:41    
   229    489    Amanda Weirich    12    Marion, IN       
            
         
   21:41    
   230    45    Megan Chojnacki    11    Waukesha, WI       
            
         
   21:42    
   231    364    Jessica Clarys    12    Jamestown, ND       
            
         
   21:44    
   232    17    Samantha Andrews    11    Pewaukee, WI       
            
         
   21:48    
   233    254    Emily Guhl    10    Brookfield, WI       
            
         
   21:50    
   234    533    Nicole Jandron    11    Sterling Heights, MI       
            
         
   21:51    
   235    311    Breanna Zink    10    Jamestown, ND       
            
         
   21:52    
   236    458    Colleen Moran    11    Poland, OH       
            
         
   21:53    
   237    607    Abbey Marciniak    12    LaPorte, IN       
            
         
   21:54    
   238    302    Katie Frushour    12    Grand Forks, ND       
            
         
   21:55    
   239    337    Erin Kiernan    12    Aspen, CO       
            
         
   21:56    
   240    126    Mary Kaleta    12    Wauwatosa, WI       
            
         
   21:59    
   241    521    Emma Barker    11    St. Paul, MN       
            
         
   22:01    
   242    537    Danielle Lewis    10    South Bend, IN       
            
         
   22:02    
   243    322    Natalie Cook    10    Goodrich, MI       
            
         
   22:05    
   244    216    Addy Stoiber    11    Greenfield, WI       
            
         
   22:06    
   245    389    Kate Powell    11    Columbus, IN       
            
         
   22:06    
   246    231    Catherine Wiechmann    11    Eau Claire, WI       
            
         
   22:08    
   247    602    Kathleen Coverick    12    Palosa Park, IL       
            
         
   22:10    
   248    262    Heather Jelen    11    Sioux Falls, SD       
            
         
   22:11    
   249    528    Theresa Enigl    11    Luxemberg, WI       
            
         
   22:11    
   250    611    Samantha Obetts    11    Belmont, MI       
            
         
   22:12    
   251    162    Lauren Miller    11    St. George, KS       
            
         
   22:13    
   252    282    Hilary Dean    11    St. Charles, IL       
            
         
   22:14    
   253    612    Bethany Reh    11    Belmont, MI       
            
         
   22:15    
   254    578    Alexandra Gilliss    11    New Rockford, ND       
            
         
   22:16    
   255    543    Jenny Nilsson    11    Williamston, MI       
            
         
   22:19    
   256    101    Kelsey Hassin    10    Delafield, WI       
            
         
   22:21    
   257    423    Kristine Hotop    12    Mexico, MO       
            
         
   22:22    
   258    569    Jacqueline Cross    12    Fox Point, WI       
            
         
   22:22    
   259    371    Sabrina Henry    12    Columbus, IN       
            
         
   22:23    
   260    386    Kelsey Pence    10    Columbus, IN       
            
         
   22:25    
   261    453    Abby Krueger    10    Mexico, MO       
            
         
   22:32    
   262    171    Jackie Olson    12    Bolingbrook, IL       
            
         
   22:32    
   263    287    Nicole Leep    11    Martin, MI       
            
         
   22:34    
   264    57    Caitlin Czajka    11    Muskego, WI       
            
         
   22:34    
   265    210    Debbie Speyer    11    Grand Rapids, MI       
            
         
   22:34    
   266    394    Kerilyn Stawicki    11    Columbus, IN       
            
         
   22:35    
   267    271    Kira Spencer    10    Iowa City, IA       
            
         
   22:39    
   268    310    Emily Wilson    12    Albion, MI       
            
         
   22:40    
   269    277    Kristen Verre    11    Pewaukee, WI       
            
         
   22:45    
   270    367    Chelsea Das    11    Menomonie, WI       
            
         
   22:46    
   271    96    Amanda Haas    12    Waupun, WI       
            
         
   22:46    
   272    452    Emily Jensen    12    Oak Park, IL       
            
         
   22:47    
   273    588    Katie Porter    11    East Troy, WI       
            
         
   22:48    
   274    226    Leslie Vos    12    Fort Atkinson, WI       
            
         
   22:48    
   275    119    Jessica Jager    9    Grand Rapids, MI       
            
         
   22:49    
   276    328    Elizabeth Feenstra    9    Grand Rapids, MI       
            
         
   22:49    
   277    608    Mollie Cleary    11    River Falls, WI       
            
         
   
   
   Saturday, November 29, 2003    5    
                        
   2003 Foot Locker Cross Country Championships - Girls    
   Girls Seeded Race    
Individual Results 
 
   
   Place 
    Number 
    Name 
    Grade 
    Hometown 
    Time 
    
                  
   22:50    
   278    439    Leah Bearss    11    Portage, IN       
            
         
   22:51    
   279    557    Shelly Anderson    11    Mooreton, ND       
            
         
   22:52    
   280    272    Brittany Stellhorn    12    Kokomo, IN       
            
         
   22:53    
   281    536    Carrie Lewis    12    Traverse City, MI       
            
         
   22:54    
   282    614    Sarah Kovach    11    Holland, OH       
            
         
   22:55    
   283    326    Molly Downer    10    Woodrich, MI       
            
         
   22:55    
   284    159    Melissa Meyer    11    Newport, MI       
            
         
   22:56    
   285    203    Lyudmila Shemyakina    11    Geneva, IL       
            
         
   22:57    
   286    242    Angela Cardine    12    Chicago, IL       
            
         
   22:57    
   287    584    Jen Mauerman    11    Albany, WI       
            
         
   22:57    
   288    519    Amanda Volk    11    Anderson, IN       
            
         
   23:02    
   289    93    Jennifer Gunderson    12    Whitmore Lake, MI       
            
         
   23:03    
   290    329    Emily Fischer    9    Goodrich, MI       
            
         
   23:04    
   291    582    Natalie Kennedy    12    Columbus, IN       
            
         
   23:05    
   292    70    Amber Dvirnak    11    Killdeer, ND       
            
         
   23:07    
   293    546    Martha Pedziwiatr    10    Orland Hills, IL       
            
         
   23:08    
   294    354    Megan Syring    10    Tinley Park, IL       
            
         
   23:10    
   295    547    Autumn Petros-Good    11    Colorado Springs, CO       
            
         
   23:10    
   296    562    Annie Jennett    11    Jefferson City, MO       
            
         
   23:11    
   297    594    Annie Even    11    J.C., MO       
            
         
   23:18    
   298    87    Ashley Gardynik    11    Howell, MI       
            
         
   23:19    
   299    503    Star Emmert    12    Wellston, OH       
            
         
   23:21    
   300    224    Shannon Triplett    12    Iowa City, IA       
            
         
   23:21    
   301    586    Ashley Prenger    11    Holts Summit, MO       
            
         
   23:23    
   302    51    Rachel Coker    11    Lee's Summit, MO       
            
         
   23:23    
   303    186    Christina Ricketts    12    St. Louisville, OH       
            
         
   23:25    
   304    142    Elizabeth Leslie    12    Cincinnati, OH       
            
         
   23:27    
   305    604    Lindsey Wallman    12    Seward, NE       
            
         
   23:30    
   306    493    Jennifer Thelen    12    Mount Pleasant, MI       
            
         
   23:31    
   307    205    Sarah Skipper    9    Rugby, ND       
            
         
   23:32    
   308    230    Sam Wickham    12    Manhattan, KS       
            
         
   23:34    
   309    85    Emily Gable    11    Minneapolis, MN       
            
         
   23:34    
   310    43    Jamie Cheever    11    Minneapolis, MN       
            
         
   23:36    
   311    281    Emily Caron    10    Romeoville, IL       
            
         
   23:37    
   312    487    Ellie Walsh    12    Uniontown, OH       
            
         
   23:38    
   313    90    Amanda Gobbell    12    Toledo, OH       
            
         
   23:44    
   314    593    Emily Eason    12    Tinley Park, IL       
            
         
   23:45    
   315    256    Andrea Heyse    11    New Berlin, WI       
            
         
   23:46    
   316    539    Leeann Lower    12    Mason, OH       
            
         
   23:47    
   317    606    Sarah Mueller    11    Brookfield, WI       
            
         
   23:49    
   318    540    Vanessa Montano    11    Colorado Springs, CO       
            
         
   23:51    
   319    150    Amy Marks    11    Fort Atkinson, WI       
            
         
   23:52    
   320    380    Lauren McGrath    12    Tinley Park, IL       
            
         
   23:52    
   321    384    Dana Narconis    11    Edwardsville, IL       
            
         
   23:53    
   322    379    Saarah Malik    11    Edwardsville, IL       
            
         
   23:54    
   323    115    Carrie Hoogland    11    Grand Rapids, MI       
            
         
   23:56    
   324    245    Megan Clearwaters    11    Kokomo, IN       
            
         
   23:59    
   325    396    Ashley Trunkel    11    Downsville, WI       
            
         
   23:59    
   326    34    Lindsey Biebel    12    Waukesha, WI       
            
         
   24:00    
   327    399    Lauren Bearden    11    Washburn, IL       
            
         
   24:05    
   328    483    Cassey Turic    11    Poland, OH       
            
         
   24:08    
   329    461    Heather Patrick    11    Poland, OH       
            
         
   24:10    
   330    300    Jenna DeVoogd    9    Grand Rapids, MI       
            
         
   24:13    
   331    316    Andrea Beukema    9    Grand Rapids, MI       
            
         
   24:13    
   332    63    Stephanie DeWeerd    10    Grand Rapids, MI       
            
         
   24:13    
   333    35    Tina Bolt    9    Grand Rapids, MI       
            
         
   
   
   Saturday, November 29, 2003    6    
                        
   2003 Foot Locker Cross Country Championships - Girls    
   Girls Seeded Race    
Individual Results 
 
   
   Place 
    Number 
    Name 
    Grade 
    Hometown 
    Time 
    
                  
   24:14    
   334    201    Maisha Seebeck    11    Grand Rapids, MI       
            
         
   24:18    
   335    523    Tara Beheler    11    Fredericktown, OH       
            
         
   24:19    
   336    187    Carrie Ringer    12    Kent City, MI       
            
         
   24:20    
   337    576    Kaitlin Beil    10    Boardman, OH       
            
         
   24:21    
   338    401    Jessica Facker    11    East Peoria, IL       
            
         
   24:26    
   339    324    Julia Daining    9    Grand Rapids, MI       
            
         
   24:34    
   340    482    Anna Tschetter    12    Shepherd, MI       
            
         
   24:40    
   341    532    Amy Jackman    11    Seward, NE       
            
         
   24:41    
   342    249    Becky Elliott    11    Sussiaville, IN       
            
         
   24:42    
   343    29    Tracey Becker    11    St. Peters, MO       
            
         
   24:44    
   344    491    Colleen Ziegler    12    Elmwood Park, IL       
            
         
   24:45    
   345    475    Carrie Schwebl    11    Forest Park, IL       
            
         
   24:45    
   346    268    Katie Schlutz    12    Wapello, IA       
            
         
   24:48    
   347    486    Katie Walko    12    North Canton, OH       
            
         
   24:49    
   348    460    Julie Myers    11    Hartville, OH       
            
         
   24:53    
   349    464    Emily Pyatskowit    10    Shawano, WI       
            
         
   24:56    
   350    157    Kailyn Meekhof    9    Grand Rapids, MI       
            
         
   24:57    
   351    136    Katie Knutson    12    Shorewood, WI       
            
         
   24:57    
   352    599    Molly Williams    12    Beaver Creek, OH       
            
         
   24:59    
   353    276    Emily Thornburg    12    Delafield, WI       
            
         
   25:03    
   354    555    Christina Thottichira    10    South Bend, IN       
            
         
   25:04    
   355    175    Kellie Pieterick    12    Rugby, ND       
            
         
   25:05    
   356    609    Megan Gray    12    New Carlisle, IN       
            
         
   25:06    
   357    141    Abigael Kutz    11    Fort Atkinson, WI       
            
         
   25:06    
   358    518    Amanda VanWanzeele    12    New Carlisle, IN       
            
         
   25:14    
   359    94    Hannah Gustafson    11    Grand Rapids, MI       
            
         
   25:17    
   360    312    Rachel Ness    12    Sharon, ND       
            
         
   25:19    
   361    448    Megan Hawranick    11    Uniontown, OH       
            
         
   25:24    
   362    199    Sara Schumacher    12    Racine, WI       
            
         
   25:28    
   363    456    Gina Lubonovic    12    Lowellville, OH       
            
         
   25:29    
   364    468    Ashley Rhodaback    11    Akron, OH       
            
         
   25:31    
   365    108    Tressa Hoekstra    12    Grand Rapids, MI       
            
         
   25:31    
   366    163    Jessica Millikan    10    Lafayette, IN       
            
         
   25:34    
   367    229    Beth Whitten    11    Cincinnati, OH       
            
         
   25:44    
   368    41    Alanna Carr    10    Cooperstown, ND       
            
         
   25:50    
   369    378    Joy Lefferts    11    Lebanon, MO       
            
         
   25:50    
   370    474    Kelly Shubat    11    Uniontown, OH       
            
         
   25:52    
   371    221    Tomilyn Thornberry    12    Wilmington, OH       
            
         
   25:55    
   372    305    Audra Masternak    12    Albion, MI       
            
         
   25:56    
   373    477    Emily Sutcliffe    12    Poland, OH       
            
         
   25:58    
   374    605    Julia Harmon    11    Kentwood, MI       
            
         
   26:00    
   375    570    Anna Duckro    10    Dayton, OH       
            
         
   26:02    
   376    538    Jennifer Littrell    12    Thompson, MO       
            
         
   26:05    
   377    490    Viviana Yugsi    11    Chicago, IL       
            
         
   26:16    
   378    179    Deborah Raithel    11    St. Charles, MO       
            
         
   26:17    
   379    66    Amber Douglas    12    Bellville, OH       
            
         
   26:17    
   380    116    Sarah Imboden    12    Fredericktown, OH       
            
         
   26:20    
   381    529    Bridgette Gauthier    11    Keshena, WI       
            
         
   26:36    
   382    296    Heather Bredeson    11    Wahpeton, ND       
            
         
   26:43    
   383    549    Kaitlin Quick    12    Colorado Springs, CO       
            
         
   26:44    
   384    102    Kristin Hawkins    11    Rossville, IN       
            
         
   26:49    
   385    484    Tristan Ula    12    Poland, OH       
            
         
   27:13    
   386    498    Stephanie Bartlett    11    Chesterfield, IN       
            
         
   27:16    
   387    16    Hanna Andes    11    Battle Creek, MI       
            
         
   27:21    
   388    508    Anna Grady    11    Anderson, IN       
            
         
   27:34    
   389    434    Amanda Taylor    11    Alpha, OH       
            
         
   
   
   Saturday, November 29, 2003    7    
                        
   2003 Foot Locker Cross Country Championships - Girls    
   Girls Seeded Race    
Individual Results 
 
   
   Place 
    Number 
    Name 
    Grade 
    Hometown 
    Time 
    
                  
   27:42    
   390    134    Jackie King    12    Battle Creek, MI       
            
         
   27:54    
   391    81    Hannah Ferryman    12    Lafayette, IN       
            
         
   27:56    
   392    192    Christine Rondestvedt    10    Hannaford, ND       
            
         
   27:56    
   393    509    Audrey Heiser    12    Finley, ND       
            
         
   28:08    
   394    185    Elizabeth Reznikov    11    Brighton, MI       
            
         
   28:27    
   395    222    Katie Toms    11    Fredericktown, OH       
            
         
   28:35    
   396    54    Laura Crim    12    Battle Creek, MI       
            
         
   28:46    
   397    497    Steffany Ashley    11    Albion, MI       
            
         
   28:47    
   398    429    Melissa O'Brien    9    Florissant, MO       
            
         
   28:50    
   399    69    Elizabeth Dyk    12    Grand Rapids, MI       
            
         
   28:51    
   400    270    Emily Slager    10    Grand Rapids, MI       
            
         
   28:52    
   401    395    Annie Stegink    11    Grand Rapids, MI       
            
         
   29:26    
   402    444    Colleen Burzynski    9    Elmwood Park, IL       
            
         
   31:02    
   403    433    Bridget Stangler    12    Florissant, MO       
            
         
   31:12    
   404    428    Linda Niemeier    11    Florissant, MO