Results | steveu's story | Photo Albums: John Ceplina -
Boys
Matt Withrow IL 14:54 stuns field with monster surge in second mile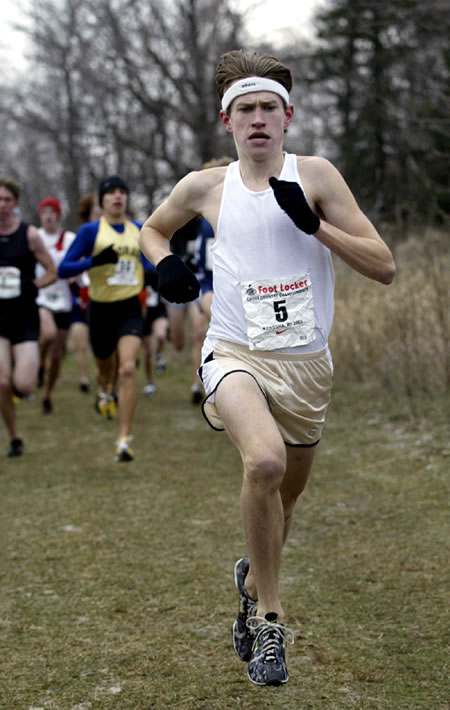 photo by Victah Sailer, PhotoRun
In middle of second mile, everyone except Withrow is fighting for second place.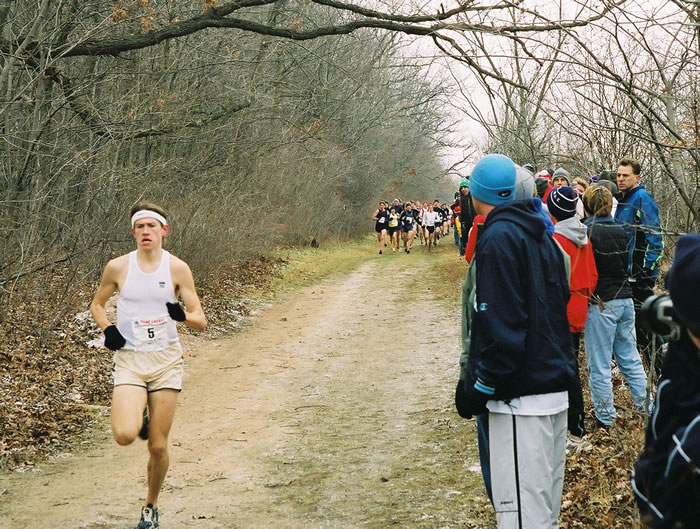 photo by John Ceplina
Withrow wins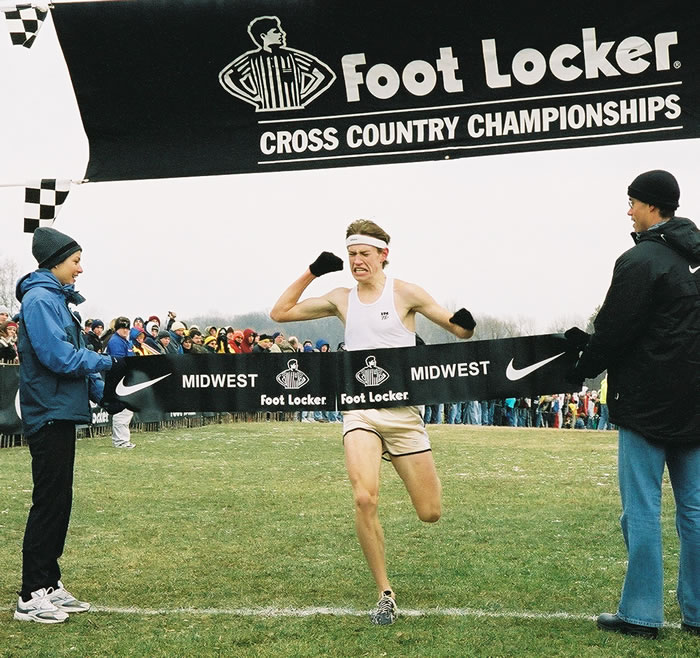 photo by John Ceplina
Point of No Return
by Stephen (steveu) Underwood
Matt Withrow knew it was risky and maybe a little too soon, but he couldn't help himself.
The big move didn't fail, however. It turned out to be the stuff that champions are made of.
Withrow of Tinley Park, IL (Andrew HS), stunned the field at the Foot Locker Midwest boys race in Kenosha, Wis. Saturday with a monster surge at the mile mark, then won going away in 14:54. Joining him at the Foot Locker Nationals in San Diego in two weeks will be Ryan Deak, Garrett Heath, Bradley Harkrader, Neal Naughton, Christian Wagner, Ryan Gasper and Justin Switzer.
Colorado (Deak and Harkrader) and Michigan (Naughton and Switzer, who have raced each other many times) each had two qualifiers, and Deak's runner-up spot gave Smoky Hill (Aurora, CO) HS an amazing three boys and girls qualifiers. The top six are seniors, while Gasper and Switzer are juniors.
Withrow was with a large pack that went through the mile at a modest 4:58, with the leaders tensing and waiting for something to happen. But the Illinois 2A champ apparently wasn't what they were waiting for. He blitzed the 2nd mile in a stunning 4:39 (9:37), opening up 13 seconds on the chase pack (9:50). The margin was 20 seconds at the end as Deak outkicked the top-seeded Heath (Winona HS, MN) for 2nd, 15:14 to 15:15.
"It felt slow and everyone was kind of antsy," Withrow said. "My natural instinct is to stay with the pack until about one-and-a-half miles, then go. But then I took off, and I thought, I can't stop now.
"I got a little scared," he continued. "I didn't think I'd be able to go this hard. I wanted to put a surge in, but not kill myself. I thought, I've got to open this up as much as I can."
Withrow was concerned he might lose his lead on the hills. But he had nothing to worry about, especially when he couldn't hear the cheers for the runners behind him anymore. At 3 miles, he glanced back and finally knew he had it won. "I'm excited and happy," he said. He stopped short of any big predictions for nationals, though. "I didn't think I was capable of this. We'll see."
Whether or not they could have kept Withrow's pace is debatable, but the pack clearly let him go. After two miles, Deak, Heath, Harkrader and Wagner made a break, but there was never an effort to catch the leader. "I'm very pleased with the race," said Deak. "How I felt out there was amazing. I wanted to qualify more than anything else and I stayed back to make sure."
Deak, who joins Sarah Schwald as the only runners to qualify from two regions (South in 2002), was seemingly as excited for his school and new state as he was for himself. "Colorado had a great day," he said. "This definitely has become my natural home."
Heath, the highest returning finisher from nationals, was all smiles after the race, too. "Withrow ran really well," he said. "I didn't want to blow up. I knew as long as I stayed with Deak and the rest, I'd be all right."
With some minor injuries he's contended with this year, plus (amazingly) the fact that he just returned from a marching band trip to Florida a few days earlier, it's likely we haven't seen the best from the Minnesota champ yet. "Ryan had a little more at the end than I did, but I'm happy with how I ran," he concluded. "I felt a little tired, but overall, I'm finally starting to feel really in shape."
A few ticks later (15:19), Harkrader gave Colorado a pair of qualifiers. The state champ from Westminster (Thornton HS) said he wasn't at his best, but was obviously still happy to get his San Diego ticket. He moved up well into the lead pack in the second mile, but didn't have a response late.
"I didn't feel as good; just not quite right," he said. "Towards the end, they just started to pull away. But I'm very pleased. Hopefully, at nationals, I'll feel a little better."
Wagner, the AOC 2-mile champ and one of the national favorites, also fell off the lead group. Eventually, he was passed by Naughton and, at the end, realized he would have to scoot to keep 6th – which he did, in 15:26 to Naughton's 15:23.
"I stared fading back and I'm not sure why," said the Columbus (Ind.) North HS state champ. Regarding having to hustle at the finish, he managed a small grin. "The last 200, I figured out a few kids were right behind me."
But Wagner's confidence for San Diego wasn't shaken. "I've been feeling really strong lately. I'm sure I'll be back around for nationals."
Meanwhile, Naughton – and 7th and 8th-place finishers Gasper and Switzer (also both 15:26) – were understandably a little take aback by their success. All of them beat higher-ranked champions from their states and several others. "This is amazing," said Switzer, while Gasper admitted, "It hasn't really set in yet."
Naughton, from Walled Lake (Mich.) Western HS, started out "in control," working his way up to the top 20 by the mile. He used the downhills in the next two miles to open it up, then eventually found himself in 6th, behind the chase pack. He caught and passed Wagner with about a half-mile to go.
Switzer, from nearby Waterford (Mich.) Kettering HS, was 12th in the freshman/sophomore race last year. He started even more conservatively, not getting into the top 15 until two miles. But he worked his way into 12th, then 9th and finally 7th, before Gasper passed him with his final kick.
Gasper (Fort Atkinson, Wis.) actually won the freshman/sophomore race last year. At 2 miles today, he was still 22nd, but he passed 15 runners in the final mile and used a wild sprint to earn his ticket.
Course knowledge – he has also run sectional races here – didn't hurt, either. "With experience, you know where you can go and where you can't go," he said. "This is definitely a breakthrough for me."
Sophomore Brock Hagerman from Indiana was a just-miss 9th in 15:27, while Illinois' senior Michael Popejoy was 10th (15:33). Finishing between 11th and 37th were single-digit seeds such as Frank Tinney (Mich.), Matt Buzek (Ohio), John Ealy (Ohio), Michael Krisch (Minn.) and Michigan state Div. I champ Dustin Voss.

2003 Foot Locker Cross Country Championships - Boys    
   Boys Seeded Race    
   
   University of Wisconsin-Parkside    5000 meters    24 degrees, Windy and Cold    
   
Individual Results 
 
   
   Place 
    Number 
    Name 
    Grade 
    Hometown 
    Time 
    
                  
   14:54    
   1    5    Matthew Withrow    12    Tinley Park, IL       
            
         
   15:14    
   2    10    Ryan Deak    12    Aurora, CO       
            
         
   15:15    
   3    1    Garrett Heath    12    Winona, MN       
            
         
   15:19    
   4    9    Bradley Harkrader    12    Westminster, CO       
            
         
   15:23    
   5    900    Neil Naughton    12    Walled Lake, MI       
            
         
   15:26    
   6    2    Christian Wagner    12    Columbus, IN       
            
         
   15:26    
   7    480    Ryan Gasper    11    Fort Atkinson, WI       
            
         
   15:26    
   8    352    Justin Switzer    11    Waterford, MI       
            
         
   15:27    
   9    136    Brock Hagerman    10    Markleville, IN       
            
         
   15:33    
   10    658    Michael Popejoy    12    Wheaton, IL       
            
         
   15:37    
   11    6    Frank Tinney    12    Ann Arbor, MI       
            
         
   15:37    
   12    7    Matt Buzek    12    Akron, OH       
            
         
   15:39    
   13    290    Daniel Roberts    10    Vicksburg, MI       
            
         
   15:39    
   14    770    Jared Campbell    12    Franklin, IN       
            
         
   15:42    
   15    583    Joshua Perrin    12    Hillsdale, MI       
            
         
   15:46    
   16    1066    Luke Walker    12    Flushing, MI       
            
         
   15:47    
   17    135    Ryan Hafer    12    Colorado Springs, CO       
            
         
   15:49    
   18    3    John Ealy    12    Reynoldsburg, OH       
            
         
   15:50    
   19    871    Tim Cornell    11    Columbia, MO       
            
         
   15:51    
   20    293    Justin Roeder    10    Noblesville, IN       
            
         
   15:51    
   21    4    Michael Krisch    11    Minnetonka, MN       
            
         
   15:52    
   22    492    David Bills    12    Williamston, MI       
            
         
   15:52    
   23    822    Josh Pinter    12    Sussex, WI       
            
         
   15:53    
   24    295    Chris Rombough    11    Fremont, WI       
            
         
   15:53    
   25    1060    Stephan Shay    12    Central Lake, MI       
            
         
   15:54    
   26    587    Jared Richardson    10    Loves Park, IL       
            
         
   15:54    
   27    638    Chad Jolliff    12    West Plains, MO       
            
         
   15:55    
   28    493    John Black    11    Bloomfield Hills, MI       
            
         
   15:56    
   29    98    James Erickson    12    Belleville, MI       
            
         
   15:57    
   30    418    Rob Grote    12    Batesville, IN       
            
         
   16:01    
   31    108    Levi Fox    11    Troy, OH       
            
         
   16:02    
   32    976    Brad Wheeler    12    Franklin, IN       
            
         
   16:02    
   33    1039    Seth Thibodeau    12    Milford, MI       
            
         
   16:02    
   34    201    Donald Letts    12    Climax, MI       
            
         
   16:03    
   35    451    Joel Stansloski    12    Wooster, OH       
            
         
   16:03    
   36    273    Benjamin Puhl    12    Rochester, MN       
            
         
   16:04    
   37    960    Dustin Voss    12    Saline, MI       
            
         
   16:05    
   38    454    Brad Topol    12    La Grange, IL       
            
         
   16:06    
   39    218    Braden Martinez    12    Stryker, OH       
            
         
   16:06    
   40    360    Brad Untrauer    11    McCordsville, IN       
            
         
   16:07    
   41    113    Douglas Galbavy    12    Lennox, SD       
            
         
   16:07    
   42    282    Edward Reeves    12    Edina, MN       
            
         
   16:07    
   43    1019    Mohamad Ige    10    Denver, CO       
            
         
   16:08    
   44    1003    Aden Ahmed    11    Denver, CO       
            
         
   16:08    
   45    40    Liam Boylan-Pett    12    Bath, MI       
            
         
   16:08    
   46    760    Neil Atzinger    12    Ann Arbor, MI       
            
         
   16:09    
   47    934    Billy Bell    12    Chesterfield, MO       
            
         
   16:10    
   48    820    Joe Parker    11    Reynoldsburg, OH       
            
         
   16:11    
   49    286    Clark Richter    12    Rockford, MI       
            
         
   16:11    
   50    160    Jarvis Jelen    12    Sioux Falls, SD       
            
         
   16:12    
   51    581    Landon Peacock    10    Morley, MI       
            
         
   16:12    
   52    185    Ryan Kuphall    11    La Grange, IL       
            
         
   16:12    
   53    873    Joe Curran    12    Naperville, IL       
            
         
   
   Saturday, November 29, 2003    1    
                        
   2003 Foot Locker Cross Country Championships - Boys    
   Boys Seeded Race    
Individual Results 
 
   
   Place 
    Number 
    Name 
    Grade 
    Hometown 
    Time 
    
                  
   16:12    
   54    594    Kevin Stone    12    Fairfield, OH       
            
         
   16:13    
   55    499    Matt Damico    12    East Grand Forks, MN       
            
         
   16:13    
   56    464    Tucker Weems    10    Lake Quivira, KS       
            
         
   16:13    
   57    406    Mike Connolly    12    Strongsville, OH       
            
         
   16:13    
   58    170    Bruce Kaczmarek    11    Bloomfield Hills, MI       
            
         
   16:14    
   59    154    Tad Hulst    12    Zeeland, MI       
            
         
   16:14    
   60    921    Austin Williamson    12    Des Moines, IA       
            
         
   16:14    
   61    414    Ben Famous    11    Glendale, MO       
            
         
   16:15    
   62    697    Chad Backsen    12    Fargo, ND       
            
         
   16:15    
   63    715    Michael Barrows    12    Flushing, MI       
            
         
   16:16    
   64    455    Mike Torchia    10    Rochester, MN       
            
         
   16:16    
   65    413    Dan Fadgen    11    Rogers, MN       
            
         
   16:16    
   66    1022    Brandon Karcher    12    Mt. Vernon, IL       
            
         
   16:17    
   67    906    Brian Parr    11    Fremont, NE       
            
         
   16:18    
   68    800    Chad Janiszeski    12    Minneota, MN       
            
         
   16:19    
   69    649    Kyle Mikowski    12    Elburn, IL       
            
         
   16:19    
   70    643    Eric MacTaggart    12    Glen Ellyn, IL       
            
         
   16:20    
   71    1040    Jeremy Wheeler    11    Springfield, IL       
            
         
   16:21    
   72    763    Luke Beuerlein    11    Cincinnati, OH       
            
         
   16:21    
   73    984    Keegan Rathkamp    12    Chillicothe, OH       
            
         
   16:21    
   74    1059    Nik Schweikert    11    Beavercreek, OH       
            
         
   16:22    
   75    240    Mark Moore    11    Novi, MI       
            
         
   16:22    
   76    151    Jeffery Hubbard    12    Ann Arbor, MI       
            
         
   16:22    
   77    818    Brian Murphy    12    Owosso, MI       
            
         
   16:23    
   78    128    Daniel Groepper    12    Iowa City, IA       
            
         
   16:24    
   79    664    Abdulla Saleh    12    Dearborn, MI       
            
         
   16:24    
   80    28    Justin Baum    12    Chagrin Falls, OH       
            
         
   16:24    
   81    511    Riley Klingel    11    Grant, MI       
            
         
   16:25    
   82    1085    Scott Mueller    12    Brookfield, WI       
            
         
   16:25    
   83    896    Danny McBride    11    West Plains, MO       
            
         
   16:25    
   84    276    Michael Quick    10    Bloomfield Hills, MI       
            
         
   16:26    
   85    651    Heath Moenck    12    Webster City, IA       
            
         
   16:26    
   86    274    Chris Pullen    11    St. Joseph, MO       
            
         
   16:26    
   87    993    Mike Prince    12    Springfield, IL       
            
         
   16:27    
   88    999    David Traphagen    12    Buffalo Grove, IL       
            
         
   16:27    
   89    374    Jake Watson    12    Stillwater, MN       
            
         
   16:27    
   90    779    Daniel DeRusha    12    Milford, MI       
            
         
   16:28    
   91    836    Micah Schmidt    12    Kansas City, MO       
            
         
   16:28    
   92    519    Bret Musser    11    St. Joseph, MO       
            
         
   16:28    
   93    408    Kyle Dragan    12    Cincinnati, OH       
            
         
   16:29    
   94    656    Andrew Northrup    12    Elmwood, IL       
            
         
   16:30    
   95    944    Curtis Larimer    12    Colorado Springs, CO       
            
         
   16:31    
   96    732    Justin Grunewald    12    Merrifield, MN       
            
         
   16:32    
   97    771    Luke Chrusciel    12    Grandville, MI       
            
         
   16:32    
   98    470    Jory Zunich    11    Williston, ND       
            
         
   16:33    
   99    1023    Nick Katsefaras    11    Pinckney, MI       
            
         
   16:33    
   100    300    Brandon Russell    12    Indianapolis, IN       
            
         
   16:33    
   101    1092    Richard Furseth    12    Stillwater, MN       
            
         
   16:33    
   102    702    Robert Ihry    12    Fargo, ND       
            
         
   16:34    
   103    699    Severyn Claymore    12    Fargo, ND       
            
         
   16:34    
   104    227    David McKay    11    Iowa City, IA       
            
         
   16:34    
   105    753    Jeff Wahl    12    Littleton, CO       
            
         
   16:35    
   106    239    Joseph Moore    11    Stillwater, MN       
            
         
   16:35    
   107    788    Nick Garcia    11    Emporia, KS       
            
         
   16:35    
   108    646    Jesse Merkel    11    Menomonie, WI       
            
         
   16:36    
   109    350    Steven Swartz    12    Middletown, OH       
            
         
   
   
   Saturday, November 29, 2003    2    
                        
   2003 Foot Locker Cross Country Championships - Boys    
   Boys Seeded Race    
Individual Results 
 
   
   Place 
    Number 
    Name 
    Grade 
    Hometown 
    Time 
    
                  
   16:36    
   110    765    Andy Bloom    12    Pekin, IL       
            
         
   16:36    
   111    498    Bryan Culver    12    Waukesha, WI       
            
         
   16:37    
   112    351    Corey Swinney    12    St. Charles, MO       
            
         
   16:37    
   113    452    Marten Stensones-Fornaess    11    Ann Arbor, MI       
            
         
   16:38    
   114    535    Jason Brown    12    Wilmette, IL       
            
         
   16:38    
   115    78    Adam Daoud    11    Ann Arbor, MI       
            
         
   16:38    
   116    148    Jason Holt    12    Fort Collins, CO       
            
         
   16:38    
   117    224    Benjamin McGlothlin    11    Mason, OH       
            
         
   16:39    
   118    388    Blaine Zimmerman    12    Cicero, IN       
            
         
   16:39    
   119    721    Kyle Davis    12    Potosi, MO       
            
         
   16:39    
   120    928    Sam Braatz    10    Merrill, WI       
            
         
   16:40    
   121    164    Mark Jones    11    Saginaw, MI       
            
         
   16:40    
   122    111    Joseph Fuchs    12    Villa Ridge, MO       
            
         
   16:40    
   123    112    Nick Fulton    12    Sussex, WI       
            
         
   16:40    
   124    465    Bradley Wells    12    Portage, OH       
            
         
   16:41    
   125    70    Rider Clauss    12    Madison, WI       
            
         
   16:41    
   126    102    Grant Fall    12    West LaFayette, IN       
            
         
   16:41    
   127    762    Nick Battista    11    Canton, MI       
            
         
   16:42    
   128    1047    Christopher George    12    Normal, IL       
            
         
   16:42    
   129    705    Julian Lovelace    12    Fargo, ND       
            
         
   16:42    
   130    680    Daniel Watts    11    Valparaiso, IN       
            
         
   16:43    
   131    872    Dan Curran    12    Naperville, IL       
            
         
   16:43    
   132    864    Keith Behrman    10    River Falls, WI       
            
         
   16:43    
   133    955    Carl Specking    12    St. Peters, MO       
            
         
   16:44    
   134    459    Kyle Vanderlinden    12    Sioux City, IA       
            
         
   16:44    
   135    980    Peter Ferlis    11    Excelsior, MN       
            
         
   16:44    
   136    256    Jason Ordway    10    Holgate, OH       
            
         
   16:45    
   137    956    Chris Stearns    12    St. Peters, MO       
            
         
   16:45    
   138    396    Jake Berns    12    Monona, IA       
            
         
   16:45    
   139    969    Kyle Harris    12    Milford, MI       
            
         
   16:45    
   140    986    Ryan Dixon    12    Columbus, IN       
            
         
   16:46    
   141    403    Daniel Clark    11    Jackson, MI       
            
         
   16:46    
   142    617    Steve Curtis    12    Aurora, CO       
            
         
   16:46    
   143    933    Chris DesRoches    12    Plymouth, MN       
            
         
   16:47    
   144    733    Elliott Heath    9    Winona, MN       
            
         
   16:47    
   145    603    R.P. White    11    Hillsdale, MI       
            
         
   16:47    
   146    381    Matt Winebar    11    Maineville, OH       
            
         
   16:47    
   147    303    Ryan Salamon    12    New Berlin, WI       
            
         
   16:48    
   148    354    Jon Thomas    11    Des Moines, IA       
            
         
   16:48    
   149    471    Scott Allen    11    Port Washington, WI       
            
         
   16:48    
   150    991    Brennon Plotner    12    Fort Wayne, IN       
            
         
   16:49    
   151    824    Stephen Pool    12    Raymore, MO       
            
         
   16:49    
   152    1005    Ian Boyle    11    Brighton, MI       
            
         
   16:49    
   153    780    Ryan Dolan    11    Dubuque, IA       
            
         
   16:49    
   154    916    Kenny Slocum    11    LeClaire, IA       
            
         
   16:50    
   155    23    Arthur Bareikis    11    Oak Forest, IL       
            
         
   16:50    
   156    221    Jay Matlack    12    Shawnee, KS       
            
         
   16:50    
   157    710    Joe Sepe    12    Fargo, ND       
            
         
   16:50    
   158    592    Adam Sprangel    12    Jackson, MI       
            
         
   16:51    
   159    379    Matthew Williams    11    Colorado Springs, CO       
            
         
   16:51    
   160    473    Tim Burns    12    Neenah, WI       
            
         
   16:51    
   161    1075    Dirk Marple    12    Iowa City, IA       
            
         
   16:52    
   162    109    Braxton Fritz    11    Middlebury, IN       
            
         
   16:52    
   163    313    Kyle Scott    12    Ada, MI       
            
         
   16:52    
   164    475    Matthew DeSilva    10    St. Charles, IL       
            
         
   16:53    
   165    220    Tony Matheus    12    Mason, OH       
            
         
   
   
   Saturday, November 29, 2003    3    
                        
   2003 Foot Locker Cross Country Championships - Boys    
   Boys Seeded Race    
Individual Results 
 
   
   Place 
    Number 
    Name 
    Grade 
    Hometown 
    Time 
    
                  
   16:53    
   166    88    Jacob DuBois    12    Jackson, MI       
            
         
   16:54    
   167    63    Kyle Carey    12    Pendleton, IN       
            
         
   16:54    
   168    790    Jason Graham    12    Thornton, CO       
            
         
   16:54    
   169    393    Ryan Arthur    12    Clinton, MO       
            
         
   16:55    
   170    180    Jared Kreissler    12    Independence, MO       
            
         
   16:55    
   171    965    Micah Danielson    12    Minnetonka, MN       
            
         
   16:55    
   172    522    Carl Roberts    12    Austin, IN       
            
         
   16:55    
   173    125    Ryan Grau    10    Kalamazoo, MI       
            
         
   16:56    
   174    1033    Michael Ptack    12    Oak Park, IL       
            
         
   16:56    
   175    584    Dan Pinter    12    Saline, MI       
            
         
   16:56    
   176    564    Nathan Kennedy    12    Bolingbrook, IL       
            
         
   16:57    
   177    745    David Pede    10    Menomonee Falls, WI       
            
         
   16:57    
   178    826    Billy Przybyla    12    Centerville, OH       
            
         
   16:57    
   179    347    Jeff Stuckenbroker    12    Windom, MN       
            
         
   16:57    
   180    229    Justin Meeson    11    Lakewood, OH       
            
         
   16:58    
   181    329    Clayton Smith    12    Centerville, IN       
            
         
   16:58    
   182    881    Cole Hardacre    9    Anderson, IN       
            
         
   16:58    
   183    846    Kyle Walsh    12    Kokomo, IN       
            
         
   16:59    
   184    467    Matthew Willing    11    Flint, MI       
            
         
   16:59    
   185    1071    Mitch Zost    11    Allendale, MI       
            
         
   16:59    
   186    739    Luke Langhorst    12    Plover, WI       
            
         
   16:59    
   187    325    Andrew Schultz    12    Hayti, SD       
            
         
   17:00    
   188    706    Grant Mehring    11    Fargo, ND       
            
         
   17:00    
   189    951    Logan O'Grady    11    River Falls, WI       
            
         
   17:00    
   190    231    Keith Mertz    11    Colorado Springs, CO       
            
         
   17:01    
   191    666    Skyler Schmitt    10    Toledo, OH       
            
         
   17:01    
   192    438    Brian Odegaard    11    Afton, MN       
            
         
   17:01    
   193    926    David Andrews    12    Richmond, IN       
            
         
   17:02    
   194    209    Evan Lisull    10    Ann ARbor, MI       
            
         
   17:02    
   195    1000    Eric Traphagen    10    Buffalo Grove, IL       
            
         
   17:02    
   196    997    Daniel Standke    11    Aurora, CO       
            
         
   17:03    
   197    1090    Joel Bendisen    12    Chillicothe, OH       
            
         
   17:03    
   198    394    Eric Atkinson    12    Spooner, WI       
            
         
   17:03    
   199    932    Jeremiah Danga    12    Des Moines, IA       
            
         
   17:04    
   200    25    Matt Barrett    11    Monroe, WI       
            
         
   17:05    
   201    523    Stephe Rogers    12    Champaign, IL       
            
         
   17:05    
   202    1049    Paul Hamilton    12    Colorado Springs, CO       
            
         
   17:05    
   203    345    Mike Stout    11    Perry, IA       
            
         
   17:06    
   204    540    Mike Coates    12    EastSparta, OH       
            
         
   17:06    
   205    668    Adam Scrogham    12    Lee's Summit, MO       
            
         
   17:07    
   206    562    Bill Keckeis    12    Cincinnati, OH       
            
         
   17:07    
   207    296    Kevin Rooney    11    Englewood, CO       
            
         
   17:07    
   208    1021    Robert Joynt    11    Madison, WI       
            
         
   17:08    
   209    253    Sam Newcomer    9    Minnetonka, MN       
            
         
   17:08    
   210    115    Evan Gaynor    10    Wauseon, OH       
            
         
   17:08    
   211    372    Drew Ward    12    Columbus, WI       
            
         
   17:09    
   212    747    Bradley Reach    12    Marion, IL       
            
         
   17:09    
   213    769    Robert Bullough    12    Noblesville, IN       
            
         
   17:09    
   214    197    Matthew Leonardo    12    Chicago, IL       
            
         
   17:10    
   215    484    Thomas Schutzius    12    Tinley Park, IL       
            
         
   17:11    
   216    208    Davis Linden    12    Grinnell, IA       
            
         
   17:11    
   217    100    Ross Faase    11    Grand Rapids, MI       
            
         
   17:11    
   218    210    Jesse Loether    12    Hazelhurst, WI       
            
         
   17:13    
   219    913    Nick Shaver    12    Bloomington, IL       
            
         
   17:13    
   220    879    Jon Hans    12    Dearborn Heights, MI       
            
         
   17:14    
   221    641    Eric Lewandowski    11    Madison, WI       
            
         
   
   
   Saturday, November 29, 2003    4    
                        
   2003 Foot Locker Cross Country Championships - Boys    
   Boys Seeded Race    
Individual Results 
 
   
   Place 
    Number 
    Name 
    Grade 
    Hometown 
    Time 
    
                  
   17:15    
   222    1091    David Smith    12    Byron, MI       
            
         
   17:15    
   223    809    Tim Langenberg    11    Lansing, MI       
            
         
   17:15    
   224    729    Patrick Grass    11    Pine Ridge, SD       
            
         
   17:16    
   225    813    Dylan Manion    11    Kentwood, MI       
            
         
   17:17    
   226    712    Dennis Ternes    12    Dickinson, ND       
            
         
   17:17    
   227    798    Timothy Hilt    11    Colorado Springs, CO       
            
         
   17:18    
   228    266    RJ Pire    12    Middleton, WI       
            
         
   17:18    
   229    255    Aaron Olson    12    Minneapolis, MN       
            
         
   17:19    
   230    897    Ian McFarland    12    West Plains, MO       
            
         
   17:19    
   231    1096    John Wilson    11    Brighton, MI       
            
         
   17:19    
   232    481    Andrew Han    11    Madison, WI       
            
         
   17:20    
   233    363    Danny Van Orsdel    10    Minnetonka, MN       
            
         
   17:20    
   234    936    Jimmy Georgantas    10    Shorewood, IL       
            
         
   17:20    
   235    615    Michael Claeys    12    New Carlisle, IN       
            
         
   17:21    
   236    694    Kyle Schierer    12    Metamora, IL       
            
         
   17:23    
   237    819    Eric North    12    Sparta, IL       
            
         
   17:24    
   238    825    Tim Popma    12    Kentwood, MI       
            
         
   17:24    
   239    545    Brian Eck    12    Bolingbrook, IL       
            
         
   17:25    
   240    611    Max Bradley    11    Centennial, CO       
            
         
   17:25    
   241    36    Zachary Blough-Orr    12    Kalamazoo, MI       
            
         
   17:26    
   242    811    Ryan Lee    11    Lake Forest, IL       
            
         
   17:26    
   243    842    Anguel Tolev    9    Northglenn, CO       
            
         
   17:26    
   244    1029    Chris Mulvany    11    Littleton, CO       
            
         
   17:28    
   245    1070    Chaz Williams    12    St. Peters, MO       
            
         
   17:29    
   246    383    Kent Wories    12    Edwardsville, IL       
            
         
   17:29    
   247    361    Matt Van Arkel    12    Springfield, MO       
            
         
   17:30    
   248    168    Michael Juker    12    Mentor, OH       
            
         
   17:30    
   249    1004    Chris Baker    12    Mattawan, MI       
            
         
   17:30    
   250    510    Adam Klingel    12    Grant, MI       
            
         
   17:30    
   251    548    Jorge Flores    12    Chicago, IL       
            
         
   17:31    
   252    219    Jacob Mason-Marshall    11    Iowa City, IA       
            
         
   17:31    
   253    332    Loren Snyder    12    Franklin, IN       
            
         
   17:31    
   254    456    Jim Turchyn    11    Batesville, IN       
            
         
   17:31    
   255    292    Travis Robertson    11    Iowa City, IA       
            
         
   17:32    
   256    356    Ross Thormeier    11    Saginaw, MI       
            
         
   17:33    
   257    952    Nate Penny    12    Zeeland, MI       
            
         
   17:36    
   258    67    Jamie Chatman    11    Independence, MO       
            
         
   17:36    
   259    507    Michael Jeter    12    Lagrange Park, IL       
            
         
   17:37    
   260    422    Justin Herbert    12    Huber Heights, OH       
            
         
   17:37    
   261    404    Peter Clemo    12    Grand Rapids, MI       
            
         
   17:37    
   262    311    Joel Schut    11    Grand Rapids, MI       
            
         
   17:38    
   263    389    Isaac Zimmerman    11    Moorhead, MN       
            
         
   17:38    
   264    233    Nathan  Mester    11    Beaverton, MI       
            
         
   17:38    
   265    265    Ryan Phillian    11    Colorado Springs, CO       
            
         
   17:39    
   266    444    Ethan Schaffner    12    Baltimore, OH       
            
         
   17:39    
   267    1079    Chris Edwards    11    Elburn, IL       
            
         
   17:40    
   268    309    Todd Schmidt    12    Perham, MN       
            
         
   17:40    
   269    995    Jason Rootz    12    St. Peters, MO       
            
         
   17:41    
   270    301    Carlos Rybeck    12    Golden Valley, MN       
            
         
   17:41    
   271    741    Zachary McFall    10    Pleasant Prairie, WI       
            
         
   17:42    
   272    950    Cody Miles    12    Colgate, WI       
            
         
   17:42    
   273    349    Derek Sundberg    12    Negaunee, MI       
            
         
   17:43    
   274    222    Andy Mauk    11    Fort Collins, CO       
            
         
   17:46    
   275    868    Steven Bugarin    12    Chicago, IL       
            
         
   17:47    
   276    228    Bryan McVey    12    Arlington Heights, IL       
            
         
   17:47    
   277    677    Hiro Totsuka    12    Ann Arbor, MI       
            
         
   
   
   Saturday, November 29, 2003    5    
                        
   2003 Foot Locker Cross Country Championships - Boys    
   Boys Seeded Race    
Individual Results 
 
   
   Place 
    Number 
    Name 
    Grade 
    Hometown 
    Time 
    
                  
   17:49    
   278    946    Ronald Lavaire    11    Shelbyville, IL       
            
         
   17:49    
   279    500    Galen DeKemper    12    Franklin, IN       
            
         
   17:49    
   280    1045    Adam Flege    12    Webster City, IA       
            
         
   17:52    
   281    987    Zach Holbert    12    Chillicothe, OH       
            
         
   17:52    
   282    261    Mike Parry    12    Akron, OH       
            
         
   17:53    
   283    1042    Brad Babiak    12    Cincinnati, OH       
            
         
   17:53    
   284    983    Jeremy Prendergast    12    Oak Lawn, IL       
            
         
   17:54    
   285    8    Brad Middleton    12    Edwardsville, IL       
            
         
   17:54    
   286    612    Matt Brady    11    Centennial, CO       
            
         
   17:55    
   287    207    Christopher Limbach    11    Colgate, WI       
            
         
   17:55    
   288    803    Chance Kelch    12    Washington, IL       
            
         
   17:55    
   289    867    Ted Brushaber    12    O'Tallon, IL       
            
         
   17:56    
   290    463    Tony Wagner    12    Angola, IN       
            
         
   17:56    
   291    306    Evan Sather    12    Joliet, IL       
            
         
   17:58    
   292    631    Kassem Hammoud    12    Dearborn, MI       
            
         
   17:59    
   293    405    Ken Collins    11    Middlebury, IN       
            
         
   18:01    
   294    924    Zach Zellner    9    New Franken, WI       
            
         
   18:04    
   295    307    Ryan Sather    11    Joliet, IL       
            
         
   18:05    
   296    1068    Zuya White Plume    12    Manderson, SD       
            
         
   18:05    
   297    69    Kevin Christensen    12    Battle Creek, MI       
            
         
   18:08    
   298    604    David Yu    11    Madison, WI       
            
         
   18:12    
   299    935    Kyle Dussel    11    Bradner, OH       
            
         
   18:13    
   300    62    Patrick Capps    11    Rochester, IL       
            
         
   18:14    
   301    1057    Stephen Price    12    Marion, IL       
            
         
   18:15    
   302    104    Scott Fenner    12    Cincinnati, OH       
            
         
   18:18    
   303    362    David Vandenberge    12    Grand Rapids, MI       
            
         
   18:18    
   304    430    Bruce LaFrance    12    Warren, MI       
            
         
   18:18    
   305    794    Nathan Hatleback    11    Northglenn, CO       
            
         
   18:20    
   306    821    Manuel Perez    12    North Glenn, CO       
            
         
   18:20    
   307    1067    Nupa White Plume    12    Manderson, SD       
            
         
   18:27    
   308    840    Theodore Thorp    11    Thornton, CO       
            
         
   18:34    
   309    448    Niles Shilts    11    Adams, WI       
            
         
   18:39    
   310    1024    Shane Knoll    11    Warren, MI       
            
         
   18:40    
   311    223    Ben McCune    11    Elgin, IL       
            
         
   18:41    
   312    791    Phillip Guajardo    11    Kentwood, MI       
            
         
   18:43    
   313    66    Kyle Cash    11    Greenup, IL       
            
         
   18:46    
   314    1072    Francisco Chavez    12    Chicago, IL       
            
         
   18:48    
   315    1088    Billy O'Hara    11    Wilmette, IL       
            
         
   18:49    
   316    195    Kevin Leiting    12    Lemont, IL       
            
         
   18:54    
   317    101    Brent Fairchild    11    Saginaw, MI       
            
         
   18:55    
   318    138    Aaron Hamilton    12    Pagosa Springs, CO       
            
         
   18:59    
   319    850    Tim Weaver    11    Youngstown, OH       
            
         
   19:02    
   320    192    Kevin Laud    12    Tinley Park, IL       
            
         
   19:06    
   321    865    Matthew Bostwick    12    Owosso, MI       
            
         
   19:07    
   322    660    Nathan Rader    12    Aurora, CO       
            
         
   19:09    
   323    814    Zachary Mares    10    Northglenn, CO       
            
         
   19:12    
   324    530    Dustin Stillwell    11    Scottsburg, IN       
            
         
   19:18    
   325    942    Jordan Kramer    9    Elmwood Park, IL       
            
         
   19:27    
   326    609    Sam Baker    10    Columbus, IN       
            
         
   19:28    
   327    676    John Thayer    12    Columbus, IN       
            
         
   19:29    
   328    278    Andrew Rasfeld    11    Cincinnati, OH       
            
         
   19:30    
   329    796    David Haushalter    11    Boardman, OH       
            
         
   19:31    
   330    650    Mark Miller    12    Cleves, OH       
            
         
   19:33    
   331    882    Todd Holbrook    11    Beavercreek, OH       
            
         
   19:37    
   332    614    Eric Cave    10    Columbus, IN       
            
         
   20:18    
   333    862    Aaron Beach    11    Xenia, OH       
            
         
   
   
   Saturday, November 29, 2003    6    
                        
   2003 Foot Locker Cross Country Championships - Boys    
   Boys Seeded Race    
Individual Results 
 
   
   Place 
    Number 
    Name 
    Grade 
    Hometown 
    Time 
    
                  
   20:21    
   334    247    Alan Murphy    12    Saginaw, MI       
            
         
   21:22    
   335    71    Patrick Cochrane    11    Battle Creek, MI       
            
         
   21:26    
   336    284    John Reid    11    Cincinnati, OH       
            
         
   22:11    
   337    435    Bryant Miller    10    Bowman, ND       
            
         
   22:52    
   338    717    Rick Breen    12    Bowman, MN