DONNA ON THE SIDE in New Orleans
Part 1 - The City
Part 2 - The Meet, Day 1
Part 3 - Athletes on the Side
Part 4 - Girls Pole Vault and High Jump
Part 5 - Day 2 - a change in the weather - Outstanding Athletes - Potpourri
Part 6 - Events: Boys HJ, Throws, Distance
Part 7 - Events: Sprints, Hurdles, Jumps, Relays, Boys PV
Boys High Jump
Yes, that's my boy--You Did It--You Did It--Congratulations.
Andrew "Drew" Brunson gets a big hug from Mom after first winning the high jump and then setting a new meet record at 6'8.05 while Dad looks on.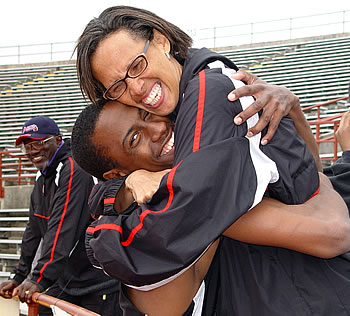 Drew with his family: Mom, Gracie; Drew; Dad, Andrew and Brother, Joshua. The Brunsons are from Snellville GA outside of Atlanta. While he was named Andrew after his Dad, Drew goes by Drew to prevent confusion in the family. He is a junior at Shiloh High School and runs with the New Horizon Track Club.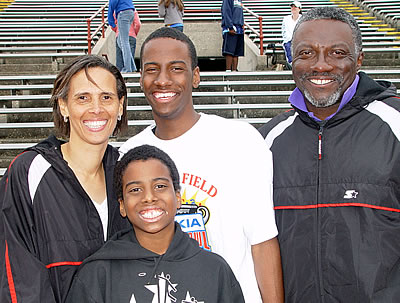 Throws
Winner of the Discus is Rabun Fox
Vanderbilt Catholic, Houma, LA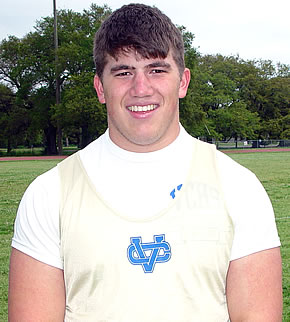 Discus Winners: (from left) 2nd Matt Dier-Chalmette, LA; 1st Rabun Fox-Houma LA; 3rd Larry Jones-Ruston, LA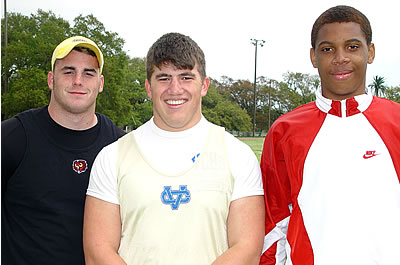 More Discus Throwers: Bobby Colvin-Columbus AL (l) and Kedrick Hampton-Forest Brook TX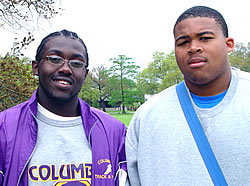 Discus event completed, these Houston High ladies
sought tips on improving fitness:
(left to right) Kate Tigert, Randi Thomas, Erin Empting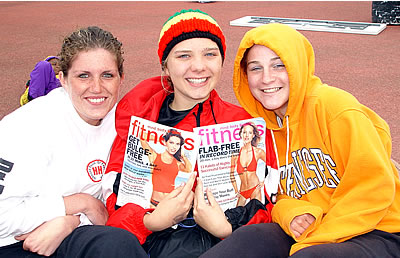 Distance
| | |
| --- | --- |
| 1st in the 1600 Clerc Koenck-LA | 1st in the 1600 and 3200 John Brigham-AL |
| | |
| 2nd in the 1600 Kariann Langley-LA | 2nd in the 1600 and the 3200 Chris Calkins with Coach Gibson-TN |
| | |
| Tara Lenn-AL 1st in the 3200 and 3rd in the Mile. In the mile, Tara lost her shoe but still recovered to come in 3rd. | Kyle Lewis with Dad, Jim. Kyle finished 3rd in the 3200 and 4th in the 1600. |
| | |
| 2nd in the 3200 Rachel Anderson | 2nd 800 Jeremy Cobb-LA |
| | |
| | Mary Erin Imwalle an 800 runner. |
DONNA ON THE SIDE in New Orleans
Part 1 - The City
Part 2 - The Meet, Day 1
Part 3 - Athletes on the Side
Part 4 - Girls Pole Vault and High Jump
Part 5 - Day 2 - a change in the weather - Outstanding Athletes - Potpourri
Part 6 - Events: Boys HJ, Throws, Distance
Part 7 - Events: Sprints, Hurdles, Jumps, Relays, Boys PV