DONNA ON THE SIDE in New Orleans
Part 1 - The City
Part 2 - The Meet, Day 1
Part 3 - Athletes on the Side
Part 4 - Girls Pole Vault and High Jump
Part 5 - Day 2 - a change in the weather - Outstanding Athletes - Potpourri
Part 6 - Events: Boys HJ, Throws, Distance
Part 7 - Events: Sprints, Hurdles, Jumps, Relays, Boys PV
DyeStat celebrates its first On-Site coverage of the 2003 outdoor season at the Nokia Sugar Bowl Classic in New Orleans, a city with colorful history, cultures and charm.. When most people hear New Orleans, they think, Mardi Gras, French Quarter, Jazz. But New Orleans is also a modern city, with skyscrapers, renovated buildings, riverwalk, seaports and lots more.
Celebrations are a part of New Orleans. This month the city celebrates "Shotgun Houses." What, you say, is a shotgun house? A shotgun is a long, narrow one-story building, with rooms lined up one behind the other inside. A porch and a gable roof face the street in front. There are at least two versions about the use of the name "shotgun" for these houses. One is that if you fire a gun through the front door, the bullet will go right out the back without touching a wall. Another comes from the African word "to gun", which means "place of assembly" in the fen language of Benin. And, some say the name comes from an African word that sounds something like shotgun. This style of housing is often attributed as an African contribution to American architecture with research showing roots of such houses from Africa to Haiti and then from Haiti to New Orleans. Shotgun houses in New Orleans have evolved and upgraded through the years.
We took a ride around New Orleans and found a few, pictured below. While the houses started out plain and simple, there are many today that have been "renovated" expanded and dressed up.
The Preservation Resource Center (PRC) in New Orleans has an exhibit "Home Sweet Shotgun Home" which features the notable New Orleanians that have lived in shotgun houses. The PRC says: " Shotgun house residents come from all walks of life and every sector of the New Orleans community: law, music, arts, broadcasting, religion, food, business and more. If there is one building that typifies our city and her residents, it's the shotgun house."
Shotgun Houses on Jackson Street
One in need of help; the other in better shape.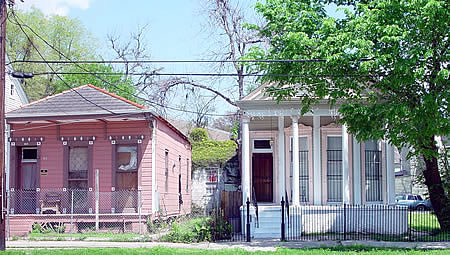 Garden District: two of the "Seven Sisters" Houses, so named because a 19th century land owner with seven daughters supposedly built a row of shot gun houses for them. Actually there are eight houses and they were built on speculation.

another of the Seven Sisters Houses

A more modest house in Carrolton
Shops and antique stores on Magazine Street.

An interesting corner.

A successful rennovation in the
Warehouse District.

The Evolving Warehouse District

Mulate's Restaurant in the Warehouse District, "The Original Cajun Restaurant"

Mulate's brags that it is recognized throughout the world as the King of Cajun Dine and
Dance Halls.

The Riverwalk Entrance in the Warehouse District

A mix of old and new.

St. Charles Street Streetcar.

New Orleans is modern too.
DONNA ON THE SIDE in New Orleans
Part 1 - The City
Part 2 - The Meet, Day 1
Part 3 - Athletes on the Side
Part 4 - Girls Pole Vault and High Jump
Part 5 - Day 2 - a change in the weather - Outstanding Athletes - Potpourri
Part 6 - Events: Boys HJ, Throws, Distance
Part 7 - Events: Sprints, Hurdles, Jumps, Relays, Boys PV