DONNA ON THE SIDE AT PENN
Part 1 - the scene
Part 2 - Girls
Part 3 - Boys
Girls
Long Beach Poly
girls get congratuations from
Bill Cosby
, comedian and long time Penn Relays fan and supportor.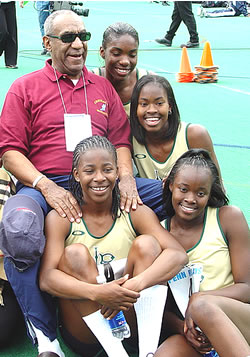 Long Beach Poly-CA waving to the crowd as they celebrate their record making accomplishments.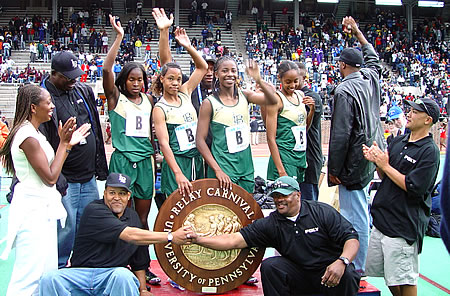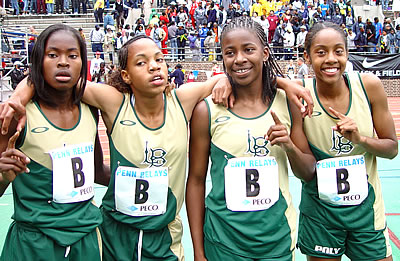 Yvette Lewis VA Winner of the
Triple Jump

Toni Aluko MD was the top US performer in the High Jump

Lindsey Rosales NY won the pole vault. Lindsey will be at East Carolina next year.

Pole Vaulters Anna McFarlane 2nd and Ashley Nolet 4th, both from MA

Sarah Bowman VA 2nd in the Mile, a refreshing new face in the distance field this year, is making her mark.
Victoria Webster won the 3000. Victoria is from St. Alban's England. She came to Penn Relays for the exciting competition. She says she certainly found that and thoroughly enjoyed the atmosphere.
| | |
| --- | --- |
| | After winning the mile in record time, Ari Lambie gets a congratulatory hug from Mom, while Dad watches on. |
Ari Lambie with her parents: Dad, Fred and Mom, Trudy. Next year
Ari will be running for Stanford.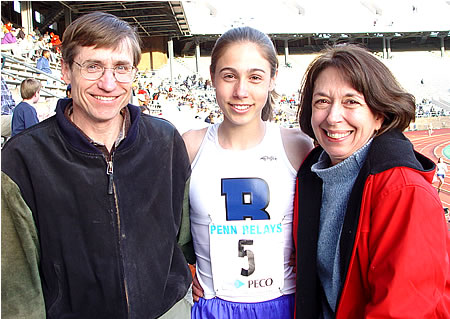 Lindsay Rosales, pole vault winner with her
Coach, Hugh Cauthers and Dad, Steve.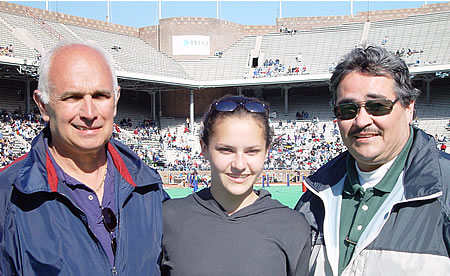 PA Pole Vaulters: (from left) Sisters: Courtney and Lindsay Regan (Courtney finished 3rd), and Lauren Birchhead.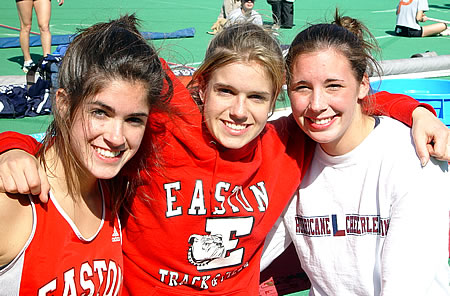 Tim Hickey, Penn Relays HS Chairman, presents the first place watch in the Shot Put to Kelly Fazekas NJ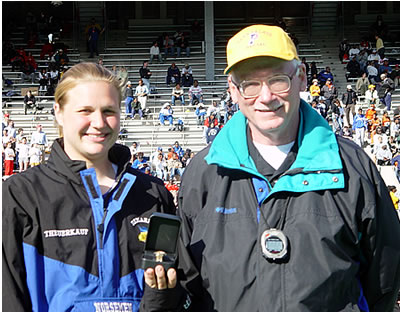 The champion Red Bank NJ Distance Medley Team: (from left) Coach Geoff Harrison, Christina Nelson, Beth Mayer, Katy Trotter and Amanda Trotter. Presenting the award was Tim Hickey.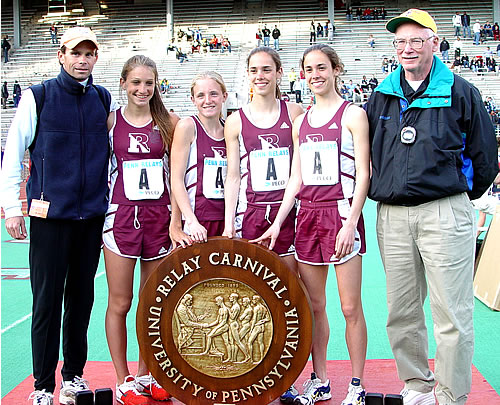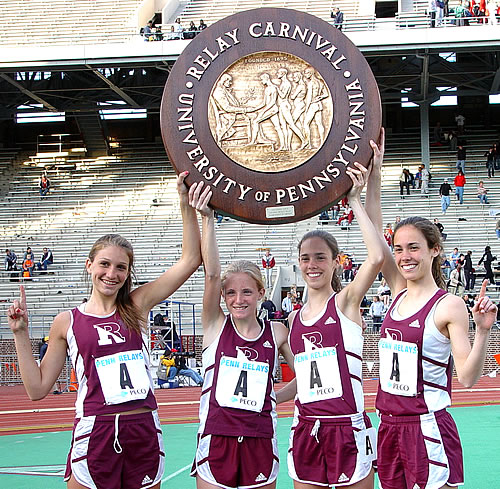 2nd Place DMR=Saratoga Springs NY: (from left) Lindsey Ferguson, Nicole Blood, Ruby Solomon and Kirsten Hornbach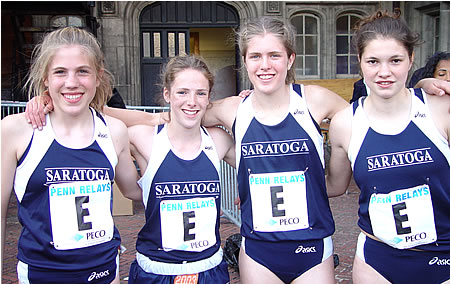 3rd place DMR=Bronxville NY: (from left) Catha Mullen, Liz Bergold, Beth Butler and Caroline Mullen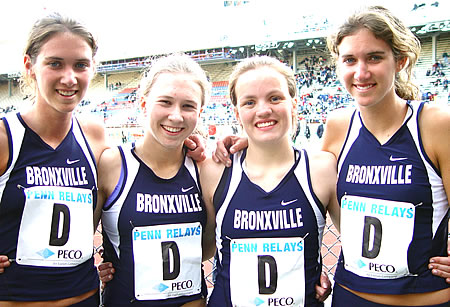 Bill Cosby congratulates the Gwynedd Mercy Academy PA,
winner of the Small School 4x800 prelim: (from left) Kelley McGrath, Meghan Bishop, Kate Vernon, Kahki Mealey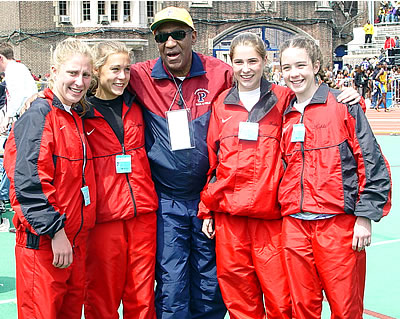 Gwynedd Mercy Parents and their athletes: (top left): John Vernon, Bill Bishop, Mary McGrath and Mary Mealey (bottom left) Kate Vernon,
Meghan Bishop, Kelley McGrath and Kahki Mealey.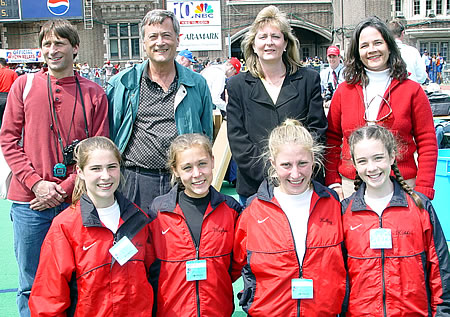 Smiles from Eleanor Roosevelt MD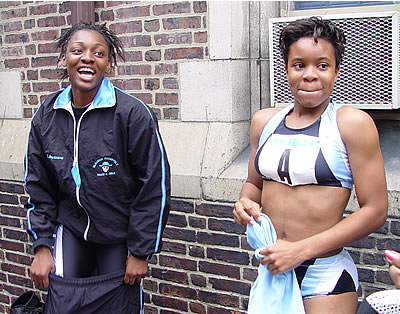 DONNA ON THE SIDE AT PENN
Part 1 - the scene
Part 2 - Girls
Part 3 - Boys