DONNA ON THE SIDE at the Golden South Classic
Part 1 - Introduction, sideline scenes, Most Outstanding athletes
Part 2 - Sprints and Relays
Part 3 - Jumps and Distance
Part 4 - Throws, Potpourri, and Workerbees
Throws
Shot putters: (from left) Reginald Sands 4th, Westley Stockbarger 1st,
Anthony Millsap 2nd, Beau Burroughs 5th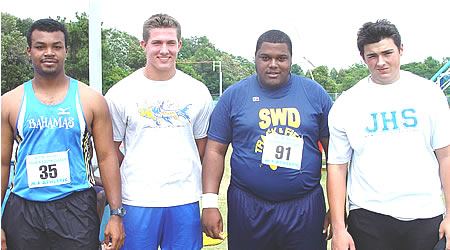 Westley Stockbarger with his parents Dad, Fred and Mom, Jackie. Westley is accomplished in the shot put and discus finishing 1st in both.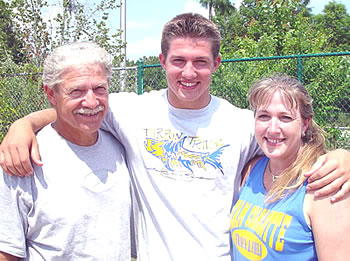 Discus Winners: (from left) Wesley Stockbarger FL 1st, Beau Burroughs 2nd, Reginald Sands 4th, Brandon Williams 6th, Scott Clayman 3rd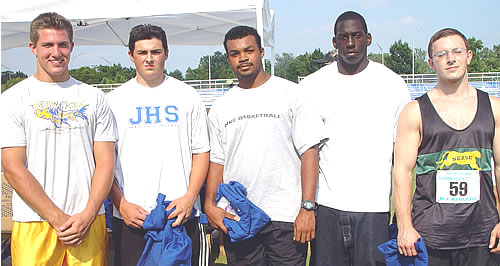 Discus Winners: (from left) Sasha Ferguson FL 3rd, Leslie Goeue FL 5th, Shannon Bowie FL 4th, Khadija Talley GA 1st, Shawniese Williams Fl 6th and Allyson Stockbarger FL 2nd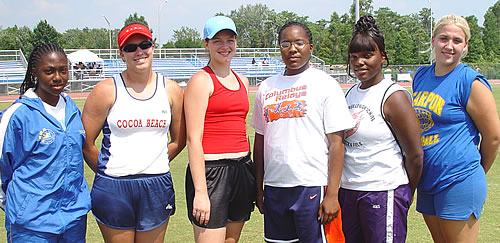 Khadija Talley with Proud Mom, Barbara.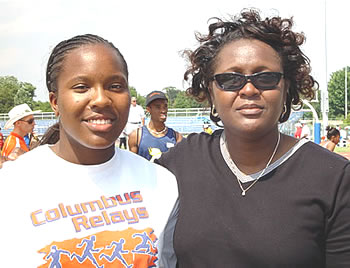 Shannon Bowie with Mom and Coach Lorilynn Bowie. It's tough to have your Mom as your coach. But Shannon handles it well and is her own person.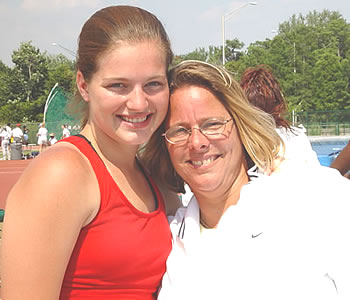 Shot Putters: (from left) La Tricia Jones 3rd, Khadija Talley GA 1st;
Tracy Morrison 2nd, Nicole Lopez 4th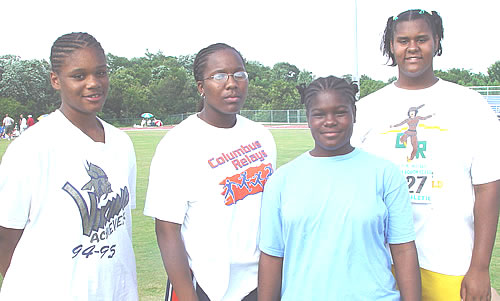 Potpourri
The Florida Elite National Track Coaches: (from left) Raphael Thompson, Lo Wood Ellis Daniley with runner James Torrence. These coaches produce champion runners.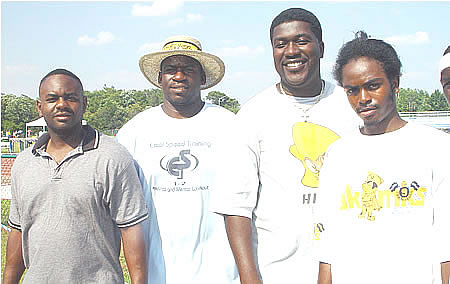 Central Florida Runners: (from left) Jamal Torrence, Nyhem Spivey, Josh Carlson, Raphael Thompson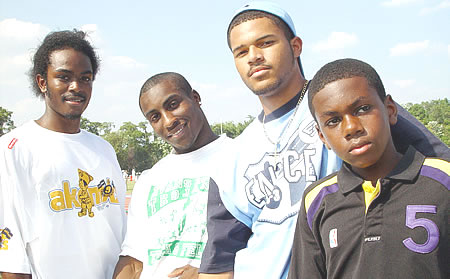 Resting up at pool side on the day after: Smith Station Assistant Coach Adonica Ferguson and the Coach's wife, Debra Evilsizer.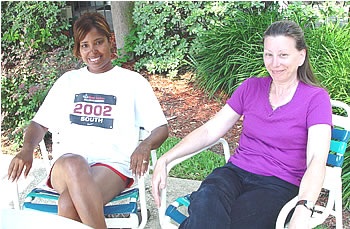 Workerbees
Timers: Mark Amat and Michael Brown. Timer today, Michael is the Winter Park FL Athletic Director. He has been donating his time for timing for the past 5-6 years.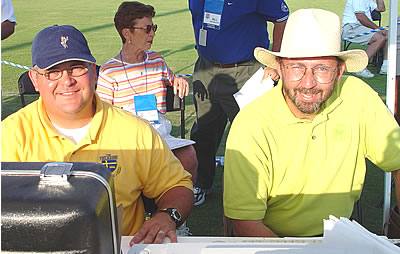 Ocky Clark kept order on the field and saw to it that athletes participated in the awards. Ocky has an impressive track and field history. He was the 1991 Pan American Gold Medal winner in the 800. He was also Indoor 1000 and 800 and American Record Holder.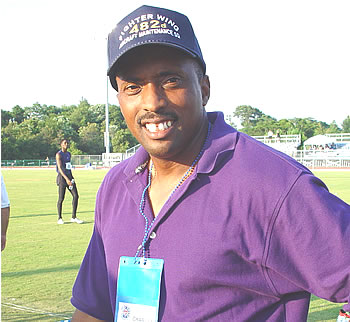 Awards Officials. Doing a great job distributing the awards was Michael "Hoot" Gibson (l) and Charles Harris. Hoot is a successful coach in his 30th year of coaching. He is currently coaching at Lake Mary. He is proud to report that he held the 1st state meet for girls in 1975. Charles is also a successful coach, currently at Lake Brantley. He is also an USA Track and Field official and he also officiated at the 1999 PANAM Games. I have to thank them for being so helpful in helping me get the athletes to pose for pictures.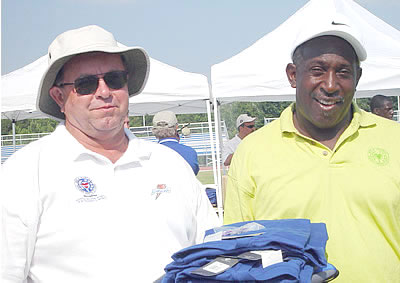 Shot Crew: (from left) Wayne Bozeman, Harlon Cauey, Gerry Meyer and Jo Ann Couey. This is a great crew who were who ran a good event. At the Discus was Crystal, Harlon and Jo Ann's daughter. Crystal is an accomplished thrower at FSU.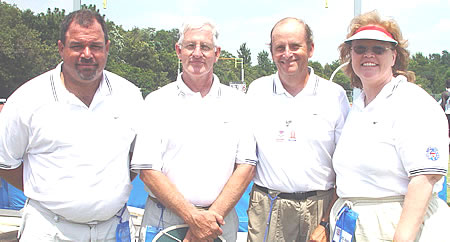 Linda Bonck the ever cleaner upper and retired coach's wife. Picks up trash on her way out. Linda is a charming lady who did wind readings.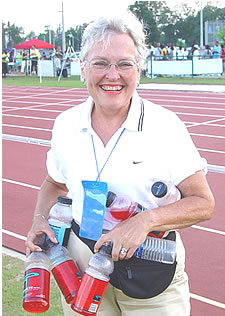 DONNA ON THE SIDE at the Golden South Classic
Part 1 - Introduction, sideline scenes, Most Outstanding athletes
Part 2 - Sprints and Relays
Part 3 - Jumps and Distance
Part 4 - Throws, Potpourri, and Workerbees