DONNA ON THE SIDE at the Golden South Classic
Part 1 - Introduction, sideline scenes, Most Outstanding athletes
Part 2 - Sprints and Relays
Part 3 - Jumps and Distance
Part 4 - Throws, Potpourri, and Workerbees
Jumps
Pole Vault Winners: (from left) Craig Bassett 6th, Chad Freeland 4th, Scott Crews FL 3rd, and Charley Cotton FL 1st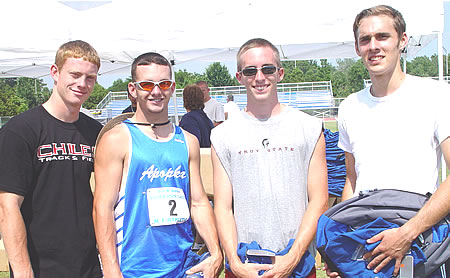 Charley Cotton FL with Dad and Coach, Mike Cotton. Charley is Florida's number 1 pole vaulter at 15'. Charley got his jumping genes from Dad, a pole vaulter in high school and college. Says Mike, while the equipment has changed since he jumped, the mechanics are basically the same.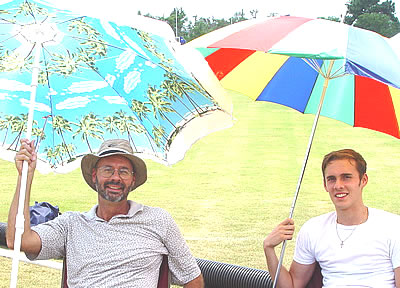 Charley Cotton FL with Scott Crews FL--Both are high ranked Florida vaulters. Charley at #1 and Scott #5. Charley will be at FSU next year and Scott at Troy State in Al.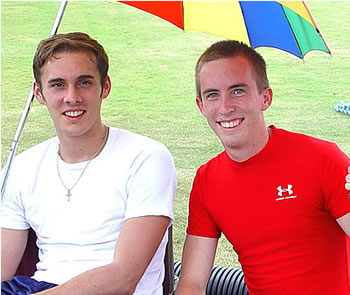 Casey McGinn's FL parents: Kevin and Michelle McGinn. Casey is a pole vaulter who finished 2nd with a jump of 14.6.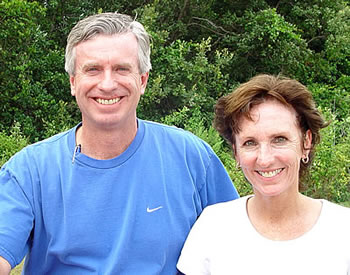 Scott Crew FL with his parents Dad, Pete and Mom, Sylvia. Dad now sits on the sidelines watching Scott. But in high school, back when, Dad pole vaulted with straw pits and bamboo poles. Wow!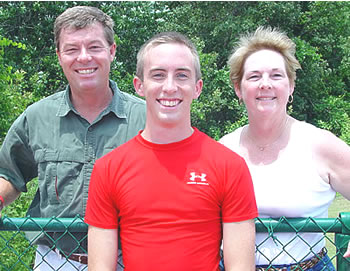 Taylor Warden FL with her family: (from left) Mom, Diana Warden; Grandmom, Winee Warden; Taylor; and Dad, Andy. Taylor just started pole vaulting this season and finished with a height of 8 ft today. The Warden Stadium site of the Great South Classic is named after the Warden family. The Wardens are great track and field enthusiasts who have given generous contributions to building the stadium.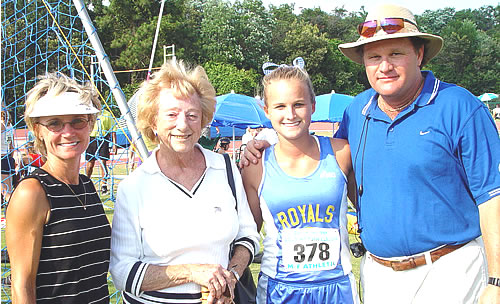 Pole Vault Winners: Christine Rey 4th, Lori Bowen 3rd, Rhiannon Jaet 1st, Karla Savery 2nd, Nicci Faires 5th, Erica Hall 6th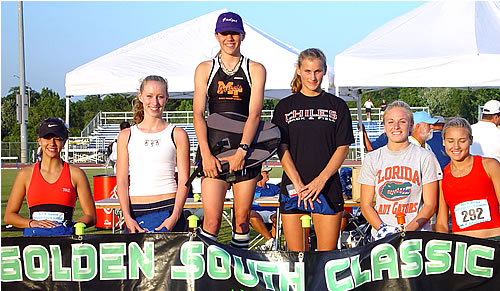 | | |
| --- | --- |
| Long Jumpers: Jamal London LA 6th and Will Allison FL 5th | Long Jumpers: Barrett Saunders FL 2nd and Matt Gorman FL 1st |
| | |
Barrett Saunders with his Dad Stan (l) and Uncle Carl Boldin. Next year Barrett will be at Kansas. Barrett chose Kansas even though it's a lot colder than Florida because of the good experience he had on a recruting visit.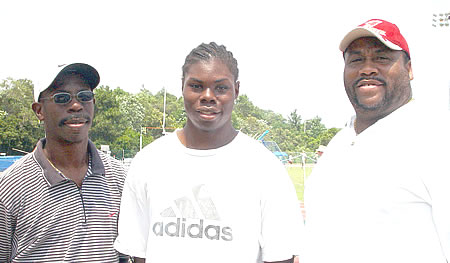 Long Jump Top Three: (from left) Pavielle James 3rd, Charlene Walker 1st and Jenna Utecht FL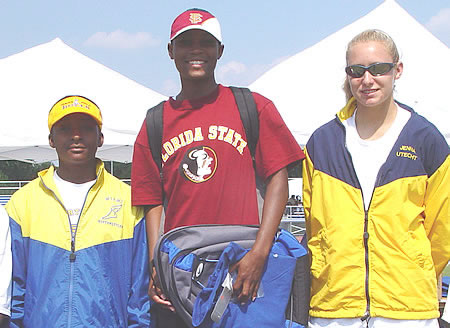 Long Jumpers (from left) Garrett Saunders FL 2nd, William Allison 5th,
Matt Gorman FL 1st and Matthew Grace 4th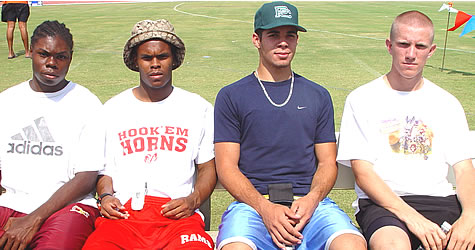 Matt Gorman winner of the long jump poses with his Coach Lorilynn Bowie. Matt is ranked US#5 in the triple jump.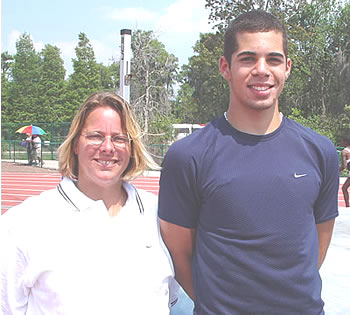 Triple Jump Winners: (from left) Chris Collins 5th, Barrett Saunders 3rd; Shamir Muhammand 1st, Leonard Genes 2nd, Sam Tilly 4th
From Smith Station AL: (from left) Coach Evilsizer, Amelia Anderson, Assistant Coach Adonica Ferguson. All are so happy with Sophomore Amelia's 1st place in the triple jump at 39-03.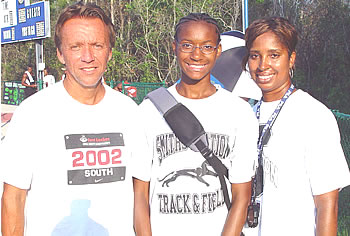 High Jump Winners: (from left) Daphne Williams 6th, Kettiany Clarke 3rd, Johnanna Hill 4th, Kim Maxwell 2nd (Missing is Jenna Utecht 1st who had to run the hurdles.)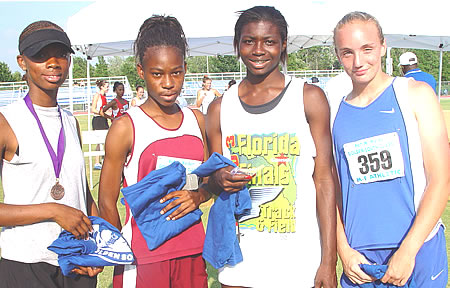 Top Three High Jumpers: (from left) Raymond Newell 2nd,
Jamaal McClinton 1st, Reshard Hicks 3rd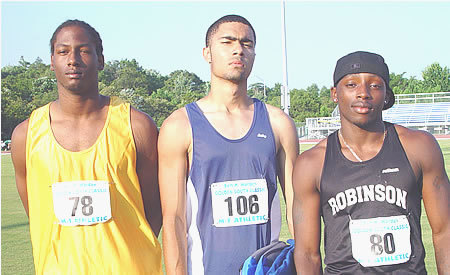 Jamaal McClinton with happy and proud Mom, Connie.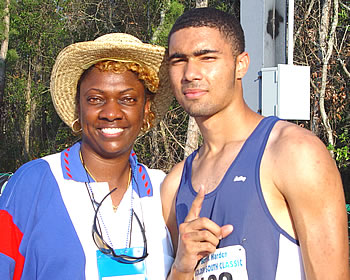 Distance
3000 Winners: (from left) Lyndsy Bedell 2nd, Sarah Hughes 4th,
Samantha Mazer 3rd, Anna Greskovich 1st, Emily Wakley 5th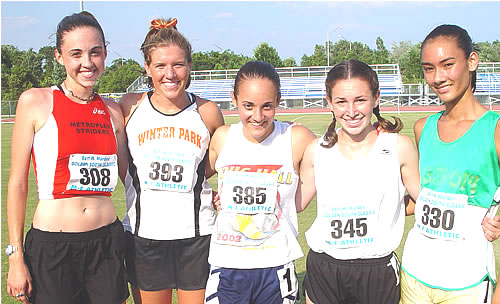 Mile Winners: (from left) Rob Leventhal 6th, Brandon West 3rd,
Bryan Sharkey 2nd, Andy Biladeau 1st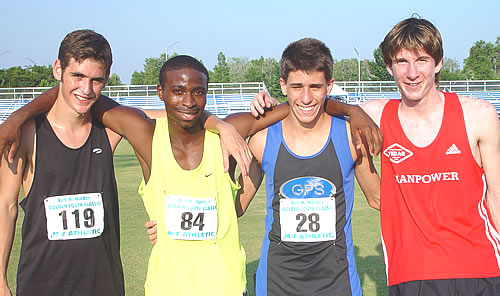 800 Winners: Jennifer Barringer 3rd, Alondra Cooper 2nd, LaVera Morris 1st, and out of order--Thea Le Shun 4th, Jeanna Dorcelin 5th , Amy Reeves 6th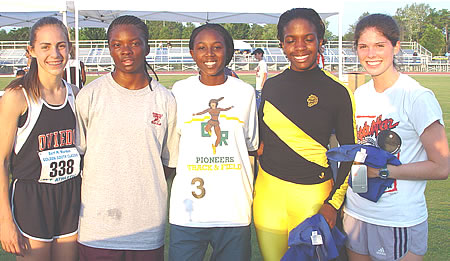 800 Top Three:
(from left) Paul Cross 2nd, Samuel Vasquez 1st and Chris Patrick 3rd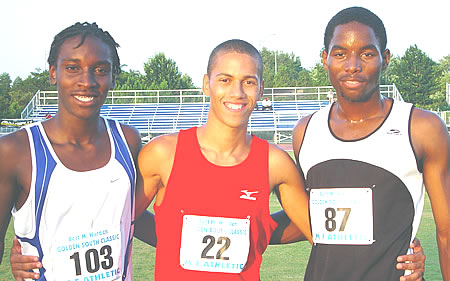 Samuel Vasquez with his family: (from left top) Uncle Steven Conley; Dad, Sam; Coach Peter Hopfe; (from bottom left) Sister J.D.; Sam; Mom, Maritssa. Sam and his family are very nice people. Sam will be at the University of Arkansas next year.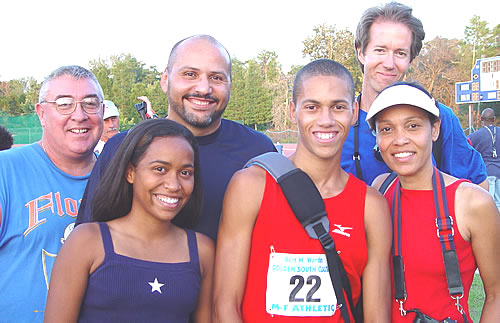 Paul Cross with Ricky Quintana--Ricky covers many meets in Florida watching Paul run. Ricky publishes on the web site, RunFlorida.com.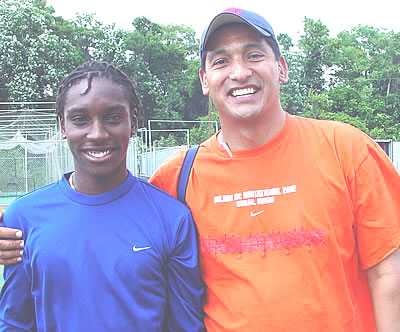 The Steeplechase Crowd: (from left) Parent, Bob Leventhal; John Roberts 4th; Ryan Truchelut 3rd; Mike Rodriguez 8th and Dad, Jose Rodriguez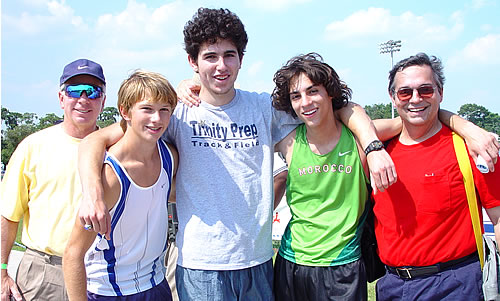 Rob Leventhal FL with Dad Bob
. Rob is a distance runner who was 6th in the Mile.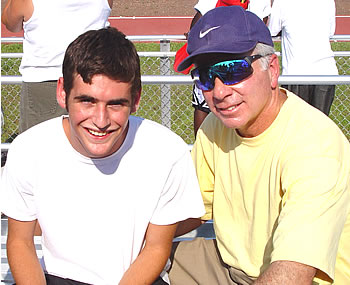 DONNA ON THE SIDE at the Golden South Classic
Part 1 - Introduction, sideline scenes, Most Outstanding athletes
Part 2 - Sprints and Relays
Part 3 - Jumps and Distance
Part 4 - Throws, Potpourri, and Workerbees