DONNA ON THE SIDE at the Golden South Classic
Part 1 - Introduction, sideline scenes, Most Outstanding athletes
Part 2 - Sprints and Relays
Part 3 - Jumps and Distance
Part 4 - Throws, Potpourri, and Workerbees
Sprints
| | |
| --- | --- |
| Juanita Broaddus PA had a great day, doubling in the 100 and 200 | Lance Leggtt TX winner of the 110 Hurdles and Outstanding Boy Athlete |
| | |
| Shana Cox NY--Shana had a good time in the 400 but came in 2nd to Stephanie Smith's US #1 time. | Shana Cox NY and Stephanie Smith share a smile and hug after a good competition. |
| | |
400 Hurdle winners: Loreal Smith 4th, Christina Smith 2nd and
Katya Kostetskaya 1st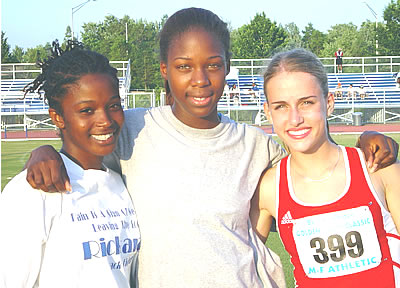 Katya Kostetskaya AK with her family: Mom Olga Dvirna, Dad Alexander and Brother, Sergeay. Katya is an exchange student from St. Petersburg Russia who is burning up the track this year. At the GSC she won the 400 Hurdles, gliding over the hurdles like a graceful gazzell. She must have gotten her genes from Mom who was a Europeon Champion in the 1500. She also gets excellent help from Coach Tatiana Bell-Zelentsora who was a champion in the hurdles. To keep up the family tradition, Sergeay is coming up fast as a distance runner.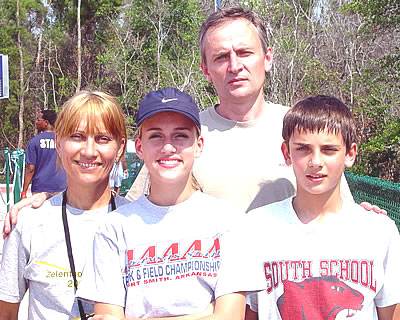 Good coaches can be very competitive, especially when Katya Kostetskaya and Christina Smith go head to head in the hurdles. But they also show a healthy respect and friendship toward each other. Here is Coach Tim Hickey PA who is coach at William Penn, a team that includes Juanita Broaddus and Christina Smith with Coach Tatiana Bell-Zelentsora, Katya Kostetskaya's coach.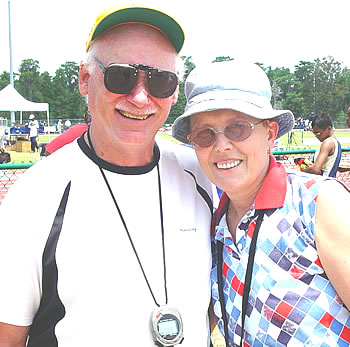 Shana Cox with Dad, Sandy Cox and Coach Dwayne Johnson. Shana has had a great career which she will continue next year at Penn State.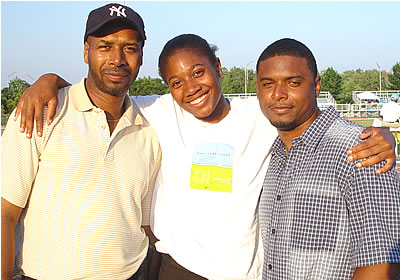 From Central AL: (from left) Bruce Davis finished 4th in the 400; Coach Charles Fortune and Sharelle Rosado a 400 runner.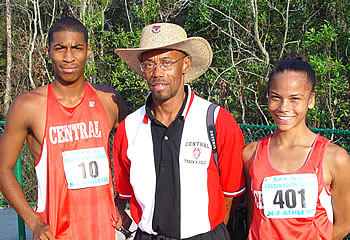 Charles Beckwith FL with Sister, Amanda and Mom, Claudia. Charles is an avid track and field athlete who was 3rd in a very competitive 400. The Beckwith moved to Florida from Eldridge Maryland so that Charles would have better conditions to train. Mom is sold on track and field as a builder of youth character. She believes so much in it that she has written a book, "How to Succeed Through Your Teenage Years." Rather than preach or lecture, the book tells its message through stories. It is intended to help young people, their parents and educators have productive and happy teenage years.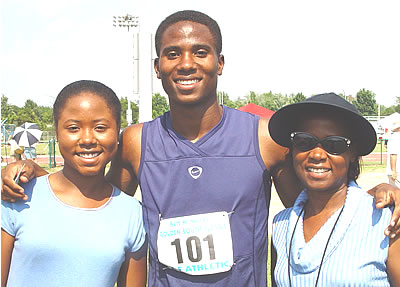 110 Hurdle Winners: (from left) Ryan Fontenot 5th, Travis Morancie 3rd,
Lance Leggett 1st, Rickey Pinkney, Joseph Taylor, Corey Steed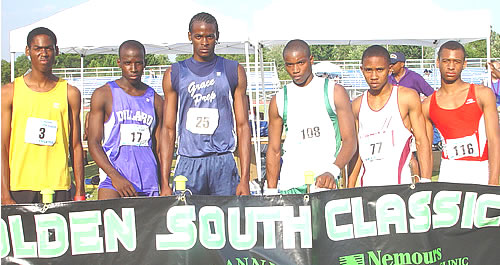 100 Hurdle Winners:
Jenna Utecht 5th, Alonda Cooper 3rd, Christina Smith 1st, Pavielle James 2nd, Ashley Davis 4th and Lamayla Jones 6th;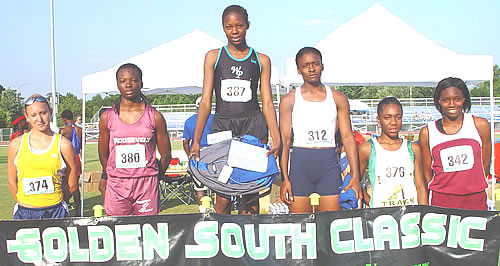 Boys 100 meters - from left: 5th Ihsair McPherson, 3rd Chris Johnson, 1st Travis Padgett, 2nd Xavier Carter, 4th Johnathon Thurston, and 6th Nykem Spivey.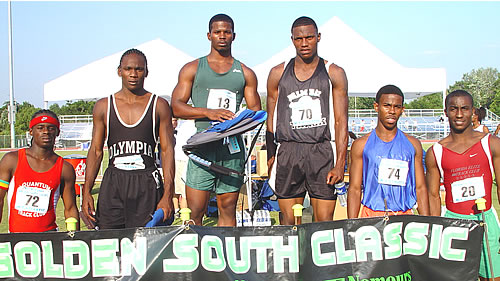 Relays
1st place 4x100: Olympia (from left) Randy Dozier, Mark Edwards, Chris Johnson, Donald Barnes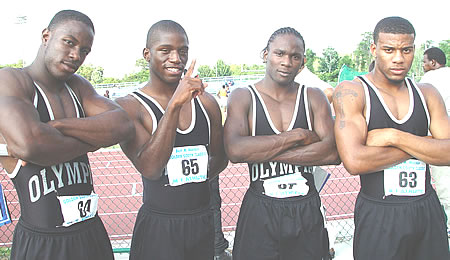 2nd 4x100: Palm Bay FL: (from left) Xavier Carter, Ihsan McPerson, Duane Savage, Jerome Hardison Jr.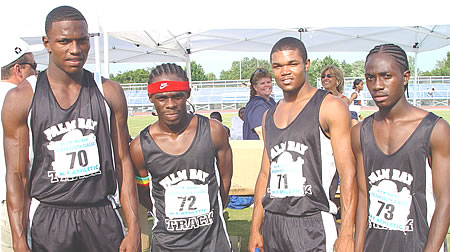 1st 4x100--Evanston IL: (from left) DeMeca Hill, Coreta Evans, Tracianna Henry, Shaline Clarke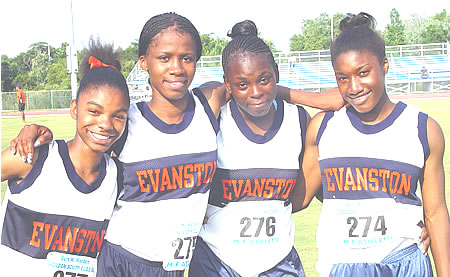 1st place 4x200--Lightning Bolt Track Club: (from left) Rashad Etheridge, Marcus Williams, Kevin Marion, Leonard Genes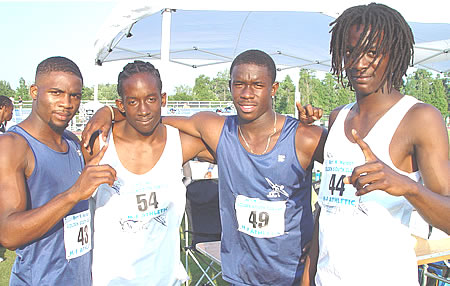 2nd 4x200 - Miami Northwestern: (from left) Sade Nero, Shandale Williams, Jequetta Hall, Nicole Moore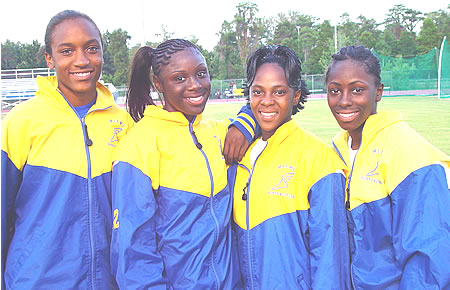 Smith Station AL - 3rd 4x400: (from left) Sherrie Stephens, Shan Crawford, Amelia Anderson, Shemilia Richardson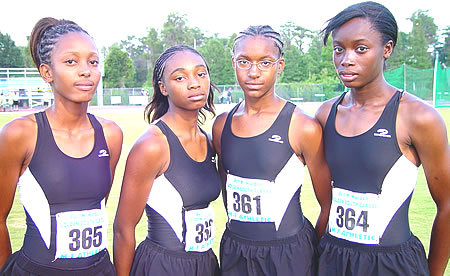 DONNA ON THE SIDE at the Golden South Classic
Part 1 - Introduction, sideline scenes, Most Outstanding athletes
Part 2 - Sprints and Relays
Part 3 - Jumps and Distance
Part 4 - Throws, Potpourri, and Workerbees