DONNA ON THE SIDE at the Golden South Classic
Part 1 - Introduction, sideline scenes, Most Outstanding athletes
Part 2 - Sprints and Relays
Part 3 - Jumps and Distance
Part 4 - Throws, Potpourri, and Workerbees
The Meet. The Golden South Classic is a track and field meet that is good for all. It provides a meet for high school athletes to compete and showcase their talent, while, at the same time, benefiting the Arnold Palmer Hospital for Children and Women.
The meet has a 27 year history with impressive records and its own Hall of Fame. It's hosted by the First Academy at the Payne Stewart Athletic Complex in the Warden Stadium. Complete with a mondo surface, the Warden Stadium has a first class facility for a championship track and field meet. It's named after the Warden Family, who contributed the facility in support of track and field. Two years ago the meet was dedicated to the memory of Bert Warden, a Warden family son, brother, track and field star and enthusiast who died tragically in a water accident.
The Scene. For most people, the mention of Orlando conjures up images of fun and play. It means DisneyWorld and fun in the sun. What better place than this to celebrate the end of a track and field season and the school year? From September to June, athletes are in school, practicing, doing homework, competing on weekends -- all with little time for hanging out and relaxing. At the Golden South Classic, athletes can compete in track and field and also enjoy Orlando's activities and then start rejuvenating for next season.

La Quinta--Meet Hotel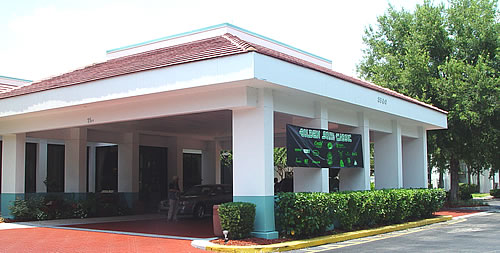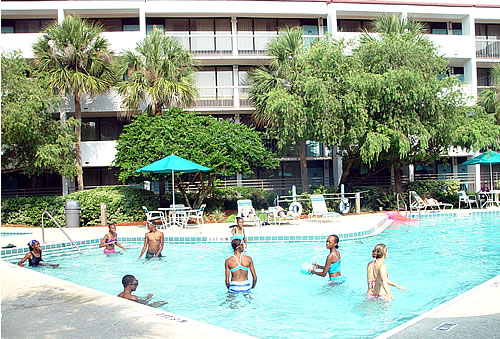 Smiths Station AL take time to relax.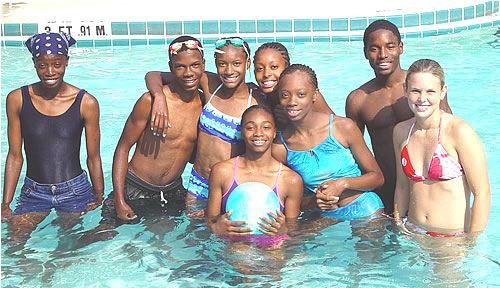 The Golden South Classic in Orlando--Celebrating season's end for track and field and high school, while ushering in summer's fun and frolic. What better place than Orlando! So much to see and do!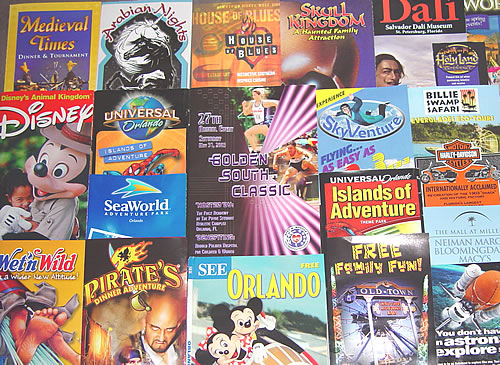 The Sideline Scene
Outstanding Athlete Awards
Outstanding Boy Athlete was Lance Leggett TX and Stephanie Smith GA--Lance won the 110 hurdles at14.13. Stephanie won the 400 with a time of 52.14 which set a new meet record and the US #1 this year.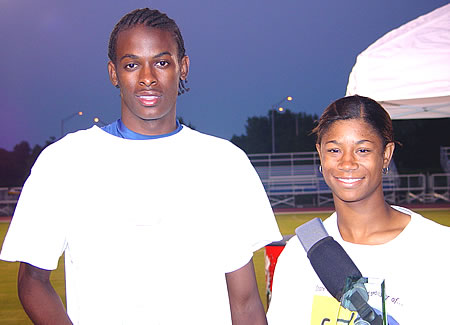 Stephanie Smith with Dad, Bernard. Naturally, Dad was very proud and saw this as a culmination of the season and preparation for her college career at the University of South Carolina next year.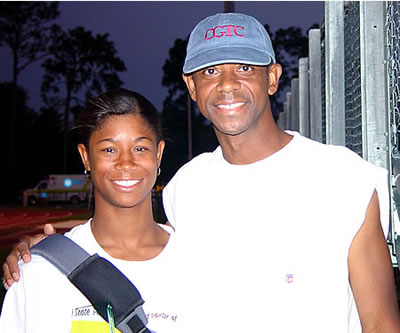 DONNA ON THE SIDE at the Golden South Classic
Part 1 - Introduction, sideline scenes, Most Outstanding athletes
Part 2 - Sprints and Relays
Part 3 - Jumps and Distance
Part 4 - Throws, Potpourri, and Workerbees