| Results | the pre-race buzz | Ricky Quintana's quotes
| Ricky's Ramblings: Solinsky was king but everyone was a winner - what they said - Thom Hunt, Jeff Nelson on hand |
Chris Solinsky 8:43.24
Best 3200 ever? Could be.
Chris (the Rocket) Solinsky's huge negative split (4:27 / 4:16) and unrelenting pressure leave 10 more sub-9:00 runners helpless. 29 runners meet DyeStat Elite top 100 US standard (9:16.8) in all three sections.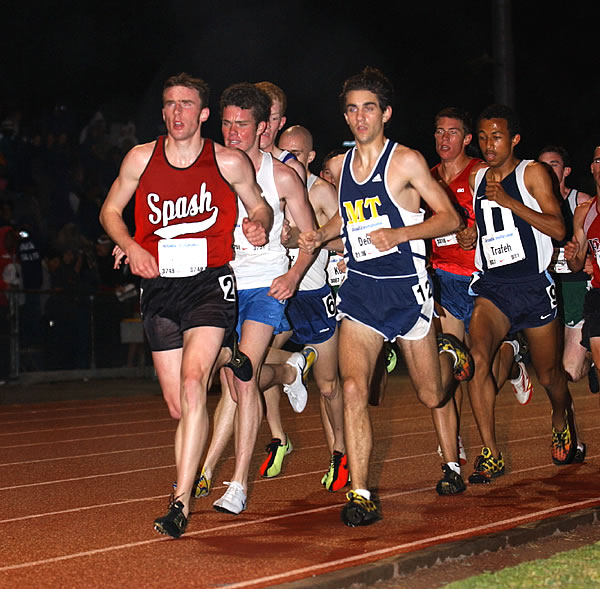 photos by Mike Leary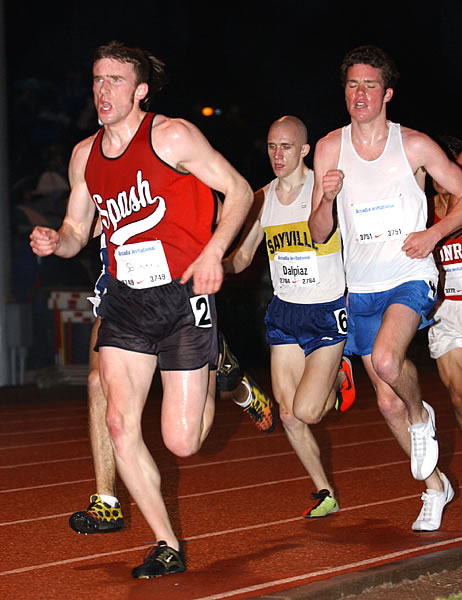 | | |
| --- | --- |
| | Rocket man alone at the end |
by Ricky Quintana
Bobby Curtis guarantees fast pace,
Chris Solinsky says he will negative split a fast pace,
Mohamed Trafeh says, 'I'm ready.'
Almost every event Saturday night has national leader implications, but the biggest buzz surrounds the boys 3200, which produced the fastest race in the nation last year and has the winner of that race, Foot Locker cross country national champion Chris Solinsky, back to do it again. But he is accompanied by 9 other Foot Locker national finalists in a field that is worthy of a national championship battle. Here are some quotes at trackside Friday night:
Top returning miler Bobby Curtis started talking last fall about running the 3200m at Arcadia. An increase in mileage over the winter left him feeling strong and a probable match-up with Chris Solinsky was enticing. Curtis raced at USATF Junior Winter Cross Country Championhips and despite the muddy conditions ran respectably. The training has not seemed to temper his speed. He finished the last 200m in 27 to win the NIKE Indoor Championship to win the mile.
Chris Solinsky also ran the Winter Cross Championships in hopes of qualifying, but after running with the leaders, he fell back late to finish a somewhat disappointing ninth. He followed that with a great race at the indoor championhips. He was surprised in the penultimate lap by Steven Hassen, but he was able to come up with enough to edge out Hassen and prevent repeating his second place finish the year of the previous year. He also improved on his two mile time by 4 seconds. Solinsky also mentioned butting heads with Curtis over the mile sometime during the season. He intends to run the 1600m at the Wisconsin state meet in hopes of breaking Gabe Jennings record of 4:04. But at Arcadia, these two phenoms will race in the highly anticipated 3200m. Nearly, all the players are here and they are here for one reason. To run fast! Very Fast.
Both Solinsky and Curtis arrived Thursday and even had a chance to step on to the Arcadia High School track to do their final workout. Solinsky, taking in the relay finals on Friday night spoke of he and Curtis' conversation regarding the 3200m. "Curtis said that the pace was going to be fast, between 4:21 and 4:25, guaranteed!" Solinsky said. "I'd like the pace to be that fast and then try to negative split. I just don't know. I hope the pace is fast." When asked how his speed was coming for the race Solinsky replied "I ran a 4:07 and then last week I ran a 1:54. I could have run faster, but my pacing was a bit off."
Mohammed Trafeh was also in attendance and when told of the planned fast first 1600m, He replied " I'm ready."
Carl Moe also one to watch having run a 1:56, 9:16 and 4:16 double. Indoor surprise, Steven Hassen is also running better than ever. A recent workout was faster than the same workout run before Footlocker Nationals. The consensus is that the race will be fast. The conditions should be perfect. After a hot, windy yesterday afternoon, the conditions cooled by 9PM. Some runners donned gloves and raced to get in and out of their sweats. Look for an exciting race. No one can be discounted and there should be at least five in it with 800m to go.
Men 3200 Meter Run Invitational
=======================================================================
    Name                    Year School                  Finals  Points
=======================================================================
  1 Solinsky, Chris           12 Stevens Point          8:43.24  
  2 Vaughn, Brent             12 Smoky Hill,Auror       8:45.60  
  3 Moe, Carl                 12 Auburn River           8:48.04  
  4 Curtis, Bobby             12 St Xavier,KY           8:48.39  
  5 Debole, Matt              12 Mount Tabor            8:50.16  
  6 Hassen, Steven            12 Vanguard HS            8:52.75  
  7 Ruiz, Manuel              12 Monroe High            8:55.80  
  8 Trafeh, Mohamed           11 Duarte High            8:55.87  
  9 Kollar, Christopher       12 Strongsville           8:56.35  
 10 Nelson, Tim               12 Liberty Chri           8:58.89  
 11 Alizzi, Mark              12 Syosset High           8:59.63  
 12 Dalpiaz, Brian            12 Sayville High,NY       9:01.20  
 13 Hampton, Charles          11 Brophy Colle           9:04.62  
 14 Burrell, Ian              12 Air Academy            9:04.78  
 15 Ramos, Austin             12 Jesuit HS              9:07.17  
 16 DeVries, Hakon            11 John Jay (Ny           9:10.44  
 17 Cardenas, Jonathon        11 Reno HS (Nv)           9:12.92  
 18 Mineau, Jeremy            11 Menlo-Atherton         9:15.30  
 19 Poe, Mike                 12 Etiwanda               9:23.34  
 20 Wall, Alec                12 Grant (Or)             9:24.10  
 21 Alcorn, Kyle              12 Buchanan,Clovis        9:31.36  
 


Men 3200 Meter Run Seeded
=======================================================================
    Name                    Year School                  Finals  Points
=======================================================================
  1 Greer, Geoff              12 Spokane Mead           9:07.48  
  2 Ghebray, Yoseph           10 Logan HS               9:08.96  
  3 Garber, Evan              11 Spokane Mead           9:10.93  
  4 Aukshunas, Tim            12 El Modena HS           9:13.80  
  5 Wyatt, Tom                11 Charles Wrig           9:14.39  
  6 Mack, Eric                12 North Forsyth          9:15.22  
  7 Swier, Troy               11 Mar Vista HS           9:15.69  
  8 Wall, Scott               12 Grant (Or)             9:16.03  
  9 Liber, Brad               12 University C           9:17.37  
 10 Pellegrino, Kevin         11 Klamath Union,Or       9:18.02  
 11 Wagnew, Babey             11 Helix HS               9:18.83  
 12 Maldonado, Erick          12 Don Lugo HS            9:19.43  
 13 Kinsella, David           11 Inglemoor (W           9:19.61  
 14 Curran, Ryan              10 Mount Tabor            9:22.05  
 15 Lambert, Bob              12 West Jordan            9:22.09  
 16 Krieger, Keith            12 Cherokee (Nj           9:22.54  
 17 McKay, Travis             12 Harry Ainlay,Edm       9:22.94  
 18 Kotter, Jon               12 Alta (Ut)              9:23.05  
 19 Barrett, Sean             12 St. Augustin           9:23.45  
 20 Merriman, Ryan            12 Bingham (Ut)           9:26.71  
 21 Mason, Alex               10 Brophy Colle           9:29.33  
 22 Benavidez, Alex           12 Don Lugo HS            9:30.60  
 23 Robles, Juan              12 Valencia,Placent       9:31.28  
 24 Golding, Dale             11 American For           9:45.49  
 25 Wihtol, John              11 Jesuit HS              9:45.97  
 26 Leary, Ryder              12 Bishop Kenny           9:54.55  
 -- Lipkin, Andrew            11 Henry Gunn H               DNF  
 -- Ramirez, Ruben            12 Don Lugo HS                DNF  



Men 3200 Meter Run
=======================================================================
    Name                    Year School                  Finals  Points
=======================================================================
  1 Nunn, Dan                 11 San Luis Obi           9:14.52  
  2 Uribe, Miguel             12 Grace Davis            9:15.33  
  3 Glenn, Dallin             12 Eisenhower,Yakim       9:16.57  
  4 scratched, 21                Unattached             9:19.49  
  5 Tifilippo, Sean              Glendora HS            9:19.82  
  6 Cipolla, Matt             12 El Toro High           9:20.48  
  7 Figueiredo, John          10 Arcata High            9:25.21  
  8 Tachias, Andrew           11 Covina High            9:40.49  
  9 Gonzalez, Sergio             Upland HS              9:46.14  
 10 scratched, 22                Unattached             9:47.01  
 11 Wilhelm, Mike             12 Upland HS             10:28.68  
 -- Herbison, Josh            11 Upland HS                  DNF