1000 meters - Ari Lambie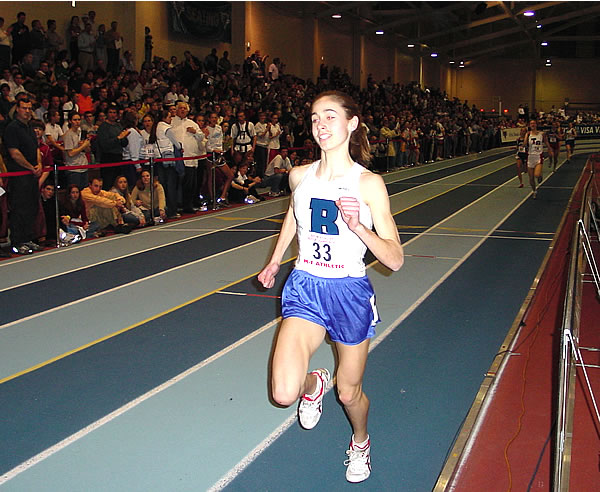 A big smile lit up National 1000m record holder Ari Lambie's face as she finished her last high school race at Reggie Lewis Center, Boston. The smile accompanied Ari's first individual New England title. She always gave up individual glory to help Bromfield's relays. This year, she ran a sensational 4x800 anchor leg of 2:08.5 and still came back to win the 1000 barely 30 minutes later. Lambie told the Boston Globe. ''I've had so many great races here and this is a great way to end it.''
600 meters: Russell Brown 1:19.41,
a meet record and 2nd fastest ever by a US high school boy indoors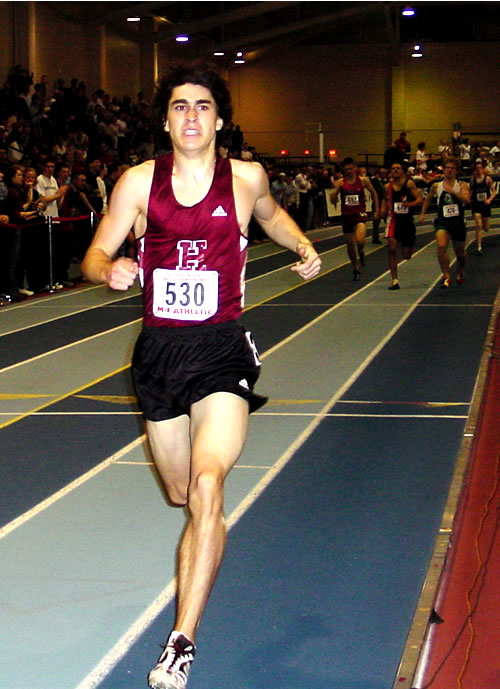 | | |
| --- | --- |
| 1600 meters - Meaghan Owen | 3200 meters - Catherine Bryson |
John Carroll's New England Championship reports
Meet Records: Mary Heitkamp (Fair Haven VT) 600m; Kara Dickman (Westborough,
MA) Long Jump; Brockton H.S.(MA) 4 x 200; Westerly H.S. (RI) 4 x 400.
LAMBIE ATTEMPTS "SUICIDE DOUBLE" (and succeeds)
3200 Meters: Catherine Bryson, senior from Hanover (NH) won a thrilling 3200
race catching up to frosh Amie Schumacher (Holy Corss, Waterbury, CT) in the
last 400. Schumacher was the leader all the way through splitting 800's at
2:34.2 – 5:16.5 – 8:07.2. Schumacher was an much as six seconds ahead for
the rest of the field at 1600. But Bryson lead crew of Nicole Millette (E.
Greenwich RI), Justine Kovas (Stamford, CT) and herself the slow but sure
charge. Each worked off each other until Bryon pulled even with Schumkacher
with 400 to go, and then moved decisively to win the race. Catherine's time of 10:46.47
was No. 3 in the US with Schumacher and Millette moving into the top ten.
4 x 800 Relay: This relay took on added significance when Bromfield's Ari
Lambie decided to run. Bromfield won the event the last two years, with
Lambie sacrificing personal victory. Lambie again"chose team over self".
Ridgefield (CT) had eyes on the prize and a 2:22 first leg opened a 40 yard
lead. The lead ebbed and flowed at 40-45 yards for the next two legs.
Meanwhile, Bromfield was mired about 7th. As the anchor began Ridgefield was
nearly 110 yards ahead when Lambie got the stick in 7th place. Ari quickly
moved to fifth with a :62.1 first 400. Then with 300 to go the pace for the
field slowed down for all, all but Lambie. Ari flew up the track whisking by
team after team. The crowd saw the gap closing and were cheering wildly.
But the lead was too large as Ridgefield held on to win in 9:37.64, the # 18
US time. Lambie's 2:08.5 anchor gave Bromfield a 9:39.21 clocking,
the # 21 Mass all time. Now Lambie went to rest for her 1,000m
4 x 200 Relay: Marshfield (MA) was the leader all the way. Junior Ashley
Hubbard's second leg of :24.9 opened a 5 yard gap. But the gap closed as the
other Massachusetts teams, Borckton HS, Newton North and Newton South closed
in. Only the all underclass Brockton team could close gap, and it was not
until the last couple of yards. Brockton won in 1:45.16 with Marshfield 2nd
1:45.29 and Newton North 3rd in1:45.83. Brockton becomes the # 8 AT Mass 4 x
200 team, Marshfield moves to # 9 and Newton North moves to # 15.
1000 Meters: The girls 1000 took the track about 25 minutes after the 4 x
800 relay final. Was it enough time for Ari Lambie to pull off a suicide
double? The seeded race began when a fall on the first corner stopped the
race. The first section of boys ran and then the seeded girls. Five more
minutes was more than enough for Ari Lambie. The gun went off and Ari went
straight to the lead. She had splits of :67.8 (400) – 1:41.9 (600) and
2:17.5 (800). No one was close to challanging, so Lambie cruised to the win,
2:52.71. This was the # 5 time in the US this season – Lambie had three of
the five. Runner-up was Carolyn Yates (Toll Gate RI) in 2:55.21. The double
was completed (2:08.5 and 2:52.71)
600 Meters: Mary Heitkamp (Fair Haven Union, VT) did four events, in her
state meet so she was in the third section of the event. Heitkamp was not
worried as she won and clipped a 1:33.76, the # 6 time in the US this season.
Runner-up was Vicki Weismann (Wachusett Reg. MA) who won the last section in
1:35.49.
1,600 Meters: This was the race: Jessica Flinn (Timberlane NH) # 1 @ 1500m;
Lindsay Donaldson (Lincoln-Sudbury MA) # 16 mile, Allyson Rinderle
(Amherst-Pelham MA) # 15 mile, Abby Sadowski (Griswold CT) # 10 us 1,000m,
and Megan Owen (Killingly-Danielson CT) # 9 US 1000 and # 15 US Mile and CT
1000 and 1600 champ. However, Owen left no doubt who was the boss. She led
all the way. The only battle was for 2-5 places. Owen was challenged once,
and she survived the threat and pushed the pace and won the race in 4:56.62
ahead of Flinn 4:57.89 and Donaldson third in 4:48.28.
300 Meters: The long sprint is like roulette, anything can happen. LaSalle
(RI) jr. Alison Fogarty PR'd at 40.23 to win section four. This almost
enough. But section five would be quicker. Haverhill (MA) senior Natasha
Stevenson won the race with a PR :39.74, =# 8 US and # 4 AT MA. Fogarty got
second and Marshfield (MA) junior Ashley Hubbard finishing third in :40.24.
55 Meter Dash: She survived the early sections to reach the final. Now she
could live up to her name (Danielle) BOLT. The gun for the final sounded and
bolt Bolt did. Right out of the blocks and sprinted home in a winning :07.22
(# 10 MA AT). Sophomore Dionise Miranda (Brockton MA) was second in :07.39
55 Meter Hurdles: Hopkinton junior Tiana Riel was the class of the field
winning her first round and semi-final sections. In the final she
quickly sped away from Kasey Hill (North Country VT). Riel won in
her best time ever :08.16, # 13 US and # 2 AT performer in Mass history.
High Jump: A class event as eight girls jumped 5'04" or better. Hollison
MA senior Shawna Rossini was the winner a 5'06". Julie Regan (Marblehead,
MA) was second at 5'04". Katie Sherman (Dennis-Yarmouth MA) and Lexi Dwyer
(Swampscott MA) tied for third at 5'04". Jen Harlow (E. Bridgewater MA) and
Erin Hatch (Thornton Acad. ME) tied for fifth at 5'04"
Shot Put: Barnstable (MA) Stephanie Jeffers won with a PR toss of 43'11.5".
This is the # 7 throw in the US this year, and the # 6 AT MA throw.
Lacey-Ann Parker (Ledyard CT) tried to stay close with a second place toss
41'08.75"
Long Jump: Kara Dickman (Westborough MA) won her last winter competition
setting a MR with a leap of 18'11.50" Dickman is undefeated this season in
this event. Hopkinton junior Tiana Riel (hurdle winner) was second with a PR
lead of 18'05". Third went to Northhampton (MA) freshman Sarah Wernik
17'06.75"
4 x 400 Relay: Westerly (RI) left little doubt as to their intentions – win.
But they surprised themselves as they ran 3:57.94 to set a meet record, and
a RI state record. Westerly just opened up too large a gap to be caught. The
battle was for runner-up at as Dennis-Yarmouth (MA) ran 4:02.56 to catch
Central Catholic (Lawrence MA) 4:03.35 to reverse last week's state meet
placing.
by John Carroll
RUSSELL BROWN (Hanover, NH) 1:19.41 # 2 AT 600
Bobby Young (Mt. Pleasant, RI) doubles 55-300 wins.
Deering (Maine) 7:53.50 # 3 US
The boy's section of the N.E. high school meet was just as hot as the girls
section with super performances.
3200 Meters: Sean Quigley (Arch Williams, Braintree MA) knew what it was like
to get caught at the end. It happened last year. This year it was Quigley
who, from the gun, led the race, by as much as 40 yards. Quigley was
superior tonight pulling a big victory in 9:19.87, # 11 US. Chase Pissonia
(Darien CT) pulled away for the field with a strong last 400 to nail second
over Ahmed Haji (Conard CT).
4 x 800 Relay: How do you surprise everyone at the meet? You come from
Deering Maine. The Deering crew had no record entering the meet, but they
left with records galore. After the first lap there was no doubt about the
early leader, it was Deering. Same with leg two, and then leg three.
Deering had nearly 40 yards at the anchor, and kept pounding away. The boys
from Maine clocked a fast 7:53.50, a meet record, an all-time New England
best and the # 3 US performance. Quite a performance!
4 x 200 Relay: When is the defending champ in danger? When they have not won
a major race all year. But Bridgewater-Raynham (MA) was not to be denied.
B-R and St. John's Prep (Danvers, MA) battled the whole way. B-R (1:32.36)
just edged by the Prep (1:32.56) in the last yards to win their second
consecutive 4 x 200 title. Foxboro (1:32.64) closed in but couldn't get the
top spots.
1000 Meters: Nick Krouse (St. John's-Shrewsbury MA) # 2 US wanted to win a
N.E. title. Krouse had to work to get around Owen McKenna (Xavier,
Middletown CT) but when he did he was able to come home a clear winner in
2:32.56. McKenna was second in 2:33.66.
600 Meters: When you win your state title by over five seconds there is
little pressure. But when you run the # 1 time in the US and win that title
it shows you are good. Russell Brown (Hanover NH), the nation's leader at
600 meters would have a closer race at the New Englands H.S. meet. His
competition ended up closer 2.7 seconds, this time. It must have made the
difference as Brown ran 1:19.41. A meet record, a New England best, lowering
his national leading time, and running the # 2 US 600 meter ever. Only
1:18.80 by Damion Drummond (Robeson, NY) is faster. Asked about future
running. His answer was no surprise – Stanford! (joining 1000 NL Ari Lambie).
1,600 Meters: Griswold, CT has a distance crew. How good a crew? They almost
won the CT state meet with two (distance) runners. Reynolds Chapman, a
senior, and Gavin Coombs, a junior stayed in a close pack as Matt Clark
(Barnstable MA) and Phil Shaw (Andover MA) battled for the lead. With two and
a half laps to go Coombs moved into the lead, with Chapman covered his
shoulder. Then Chapman moved off his shoulder and into the lead with 400 to
go. With 200 he hit an incredible surge that even left his teammate with no
response. Chapman won easily in 4:15.55 and Coombs second in 4:17.84. These
two, along with Abby Sadowski 4th in girls 1600 proves Griswold is for real.
55 meter / 300 meter: Bobby Young (Mt. Pleasant, RI) left little doubt he is
the best sprinter in New England as he became the only double winner in the
meet. Young dashed a quick :06.47 55m win over Kory Sheets (Bloomfield CT)
:06.53. Several minutes later he nipped Attleboro MA senior Hafiz Greigre at
the line winning in :34.89 to Greigre's :35.10 runner up time. Defending
champ Dan Saltzman (Foxboro MA) got third in :35.24
55 Meters Hurdles: The CT champ and the RI champ battled last year indoors
and outdoors several times. Now the N.E. Indoor title was on the line.
Clipping over the hurdles cleanly and evenly Jerome Young (Hamden CT) and
Yudehweh Gbas (Hope, Prov., RI), the NE outdoor champ, leaned and were very
close. Both leaned – very close. No, too close to call. The picture had to
be read to the thousand's and both were given :07.45 # 10 US. Harris was the
victor by two one thousandth's of a second.
High Jump: The field was bunched at 6'06" but misses decided the places.
Vladimir Foster (Bunnell, Stratford CT) cleared 6'06" on his first try. He
was the only one of seven to do that, and that jump proved to be the
winner. Trey Gadbois (Portland ME) and Dana Burbank (No. Andover MA) both
cleared 6'06", but Burbank missed at 6'04, so Gadbois was second and Burbank
third.
Long Jump: Mashpee senior Roscell Lopez-Pitts was the leader after the first
round. Lost it, but got it back on the third round with a 21' 6.25" to lead
going into the finals. During the Long Jump Lopez-Pitts went off and ran
1:22.58 to place fifth in the 600 meter run. It was good that he jumped last
each time. Sean Berg (Fitch, Groton CT), on the second to last jump of the
competition, put the pressure on when he took the lead by a quarter inch,
with a leap of 21'06.75". Now Lopez-Pitts(21'06.5') had to put it on the
line. The tall striding Lopez-Pitts blasted down the runway, and flew out
and won his first New England title landing 22'02.5".
Shot Put: Emillio Williams was on early when he hit a big 52'11" toss on
his first throw and the rest of the field wilted a bit. That is until Matt
Zagura (Ellington, CT) hit 53'09.75" on his third toss. This proved to be
the winning throw as neither Zagura nor Williams could better their opening
throws.
4 x 400 relay: Massachusetts owned the 4 x 400 tonight. No, it was Central
Catholic of Lawrence, MA owned the 4 x 400 relay. Central led all the way
as they sped off a nice 3:25.10 clocking to defeat Wayland MA 3:26.76 and
Brockton MA 3:27.62.