By Marc Bloom
CHARLOTTE NC 9/26/02 -- Rick Hill, whose dynamic leadership, innovative style and willingness to confront any obstacle led the Great American Cross Country Festival to become an immediate national jewel on the high school running circuit, announced the sale of his event to the National Scholastic Sports Foundation, effective with this weekend's 4th annual meet in Charlotte, North Carolina.
The deal gives the NSSF, which conducts the Nike Indoor Classic and Adidas Outdoor Nationals, major events in all three high school seasons.
"I feel very comfortable passing on Great American to the National Scholastic group," said Hill, who founded the meet in 1999. "There's no question they will do an incredible job. They'll take the things that are working well and build upon them. They'll take any pieces that are broken and fix them."
Hill had been in discussion with the NSSF for some time. Talks accelerated in the last month and the parties reached an agreement in recent days. The NSSF, based in Chapel Hill, North Carolina, is a non-profit foundation headed by Jim Spier and Mike Byrnes.
"The NSSF considers itself quite fortunate to be the new caretaker of the Great American Cross Country Festival," said Spier. "In a few short years, this celebration of cross-country running has become one of the premier high school events in the country. The NSSF, with over a dozen years in event management and promotion, intends to continue the legacy that Rick Hill created."
Great American started in September, 1999, with about 85 schools and 1,700 athletes. It has grown to more than 250 schools and 4,000 athletes this year with entries from all sections of the country and a separate, high-caliber college division on Friday night. The championship high school races are filled with teams that have defined distance running for decades. The meet, which boasts Nike as the presenting sponsor, has become the premier cross-country team event in the nation.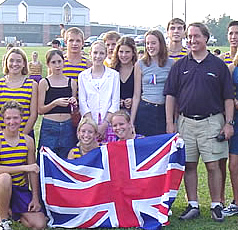 Hill with British runners at the 2001 Festival
Hill, who worked day and night on his event for four years, found the event overwhelming his family life and his regular work as a commercial real estate developer. Hill does not plan to be involved with Great American in the future. He and his family will be moving to Louisville, where Hill grew up and developed his passion for running.
"When I get through with the last dance on Saturday night," said Hill referring to this weekend's post-meet celebration, "I am going to move away from the sport. I know that departure will be difficult, but I have such a passion for running that I cannot be involved on a partial basis."
Hill, 50, was moved to start Great American when he saw the marquee attention given other sports--a vision that goes back to his own high school running days in Louisville. "Football was king and my school didn't have a cross-country team," recalled Hill. "Running as a kid around the cinder track was not very popular. Even then I had the desire to see a big, festive cross-country meet so that runners could get the same feeling a football player gets on a Friday night."
As the basis for Great American, Hill sought to attract teams from all over the U.S to Charlotte. It was a monumental task. At the time, few teams traveled across the country for meets. Many schools were not allowed or could not afford it. There were sanctioning issues from various bodies. And Hill was a new name in the sport. He had to win a lot of peoples' trust in a short period of time. Hill set out to engage cross-country people with his tireless passion for the sport and vision of what his event could become. He called leading coaches one by one, gaining believers in his concept.
At the outset, Hill spent his own money funding team travel. He firmed up the initial site at McAlpine Park but said he encountered the greatest difficulty from elements in the Charlotte running community that took pride in telling Hill what he could not do.
"When I was told I couldn't do something, that prompted me to work harder to make sure it was accomplished," said Hill, who ran for the University of Kentucky in the early '70s. "That's been part of the success of Great American."
In only the first year, teams from 14 states made up the boys Race of Champions. Teams from 15 states ran the girls race. The Woodlands of Texas, one of the favorites for this year, was boys victor. Bingham of Utah, led by sophomore twins Laura and Jackie Zeigle (both now at U-Colorado), was girls titlist. The boys individual winner was a young comer from South Lakes High in Virginia named Alan Webb.
Webb came back to win again the next year in 2000. Cross-country was Webb's strengthening springboard to the historic 3:53 high school mile he would run the following June. The 2000 team champions were Mountain View of Utah for boys and Saratoga Springs of New York for girls. Race of Champions team winners received the Bill Bowerman Trophy courtesy of Nike. Bowerman, legendary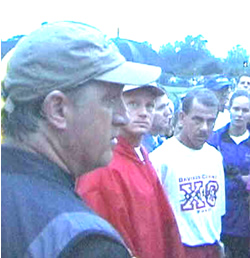 Hall of Fame coach at the University of Oregon, was also a Nike founder. That year, the remnants of Hurricane Helene flooded the race course, making the 5,000-meter event that much harder. But the one put to the greatest test was Hill himself, (left, discussing situation with coaches) who had to battle city officials to prevent cancellation and manage the event and its cast of thousands under dire circumstances. Hill had to deal with the possibility that McAlpine Park might not be runable and tell teams that had come from as far away as California that they had to go home without a race.
But through the force of his will, Hill prevailed. The meet started seven hours late but it was run. Everybody competed and many athletes took pride in finishing in a coat of mud. But Hill vowed not to risk similar problems in the future.
Last year, in the third running, he moved the event a short drive away to Winthrop University in Rock Hill, South Carolina. Saratoga Springs repeated as girls team champion while in the boys race The Woodlands was succeeded by its Texas rival, Kingwood.
By then, the excitement was so extraordinary that many teams around the country set their schedules, or even their entire programs, around Great American. They practiced extra-hard in the summer to be ready for a late-September meet. Coaches motivated athletes with promises of glory in Charlotte.
With the positive feedback driving him, Hill sought to create a Great American circuit with a number of events nationwide in 2001. He wound up with a second meet in San Francisco in early September, two weeks before the flagship meet in Charlotte. The California event was designed to draw top regional teams. It did. But teams enticed by a trip to the Bay Area, like winning squads from Saratoga Springs, among others, came cross-country, as it were, to compete. That event was discontinued as the workload on Hill grew and he felt a need to let go of some responsibilty.
This year, as Hill wraps up his fourth and final season, his exit will be filled with mixed emotion. "I will feel like I've lost a child," he said.
At its essence, cross-country is the simplest of sports but perhaps the hardest event to put on. Merging the pure essence of running with tasteful staging of a weekend extravaganza was Hill's mission. Athletes at Great American enjoy a race-eve pasta dinner and post-race party, and a festive raceday spotight that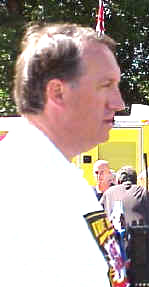 affirms the importance of what they do--even for the few who may not have a full-fledged team and have to run a chewed-up old track for practice.
"I believe Great American represents the strength of our sport," said Hill, who predicts that under NSSF management the event will grow to 6,000 athletes next year and eventually become the nation's largest meet of its kind. "Cross-country is the only sport in which hundreds of teams from a multitude of states can assemble on one day to compete."
More than the mass gathering or even championship trophies, said Hill, is how an individual runner can walk out onto the course for the first time and say, "Wow!" How kids leave feeling better about themselves.
"Do they feel," said Hill, "like they're competing in the most important sport there is."