the coach's perspective on home schooled runners:
Mick Grant (Chantelle Dron) | Rob McDougal (Josh) | Cheryl Kruse Shwe (Teresa McWalters)
Home Run

This trio of home-schooled Foot Locker contenders are showing that being part of a high school cross-country team may not be the only path to nationals
By Stephen ("SteveU") Underwood
Chantelle Dron - Josh McDougal - Teresa McWalters
Don't be surprised if you attend a Foot Locker Regional cross-country meet during the next two weekends and see a name like this pop up high in the standings that you haven't seen in any big state meets and few, if any, multi-state invitationals. The traditional way to national prep stardom – and beyond – is excellence as part of a high school cross-country or track team. But as the number of students being home-schooled slowly grows, so does the number of outstanding student-athletes looking for ways to compete and excel, with or without their peers.
Over the last few years, Chantelle, Josh and Teresa – and no doubt others – have recorded performances in USATF, club or open competition that rivals that of the country's best high-schoolers. At the upcoming Foot Locker Regionals, they'll get a chance to race those against whom they rarely compete – and have a shot at one of the 32 boys' and 32 girls' berths at the big dance in San Diego.
But how do these young home-schooled standouts arrive at this point? How do they find races with no school team? Who coaches them? How do they stay motivated and get their due recognition without being part of the "normal" prep scene?
And most of all, how do they like the process that they are a part of and how do they like their chances for making the Foot Locker Finals?
Humble Beginnings; Lots of Talent
Each of these FL contenders seemed to have discovered running from their parents' activities or other sports they were already themselves involved in. It seemed a natural extension of something they or their family already enjoyed.
"When I was young my parents both ran for personal fitness," says Josh McDougal, 17, of Peru, N.Y. "When I was 8 or 9 my parents let me join them for part of their run; it wasn't much, just a mile a day, 5 or 6 days a week.
"When I was 10, my family moved to Peru, N.Y., and our neighbor told us about the Junior Olympics," he adds. "My 8-year-old brother Jordan and I ran in the Association meet at Saratoga State Park." Both brothers placed high and Josh went on to the national meet in Baton Rouge that year. "Jordan and I loved it and decided to make it our main sport."
As a young child Chantelle Dron, 15, of Manchester, N.H., says she was already "running around the yard just for pure enjoyment. When I was 7, a neighbor suggested a local mile fun run. I entered it, and liked it very much. When I was 10, someone, who knew I liked to run, told me about a local Hershey Track and Field meet. I had no idea that the meet was such a big deal. I ran the city meet, then the state meet, and was later notified that I had made it to nationals. It was quite a surprise."
Teresa McWalters, 17, of San Francisco, Calif., was also a very active child from the get-go. "I have very fond memories of my early childhood and all of the activities we did," she says. "(Fifth grade) was about the time that I got involved with sports by joining a soccer team affiliated with a grammar/high school, the Convent of the Sacred Heart. That was a great experience for me because I got to interact with kids who went to "normal" school and -- little did I know it then -- but the coach of that team, Patty Phager, would turn out to be the person who got me into running by getting me to go to that camp."
"That camp" was put together by Teresa's future coach, Cheryl Shwe, and where in the summer of 2000 she got her "first taste of training … that was what pricked my interest in running -- though then, it was more like a way to get some excess energy out."
A Different Educational Choice
By the time each of these young athletes began to embrace the sport they'd grow to love, their educational course had been set, though no doors were ever closed, so to speak. There also had clearly been an effort to network with other home-schooling families and have these kids enjoy the best of both worlds.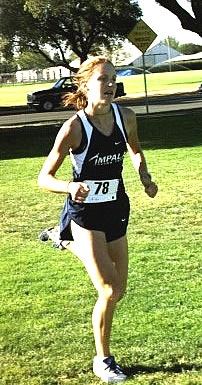 Teresa's parents decided to home-school her and her older brother, Brendan, when they were going into 1st and 2nd-grade, respectively. "They made their decision based on the changes they witnessed in Brendan and me," she says. "Even at our early age, my mom and dad saw that the creativeness was being drained from both of us. We were becoming bored with school and we began to lose the good friendship between us."
It wasn't strictly a solo effort by the family, however, as they found an expanding network of other home-schoolers all over the San Francisco Bay Area. "We learned together with other home-schoolers at Lawrence Hall of Sciences in Berkeley and the Academy of Sciences in SF," Teresa says. "There were opportunities abound with groups of home-schoolers taking ice skating lessons, park days, knitting, art, writing, weaving, and theatre classes, to name a few. My brother and I were learning new things everywhere we looked, and we were having a blast while doing it!"
When their kids were around 5th-grade age, the McWalters began to use a high-school-based curriculum, Teresa says, devoting more time to doing lesson sets from every subject throughout each day. Then when she reached high school age, she had the choice to go to regular high school or to continue home schooling. "My brother had just been through the HS application process the year before and decided to stick with home schooling after all," she says. "I decided to do the same thing. So in order to get a balanced education I started taking classes at various universities and colleges in San Francisco. This gave me experience in the classroom, with other students, and testing. I loved every minute of it."
With the McDougals, it was a choice that was made before the children were born, though, ironically, both parents were public school teachers (and the father still is). An ideal Christian education was the key, and one sees that there also seems to be a lot of family trust involved, something not always seen in this day. "I have always been home-schooled," Josh says. "I have always enjoyed being home-schooled and have never desired to attend a public school. My parents knew they could do a better job spiritually, morally and academically.
"I have many friends that attend private schools, public schools and home school," he continues. "There are well over a hundred home-schoolers in our area. As a group of home-schoolers, we have our own soccer team, volleyball, basketball, ski club, forensic club, 4-H clubs and yearbook club. I have been involved in all of them at some point except the forensic club."
The process also began at a young age for Chantelle, who had an older sister who had attended private school through 5th grade. "Danielle was considered very bright and scored very high on tests," she recalls. "My parents had gone to a seminar on home-schooling, and thought that it might be a good option. In 1992 we started home schooling (I was entering kindergarten). My parents have always given us the option to either home-school, or attend private or public school, but I have always opted to home-school. I take my academics very seriously and enjoy the one-on-one focused time with lessons.
"As far as getting around socially, I do enough activities (piano, running, etc.) that I am around people and kids my own age a lot," she continues. "In the past, I have attended some classes on the side (Longy School of Music in Boston) to enhance lesson plans and interact in a classroom environment."
Support Teams Help Pave the Way
Josh, Teresa and Chantelle have found plenty of support, guidance and coaching from family members or clubs they were able to locate and join. In each situation, racing opportunities have been readily found.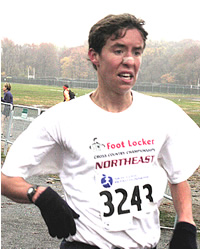 As mentioned earlier, running is truly a family affair for the McDougals. "So far all of my younger siblings have taken up running and are doing well," says Josh (left, at Van Cortlandt Park this year), who has clocked 8:26 for 3k on the track and 14:38 for 5k on the roads. Jordan (age 15, 15:19), Andrew (age 12, 17:21) and Peter (age 9, 18:56) are clearly among the best around for their respective ages. Earlier this fall, Josh also won the USATF Adirondack 5k Cross Country Championships in 15:03, a time reported to have only been bettered by Olympian John Trautman and former NY prep greats Seton McAndrews and Dylan Welsh.
"My parents have always been my coaches," he adds, "but I have many mentors, such as Tom Dalton and local running guru, Scott Woodward. I have also picked up loads of helpful information in running magazines, books and online. Virtually all of my training is done with my brother Jordan. Joe Millet, one of Peru's top runners, does a lot of training with us during the off season."
When Josh was younger, he competed in both AAU meets and USATF Jr. Olympics, as well as area road races that his "whole family often participated in." In the past few years he has traveled further to seek higher level competition in events such as the Syracuse Festival of Races and open/collegiate meets, like the Columbia Invitational and the Boston High Performance Meets.
After Teresa's 2000 camp experience, she later joined Coach Shwe's training group of adult women, Run 4 Life. "I was just another one of Cheryl's clients," Teresa says. "I wasn't racing and only ran on the two days when the group met for workouts. It was only September 2001, at the Jamba Juice 5K here in San Francisco, that I realized that there was something more to running than what I had originally thought. I ran the course in 19:39 and won 26 free Jamba Juices, but more importantly, I almost beat Cheryl; she passed me in the last 100 meters.
"That's what started my career in running," she continues. "I realized how much fun racing was and wanted to do it again to see my improvement. Cheryl began to formulate monthly running schedules specific to me and I began to increase my mileage to 20-30 miles per week. I became a member of the Pacific Association USA Track and Field (PAUSATF) and started targeting the XC races on that circuit. So my racing schedule for that first season of XC in 2001 consisted mostly of local road and XC races. My 5K PR for 2001 on the road was 19:02 and for XC, 19:20."
Track proved to be more of a challenge for Teresa, but she wound up racing the 1500m and 3000m at local all-comers meets affiliated with the PAUSATF Youth circuit. "I had the opportunity to race at some collegiate meets as well and that boosted my confidence and gave me some more experience," she says.
The positive impact of the club experience appears to have been huge for Teresa. "Just before the end of track season this year Cheryl proposed that I join the Impalas," she says. "This was a huge offer and I eagerly accepted it. This was the best thing that could have possibly happened to my in my running career.
"Cheryl has been a phenomenal coach to me," she continues. "Her training, along with the Impala workouts twice a week, have given me a very strong foundation and I attribute my success to their support and guidance. I think that I could not have done better if I were in high school. Though I am sure there is many a good program out there, none can match the experience and maturity of the Impalas. We are coached by two wonderful coaches, Brian McGuire and Tony Coffey, who have produced great workouts and a lot of motivation. I stepped into a great tradition of running excellence in becoming an Impala and I will always be grateful for what they have done. They have given me something to look forward to after college. I will always be an Impala."
After Chantelle's Hershey Nationals debut at age 10 (she won!), the running she loved took on new possibilities. "I had not been training up to this point, and did not know that my times were even close to being able to qualify. I decided to take running more seriously." She met Coach Mick Grant at the Hershey Meet, which portended good things for the future. "I liked his demeanor, and his philosophy on coaching ("Fun First" and long term development)," she says. "He is very easy to work with and cares a great deal about the kids that he coaches."
Seemingly at least as devoted as a student and musician, Chantelle arranges her schedule to make things fit. "The majority of my training is done at home, since it is less time-consuming," she says. "I am very serious about piano and try to get in as much practicing as I can. Mick usually e-mails, or calls, to give me my workouts. Occasionally I will run with the Finish Lynx team. I feel like I do have a team with Lynx. The athletes all get along well and support each other. The club president (Giles Norton) and coach (Mick) work well together, and make for a very good environment. Their No. 1 priority is that everyone enjoys the running process."
As for racing, Chantelle and Coach Grant have been selective. "Last outdoor season we chose the Junior National Track and Field Championships to be our goal race," Chantelle says. "After we had made that decision, we found a few small meets that I could enter to get the racing experience."
The plan seemed to have worked, with Chantelle finishing an incredible 6th at Junior Nationals in the 1500, clocking 4:30.92 (semis) and 4:31.16 (finals) on back-to-back days. In the winter, she had dazzled while competing for Manchester Central indoors in a 4:53.16 1600m win over a field that included Meghan Owen, Liz Gesel and Ari Lambie.
"Cross-country (CC best of 18:18 this year, but faster in some road races) has been planned in much the same way," she concludes, "choosing a target race, and I know that will be our plan for the indoor season as well. I haven't competed in any high school meets this season (just open meets and a few road races)."
Chantelle Dron at Junior Nationals, Stanford, June 2002

Dron made a bold move at the bell before Kassie Anderson of Brigham Young, 4 years older then Chantelle, covered the move and went on to win.
At Home and Loving It … But Hoping for a San Diego Ticket
Chantelle, Josh and Teresa have no problems giving impressive testimonials for home-schooling … but there's no doubt that a few days in San Diego would be a welcome experience.
"I enjoy being home schooled very much," says Chantelle. "My family is very close and everyone supports one another. Again, I like the fact that I can put very focused time into my academics."
The balance in Chantelle's life, with such strong academics and musical interests, seems to give her a healthy perspective on the big FL NE race. "Yes, I am excited for Saturday --I am always excited to run! You never know what could happen during a race. It would be very nice to qualify, but all that I'm going to ask of myself is that I do my very best."
While Josh has enjoyed team camaraderie on past soccer and baseball teams, he says he has yet to experience that in running. "I look forward to the experience in my collegiate years … (But) I definitely feel that I am getting what I want out of running simply because I love to run!"
"I am really psyched to run Foot Locker NE this Saturday," he continues. "I have not raced any of the top contenders since AOC. Without Dalpiaz running, I think it is a wide-open race with about two dozen guys who all have a good shot at making it. I hope I am one of the 8 survivors."
But if anyone could be a walking advertisement for the benefits of home-schooling, it would appear to be Teresa McWalters, whose experiences have her considering the wildly divergent career paths of automotive design and journalism – so much has her artistic inclinations and growing interest in classic literature been encouraged.
"I love it!" she says. "I have been very happy with it and am a better person because of it. It allowed me to discover my own talents and interests, and provided the atmosphere to foster them. Sure, there have been times when it didn't seem wonderful – times when I just couldn't muster up enough self-discipline to study, or times when I felt like I just wanted to fit in. But those thought were fleeting and I have not had them in a long time. Home schooling has been the best of everything for me. I could probably write a book on my experience!"
Teresa feels the same way about her running experience: "I would not have it any other way! I only hope that I can find a team this supportive in college. The only way I know how to show my appreciation for my coach and the Impalas is to succeed. I am getting more than I thought possible from running."
"This season has been going really well," she continues. "I have had some more experience in collegiate meets and have done well there." Recent highlights included a 21:57 (3rd) for 6k on Nov. 15 at the NikeFarm Team Open (three days earlier the NCAA D1 West Regional was held on that course and Teresa's time would have placed her 15th) and a 23:33 4M (6th) in the PA Club Championships. For 5k, she has run 17:50. "I am very excited (about Foot Locker West). We have been prepping for this for quite some time now and I feel very ready."
Teresa probably speaks for not only proud home-schoolers, but many of the strange breed of humans that become cross-country runners and other dare-to-be-differents everywhere when she concludes, "Now I am no longer ashamed of being different, and when people smirk when I say I am home-schooled I am not bothered. I love standing apart and giving back to the world something it doesn't see very often. I hope that it will open up other lives as it has mine."