Girls Results - Boys finish pix - Interviews - Leo Collins story - Boys Results -
by John Dye
It was a sequel to the Oregon state meet, but not a re-run. Galen Rupp and Lauren Jespersen had run 1-2 in a record setting Oregon state meet, with Rupp setting a fast pace and Jespersen closing to within a split second at the end. This time, there was no gap most of the race, and undefeated Washington champion Carl Moe made it a threesome. Looking at his watch frequently, Rupp tried a surge every 2 minutes, but Jespersen and Moe covered it each time. Late in the race, the Oregon pair surged together and put a 15-meter gap on Moe. Moe rallied as they hit the soccer fields for the last 500 meters and passed a tiring Rupp, but couldn't catch Jespersen.
Lauren Jespersen


Carl Moe split the Oregon pair
and got second ahead of Galen Rupp

the start for Oregon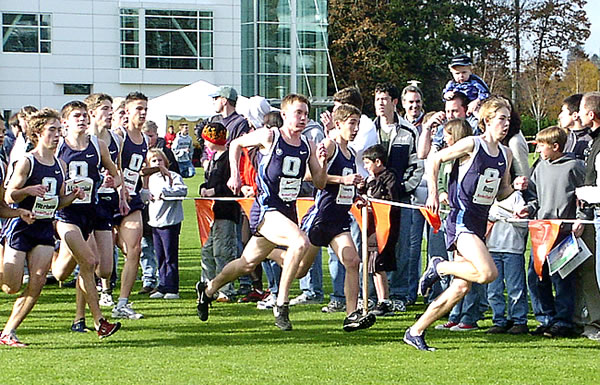 awards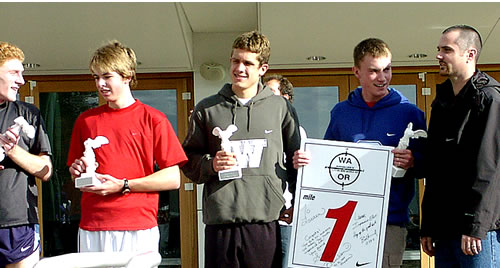 Nike elite runner Bob Kennedy presents the 1-mile marker to Jespersen in behalf of winning Oregon team. From right are Kennedy, Jespersen, Moe, Rupp, and Wall.
Rupp-Jespersen Act 2 whets the appetite for more
by Leo Collins
BEAVERTON OR 11/17/02 -- Two weeks had passed since the Oregon State meet, yet time failed to dull interest about the duel in Eugene. The internet chat lines were still a-buzz over the Rupp-Jesperson match. Now it was Sunday in mid November and a goodly crowd gathered for the Rupp-Jesperson Show: Act 2.
Ostensibly this was the Oregon-Washington Border Clash, but for many running fans this was the second act in a hopeful ongoing serial. Prior to the race the conversation was not so much about what state would win, but about what was going to happen. Would the two go at IT again or would this be a training run? Would Carl Moe of Washington decide this was a time to make a statement of his own?
The crowd gathered at the Nike campus in Beaverton, Oregon in spite of threatening rain. But after a week of solid rain the running gods smiled on Oregon and the clouds even allowed the sun to break through providing an ideal day to run cross country.
The Border Clash has a unique start with each team facing each other and running around 200 yards before they make a turn and meld together. The cannon blasted and they were off but due to this fact there was a brief interlude when spectators were not sure of the action that was transpiring. As they made their turn all questions were answered. Rupp was in the lead & blasting and Jesperson was in immediate chase. A friend of mine standing nearby noted "they're hammering" and it was almost an understatement. The pace was so fast that two of the younger Mead High School runners set their PRs for the 800 at 2:05, yet they were way back in the pack.
Galen Rupp continued to lead in spite of the fact that he was making regular checks of his watch and appeared to be running a fartlek workout. Running in this fashion allowed the pack to close in a bit at the mile which was run in a more sensible 4:55 but still it was the same two in the lead. Carl Moe had joined the fray about four minutes into the race with Alec Wall nearby. Lauren Jesperson slipped & nearly fell but he retained his position even while Rupp ran his on again off again surges as predicated by his watch.
Nearing the 7 ½ minute mark Carl Moe threw in his own surge passing Jesperson although he never quite made it up to the leader. Jesperson is a heady runner, it appears, and he responded in kind. At this point the race seemed to be on and the Oregon stars exchanged the lead a number of times, as they managed a ten yard lead over Moe who had a an even bigger lead over Wall.
They continued pretty much in this manner accompanied by the ever repeated watch checks until shortly before the 11 minute mark in the race, when Jesperson took the lead for good. It was unbeknown to all the end of the race, for Rupp appeared to have finished his training run and sauntered in from there. Carl Moe surged past an eased up Rupp to place second three seconds behind Jesperson and 8 seconds ahead of the cruise-controlled Central Catholic runner. An impressive Alec Wall, running in a vacuum, chipped in with a fourth place effort. Mark Currell, only sixth in the 3A Washington race, placed fifth ahead of Oregon's Joaquin Chapa.
As far as the team race Oregon runners held a good lead with their top six having a total of 32 points to Washington's 47. The Border Clash is also unique in its scoring as the top ten from each state determine the team score. While Oregon mid-packers placed 12,14 & 15, Washington paraded the next 15 runners over the finish to make it a close contest. Oregon held on for 104 to 117 victory.
After the race the winner noted the attention to the stop watch and the ensuing surges but was happy with the victory and seemingly none the worse for wear. Carl Moe gave evidence that he has to be counted once the Footlocker Regional is contested and Alec Wall also made a strong case for himself. Still there is the Rupp factor. His Mother noted after the race that he had been suffering from strep throat, and in deed there had been talk of him not competing. Galen is an affable young man, who is rather unassuming, and he down-played the illness noting that Lauren Jespesrson is a talented runner. He even noted that his was a training run today with work still to do. Still one has to believe he had not recovered, so the question that lingers is: what is yet to be seen for Act 3 at Regionals? I for one look forward to it.
Girls
The girls' race unfortunately never seemed to be in question. Washington seized the first three places from the outset with a pack of four Oregon runners trailing. The followers seemed to be segments of links with one or two Oregon runners sandwiched by packs of three or four runners. Washington's Amanda Miller, who had been 3rd at State, defeated Jamie Geissler, who had been 4th, with state champion Amber Nickelson right behind. Danielle Jordan had a big break-through to earn 4th after being 'only' 9th at state. Meghan Armstrong crossed the line next to earn 5th . Erin Gray, the Oregon State champion, had one of those days that some people like to pretend do not happen but serious runners know will inevitably occur and was off her form. Christy Paul, who had won the 2001 State Championship trailed by a second but the Washington girls were just too strong. The Oregon girls lost to their opponents 91 to 126.
The times for the 4.4 K race are somewhat meaningless but the race is a very worthwhile addition to the running scene. Nike must be complemented for its effort, which even provided viewing screens for the public to follow the progress when runners were out of sight. Even better, however, was their bringing in Bob Kennedy & Suzy Favor-Hamilton to act as Nike ambassadors. The two affable running legends spent time with the crowd chatting & signing autographs.
Following the race the reporter for the local newspaper tried to play up the state rivalry but Galen Rupp would have none of that. He remarked that they cared and tried to do their part to win but noted there are other things of greater importance. Both Rupp and Jesperson noted that the meet is but one stop along the way. There are miles to log and things to do yet in this season. Nike presented the top ten finishers very nice statuettes but that was not the real prize. All one had to do was look at the faces of Galen Rupp & Alec Wall as they received a congratulatory kiss from Suzy. Now that is a special prize indeed! From here it is on to Act 3 and an even greater set of challengers too.

Results
Oregon 104, Washington 117
Place Number Name State Time
1 192 Lauren Jesperson Oregon 13:47
2 112 Carl Moe Washington 13:50
3 140 Galen Rupp Oregon 13:58
4 167 Alec Wall Oregon 14:06
5 36 Mark Currell Washington 14:13
6 24 Joaquin Chapa Oregon 14:15
7 55 Evan Garber Washington 14:18
8 45 Stuart Eagon Oregon 14:19
9 68 Geoff Greer Washington 14:19
10 173 Patrick Werhane Oregon 14:20
11 113 John Moore Washington 14:23
12 179 Kevin Pellagrino Oregon 14:24
13 87 Michael Kilburg Washington 14:25
14 107 Devin McDaniel Oregon 14:26
15 117 Kenyon Neuman Oregon 14:26
16 157 Brendan Swenson Washington 14:28
17 72 Jon Harding Washington 14:31
18 60 Dallin Glenn Washington 14:31
19 89 David Kinsella Washington 14:32
20 194 Travis Hartanov Washington 14:34
21 46 Brian Ehlis Washington 14:34
22 66 Alex Grant Washington 14:34
23 160 Ryan Thomas Washington 14:37
24 6 Faraz Bala Washington 14:40
25 27 Michael Chuol Washington 14:42
26 163 John Timeus Washington 14:45
27 202 Mike Quackenbush Washington 14:45
28 47 Woody Favinger Washington 14:45
29 8 Laef Barnes Washington 14:46
30 74 Danny Hayman Washington 14:49
31 4 Tim Bailey Oregon 14:49
32 166 Ryan Vail Oregon 14:50
33 168 Scott Wall Oregon 14:52
34 184 Chris Rodriguez Washington 14:52
35 69 Issac Guzman Oregon 14:53
36 152 Kelly Spady Washington 14:54
37 79 Brian Horneck Oregon 14:54
38 180 Duke Wasteney Oregon 14:55
39 101 Carlo Lozano Washington 14:56
40 114 Ryan Mulvihill Washington 15:00
41 62 Jeff Goertz Oregon 15:01
42 103 Nathan May Oregon 15:02
43 59 Kyle Gillette Oregon 15:03
44 177 Andy Wright Oregon 15:05
45 200 Jon Frohnmayer Oregon 15:06
46 77 John Hoeck Oregon 15:06
47 15 Austin Bowles Oregon 15:07
48 3 Nate Appel Washington 15:07
49 182 Brandon Thompson Washington 15:08
50 120 Stephen Oliver Oregon 15:08
51 78 Neil Hollo Washington 15:09
52 186 Tomas Morrissey Oregon 15:09
53 88 Christopher King Oregon 15:10
54 106 Alex McClary Washington 15:10
55 153 Fred Spofford Oregon 15:11
56 42 David Dorr Oregon 15:11
57 141 Scott Sanders Oregon 15:11
58 156 Adam Shimer Washington 15:13
59 83 Dane Johnson Oregon 15:13
60 51 Lalo Flores Oregon 15:14
61 178 Tom Wyatt Washington 15:14
62 301 Zach Shaw Washington 15:16
63 64 Hipolito Gonzalez Oregon 15:16
64 7 Robbie Barany Washington 15:17
65 41 Michael Dols Washington 15:18
66 17 Alec Bromka Oregon 15:19
67 119 Mike Ogwel Washington 15:19
68 118 Chris O'Brine Washington 15:22
69 175 Andrew Wimer Oregon 15:25
70 52 Tyler Foster Washington 15:25
71 171 Kelly Warren Oregon 15:27
72 20 Sage Canaday Oregon 15:28
73 22 AJ Casteel Oregon 15:29
74 102 Jon Marlo Washington 15:34
75 70 Zach Hackett Oregon 15:38
76 50 Josh Fitts Washington 15:41
77 127 Andrew Perri Oregon 15:49
78 136 Jeff Randall Oregon 15:52
79 151 Zeger Snoeckx Oregon 16:16
80 105 Andrew McClary Washington 16:27