Foot Locker on their minds
by John Dye
NIKE WORLD HEADQUARTERS, Beaverton OR 11/17/02 -- BorderClash is a season ending treat for most of the 160 runners, but for an elite few it is a stop on the way to the Foot Locker Cross Country Championships (West regional December 7 at Mt. SAC and national finals at Balboa Park, San Diego December 14). We asked the top runners about their race today and their outlook for Foot Locker.
Lauren Jespersen
Q: What did you expect at BorderClash?
Jespersen: I didn't expect it to be a really killer race. Everybody's legs have to be tired (from state meets). I didn't really come up here to win; I just came up to have fun.
Q: How will you approach the Foot Locker West region -- will you have the luxury of just running to qualify?
Jespersen: I don't know. It's going to be a really tough race. Galen again, Tim Nelson, and there's always surprises. So I'm going to have to be careful down there. I'd like to say I have a good chance to win, but you never know. Mt. SAC is a hard course. Anything can happen.
Q: Has Foot Locker been your goal the entire year?
Jespersen: Yes. After last year, I didn't do as well as I wanted to be -- I wanted top 10 and I ended up 12th. So that kind of gives me motivation to run a little bit better this year. I set a goal for myself I wanted to be in the top 3 this year. Right now I think that goal is attainable, so I'm really excited.
Q: In terms of that goal, do you think you're on target, about where you wanted to be at this point?
Jespersen: It's hard to say right now. I still have some training to do in the next couple of weeks . . . some speed work. I think after the next 2 weeks I'll probably be a lot more confident about the race. I just have to put faith in myself and my coach and we'll do all right.

Carl Moe
Q: Were you satisfied with the race?
Moe: I think I raced pretty well. I just kind of zoned off a bit near the end, and they got a little gap on
me. Other than that, I ran hard most of the race, and I finished hard. I just didn't have enough time to catch Jespersen at the end.
Q: This is your first loss?
Moe: Yeah. Running against those guys you have to be used to running second.
Q: How do you feel now about your progress toward Foot Locker?
Moe: I didn't have that good a training this week. I kind of relaxed after States. In another week I'll be kind of set. I'll be OK. I don't really care what place I get in the regional; I just want to be top 8.
Q: What is your goal for Foot Locker?
Moe: Top 8 in region, top 14 in nationals.
Q: Is your training on target for that?
Moe: I think so. Next week I'll start on some hills
Galen Rupp
Q: How did you feel about the great race at the (Oregon) state meet?
Rupp: I felt really good about it. I'm still kind of letting it soak in for a while.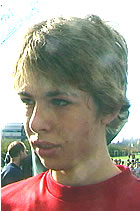 Q: It seemed like you and Jespersen were kind of jockeying back and forth today. What was your race plan?
Rupp: I was trying to work on my surging today for future races. If you want to do it in a big race, it doesn't really help a lot to just do it in a workout.
Q: You were looking at your watch during the race. Were you trying to time your surges?
Rupp: Yeah, every 2 minutes.
Q: So you used this race as a big workout?
Rupp: Yeah. I mean I still raced, don't get me wrong.
Q: Were you feel kind of beat at the end?
Rupp: Yes. I was feeling it.
Q: I heard you had strep throat. Was that a factor?
Rupp: No. I was over that a little while ago. He [Jespersen] was just the better guy today.
Q: Foot Locker has been your season goal, right?
Rupp: Yes.
Q: How do you feel you are right now in preparation for Foot Locker?
Rupp: I feel like I'm in pretty good shape. The state meet was a real confidence booster for me to show that I could really run with the top guys. I feel pretty good about it [Foot Locker].
Q: West region is only 1 week from nationals; does that affect how you approach the region?
Rupp: No, not really. It's going to be hard anyway to qualify, there's so many good guys. It's not going to be like I can jog through it.
Q: Do you expect it could be you and Lauren again at the regionals and you and Lauren again at nationals?
Rupp. Yes. Either one could win at any time. Depends on which guy's got a better race that day.
Amanda Miller
Q: Tell me about the race.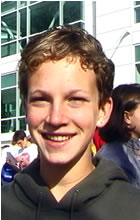 Miller: It went really well. The last 2 years I tried to run with the rest of the team, and it kind of burned me out. So this year I just ran my own race, and tried to pull ahead when I had a chance.
Q: Where did you get a decisive lead?
Miller: It was in the forest area [in the second mile] where I sprinted off.
Q: Was winning kind of a surprise to you?
Miller: I knew I had a chance, but I knew there were a lot of really fast girls here. I knew that if I stuck with them I would have a better chance.
Q: Are you going to run Foot Locker?
Miller: No, I'm not. But I'm going to think about it next year.