DONNA ON THE SIDE at BorderClash
Part 1 - the scene
Part 2 - Washington boys
Part 3 - Washington girls
Part 4 - Oregon boys
Part 5 - Oregon girls
Part 6 - Workerbees
the scene
The BorderClash is a cross country meet between the states of Oregon and Washington. The top 40 runners (based on the results from each state's state meet) are invited to participate (20 girls and 20 boys). The meet is probably the most unique in the country. It models itself on a medieval battle. It's begun with drum rolls and a canon blast as each team start out the race running into the faces of their opponents--as was the custom in medieval times. The prize: honor and a Nike statue.
But unlike medieval times, this meet had a helicopter and slimline computer screens. Overhead during the race, a helicopter followed the runners and transmitted video pictures for all to follow the meet in real-time.
For the most part you are either for or against Oregon or Washington. Unless of course you are a grandparent caught living in the wrong state. But then grandparents cheer for the grandkids no matter what!
It's a fun meet for all.
The Nike Headquarters Campus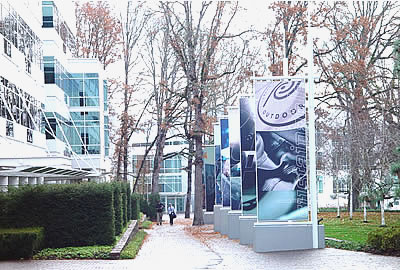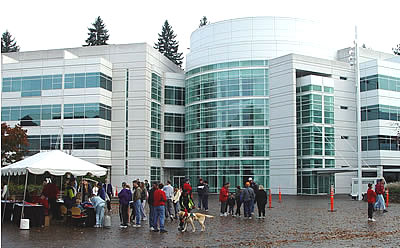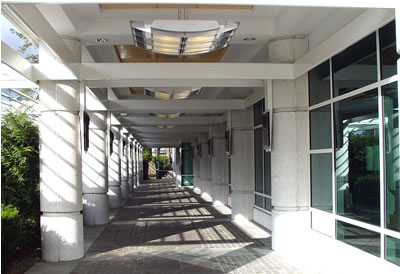 The Drummers: The Last Regiment of Syncopated Drummers from Portland Oregon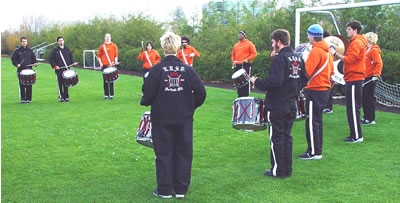 Cannon Blast Starts the Race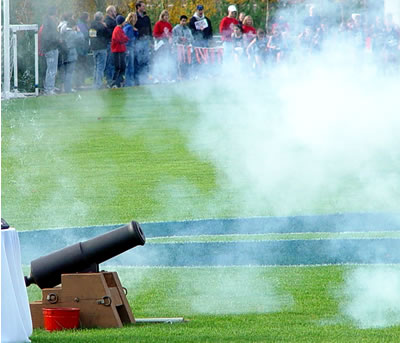 Hovering overhead, the helicopter provides real-time coverage.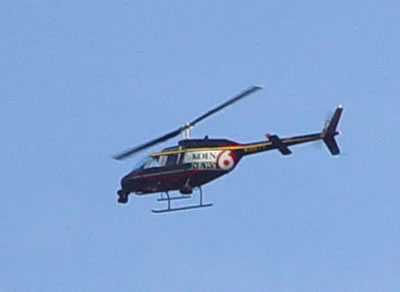 Josh Rowe, Meet Director presents awards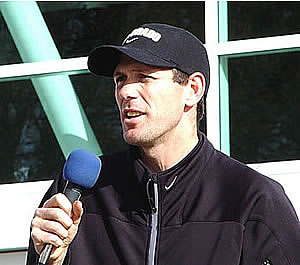 Fans and parents watch award presentations.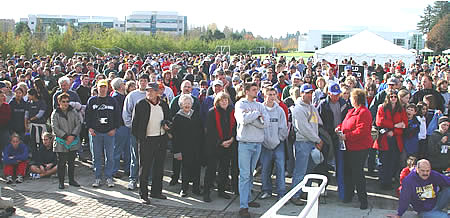 Fans follow the race on the monitors.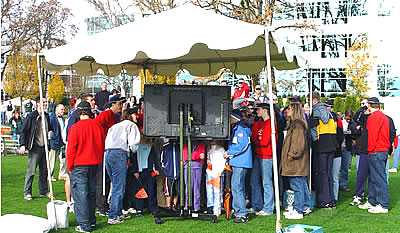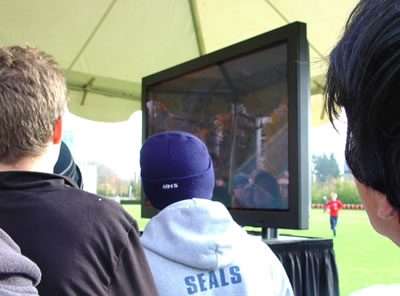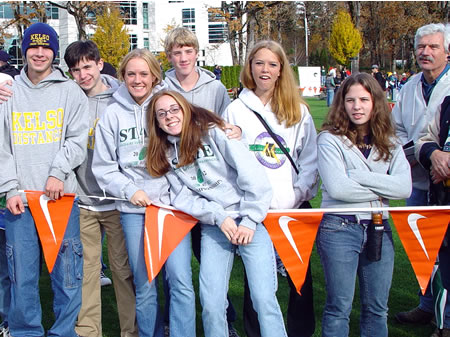 "Bucky" Beaverton OR High School mascot leads a cheer. With him are
(from left) Bryan DeVenport, Trevor Fox and Michael Ferros and
Setha Nhoung is Bucky.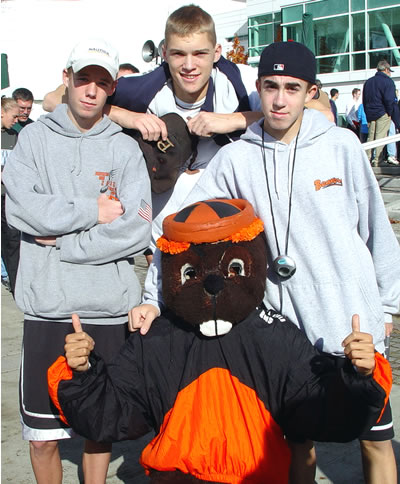 Manning the sidelines were Lauren Jespersen fans: (from left) Daymond Monteith Dave Horn Ken Coffman and Rob Coffman.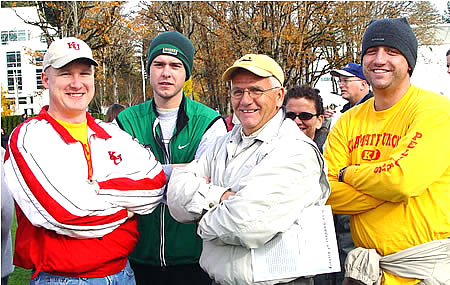 Fans on the Sidelines: (From Left) Campbell Allen, Mark Allen, Aaron Yetman (Nike Emloyee coaching the Washington Team) Brandon Simmons, Meghan Surface (In Front) Knox Allen and Blake Rupprecht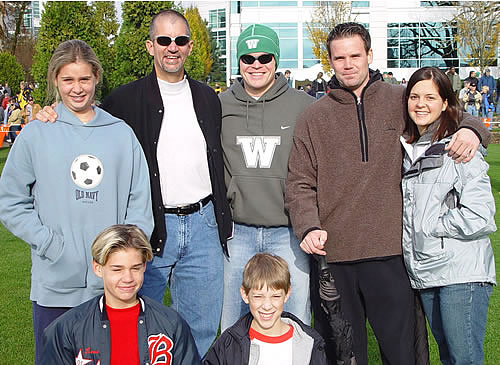 The Winners: The Washington Team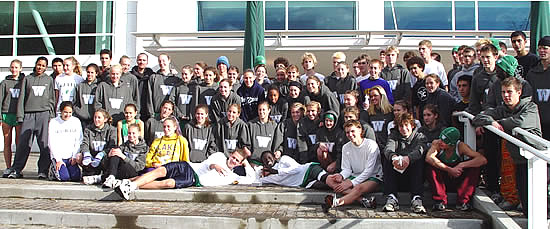 Top Ten Girl Winners: (From Left 10th place) Amy Lia, WA; Marie Foushee,WA; Suzanna Shaw, WA; Christy Paul, OR; Erin Gray, OR; Meghan Armstrong, OR; Danielle Jordan, OR; Amber Nickelson, WA; Jamie Geissler, WA; Amanda Miller, WA.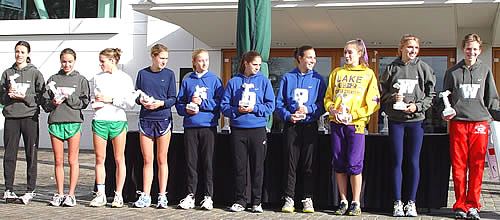 Top Ten Boy Winners (From Left 10th place) Patrick Werhane, OR; Geoff Greer, WA; Stuart Eagon, OR; Evan Garber, WA; Joaquin Chapa, OR; Mark Currell, WA;
Alec Wall, OR; Galen Rupp, OR; Carl Moe, WA; Lauren Jesperson, OR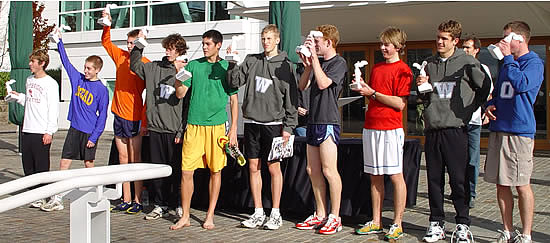 Celebrities
Winners get congratulations from the Celebs: Bob Kennedy, Lauren Jesperson, Amanda Miller and Suzy Favor-Hamilton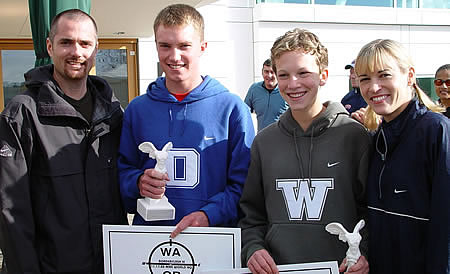 Suzy Favor Hamilton with Mount Baker WA runners:
Andrea Brown and Karin Rohde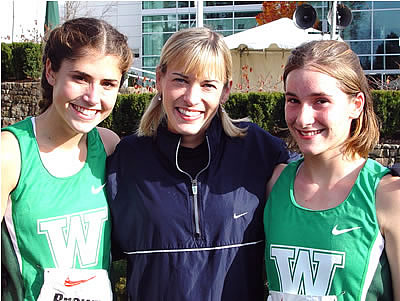 Suzy Favor Hamilton with Lake Osweego, Oregon Runners:
Berkeley Aldinger and Bailey Schutte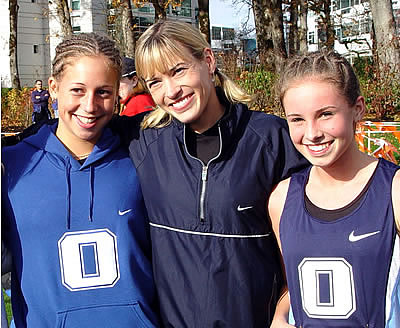 Nike Athletes, Alan Webb and Bob Kennedy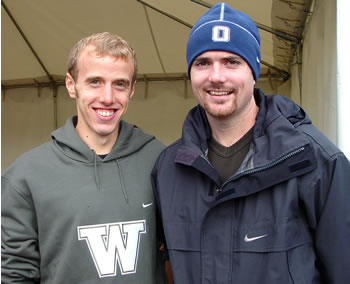 DONNA ON THE SIDE at BorderClash
Part 1 - the scene
Part 2 - Washington boys
Part 3 - Washington girls
Part 4 - Oregon boys
Part 5 - Oregon girls
Part 6 - Workerbees