Stanford Invitational
Sep 25, 2004 at the Stanford Golf Course, Stanford University, Palo Alto CA
DONNA ON THE SIDE AT STANFORD
Part 1 - the scene
Part 2 - Boys
Part 3 - Girls
Part 4 - Junior Varsity
The Scene
Held on Stanford University Golf Course, the Stanford meet is a premier meet of the cross country season. The meet, sponsored by Stanford University and Palo Alto High School, has been running for 31 years. This year it attracted 4,000 runners.
Faces on the Side
The Winner's Box
Varsity Seeded Winner: Samantha Gaffney JR
JUDGE MEMORIAL 18:04
Varsity Division I
Tori Tyler SR
HENRY M. GUNN 17:37
Division II
Marie Lawrence SO
RENO 17:28
Division I
Yosef Ghebray SR
JAMES LOGAN 15:43
Division V
Austin Fritzke JR
MT. SHASTA 16:36
Division V
Katie Fritzke SO
MT. SHASTA 19:27
Team Champs
Girls--- Murrieta Valley----------Boys--Royal
1st MURRIETA VALLEY (19:42)
Liana Boucher SO 19:28 , Jessica Walker JR 19:39, Karen Camburn JR 19:42 Randi Alvarado SO 19:43, Celia Pourtau JR 19:55, Taryn Pastoor FR 19:59, Courtney Dixon SO 20:06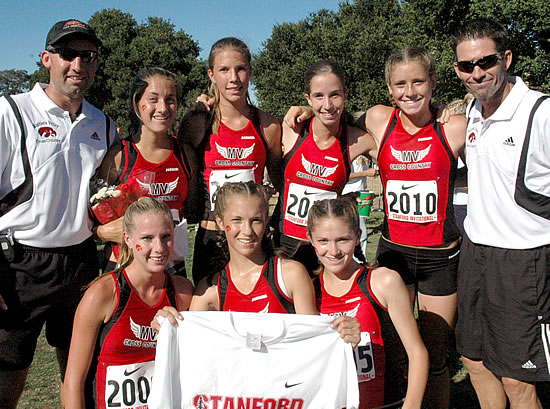 1st ROYAL (16:14)
Coach Ryan Luce, Dylan Jaedtke SR 16:00, Jason Pedersen JR 16:07, Hudsen Andrews SO 16:09, Michael Cybulski SO 16:24, Matt Gulden SR 16:26, Dan Benson SO 16:56
William Campbell SR 17:30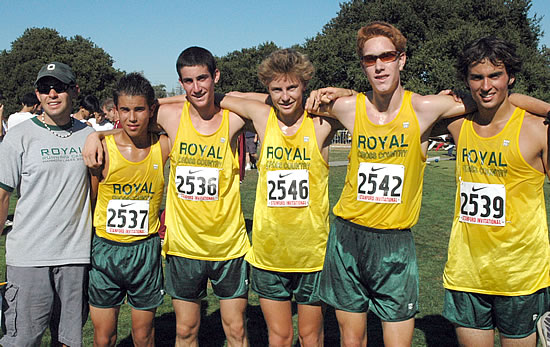 On the Side
The smiling faces of Albany

Maria Carillo CA in personality mode. These guys love the Nike bus and everything it stands for.
Next time you see the Nike bus, take a look at California for Maria Carillo.

Maria Carillo support group, fan club and keepers of the Maria Carillo bunch.

Here's the Nike Bus with the picture of Maria Carillo on the side in California state.
DyeStat Graduates
Once DyeStat Elite--Now Stanford athletes. We ran into some DyeStat graduates at the Stanford Invitational.
Arianna (Ari) Lambie -MA Class of 2003 and
Katie Harrington Carmel IN Class of 2004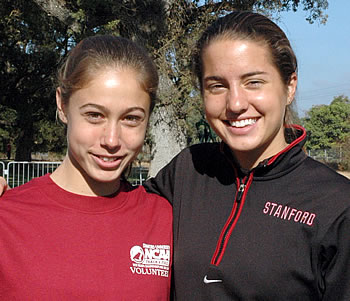 Nef Araia-Lawrence North IN-Class of 2003 (center)--Nef and fellow Stanford student Forrest Tahdooahnippah were helping announcer, Keith Conning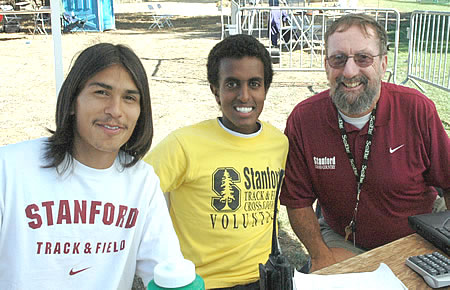 DONNA ON THE SIDE AT STANFORD
Part 1 - the scene
Part 2 - Boys
Part 3 - Girls
Part 4 - Junior Varsity
Stanford Invitational index page