Results & Pix
Number 1 runners - #2 - # 3 -
#4 - #5 - #6 - #7

John Dye Photo Albums
#1 Boys - #1 Girls
the course

Flathead MT boys,
Thousand Oaks CA girls win

| | | | | | | | | |
| --- | --- | --- | --- | --- | --- | --- | --- | --- |
| | #1 | #2 | #3 | #4 | #5 | #6 | #7 | TOTAL |
| BOYS | | | | | | | | |
| Flathead MT | 5 | 4 | 2 | 5 | 2 | 1 | 1 | 20 |
| Tahoma WA | 7 | 2 | 3 | 3 | 1 | 2 | 5 | 23 |
| Ferris WA | 8 | 1 | 1 | 1 | 4 | 4 | 9 | 28 |
| Sehome WA | 9 | 12 | 6 | 6 | 3 | 3 | 2 | 41 |
| Auburn Riverside WA | 4 | 3 | 5 | 4 | 8 | 21 | 3 | 48 |
| GIRLS | | | | | | | | |
| Thousand Oaks CA | 9 | 8 | 9 | 4 | 2 | 3 | 1 | 36 |
| Flathead MT | 11 | 3 | 5 | 5 | 13 | 1 | 2 | 40 |
| Gig Harbor WA | 3 | 1 | 1 | 8 | 27 | 2 | 6 | 48 |


All seven flights are scored for teams with at least five runners overall.
Preview - Schedule - Meet Info - Prior Coverage - the meet's own web site
John Dye photo albums - #1 Boys - #1 Girls -
the course - Franklin Park is tough for runners but a delight for fans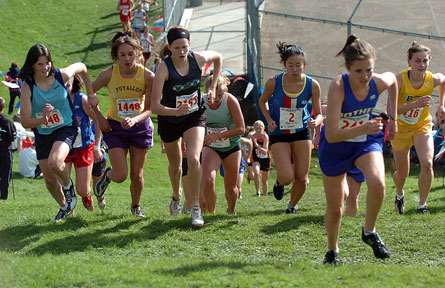 Climbing the Terraces (so named because it is configured in giant stair steps), one of the steepest hills in the country, at the end of the first mile at Franklin Park in Yakima WA. This is the toughest part of a tough course for runners but a delight for spectators. No runners met the DyeStat Elite standards for national ranking for 3 miles (15:30 for boys and 18:30 for girls); only nine boys broke 16 minutes and 11 girls broke 19 minutes. Franklin Park is a city park with large shade trees for fans and team tents inside the running loops. Runners make four loops around the park, with three climbs to the plateau that rises on the north side of the park and lots of sharp turns and narrow passages. Fans can see the runners through virtually the entire race without moving much.
Flathead's #1 Elliott Welder is a happy camper after making up 10 positions in the last mile to preserve Flathead's small lead over Tahoma WA and Ferris WA. With Welder is his mother Sally, coach Paul Jorgensen, and dad Terry. Jorgensen said this team, ranked #2 in the Northwest this week, is not on a par with his 1999-2000 Seth Watkins-led crews, but "we have room to improve.".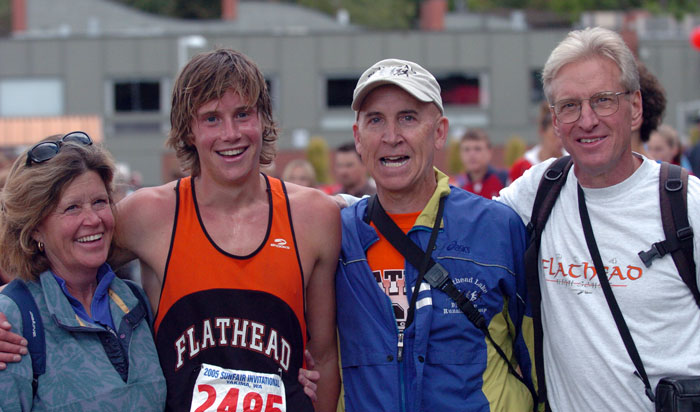 a tough trip for Thousand Oaks girls turns out well
Thousand Oaks CA's victory was a rewarding end to a rigorous trip. Because of the forest fires in Southern California, some team members had to evacuate their homes before the trip. Governor Schwarzenegger landed his helicopter on the Thousand Oaks football field to inspect the fire damage. The team's airplane leaving Burbank was forced to offload fuel to lighten the load and detour around the fires and land 12 minutes away in Ontario before continuing to Seattle, where the team chartered a bus to Yakima. The girls team victory made it worthwhile, and coach Robert Radnoti said they all enjoyed Sunfair immensely, especially the seven-flight format that makes every runner count. Thousand Oaks makes one long trip every year, having journeyed to New York City for the Manhattan Invitational last year and to North Carolina for Great American the year before.
Preview
More than 3,000 runners from WA, OR, ID, MT and Canada will run in the 32nd edition of this meet in the spectator friendly setting of tree-shaded Franklin Park in Yakima, with fans in the center seeing the runners go around them four times. Thousand Oaks CA, making its first visit to Sunfair, will travel the longest distance. Top team present will be undefeated Gig Harbor WA girls, ranked #1 in the NTN Northwest region and #7 in the US in the Harrier Super 25.
Girls
Undefeated Gig Harbor will face stiff competition from Snohomish and Thousand Oaks from California. Other top ranked Washington teams challenging will include Mead, Thomas Jefferson, West Valley-Yakima, Newport, Eisenhower & Tahoma.
It will be difficult to surpass the great individual battle last year between Zoe Nelson (Flathead) and Brie Felnagle (Bellarmine Prep). Felnagle's course record of 17:11 should be safe. However, look for a very close battle among some of the top female runners in the Northwest. The winner should come from Stephanie Sipes ( Gig Harbor), Amanda Stopa (Snohomish) Michelle Schubert (West Valley-Yakima), Chelsea VanDeBrake (Eisenhower), Chelsie Jorgenson ( Puyallup) and Ryan Torpie (Mead).
Boys
Ferris makes a return to the meet after a hiatus as the heavy favorite to win the team title. Thousand Oaks (CA), Gig Harbor, Snohomish, Tahoma, Auburn Riverside and Bellingham should provide the main competition over the demanding 3-mile course. The Thousand Oaks CA) team are making their first visit to Sunfair and the expected sunny conditions should bring out the best in them.
The individual title should be a battle among Robert Cosby (Ferris), Ben Dear ( Olympia) and a very good group of Canadians.
Prior Year coverage by DyeStat
2003 - Eisenhower Yakima WA was a gracious host everywhere except on the course, where their US#9 boys won 5 of 7 races and were second in the other two for a powerful score of 9 points. Eisenhower jr Robbie Barany won the #1 seeded race handily (below). US#5 Snohomish WA girls held off Washington #4 Kamiakim 22-25. Fastest out of 3,000 runners were Vancouver BC's Anita Campbell 17:59 (Megan O'Reilly 18:25) and Jackson WA's Jeff Helmer 15:30 (winning the #2 seeded flight).