Portage Stars: Dexter boys, Rockford girls
Bobby Aprill 15:16, Meggan Freeland 17:56
Boys Story/Pix - Girls Story/Pix (coming)
NEW - Pix Pages! --- Girls - Boys
Highlights By Division below
Fast improving soph Jason Bishop (left) and sr Dan Jackson, struggling with illness and injury but still trying to help the team, work together as huge factors in Dexter's victory at Portage.
Photo by Davey, runmichigan.com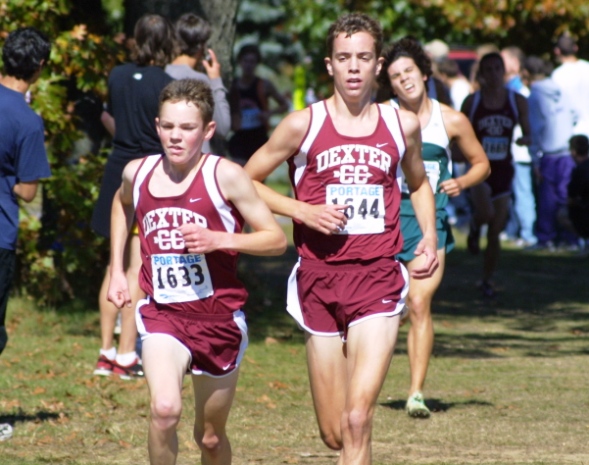 D1 Boys - MW#2 Dexter outruns MW#5 Pinckney in big showdown, 62-100. Dexter jr Bobby Aprill rallies late for another invitational victory in 15:16. Division 1 Results

D1 Girls - MW#6 Rockford puts three in top 10 to win over formerly ranked Okemos, 92-110, with Saline 115 third. Grand Haven so Becca Addison outkicks Saline fr Kate Leptich, 18:14-18:16. Division 1 Results
D2 Girls - Grand Rapids Christian holds off East Grand Rapids, 135-180. Parma Western soph Meggan Freeland powers into first in last mile for fastest time of day 17:56. Division 2 Results
D2 Boys - Team and individual results mirror each other: Forest Hills Eastern sr Seth Bjorlie passes Three Rivers jr Nathan Martin late for 16:04-16:05 win; and FHE also takes team battle over Wildcats, 128-156. Division 2 Results
D4 Boys - Wyoming Lee sr Victor Ramirez repeats in 16:25. Hesperia (87 pts.) wins narrow team battle over Saugatuck (89) and Whitmore Lake (94). Division 4 Results

D3 Boys - Big breakthrough PR 15:45 for Manistee sr Aaron Simoneau. Erie-Mason, having finally gotten themselves in a big invite, shows they're ready for big time with 65-155 win over Jackson Lumen Christi. Division 3 Results

D4 Girls - Foot Locker contender Marissa Treece of Maple City Glen Lake rules the day with a blazing 17:59. Led by the Campbell sisters, North Pointe Christian wins by 31 over Battle Creek St. Phillips. Division 4 Results

D3 Girls - Adrienne Pastula strides to a PR 18:17 to lead her Hillsdale team to victory with 72 points, 25 up on Jackson Lumen Christi. Division 3 Results
Preview: Big Clash Between MW Boys Powerhouses
MW#2 Dexter, MW#5 Pinckney meet for first time
Blockbuster team and individual matchups will be one of the big highlights at the 2006 Portage Invitational.
The meet will mark the first meeting of Dexter and Pinckney, the top ranked teams in Michigan's D2 and D1, respectively, as well as the #2 and #5 teams in the latest (Oct. 6) Nike Team Nationals rankings for the Midwest. While the schools are just 10 miles apart in southeastern Michigan, they don't meet in state competition or most invitationals, being in different divisions. But the coaches (Dexter's Jamie Dudash and Pinckney's Tom Carney) ran together in college, are good friends, and their teams even get together for a few runs during the summer.
Dexter and Pinckney will clash in the D1 race here, though, because of the fact that Dan Wytko is one of the meet directors around the state allowing teams to move up in their invitationals. The Dexter Dreadnaughts are led by junior Bobby Aprill and senior Dan Jackson, while Pinckney is typically paced by Brenden Marcum. But both teams are known for unusual depth and balance. Each won their respective state titles last fall and have not been beaten this fall. Dexter dominated the Holly Invitational the third weekend in September, while Pinckney ruled the Spartan Invite the day before. Both were the two biggest meets in the state before Portage.
Individually, it could be another great showdown in the D1 race between Aprill, Jackson, and St. Clair's Addis Habtewold - arguably the top three runners in Michigan. Round one went to Aprill at Holly, with Habtewold and Jackson following. Jackson, a 9:10 2-miler, could be further along in recover from a summer infection that laid him low for a while.
Two other individuals to watch for are cincinnati Sycamore's Taylor Williams and Monroe's Cole Sanservino. Team-wise, also watch for D1#2 Ann Arbor Pioneer and D1#3 Rockford in D1, as well as other upward movers Williamston (D3#1), Fremont (D2#2), and Fenton (D2#5). Sycamore is the defending champ. The D1 race is loaded, but there will also be three other class races throughout the day.
On the girls side, D1#1 and MW#6 Rockford looks to be a strong favorite in the big race, but Cleveland St. Joseph from Ohio could challenge them. Rockford has a great top three with Katie Haines, Rachel Wittum, and Brittany Dixon. Individually, the top performance of the day could come from Maple City Glen Lake's Marissa Treece in D4. "She will be running in the D4 race to support her team there. They have moved up with her the last few races and she feels that it's her turn to support her team and give them the opportunity to shine in D4," said Wytko.