Nike South Invitational
Sep 25, 2004 at The Woodlands TX
Boys - Girls - Preview -
on-site coverage by John Sullivan, South regional editor
With 13 of 20 NTN South ranked teams present,
top seeds The Woodlands TX boys and Kingwood TX girls win.
US#2 SO#1 The Woodlands TX boys 55 make a powerful statement in decisively beating a field of six NTN South Region teams, with SO#6 Flower Mound 99 in second. Carroll Southlake's Kevin Ondrasek won his second straight major invitational in 15:51 5k. US#9 SO#1 Kingwood handled the girls field, despite a 1-2 finish by SO#3 Carroll Southlake's Walker and Upshaw.
This first-year meet drew 6 of the top 10 NTN South Region boys teams and 7 of 10 on the girls side. This great line-up did not disappoint as both Elite races were hotly contested. US#2 SO#1 The Woodlands TX boys and US#9 SO#1 Kingwood TX girls confirmed their top rankings with convincing victories. The weather predictions of heavy rains with probably flooding were soon forgotten as it turned out to be a beautiful morning for running and watching.
Boys
Boys elite winner Kevin Ondrasek was in traffic early but drew away late.
Boys Elite recap:
US #2 SO#1 The Woodlands TX, US#14 SO#2 Cedar Park TX, SO#4 Carroll Southlake TX, SO#5 Marcus Flower Mound TX, SO#6 Flower Mound TX and SO#9 Cinco Ranch Katy TX led a field of seventeen teams in the Boys Elite race.
Carroll Southlake TX sr Kevin Ondrasek was looking to repeat his big win at the Texas A&M Invite last week. As they passed the 800 mark Ondrasek was leading and the top 10 was already single file. He continued to press the pace and split 4:54 at the mile followed closely by Flower TX sr J. B. Lagos and Marcus Flower Mound TX sr Beck Mitchell. The Woodlands was flexing its muscle with 3 in the top 8.
Nearing the 1-1/2 mark the top 3 remained the same, but Mitchell was falling back a bit. The Woodlands seniors Ben Schulz and Luke Hansen were 4-5. Ondrasek's split was 10:04 for 2 miles with Lagos and Mitchell the closest pursuers. Lockhart TX sr Chris West had moved into 4th.
Heading to the finish the top 3 did not change as Ondrasek won while Mitchell passed Lagos for 2nd. The Woodlands jr Daniel Gerber closed well the last mile to move from 8th to 4th and nearly catch Lagos at the line.
The six ranked teams ended up as the top 6 in the final team scoring. The Woodlands took the team title with 3 in the top 6 for a score of 55. The Woodlands produced a fine 16:19 average without recent #2 man sr Daniel Lanzillotti. He rolled an ankle in practice on Thursday and was held out for precautionary reasons. Flower Mound took 2nd with 4 in the top 19 led by 3rd place sr J.B. Lagos. Their top four is very tough as they had 4 in before anyone besides The Woodlands had 3 finishers. Cedar Park was 3rd and Cinco Ranch 4th primarily because they had the best 1-5 splits of the top teams.

Boys Elite
5K
Carroll Southlake TX sr Kevin Ondrasek led from gun and won in 15:51. The Woodlands took the team title with 3 in the top 10 for a score of 55.
Team:
1. 55 The Woodlands TX (4,5,6,14,26) without recent #2 man Dan Lanzillotti
16:19 average
2. 100 Flower Mound TX (3,12,16,19,50)
16:35 ave
3. 112 Cedar Park TX (13,20,23,25,31)
16:44 ave
4. 147 Cinco Ranch Katy TX (17,18,36,37,39)
5. 160 Marcus Flower Mound TX (2,11,24,57,66)
Individual:
1. 15:51 Kevin Ondrasek, Carroll Southlake TX
2. 15:57 Beck Mitchell, Marcus Flower Mound TX
3. 16:01 J.B. Lagos, Flower Mound TX
4. 16:01 Daniel Gerber, The Woodlands, TX
5. 16:05 Luke Hansen, The Woodlands TX
6. 16:11 Ben Schulz, The Woodlands TX
the top 10 boys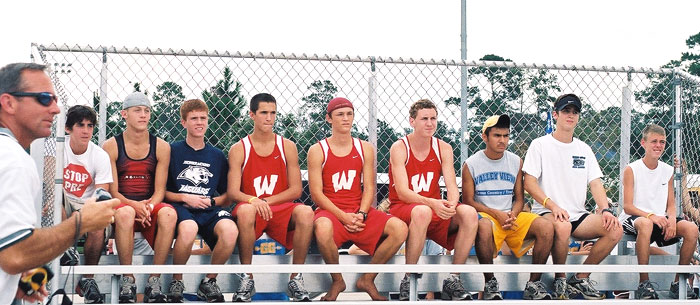 Girls
Familiar pattern in Texas this year: Carroll Southlake's 1-2 junior pair are also 1-2 overall: Miranda Walker and Brooke Upshaw.

3-4-5 are The Woodlands jr Cheryl Spring, Kingwood

frosh Megan Munoz, and Kingwood jr Danielle Selner.
Girls Elite recap:
US#9 SO#1 Kingwood TX, US#21 SO#3 Carroll Southlake TX, #4 Marcus Flower Mound TX, #5 Cedar Park TX, #8 The Woodlands TX, #9 Flower Mound TX and #10 Cinco Ranch Katy TX were favored out of the ten teams in the Girls Elite race.
This race played out similar to last week's Texas A&M Invite. Carroll's two frontrunners, jr Miranda Walker and jr Brooke Upshaw ran together and led at the mile in 5:41. Marcus girls were 3-4 followed by The Woodlands jr Cheryl Spring in 5th. Walker and Upshaw maintained the lead through 1-1/2 miles with Spring moving into 3rd followed by Marcus' Cynthia Saentella and Kingwood frosh Megan Munoz.
Carroll's Walker and Upshaw ran side-by-side through 2 miles in 11:45 and had the race under control. Spring held 3rd with Munoz 4th, Kingwood jr Danielle Selner 5th and Saentella 6th.
Walker pulled away in the last 600m as her teammate Upshaw stayed close for the runner-up spot. Cheryl Spring finished 3rd as the top 6 did not change the final mile.
Kingwood was 4-5 with frosh Megan Munoz and jr Danielle Selner and had 5 in the top 20 to capture the team title over Carroll 58-78. Kingwood showed its outstanding depth with their 6-7 in 22nd and 23rd beating every other team's 4th girl. Cedar Park and Marcus were 3-4 and close to Carroll in a tight team battle. Carroll is still without the services of Brittney Alberto (Sr, 2:16/5:03, state 11th, #9 state & #12 Foot Locker South returner). Marcus didn't run Tara Gruber (Sr, state 16th, #13 state & #29 Foot Locker South returner) who is back training after an injury. The Woodlands ran without recent #2 soph Hilary Andrews.
girls top 10


Girls Elite
5K
Carroll Southlake TX jr Miranda Walker and jr Brooke Upshaw led most of the race and finished 1-2. Kingwood TX and Carroll were 1-2 in the team battle with 2-3-4 very tight.
Team:
1. 58 Kingwood TX (4,5,10,19,20)
2. 78 Carroll Southlake TX (1,2,18,25,32)
3. 86 Cedar Park TX (7,12,17,24,26)
4. 90 Marcus Flower Mound TX
5. 124 The Woodlands TX
Individual:
1. 18:26 Miranda Walker, Carroll Southlake TX
2. 18:27 Brooke Upshaw, Carroll Southlake TX
3. 18:45 Cheryl Spring, The Woodlands, TX
4. 18:48 Maria Munoz, Kingwood TX
5. 18:53 Danielle Selner, Kingwood, TX
6. 18:55 Cynthia Santaella, Marcus Flower Mound TX
7. 19:01 Katie Weise, Cedar Park, TX
Marcus girls use the Nike bus as background for a team photo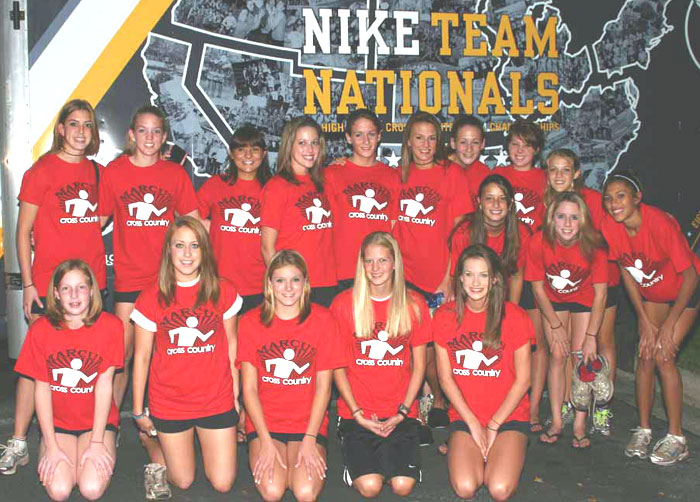 Preview
Boys
BOYS ELITE (teams listed alphabetically)
Cedar Park
South Region #2 ranking, Harrier US#14
State XC coaches 5A poll #3
2003 state 5A 5th, 2001 state 4A 4th
Pre-season report - Earned a #5 South ranking last year and is the pre-season South #3. Return #3, 4, 5 and 7 men from state. Led by Aaron Greer (Sr, #12 state returner), Jon Wroblewski (Jr, #18 state returner) and Perry Morris (Jr, #20 state returner).
2004 highlights:
Lockhart Inv 1st with Jon Wroblewski 1st
Cedar Park Inv 1st
Zilker Park Inv 1st with Jon Wroblewski 1st

Cinco Ranch
South Region #10 ranking
State XC coaches 5A poll #4
2003 state 5A 2nd, 2002 state 5A 12th
Pre-season report - Earned a #2 South ranking last year and is the pre-season South #9. Return #4, 5 and 7 men from state. Led by Joe Sauvageau (Jr, #20 state returner) and Reagan Page (Sr, #24 state returner).
2004 highlights:
Cougar Classic 1st
Brenham Inv 1st
Spring Branch Inv 1st
Flower Mound
South Region #5 ranking
State XC coaches 5A poll #6
2002 state 5A 6th
2004 highlights:
Dell Cothren Inv 1st
Plano Inv 1st
Samuell Inv 1st
Humble
State XC coaches 5A poll #12 last week
2003 state 5A 12th
2004 highlights:
Kingwood 4th
Baylor 2nd
Klein
2002 state 5A 3rd
2004 highlights:
Woodlands 2nd
Brenham 2nd
Texas A&M 5th
Lockhart
State XC coaches 4A poll #1
2002 state 4A 2nd, 2001 state 4A 3rd
2004 highlights:
Lockhart Inv 2nd
Cedar Park Inv 2nd

Lufkin
2004 highlights:
Tyler Lee Inv 1st
Marcus
South Region #4 ranking
State XC coaches 5A poll #7
2003 state 5A 9th, 2002 state 5A 4th, 2001 state 5A 2nd
Pre-season report - South pre-season #8. Return #1 and 3 men from state. Led by Beck Mitchell (Sr, #8 state returner).
2004 highlights:
Marcus I Inv 1st with Beck Mitchell 1st
Samuell Inv 2nd with Beck Mitchell 1st
McKinney Inv 1st
Mayde Creek
State XC coaches 5A poll #8
2004 highlights:
Mayde Creek Inv 2nd
Spring Branch Inv 2nd
Mission
2004 highlights:
PSJA North Inv 5th
Pearl MS
2003 state 4A 1st, 2002 state 4A 1st, 2002 state 4A 1st
Pre-season report - Only lose #1 and 5 from state. Will be going for 6th straight state title. Led by Tyler Wade (Jr, state 3rd), Jeremy Steele (Jr, state 5th), Scott Pulliam (Jr, state 7th) and Nick Foster (Jr, state 10th). They've got the #1, 3, 4, 5 & 7 returners from the 4A state meet which projects to scoring 20 points this year!
2004 highlights:
Memphis Twilight Classic 7th
Ridgeland Inv 1st
Pharr San Juan Alamo
2004 highlights:
Edinburg Inv 4th
Texas A&M 6th
Southlake Carroll
South Region #6 ranking
State XC coaches 5A poll #5
Pre-season report - South region pre-season #5. Led by Kevin Ondrasek (Sr, 4:18, #4 state and #13 Foot Locker South returner) and Orey Smith (Sr, 9:23).
2004 highlights:
Greenhill Relays 1st
Texas A&M Inv 2nd
Strake Jesuit
2004 highlights:
Greenhill Relays 4th
Rice Inv 1st
Valley View
State XC coaches 3A poll #3
2003 state 3A 3rd, 2002 state 3A 1st, 2001 state 3A 2nd
2004 highlights:
PSJA North 6th
Westside
2004 highlights:
Mayde Creek Inv 4th with Justin Maxwell 1st
Spring Branch Inv 5th
The Woodlands
South Region #1 ranking, Harrier US#2
State XC coaches 5A poll #1
2003 state 5A 1st, 2002 state 5A 2nd, 2001 state 5A 4th
Pre-season report - Was crowned 2003 National Champ after dominating wins at Great American and State. South region pre-season #1 and #2 nationally. Lost top 3 men from state, but looking for a tight pack this year. Led by Luke Hansen (Sr, 4:13, #6 state returner), Ben Schulz (Sr, 9:28, #9 state and #20 Foot Locker South returner), Daniel Gerber (Jr, 9:10, #10 state and #15 Foot Locker South returner) and Daniel Lanzillotti (Sr, 9:29, out last year, but 13th at Great American in 2002).
2004 highlights:
Woodlands Inv 1st with Daniel Gerber 1st
Kingwood Inv 1st with Daniel Lanzillotti 1st
Montgomery Inv 1st with Daniel Gerber 1st

Girls
GIRLS ELITE (teams listed alphabetically)
Cedar Park
South Region #5 ranking
State XC coaches 5A poll #4
2003 state 5A 1st, 2002 state 5A 3rd, 2001 state 4A 3rd
Pre-season report - Earned a #1 South and U.S. #18 ranking last year. Is the pre-season South #6. Return #3-7 from state. Led by Jennifer White (Jr, state 23rd, #16 state returner), Heather Bullin (Jr, state 28th, #20 state returner) and Katie Weise (Jr, 11:07, state 29th, #21 state returner).
2004 highlights:
Lockhart Inv 1st
Cedar Park Inv 1st
Cinco Ranch
South Region #9 ranking
State XC coaches 5A poll #9
2004 highlights:
Cougar Classic 1st
Brenham Inv 1st
Spring Branch Inv 1st
Clear Lake
2004 highlights:
Sam Houston Inv 2nd
Flower Mound
South Region #8 ranking
State XC coaches 5A poll #7
2004 highlights:
Dell Cothren Inv 1st
Plano Inv 1st
Samuell Inv 2nd with Michelle Gallegos 1st

Kingwood
South Region #1 ranking, Harrier US#9
State XC coaches 5A poll #1
2003 state 5A 3rd, 2002 state 5A 1st, 2001 state 5A 1st
Pre-season report - Earned a #3 South ranking last year and is the pre-season South #2 and U.S. #19. Return #1, 2, 4, 5 and 6 from state. Led by Danielle Selner (Jr, 5:01/11:02, state 13th, #11 state returner) and Brenna Williamson (Sr, 5:04/11:03, state 27th, #19 state returner). Has a lot of depth to round out the team.
2004 highlights:
Kingwood Inv 1st
Mayde Creek Inv 1st with Brenna Williamson 1st
Texas A&M Inv 1st
Klein
State XC coaches 5A poll #9 last week
2001 state 5A 4th
Pre-season report - South pre-season #7. Just missed a state berth in 2003 in a tough Region. Led by Kelcee Keenan (Sr, 5:04/11:08) and Caitlyn Charron (Soph, 5:04/11:12).
2004 highlights:
Woodlands Inv 2nd
Kingwood Inv 3rd
Brenham Inv 2nd with Kelcee Keenan 1st
Marcus
South Region #4 ranking
State XC coaches 5A poll #3
2003 state 5A 4th, 2002 state 5A 7th, 2001 state 5A 2nd
Pre-season report - Earned a #5 South ranking last year and is the pre-season South #3. Only lost #5 from state. Led by Kristen Gibson (Soph, 5:06, state 15th, #12 state returner) and Tara Gruber (Sr, state 16th, #13 state & #29 Foot Locker South returner).
2004 highlights:
Marcus I Inv 3rd
Samuell Inv 1st
McKinney Inv 2nd
Mayde Creek
2004 highlights:
Cougar Classic 3rd
Mayde Creek Inv 3rd
Spring Branch Inv 3rd
Mission
Southlake Carroll
South Region #3 ranking, Harrier US#21
State XC coaches 5A poll #2
2003 state 5A 2nd, 2002 state 5A 6th, 2001 state 4A 2nd
Pre-season report - Earned a #2 South ranking last year and is the pre-season South #1 and U.S. #5. Has all 7 back. Led by Miranda Walker (Jr, 4:53/10:32, state 2nd, #2 state & #4 Foot Locker South returner), Brooke Upshaw (Jr, 4:53/10:38, state 4th, #3 state & #16 Foot Locker South returner) and Brittney Alberto (Sr, 2:16/5:03, state 11th, #9 state & #12 Foot Locker South returner).
2004 highlights:
Greenhill Relays 1st
Marcus I Inv 2nd with Miranda Walker 1st
Texas A&M Inv 2nd with Miranda Walker 1st
The Woodlands
South Region #7 ranking
State XC coaches 5A poll #6
Pre-season report - South region pre-season #8. Young team last year has a strong nucleus back. Led by Cheryl Spring (Jr, state 8th, #6 state & #9 Foot Locker South returner).
2004 highlights:
Woodlands Inv 1st with Cheryl Spring 1st
Kingwood Inv 2nd with Cheryl Spring 1st
Montgomery Inv 1st with Cheryl Spring 1st
Texas A&M Inv 4th