MIAA Massachusetts All-State Meet
Saturday, November 18, 2006 - Northfield Mountain, Northfield MA
Results from coolrunning.com, by First Time Out Timing
Division I Results - Division II Results - Pics courtesy of Sam Donovan
Highlights
Mansfield sr Ryan Collins tops Victor Gras record at Northfield with 15:49 in D1
Strong 2nd by Brockton sr Kevin Gill leads his team to D1 victory with 100; Saint
John's is 2nd with 128 via 6th man over Brookline (also 128).
Bromfield sr Emily Jones 18:39 and Triton jr Keely Maguire 18:47 in D2 are two of
best-ever on course.
Jones leads Bromfield to D2 win with 76 pts (Hamilton-Wenham 2nd 113)
D1 girls winners are Newton North sr Jessica Barton 19:14 and Dennis-Yarmouth
56 points.
D2 boys winners are Hamilton-Wenham jr Gabe Pacione 16:29 and Swampscott
81 points.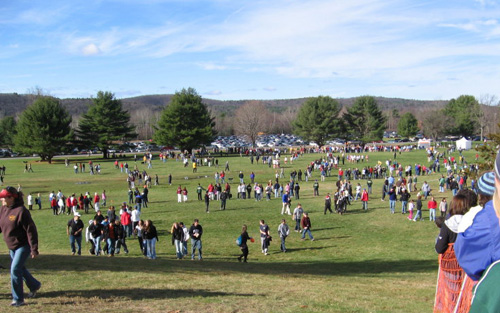 Northfield Mountain, Mass ~ photo courtesy of Sam Donovan