Max Westman, Lower Merion, Andre Burton, William Tennent, and Khaliff Featherstone, Simon Gratz, hit the line, all breaking 51 seconds.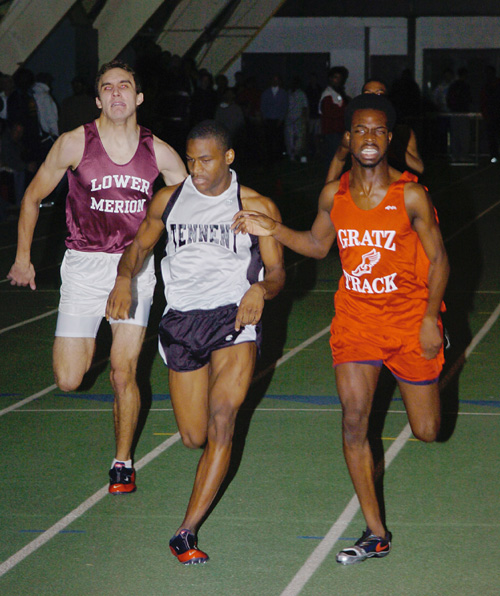 Nicole Leach leads frosh Ryann Krais through the 200 on the way to a US#1 56:03.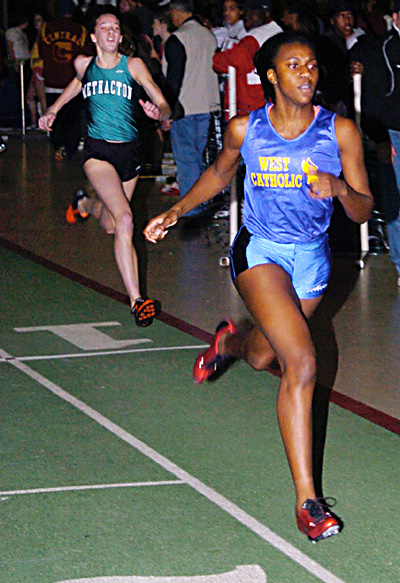 Clarenchell Tate, a Simon Gratz freshman, holds off Great Valley senior
Janessa Murphy by .07, going 7.66 for 60m.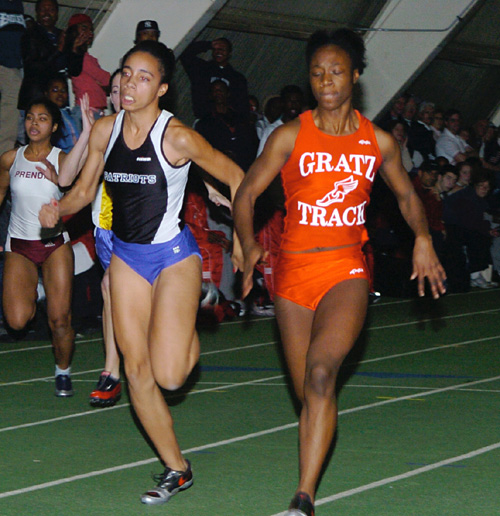 Plymouth-Whitemarsh senior Chanel Williams wins the 60H in 9.26.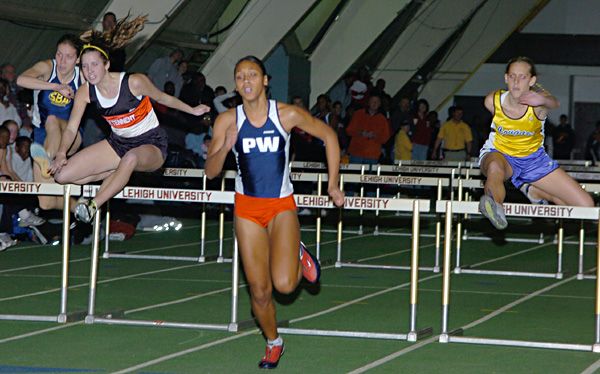 Freshman Ryann Krais, Methacton, won the 200 in 25.73,
was 2nd in the 400 in 58.20, and anchored her team's 4x200
and 4x400 relays. She has also long-jumped 17-02.75.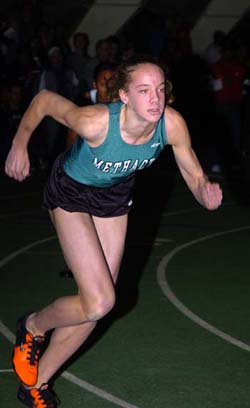 Hot guy's 400 as 3 bust 51, Coatesville's Smith over 46' TJ
Three of PA's best offered a possible preview of a hot 400 final at States this year, with three breaking 51 seconds. Simon Gratz frosh Khaliff Featherstone pushed the pace early and nearly pulled it off, but the more experienced Andre Burton of William Tennent, and Max Westman of Lower Merion showed patience and power, pulling closer with each stride. Burton pulled on the outside and edged Featherstone, with the three going 50.42. 50.49 and 50.72. The mark is a US#1. Coatesville's Clarence Smith busted a big triple jump, leaping 46-01, US#1. Junior hurdler Carrington Queen won at Lehigh on 12/29 in the 55 Hurdles, then, with a minor adjustment went 8.23 for the 60m variety to win.
Frosh girls take SP & 200. Oh, and West
Catholic cruises
The freshman girls continue to shine in the early going in PA. Karen Shump of Penncrest waited until the final throw to uncork at 39-02.50 US#1 toss. Methacton's Ryann Kraiss has already long-jumped 17-02.75, gone 8.74 for 55 Hurdles, and broken 42 for 300m. At this meet, she added two other PR's to her season resume, winning the 200 in 25.73 seconds, and then providing the only real chase of West Catholic's Nicole Leach in the 400, taking 2nd in 58.20. Leach ran 56.03 for the win, US#1. Leach also lead off the winning 4x400, which went 4:01.4 in cruise. The 60 Hurdles was won by Plymouth-Whitemarsh senior Chanel Williams in 9.26, a US#1. Gratz freshman Clarenchell Tate went 7.66 for 60m, US#1. Lynn Morelli, St. Basil, ran 5:10.27 for the Mile, and Upper Dublin senior Lauren Bowles ran alone to a 10:33.12 3000. Lindsay Regan, the Easton pole-vaulter, started her season clearing 11-09 after returning to training just a few weeks prior to the meet.

Boys Results

60 dash
1. Trey Womac, Malvern Prep, 7.12
2. John Dempsey, Cardinal O'Hara, 7.22
3. Montel Williamson, West Mifflin, 7.25
4. Andrew McCloskey, Penncrest, 7.26
5. Brendon Turner, North Penn, 7.28
6. Rashire Turner, Simon Gratz, 7.29
 

60hh
1.Carrington Queen Chichester 8.23
2. Malik Sams Monsignor Bonner 8.46
3. Gary McCready Penncrest 8.53
4. Elliot Whaley Malvern Prep 8.7
5. Tom Samph Chestnut Hill Academy 8.73
6. Gary Smith Bishop McDevitt 8.83


200
1. Ken Talley, Simon Gratz, 23.06
tie 2. Zach Shands, Cheltenham, 23.26, Andrew McCloskey, Penncrest, 23.26
4. Cardoza Jacks, Coatesville, 23.52
5. Antoine Hall, Norristown, 23.70
6. Matt Houser, Downingtown East, 23.76


400
1. Andre Burton, William Tennent, 50.42
2. Khaliff Featherstone, Simon Gratz, 50.49
3. Max Westman, Lower Merion, 50.72
4. Brian Watson, Cheltenham, 51.29
5. Julian Edwards, Bishop McDevitt, 52.12
6. David Stonfer, Cumberland Valley, 52.78 


800
1. Cody Edling, North Penn, 2:00.30
2. Ryan Kincade, Archbishop Carroll, 2:02.27
3. Matt Williard, Cardinal O'Hara, 2:02.43
4. Mitch Stroh, Central, 2:02.47
5. Jordan Shelton, West Chester Henderson, 2:03.74
6. Zach Newhard, Easton, 2:04.10


Mile
1. Jordan Hill, Wissahickon, 4:36.23
2. Chris Tilger, Archbishop Carroll, 4:36.26
3. Colin Brett, Easton 4:37.50
4. Pat Donnelly, Haverford, 4:37.53
5. Stauart Udis, Germantown Academy 4:38.30
6. Charlie McNulty, Cardinal O'Hara, 4:42.37


3000
1. Curtis Bixler, Cumberland Valley, 9:09.79
2. Josh Hibbs, Hatboro-Horsham, 9:10.59
3. Roland Bislo, West Windsor, 9:22.24
4. Greg Kammerle, Upper Moreland, 9:33.28
5. Sean Ward, Coatesville, 9:36.18
6. Bill Salamone, Archbishop Wood, 9:36.65


1600 Sprint Medley Relay
1. Central 3:45.40
(Jerome Hill, Fuyuo Nagayama, Melvin Golins, Thurman Sanders)
2. North Penn 3:47.84
3. Archbishop Carroll 3:48.54
4. Coatesville 3:49.44
5. William Tennent 3:50.28
6. Downingtown East 3:52.48


DMR
1. Archbishop Carroll, 10:48.75
(John Savoy, Steve Armento, Ryan Kincade, Chris Tilger)
2. Great Valley, 11:03.17
3. Roman Catholic, 11:18.01
4. Boyertown, 11:21.15
5. Cardinal O'Hara, 11:30.03
6. William Tennent, 11:38.63

4x200
1. Simon Gratz 1:33.01
(Khaliff Featherstone, Raishine Turner, Kevin Talley, Gourdie Corbin)
2. Norristown 1:35.73
3. Chester 1:35.88
4. North Penn 1:35.92
5. Cardinal O'Hara  1:36.25
6. Conestoga 1:36.77

4x400
1. Simon Gratz 3:32.31
(Markise King, James Farrell, Rashine Turner, Kevin Talley)
2. North Penn 3:32.82
3. Central 3:33.12
4. Cardinal O'Hara 3:36.96
5. Coatesville 3:38.58
6. West Chester Henderson 3:41.22

4x800
1. North Penn 8:19.43
(Sean Doyle, Dom Calamia, Phil Wright, Cody Edling)
2. Downingtown East 8:28.61
3. Wissahickon 8:33.18
4. Easton 8:40.29
5. Cardinal O'Hara 8:42.66
6. Penn Wood 8:57.27

High Jump
1. Jim Smith, Cardinal O'Hara 6-02.00
2. Karvan Goldsberry, Easton 6-00.00
3. T.J. Noviino, Malvern Prep  6-00.00
4. Jay Pettenger, William Tennent 5-08.00
5. Aaron Thomas, Pottsgrove, 5-08.00
6. Marcus Blake, Phoenixville, 5-08.00

Triple Jump
1. Clarence Smith Coatesville 46'1"
2. Nate Gilbert Emmaus 44'11"
3. Duane Washington Archbishop Carroll 41'4.5"
4. Berkeley Hughes Penncrest 40'8"
5. Brian Stone Downingtown East  39'10.5"
6. Tylon Hughes North Penn 39'7"

Shot Put
1. Mike Morganti, Penncrest, 49-02.50
2. Justin Walker, Coatesville, 48-07.00
3. Alex Holcombe, Germantown Academy, 46-10.25
4. Ian Carpenter, North Penn, 44-07.50
5. Tom Ciculia, Archbishop Carroll, 43-06.00
6. Mike Wang, Upper Dublin, 40-02.25

Pole Vault
1. Jake Holler, Phoenixville, 12-06.00
2. Dom Aversa, Great Valley, 12-06.00
3. Jack Protesto, Cardinal O'Hara, 12-00.00
4. Dan Grang, Upper Darby, 11-06.00
5. Dave Brooman, Haverford, 11-00.00



Girls Results
 
60Dash
1. Clarenchell Tate Simon Gratz 7.66
2. Janessa Murphy Great Valley 7.73
3. Tierra Flowers Coatesville 7.93
4. Sami Keenan Downingtown East 8.07
5. Ashley Witherspoon Archbishop Prendergast 8.30
One False Start


60HH
1. Chanel Williams Plymouth-Whitemarsh 9.26
2. Kayla Hennessy William Tennent 9.66
3. Kelly Kajunski Downingtown East 9.83
4. Amber Koon Coatesville 9.89
5. Erin McMahon St. Basil 9.96
6. Joanna Paldini Cardinal O'Hara 10.09


200m
1.Ryann Krais Methacton 25.73
2. Simone  Carter Penn Wood 25.83
3. Chanel Williams Plymouth-Whitemarsh 26.39
4. Kneshia Shenrd West Catholic 26.40
5. Janessa Murphy Great Valley 26.60
6. Mary Dell Boiling Springs 26.86


400m
1. Nicole Leach West Catholic 56.03
2. Ryann Krais Methacton 58.20
3. Jabria Wallace Simon Gratz 60.73
4. Kemika Allen Upper Darby 62.67
5. Mary Dell Boiling Springs 62.73
6. Emily Paffett Archbishop Carroll 62.99


800m
1. Kelli Fierras Archbishop Prendergast 2:23.85
2. Megan Durkee West Chester Henderson 2:24.61
3. Abby Huber Cumberland Valley 2:25.58
4. Abbie Dubri Easton 2:26.75
5. Katie Kelly Cardinal O'Hara 2:28.65
6. Heather Callisto Upper Dublin 2:30.55


Mile
1. Lynn Morelli St. Basil 5:10.27
2. Kate Vernon Gwynedd-Mercy  5:19.91
3. Beth Kelly Cardinal O'Hara 5:25.08
4. Colleen Boland Archbishop Prendergast 5:25.65
5. Julia Somers Haverford 5:25.95
6. Liz Milewski Ridley 5:26.86


3000m
1. Lauren Bowles Upper Dublin 10:33.12
2. Marissa Murtaugh West Chester Henderson 10:59.40
3. Caroline Grunt Coatesville 11:18.08
4. Kristen Golen Great Valley 11:20.68
5. Laura Seeholzer Abington 11:35.33
6. Ashley Corby Methacton 12:03.13


1600 Sprint Medley Relay
1. West Chester Henderson 4:22.60
(Bicki George, Rochelle Adams, Jessica Weaver, Meghan Durkee)
2. Upper Darby 4:25.73
3. Easton 4:26.40
4. Archbishop Carroll 4:30.81
5. St. Basil  4:31.57
6. Cardinal O'Hara  4:32.47


DMR
1. Cardinal O'Hara 
(Katie McShay, Bridgette Boudwin, Kelly Unger, Katie Kelly) 13:44.67
2. North Penn 14:03.72
3. Archbishop Prendergast  14:09.43
4. Archbishop Carroll 14:11.06
5. Cheltenham 14:34.89
6. Central  14:39.56

4x200
1. West Catholic 1:43.03
(Nicole Leach, Kneshia Shearo, Christiana Taylor, Latavia Thomas)
2. Simon Gratz 1:45.40
3. Penn Wood 1:48.75
4. West Chester Henderson 1:49.00
5. Coatesville 1:49.90
6. Chester 1:50.29

4x400
1. West Catholic 4:01.49
(Nicole Leach, Latavia Thomas, Keneshia Sheard, Christiana Taylor)
2. Simon Gratz 4:11.73
3. West Chester Henderson 4:13.43
4. Chester 4:14.42 
5. Downingtown 4:15.33
6. Central 4:17.53

4x800
1. Easton 10:00.02
(Malaika Ogutu, Abbie Dubin-Rhodin, Ang Borealo, Chenelle Price)
2. St. Basil 10:00.59
3. Gwynnedd Mercy 10:03.43
4. Prendergast 10:07.03
5. Cardinal O'Hara 10:13.10
6. Cumberland Valley 10:13.57

High Jump
1. Kelly Kajunski Downingtown East 5'3"
2. Emily Moles Conestoga 5'2"
3. Meghan Horne West Chester Henderson 5'1"
4. Becky Eppelman Great Valley 5'1"
5. Porsha Lane Simon Gratz 4'10" 
6. Kaitlyn Dugan North Penn 4'10"

Triple Jump
1. Sequoia McBall, Coatesville, 36-01.00
2. Simona Sipple, Bishop McDevitt, 35-01.00
3. Kiersten Craig, Downingtown East, 23-08.50
4. Devon DuPont, Archbishop Carroll, 34-02.50
5. Chelsea Miles, Penncrest, 34-01.00
6. Jawanda Jackson, Chester, 33-11.50

Shot Put
1. Karen Shump, Penncrest 39-02.50
2. Angela Pasquale, North Penn 37-00.00
3. Kaleena Gray, Coatesville 35-07.25
4. Tiffany THornton, Bishop McDevitt 32-09.50
5. Margaret Merlie, Archbishop Carroll 31-11.50
6. Khalia Prey-Rhode, Norristown 29-00.00

Pole Vault
1. Lindsay Regan Easton 11'9"
2. Krista Foulds Phoenixville 10'
3. Julia Green Emmaus 10" (T)
4. Steph McDougal North Penn 10' (T)
5. Jaclyn Hibbs Pottsgrove 8'
6. Maria Kleinz Cardinal O'Hara 8'