Susannah Shaw wins girls race impressively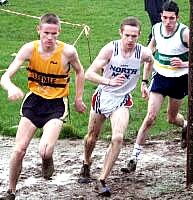 CORK, IRELAND 1/1/03 -- A group of Washington state runners brought in the new year across the Atlantic in a New Year's Day cross country race against Irish runners.
Susannah Shaw, who was 10th in the Foot Locker West regional at Mt. SAC December 7, won the girls race. The Sehome WA senior ran away from Joyce Curtin of Glenbower AC to win by 24 seconds in 11:35 for 3000 meters, leading US girls to 9 of the top 10 places. The US boys were not as successful, finishing behind four local teams with Torey Kieger the highest American at 8th. Mark Hanrahan of Cork A won the race in 17:00 for 5000 meters. The web site of the Leevale AC has a story and photos.
Phil English, who went to college in the US on a track scholarship, started organizing these trips 16 years ago.
Girls 3000m
1 Susannah Shaw Team Washington 11:35
2 Joyce Curtin Glenbower AC 11:59
3 Amie Dahnke Team Washington 12:09
4 Jennifer Torpey Team Washington 12:22
5 Stephanie Lenihan Team Washington 12:37
6 Isley Gonzaley Team Washington 12:46
7 Jennifer Kronvail Team Washington 13:04
8 Kelly Shea Team Washington 13:14
9 Kelly Ramirez Team Washington 13:19
10 Kristen Ramsdell Team Washington 13:59
11 Angela Walsh Glenbower AC 14:32
12 Ciara Walsh Glenbower AC 14:34
13 Aoidin O'Neill Glenbower AC 15:03
14 Tara Schaefer Team Washington 15:05
15 Karen Walsh Glenbower AC 15:12
Girls Team Result
Team Washington 13pts
Glenbower AC 37pts
Boys Team Result
Cork B 27pts
Cork A 27pts
Glenbower AC 50pts
North Mon 58pts
Team Washington 60pts

Boys 5000m
1 Mark Hanrahan Cork A (Leevale) 17:00
2 Jamie McCarthy Cork B 17:28
3 Richard Byrne North Mon 17:35
4 Paul Stephens Cork B 17:59
5 Ciaran O'Lionaird Cork A 18:03
6 Thomas Mansell Cork A (Leevale) 18:17
7 Tadhg O'Callaghan Cork B 18:30
8 Torey Kieger Team Washington 18:31
9 Keith Linehan North Mon (Leevale) 18:45
10 Diarmaid Collins Glenbower AC 18:49
11 Tim O'Donoghue Glenbower AC 18:51
12 Kevin Blount Team Washington 19:04
13 James McCarthy Glenbower AC 19:14
14 Garry Nugent Cork B 19:23
15 John Shine Cork A (Leevale) 19:26
16 Joe Fitzgerald Glenbower AC 19:48
17 Gearoid Collins Glenbower AC 20:08
18 Mark Lehane Cork B 20:21
19 Tyler Mohoric Team Washington 20:21
20 Richard O'Connor North Mon (Leevle) 20:26
21 Patrick Hoffman Team Washington 20:49
22 Brandon Boogerd Team Washington 20:57
23 Ronan McCarthy Glenbower AC 21:10
24 Joseph Maguire Team Washington 21:19
25 Dan Rose Team Washington 21:33
26 Ian Murphy North Mon 22:21
27 Shane Williams North Mon 24:46:00
28 Philip O'Neill Glenbower AC 25:49:00
29 Jesse Escober Team Washington 26:39:00