Pix by Bert Richardson
100 meters -- Earvin Parker of Lewisville (left) ran 10.29 +1.2, best time in the US this year.




110m hurdles - You couldn't call it an upset, but Jason Richardson (left) edges Kerron Clement (red) 2002 national champ at AOC Raleigh, by 0.01, with the two taking US#1 and US#2 for the season.
5A 400m (below) - Mark Teter 46.15 rounds the last turn en route to victory
with the Texas State Capitol looming in the distance.
It was the fastest 400 of the meet and the second fastest in the US
this year. Teter has signed to run for Baylor next year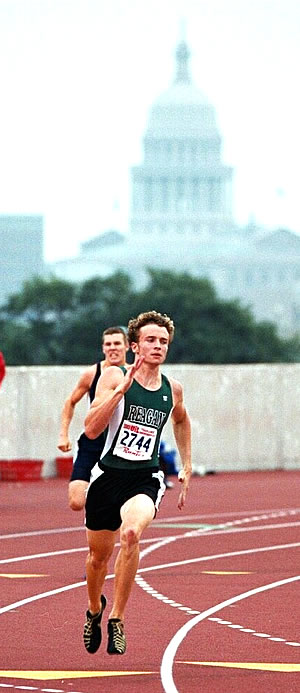 5A girls 1600m#1 - the ultimate winner, Flower Mound Marcus soph Tara Gruber, is hidden by 1154 Cedar Park jr Cassie Hostick, who finished 3rd, and 1427 Langham Creek sr Brittany Brockman, 2nd.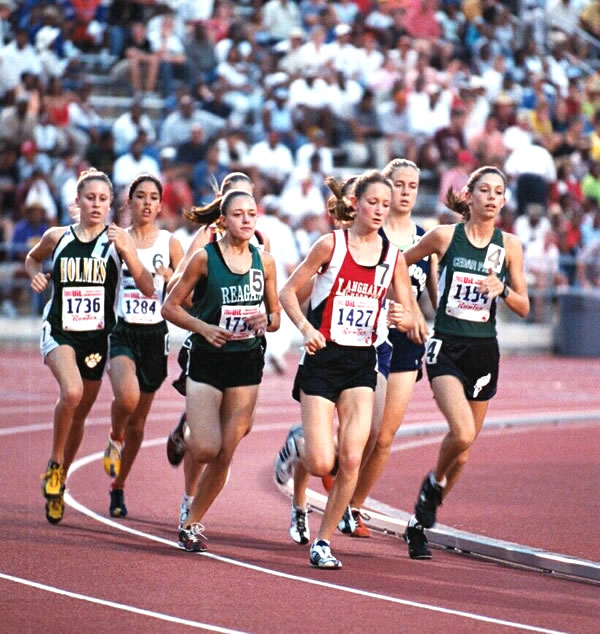 Class 5A

Boys - Lewisville's Earvin Parker doubles 10.29 +1.2 100m and 20.70 1.3 200m, both US#1. Reagan Austin sr Mark Teter 46.15 400m US#2. Lamar sr Brandon Dixon 1:51.19 800m (Jacob Hernandez 1:51.94). Klein Oak sr Steve Magness 4:03.27 1600m SR. Cinco Ranch jr Kyle Miller 9:10.96 3200m (Eric Stanley 9:11.95). Cedar Hill jr Jason Richardson 13.51 +1.3 110H US#1 (Kerron Clement 13.52 US#2). LaPorte sr Kerron Clement 35.47 300H US#1. Bowie Arlington HS 40.06 4x100 US#1 2003 and US#3 all time. Port Arthur Memorial HS 1:24.12 4x200 US#3 all time (Bowie Arlington 1:24.13 US#4). Humble HS 3:10.69 US#1. Cinco Ranch soph Scott Sellers 7-0 HJ. Carroll Southlake jr Ty Barrington 17-0 PV. Belton's Ramonce Taylor 25-0.75 LJ US#1. Plano East sr Terrence Wheatley 50-7.75 +2.1 TJ. Katy sr Dallas Griffin 60-10.25 SP. Judson's Mark Koalenz 189-1 DT.
Girls - Skyline Dallas soph Krystin Lacy 11.44 +1.5. Alief Elsik's Francheska Ketchum doubles 23.97 +1.2 200m and 20-0.75 +3.3 LJ. Langham Creek sr Nina Gilbert 54.16 400m. Marcus Flower Mound's Kristi Cook 2:11.35 800m. Marcus Flower Mound's Tara Gruber 4:54.46 1600m (Brittany Brockman 4:54.93). Langham Creek sr Brittany Brockman 10:52.78 3200m. Eisenhower jr Alandra Sherman 13.25 +1.0 100H US#1 2003 and US#5t all time. Alief Elsik HS sweeps relays: 44.90 4x100 US#2 all time, 3rd ever under 45 seconds (St. Bernard CA 44.70 in 1997, Poly Long Beach CA 44.96 at Penn Relays this year); 1:34.51 4x200 US#1; 3:43.01 4x400. Mayde Creek sr Nicole Brown 5-10 HJ (Destinee Hooker 5-10, Megan Schuelke 5-10). Buda Hays jr Brittni Lawrence 12-6 PV SR. Plano East jr Erica McLain 42-0 +2.2 TJ. Klein sr Jennifer Dahlgren doubles 49-4 SP and 142-10 DT.

Class 4A

Boys - Central Beaumont jr Ivory Williams doubles 10.16 +3.2 100m and 20.85 +2.5 200m. West Orange's Brandon Johnson 46.83 400m. Marble Falls jr Leonel Manzano 1:52.02 800m. Highland Park sr Pete Janson 4:15.86 1600m. Beeville's Ervin Dickerson 13.93 +4.0 110H. Whitehouse's Reggie Lazenby 37.29 300H. West Orange HS 40.79 4x100. Reagan Austin HS doubles 1:24.95 4x200, tying Memorial Port Arthur for US#1, and 3:10.78 US#2. Harker Heights' Dominique Zeigler 7-0 HJ. Del Valle's Deondrick Nunez 24-3.5 +1.8 LJ. Frisco's Chessley Johnson 51-1 +1.7 TJ. Rockport Fulton's Dylan Conway 182-2 DT.
Girls - Huntsville's Cleo Tyson doubles 11.40 +3.2 100m (5 more under 12 seconds) and 23.39 +2.3 200m MR. Lancaster sr Jerrika Chapple 52.77 400m US#3. Lake Travis Austin jr Dacia Barr doubles 2:13.82 800m and 5:01.14 1600m. Kimball Dallas' Leeandrea Robinson 13.79 +2.1 100H. Eastern Hills Fort Worth's Destiny Nixon 43.34 300H. Lancaster HS doubles 46.04 4x100 and 3:44.15 4x400 US#5. Crowley HS 1:39.96 4x200. Hewitt Midway's Caroline Wolf 5-10.5 HJ. Marble Falls' Ashley Laughlin 12-6 PV. Red Oak sr Michelle Carter doubles 54-10.75 USR and 157-11 SR.

Class 3A

Boys - Coldspring sr Tristan Whitley 7-0 HJ.
Girls - Navasota's Antoinette Lee doubles 11.55 +2.1 MR and 23.65 +2.5. Sanger's Ashley McCarty 19-3.25 +1.6 LJ.

Class 2A

Boys - Bang's Bobby Evers 24-8.25 +5.0. Elysian Fields' Timmy Tiller 47-1.75 +2.9 TJ. Yoakum's Mason Findeisen 15-6 PV. Greenwood sr Kevin Folger 178-4 DT.
Girls - Cisco sr Jimanne Baker doubles 19-2.25 +3.6 and 40-7 +3.9 LJ/TJ. Muleshoe's Jessica Withrow 5-7 HJ.

Class 1A

Boys - Baird's Sean Roundtree 10.59 +3.0. Lovelady's Isaac Jones 221.50 +3.4.

Girls - McMullen County sr Ashley Robbins 5-10 HJ. Crosbyton's Amanda Alley 11-9 PV. Roby sr Kandra Lakey 42-10 SP. Water Valley's Culley Jo Dawson 144-5 DT.