Summaries - DyeStat Elite marks -
Highlights
SP: 64-10, Auston Papay, 12, Sharon @ McDowell Invitational 4/24
Latrobe sophomore Caitlin Hewitt long jumps 18-09.50 @ Westmoreland
County Coaches meet 4/22
McDowell frosh Alexandra Acker clears 12-0 at McDowell Invitational
Rachel Gehret, an Altoona sophomore, closes out a 56-point split
come-from-behind win in the 4x400, one of four wins on the day,
including the 200 in 25.71, the High Jump at 5-06, and the Long Jump
with a 18.3.75 leap.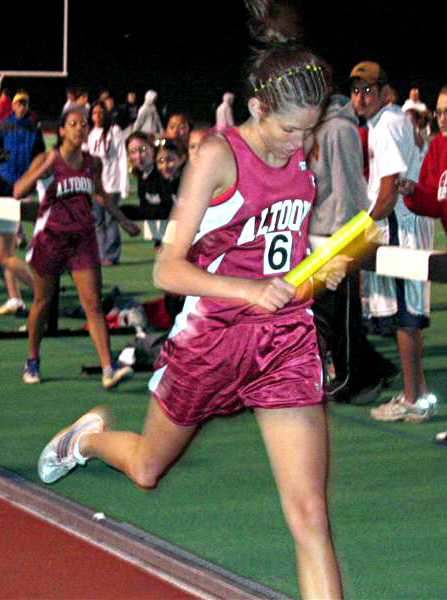 Dyestat Elite:
4/22 - Westmoreland County Coaches Meet @ Greater Latrobe HS
LJ: 18-09.50 Caitlin Hewitt, 10, Indiana
4/23 - Pine-Richland Invitational @ Pine-Richland HS
JT: 190-07.50, Chad Radgowski, 11, South Park
4/23 - Big 7 Conference Championships @ Peters Township HS
JT: 138-01, Ellen Metz, McGuffey
4/24 - Stan Morgan Invitational @ Carlisle HS
SP: 58-01, Ryan Whiting, Central Dauphin
4/24 - Lock Haven University High School Classic
JT: 145-04, Ruby Radocaj, 12, Williamsport
4/24 - McDowell Invitational @ Erie McDowell HS
PV: 12-0, Alexandra Acker, 09, McDowell
SP: 64-10, Auston Papay, 12, Sharon
Meet Summaries
4/22-Hewitt 18-09.50 LJ, 12.5, 25.8 (2nd), 9-6 PV-Clemons 25.2, 14.4
100H, 45.1 300H @ Westmoreland -
The PA sophomore class is showing themselves to be special. Rachel
Gehret from Altoona, and Caitlin Hewitt of Latrobe are the two that are
making the greatest impact this spring. You can read about Gehret's
exploits from the 4/24 Lock Haven Meet. This is about the 4/22
Westmoreland County Coaches meet at Derry. Hewitt first made an impact
at a pole vaulter as a frosh, clearing 10 to tie for 9th at States. This
past winter, she cleared 11'. But last Thursday, she won the 100 in
12.42, the took 2nd in the 200 in 25.79, won the Pole Vault with a 9-06
effort, and Long-Jumped 18-09.50. Slightly overshadowed by the young
multi-event wonder was Mycaiah Clemons of Valley, who beat Hewitt in the
200, going 25.16. She also posted the fastest 100 Hurdles time in PA
this season, 14.37. And her 45.07 300 Hurdles is the 2nd best in PA. And
Hewitt did return the favor in the Long Jump, as Clemons was 10.50"
behind at 17-11. On the boys' side, three fast 110 Hurdles from Chris
Morrisey, Ligonier valley, 14.91, Doug Francart, Kiski, 14.97, and Luke
Duriancik, Kiski, 15.00. Justin Moose, Norwin, went 177-01 in the Javelin.
4/23-Strong boys 4x800's and sprints @ Crimson Tide Inv. @ Pottsville HS -
Emmaus, anchored by the winner of the 3200, Sam Luff (9:37.6), went
8:11.0 to win the 4x800, with Easton three seconds back and Pleasant
Valley just .8 behind that. Jake Wieder, Emmaus, was a double winner,
taking the 100 in 11.2 and the 200 in 22.7, getting the nod in the
latter over Phil Flowers of Freedom. A day after her 7th place finish at
Penn in the 3000 in 10:07.88, Freedom's Lauretta Dezubay won the 1600 in
5:13.7. And Penn Pole Vault champ Lindsay Regan, Easton, cleared 10-0 as
sister Courtney took top honors with a height of 11-0.
4/23-Radgowski over 190 JT in sloppy conditions-Oakland Cath.sprinters
shine @ Pine-Richland -
Chad Radgowski is throwing with the best in the country. The South Park
junior ignored less than ideal conditions to throw 190-07.50 to take the
Jav. The Oakland Catholic relays are looking good, thanks in large part
to Erica Moody and Charelise Davis. The team went 50.28 to win the
4x100, and 4:11.20 to take the 4x400. Davis won the 100 in 12.27
seconds, while Moody won the 200 in 25.52 and the 400 in 57.82.
4/23-Korich 5:11 Mile, Duffy 128-03 Discus @ Lady Hatter @ Hatboro-Horsham -
Springfield (Montco)'s Faye Korich went 5:11 for a mile to hold off
Gwynedd-Mercy's Kate Simon by less than two seconds. Lower Moreland
thrower Danielle Duffy won the Discus with a throw of 128-03.
4/23-Booth takes 800 and Mile, Weiss 2nd in Mile and 9:38 2-mile @ Big 7
Conference @ Peters Twp. -
Mike Booth, West Mifflin, was a double victor, taking the 800 in 2:06.2
and the Mile in 4:24.0, the latter over Jeff Weiss, McGuffey, who was
awarded the same time. Weiss did capture the 2-mile in 9:38.0. Brian Mox
of Chartiers Valley, was also a double winner, taking the Discus with a
toss of 150-09 and the Shot Put with a throw of 50-06. McGuffey's Ellen
Metz heaved the Javelin 138-01.
4/24-Girls field events yield 36-11.75 TJ and 38-11 SP @ Indiana Ct.
Champs @ Indiana -
Alec Rice of Indiana continued to vault well, clearing 14'. Penn Manor's
Sifinski triple-jumped 36-11.75. And Marion Center's Satterlee, won the
Shot Put with a throw of 38-11.
4/24-Robinson 14.5-39.4 hurdle double, Eisenhauer 40-10 SP @ Lebanon
County Champs @ Lebanon -
Cedar Crest's Tobian Robinson took both Hurdle events, the 110 in 14.5,
tying a meet record, and the 300 in 39.4, setting a new meet record.
Dave Burrell of Annville Cleona, took the Javelin with a toss of 170-04,
and the Long Jump, going 21-03. Andy Miller, Cedar Crest, captured the
800 in 1:58.8, tying the meet record. And Cedar Crest thrower, Becky
Eisenhauer, won the Shot Put in a meet record throw of 40-10, and took
the Discus, 105.04. Meghan Briggs, Palmyra, set a meet record in the
Javelin with her winning throw of 129-07.
4/24-Maun 5-06 HJ, Borgia 14-0 PV, Leuenberger 9:32.93 3200 @ City of
Hermitage Inv @ Hickory -
While pole vaulters Andrew Rademacher and Eric Sparks were competing in
Philadelphia, the Hickory T&F program put on a pretty nice meet of their
own with some exceptional performances. Fore LeBoeuf's Marc Borgia set a
meet record in that very event, winning the boys' Pole Vault by clearing
14'. The 3200 was won by West Middlesex senior Josiah Leuenberger in a
quick 9:32.93, also a meet record. And a third meet record was set by
the Fairview HS 4x800 squad, going 8:10.56. Double winners included
Terrell Davis, a Farrell sophomore, taking the 110 and 300 Hurdles in
16.17 and 42.97. And Ben Woods of the host Hornets, captured the Shot
Put (50-01.00) and the Discus (144-07). In girls' action, Kari
Hedderick, a Fort LeBoeuf sophomore, set a meet record by going 58.40 in
the 400. She took second (12.54) in the 100, edged by Farrell junior
Angela Harris (12.50). Meet records also came from Brittany Maun,
Reynolds soph, 5-06 High Jump; Hickory soph, Mandy Carine, 10-00 Pole
Vault; and Natalie Clickett, Union City soph, 128-04.50 Discus. Redbank
Valley's Gretchen Colwell also broke the MR with a throw of 125-06.
Hickory junior Jessica Pissini won the Shot Put with 37-02.50 toss.
4/24-Boiling Springs soph goes 25.79, Hershey frosh 5:09.27, CD+CV rock
@ Morgan Inv @ Carlisle -
Central Dauphin stayed in Central PA and did their usual. Win. Ryan
Jones ran 1:58.54 to take the 800. Ryan Whiting, after a disappointing
Penn Relays, threw 58-01 in the Shot Put, and a 171-07 meet record in
the Discus. Their boys' relays took the 4x400 in 3:27.10 and the 4x800
in 8:00.19. And distance ace Maria Truskey went 11:08.10 to win the
3200. She was chased/pushed by new freshmen, Cedar Cliff's Kassie
Meholick, 2nd in 11:20.80, and Big Spring's Lara Crofford, 3rd in
11:24.00. Cumberland Valley went 1-2-3 in the Mile as Brian Fuller ran
4:25.71, Jon Fulginiti 4:25.72, and Curtis Bixler 4:26.69. Cedar Cliff's
Steve Bilous tossed the Javelin 189-01. Young talent showed the future
of PA's elite, as Sam McMillan, Hershey's frosh star-in-the-making, ran
5:09.27, while Boiling Springs sophomore Mary Dell went 25.79 for 200
meters.
4/24-Gehret 25.71, 5-06, 18.3.75,56-point split @ High School Classic @
Lock Haven University - by Aaron Russell - [email protected] - Altoona
SOPHOMORE Rachel Gehret won the 200 in 25.71, the High Jump at 5-06, the
Long Jump with a 18.3.75 leap, and anchored her team to a win in the
4x400 with a 56-point split. Oh, and she has already Triple-Jumped
36-06. And Penn Relays champs Ruby Radocaj and Chris Spooner were there,
too. Altoona's Rachel Gehret, a sophomore, set meet records in the 200m
(25.71) and High Jump (5' 6") in addition to winning the long jump in
18' 3-3/4". She anchored Altoona's 4x4 to a meet record in a
come-from-behind win with a split of 56. seconds. Williamsport's Ruby
Radocaj setting a meet record of 145' 4" in the javelin. She won the
Penn Relays Jav on Thursday. Tricia Learn (11:31.02) of North Penn and
Erica Hoffman (11:31.19) of Elk County battling it down the stretch in
the 3200 meters and then embracing once across the finishline...true
sportsmanship. Williamsport's 50.73 meet record in the 4x100 meters. Elk
County's 9:31.19 meet record in the 4x800 as they blew away the field.
Chris Spooner of Lewisburg anchoring the record-setting 4x800 meter
relay with a split of 1:54, a day after splitting 1:52.6 in the 4x800 at
the Penn Relays, and winning the mile in 4:09.91. Jasper Bragg of
Williamsport with wins by large margins in the 100 meters and 200 meters
(22.75 meet record), as well as leading the 4x100 meter relay to a meet
record. The Fritz twins of Northwest lighting it up in the mile (Caleb
edged Josh by six seconds for a meet record time of 4:22.34). Josh
returned to set his own meet record (picture on picture page) in the 800
meters with a time of 1:58.37. Caleb was 3rd in 1:59.34.
4/24-Nicole Smith takes four events, Acker 12' PV, Papay 185-01 JT,
64-10, 166-02 [email protected] McDowell Inv -
Different Saturday, similar results: McDowell's Nicole Smith leapt 18'
in the Long Jump, 37-01.50 in the Triple Jump, ran 14.9 in the 100
Hurdles, and High-Jumped 5-05, all four for wins. The other Nichole
Smith, who attends Mercer, ran 11:30:43 in the 3200 meter race earning a
second place medal to Fairview's Aryn Gruneisen, who went 11:25.6.
Gruneisen also captured the 1600 in 5:13. McDowell's Alexandra Acker
cleared 12' to win the Pole Vault. Jordan Veney, Baldwin, took the Shot
Put (38-00.75) and the Discus (128-05). On the boys' side, Auston Papay
threw the Javelin 185-01, the Shot 64-10, and the Discus, 166-02. Brian
Soder, Harbor Creek, ran 9:18.2 for 3200 and 4:20 for 1600.