Highlights
Nicole Leach, West Catholic, 9.0 55h, 25.5 200 12/16 @ PCL Meet #1
Jordan Teuber, Nazareth, 17-07.75 LJ @ Hill School Invite 12/17
Krista Simkins, Wissahickon, 35.8 300m @ DVGTCA 12/19
Tayvon Gray, Coatesville, 37-09 SP
Tyree Suber, Glen Mills, 57-02.50 SP @ TFCAGP Divison 1 12/20
Tracy Robinson, Henderson, Cowin Mills, Abington, 50.4-50.8 400m
O'Hara senior Mike Callanan will be challenged this season by teammate and sophomore Greg Thomas for the lead-off 1200m leg of what is expected to be a very fast DMR squad. Callanan cruised to a 9:20 3000m win at the PCL Meet #1 12/17 @ Haverford College.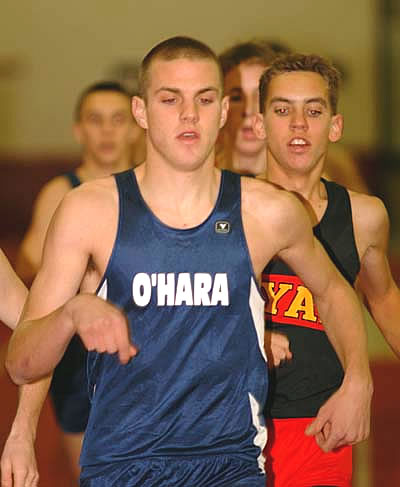 Summaries
12/16 - Philadelphia Catholic League Girls' Meet #1 @ Haverford College
- It was pretty much the Nicole Leach and Amy Kelly show at the first Philadelphia Catholic League meet. Kelly, the St. Hubert's senior, wasn't seriously challenged in either the 800 or the mile, taking the four-lapper in 2:21.9 and the eight-lapper in 5:18.1. Leach, the super-talented West Catholic junior, took the 55 Hurdles in 9.0 over St.
Hubert's Sam Scoda, who was awarded the same time. Leach also captured the 200 in 25.5.
12/17 - Philadelphia Catholic League Boys Meet #1 @ Haverford College - Steve Slaton of Conwell Egan, cruised to a 6.4 win in the 55m dash. He also won the 200 in 22.8. Archbishop Ryan captured two relays, the 4x800 in 8:57.8 and the 4x400 in 3:46.6. West Catholic's Seth Mitchell won the 400 in 52.8. Cardinal O'Hara took the top four spots in the 800 with times of 2:04-2:08, and none of the athletes was name Hallinan or Callanan. St. Joe's Prep took the DMR in 11:21.5 behind the 1600 leg by Tim O'Neill (left).
12/17 - Hill School Invitational @ Ursinus College - Nazarath Academy's Jordan Teuber, a senior, leapt 17-07.75 to win the Long Jump by over two feet. Teuber also captured the 55 in 7.2. Springfield Montco's Faye Korich won two events, the 1600 in 5:24.5 and the 3200 in 12:09.6.
Perkiomen Valley's 4x800 won in 10:02.5. Three of the team's legs also placed in the open 800, and 3200. The Hill School won both the girls'
and boys' team competitions. The top boys' individual performance came from John Stephens, Church Farm School, who won the 55 in 6.5.
12/19 - DVGTCA Meet #4 @ Lehigh University - Wissahickon's Krista Simkins posted a 35.8 for 300 yards, with Great Valley's Janessa Murphy 2nd, four seconds back. Middle distance specialist Caitlin Klaas goes
5:16.8 for the mile win. Other notable performances included Joanna Horstman of Downingtown West, winning the 600 yard run in 1:33.7; Great Valley senior Katy Andersen, taking the 1000 yard run in 2:51.1; and Shot Putter Tayvon Gray of Coatesville, winning with a toss of 37-09.
12/20 - TFCAGP Division 1 Meet #3 @ Lehigh University - Glen Mills'
Tyree Suber was over six feet better than the competition in his first TFCAGP meet, throwing the Shot 57-02.50 (MR). LaSalle's Kevin Moore was 2nd (51-07.75) and Andrew Dubs of Council Rock South was 3rd (51-06.25).
In the first race between Henderson's Tracy Robinson and Abington's Cowin Mills this season, Robinson was .4 better in the 400 with his 50.4. Juan Cave won the High Jump, clearning 6-06.
12/20 - TFCAGP Division 2 Meet #3 @ Lehigh University - Upper Dublin's Matt Lawson ran alone to an 8:59.9 3000 meter win. Garnet Valley's Jarrett Pendleton won the 300 meter run in 36.5 (MR). Wissahickon captured the 4x400 in 3:36.3 and the 4x800 in 8:49. In the 400, Upper Merion's Steve Tyson won in 51.8.
12/20 - Dickinson College Meet #1 @ Dickinson College - Harrisburg's Andre Hicks won two events, the High Jump, clearing 6-04, and the Long Jump with a leap of 19-05.50. Reading's Jessica Forrest won two events, the 55 meter dash in 7.2 and the 200 in 26.6. And joining Hicks and Forrest as double champs was Red Lion's Kate Papenberg, taking the 1600 in 5:25.7 and the 3200 in 11:39.2.