| Carlisle | Sharpsville | Northern | Lion | Council Rock North |
Another side by side finish for Brian Fuller and Craig Miller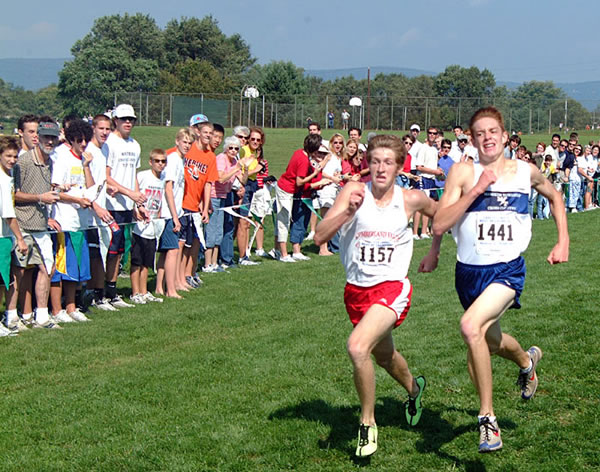 Highlights
Frances Koons goes 18:27 solo from the gun at Carlisle. Craig Miller-Brian Fuller duel continues, with Fuller going up 4-2 head-to-head, also at Carlisle.
James O'Toole wins again for Mount Lebanon @ Northern Invitational.
Jed Christiansen, Greenville, runs through mud and slop to top Brian Soder, Harbor Creek in a fast 15:17 3.0.

9/27-Carlisle Invitational @ Carlisle HS, 5k (Sunny, warm, some wind) - Brian Fuller of Cumberland Valley, and Craig Miller, the soph from Manheim Township, battled to the finish again, and for the fourth time in six races over two years, they finished within a second of each other. Meanwhile, Allentown Central Catholic star Frances Koons took off at the gun and was never challenged. And the Carlisle boys and Parkland girls won tough races to say they're back in the hunt for state glory.
Once again, Miller and Fuller led the pack out, with Craig's twin, Brad, joining the lead group early as he gets back into racing after a broken foot last summer. ("He's only about 80% now, but at least he's back" according to Manheim Township coach Terry Lee.)
Derek Jennings of Solanco led the race for a portion after Miller and Fuller slowed down in the second mile. But Miller surged with about 400 to go on a small hill, and opened a gap. Fuller responded and closed as the pair headed down the closing hill toward the open finish. Fuller gained a slight lead entering the final 20 meters and pulled through for the win. "It's 4-2 me" Fuller noted after the race. The only two XC races the two have not been side by side at the finish would be considered close (5 seconds, or so) by any other measure. Fuller says it's been a rivalry since he first met Miller on the course, losing to the freshman at the 2002 Gettysburg Invitational. "It hasn't been a friendly one either," Fuller noted. "We don't talk, but it's still all in good competition." Both runners were timed in 16:00 and change.
Meanwhile, Frances Koons continued to show Pennsylvania that she has stepped it up a notch this year, pulling away from some great runners like Red Lion senior Kate Papenberg, and Chambersburg senior Kylee Schuler, to win from the gun in 18:27.
In the team competition in the Reebok Challenge Races, Carlisle used a nice pack of four medalists behind the 16:38 8th place finish of senior Nick Brousse. The Parkland girls overcame the one point start by Koons to beat Allentown Central Catholic by 10, 96 to 86. Parkland was led by the 15th and 16th place finishes of junior Katie Stepp and sophomore Erin Roberts.
Upper Merion senior Jon Gries lead his squad to a team title with 137 points in the Race of Champions varsity competition. Gries won easily, going 16:29. In the girls' Race, Ephrata's Betsy Sensenig took the lead in the 2nd mile and cruised to a 19:22 win, but Tulpehocken held off the winner's team by 18 points, taking the title with156.
9/27-Sharpsville Blue Devil Invitational @ Buhl Park, 3.0 miles - The rain should take some of the speed out of the a runner, but that doesn't appear to be the case with Greenville's Jed Christiansen. The junior posted another incredible time, and beating Harbor Creek's Brian Soder in the process by 15 seconds in 15:17. But it was McDowell which captured the team title with 91 points, placing five runners in the top 31 behind the 13th place 17:03 finish by sophomore Kevin Gorny. McDowell also won the girls championship thanks to another strong effort by first-year XC runner Erin Richard, a senior, in 18:49. McDowell placed their five scores in the top 23 for 68 points, with their 6th and 7th runners 24th and 25th.
9/27-Northern Invitational @ Hartwood Acres, Pittsburgh, 5k - Mount Lebanon used the one point provided by Jim O'Toole, and good pack running by the girls' team to win both titles. The boys won by three over Hampton, while the girls were eight better than Bethel Park. O'Toole went 16:25 for his win, while Katie Grimm of Penn Hills traversed the course in 19:33 to win by 13 seconds over Samantha Howard of Moon.
9/27-Lion Invitational @ Penn State-Altoona, 5k - (Summary by Doug Hoover, Penn State-Altoona) - Penn State Altoona hosted the 1st Annual Lion Invitational at historic Fort Roberdeau on Saturday, September 27, 2003. In both high school races Baldwin and Central Cambria waged close battles for the team titles; Cambria prevailed in winning the girls race with 2 runners in the top-10 and all five scorers in the top-25.   Berlin Brothers Valley freshman Megan Elder ran with a pack of four runners before pulling away from Baldwin sophomore Allyson Sheehan late in the race to win in a course record time of 20:42 (5 km / 3.11 miles). Baldwin captured the boys race with 3 of the top-10 individuals and all scorers in the top 25.  Westmont Hilltop senior David Mock ran away from the field after the first mile to establish a course record of 16:34 (5 km / 3.11 miles). He was followed to the finish line 31 seconds later by teammate Frank Eanes.
9/27-Council Rock-North Invitational @ Tyler State Park, 5k - Buddy Davis, of host Council Rock-North, and Kate Vernon, of Gwynedd-Mercy, each broke meet records at the 5,000 meter Tyler State Park layout. Davis went 16:29 to break the 2002 mark set by Jon Coopersmith of Pennridge in 2002; while Vernon smoked the record by 1:10 in 19:06. In the largest schools division (all divisions raced together), Council Rock-North boys placed four in the top 13 to win with 52 points. Holy Ghost Prep won Division B, while Bristol took Division A. Gwynedd-Mercy placed four in the top eight to win the Division A (smallest schools) competition with just 46 points. William Tennent won Division B, with Central Bucks West topping Division C.