Hallinan - Hatboro-Horsham - Henderson and Gottesfeld-Williams - O'Toole - Fuller-Miller - Koons - Christiansen - Spooner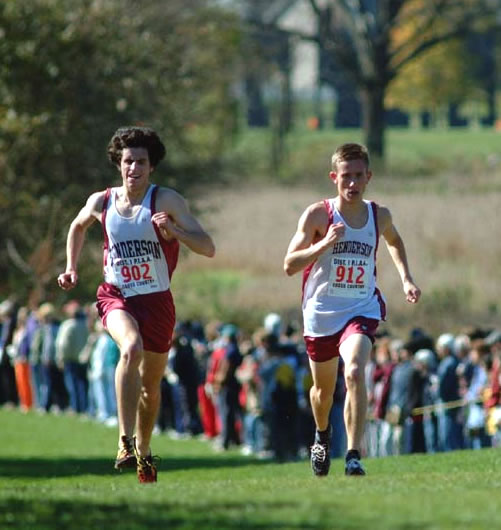 Ian Gottesfeld and Greg Williams finish with a comfortable lead at the District 1 Champs, leading their Henderson team to the AAA title. They were both timed in 15:27 5k.
Highlights:
From PCL Divisionals 10/22 @ Belmont Plateau:
Steve Hallinan of O'Hara goes 15:49, pushed by St. Joseph Prep's Tim O'Neill, 2ne in 1:57 in PCL Southern Division. In the Northern Division, St. Hubert 's Amy Kelly 18:50
From PA Districts:
With a 1:06 spread behind their two star freshman, US #23 Hatboro-Horsham tallies just 91 points to totally dominate District 1 AAA @ Lehigh's 5k course 10/24. Ian Gottesfeld and Greg Williams go 1-2 to lead Henderson to the team title. Unionville junior Katie Thaeder posts an 18:09 win, faster than Frances Koons on the same course a week before to set up a great dual at States.
Mount Lebanon's James O'Toole breaks Slippery Rock 5k CR record again in, this time in 15:36, and beats Ian Fitzgerald again @ District 7 10/23
Brian Fuller edges Craig Miller by less than a second AGAIN, this time @ the District 3 Champs @ Hersheypark 10/25, getting the individual title. Cedar Cliff slams down a 39-second spread starting with a 16:35 7 th place, scoring with five underclassmen to take the AAA crown and show they are a threat for States. Wyomissing girls tops again.
Frances Koons leads Allentown Central Catholic to 1-point win over rival Parkland at District 11 10/23 @ DeSales University 5k
Jed Christiansen 15:50 takes District 10 @ Buhl Park , Sharon 10/25
Chris Spooner's 16:01 leads Lewisburg to District 4 title 10/23 @ Bloomsburg University 5k
Summaries
10/22-Hallinan, O'Neill under 16, O'Hara girls one-two @ PCL Southern Champs
For a divisional race, this had championship caliber times, as both O'Hara's Steve Hallinan and Prep's Tim O'Neill broke 16 on a course where it may only happen once a year. That's five races this year. Hallinan went 15:49, just seven seconds off the new course record he set at Briarwood in September, O'Neill was eight seconds back in 15:57. O'Hara took the team win by seven over Bonner. Katie Kelly and Mary Debevec, O'Hara's top two runners, picked a great day to post season bests, getting first and second in 19:23 and 20:13, respectively, to lead their team to 27
10/22-Kelly goes 18:50, LaSalle wins @ PCL Northern Division Champs
Amy Kelly led St. Hubert's to the team win with just 19 points, going 18:50, the fastest time of the year at Belmont Plateau. All five St. Hubert 's scorers were in by 8th place, a 2:45 spread. LaSalle was not at full strength, but still tallied just 28 points, despite the one-two run by Archbishop Ryan's Dennis O'Connor in 16:34 and Paul Matuszak in 16:41.
10/24-Gottesfeld, Williams lead Henderson/Frosh lead young, dominating US#23 Hatboro girls @ District 1
Henderson used an old strategy for winning a district title. Start with three guys in the top eight. Even better, make sure you get first and second. Coatesville had six in before Henderson 's fifth, but they lost by double the score Henderson had beaten them a week before at their league meet - two points. North Penn, Council Rock North and Hatboro Horsham rounded out the top five. Following their inclination not to race each other until it counts (that would be at States), Greg Williams motioned for Ian Gottesfeld to cross the line first. Both were timed in 15:27. Upper Dublin 's Matt Lawson continued his incredible senior campaign, getting 3rd ten seconds back. But his few points weren't enough to help his team punch a ticket to States. Hatboro-Horsham scored under 100 (91) to be exact, to totally dominate the District. The two freshman stars, Kerry Swayne(3rd in 18:40) and Brittany Sullivan (13th in 19:10) led soph Theresa Gould (17th in 19:16), soph Jen O'Neill (22nd in 19:18), and junior Caitlin Klaas (41st in 19:46) across the line. Henderson held off Unionville by a point for 2nd. Unionville was led by District champ Katie Thaeder, who went 18:10 to beat CB West freshman Liz Kearins by ten seconds. North Penn was 4th, and Haverford took the last States slot again, by just two points over Downingtown. In Boys AA, Devon Prep took the first three spots behind a 17:12 by sophomore Alex Kondracki, tallying just 37 points. Gwynedd Mercy and St. Basil battled the who way, getting six across before Basil's fifth to win by just two. Monarch junior Kate Vernon won in 18:34. St. Basil's Lynn Morelli was 2nd, six seconds back.
10/22-Frosh Edwards and Craig lead Hazleton and Honesdale to win in District 2
Dallas soph Lisa Giancometti led a slew of teammates across the line to tally just 26 points to run away with the AA championships. Her 19:24 was 20 up on Elk Lake 's Jessica Squier. In the AA boys race, Scranton Pre used the pack mentality behind sophomore Jack Doherty, 8th in 17:36, to score 78 points and the win over the Elk Lake team led by 1st place Robert Squier's 16:49. In AAA boys, frosh Sean Craig led Honesdale to an easy win over Scranton . His 16:43 was the fastest of the day. And Hazleton 's Brenea Edwards, one of a great freshman class in PA, went 19:18 ahead of teammates Maria Monks, a soph, 2nd in 19:49, and Amanda Radishofski, another freshman, 3rd in 20:00, to the team championship.
10/25-Cedar Cliff impressive :39 spread/Fuller nips Miller/Wyo boys-girls/Young 1st @ District 3
Cedar Cliff served notice that their underclassmen-only varsity is ready to challenge for the state title again just two years after taking it all in 2001. Their 51 points totally dominating the Carlisle team which had beaten them in a close dual meet earlier this season. The Colts placed all five scorers in the top 18, with just a 39-second spread. Cumberland Valley , Manheim Township (led by the Miller twins), and Red Lion will all return to Hersheypark this Saturday for States. In the individual war between Cumberland Valley senior Brian Fuller and Manheim Township sophomore Craig Miller, Fuller went up 5-2 with another less-than-a-second win, 16:05.70-16:06.42. Cedar Cliff
Well, the Wyomissing AA dynasty appears to be humming along nicely, as both the boys and girls won District titles. In both cases, Tulpehocken served as runner-up, closer in the boys race, losing by just 22. The Wyo girls were 40 points up on Tulpehocken, behind a 2nd place run by Ashley Iwanowski in 19:46. (Here's the bad news for the competition, five of the top six are underclassmen.) Hamburg senior Adriene Beltz smoked the course in 18:51 for the D3 title, which would have been 3rd in AAA. In AAA girls.
Janelle Young showed her continuing dominance of D3 competition, going 18:43 to hold off the always-present Kate Papenberg, 2nd in 18:50. Kylee Schuler led her Chambersburg team with a 3rd place 19:02, scoring 116 points. Garden Spot, Cumberland Valley , Governor Mifflin and Carlisle also qualified for States.
10/23-Spooner and Lewisburg boys are primed for States with wins in District 4
Chris Spooner is not only the defending state AA champ, he is leading a strong team into States after his easy (not effortless) 16:01 win. His teammates followed in the top 18 places to tally just 34 points. In the AA girls, Wellsboro placed five in the top 15 for 36 points and the win. Senior Amber Hackenberg of Middleburg won in the fastest time of the day, 19:10. In AAA, Shikellamy's Steve Thompson was 2nd in 17:21, but his team won with only 36 points. Williamsport junior Curtis Carnes was 1st in 16:45. And in the girls race, Milton placed three in the top four for 42 points and the district title. Shikellamy soph Lindsay Scheller was first in the race in 20:35.
10/25-Mock's 15:31 breaks Spooner CR/Altoona boys, State College girls in AAA @ Districts 5/6
David Mock won Steel City in a record time over the Belmont Plateau record holder, and served notice that he is to be considered one of the favorites at next weeks AA State Championships with his 15:31 course record (was Chris Spooner, 15:54, 8/30/03 @ Big Valley Invitational). Central Cambria won the AA title. Altoona takes the boys AAA title. In AA girls, Sonya Hinish went 19:22 for Bishop Guifoyle, with Central Cambria taking the District title. In AAA, the State College girls held off Altoona , taking the top two spots with five scorers in the top eight. Meghan Mason won in 20:16.
10/23-O'Toole smokes competition and course again, Umbel and North Allegheny win @ District 7
Great times at the WPIALS at Slippery Rock. Just a week after breaking Jed Chriistiansen's course record, Jame O'Toole of Mount Lebanon , broke it again, going 15:36 on a cold, windy day. O'Toole won the same way as a week ago, surging at the two mile point, and Fitzgerald didn't have an answer, although he improved on his prior week's performance. North Hills, though, held off Mount Lebanon as the top two D7 teams. And emerging (ed) star Marissa Umbel of Indiana took control before the two mile mark and ran away to win in 19.01. The North Allegheny girls won by nine of West Allegheny behind a 4th place 19:37 by Amy Ruffolo. Placing three in the top ten, Greensburg held off Quaker Valley 's boys in AA for the win. Zach Thomas, Quaker Valley , went 26:45 for the win. But the Quaker Valley girls, behind the 19:44 win by senior Julie Dickhans, took AA girls.
10/18-Allderdice takes Pittsburgh City League (District 8) again
Allderdice continues to dominate the City League in Pittsburgh . At Schenley Oval, the girls scored a perfect 15 behind senior Torrie Caruso in 20:37. The boys tallied just 23 points behind the 17:34 by senior Tom Jech. Langley 's Khafre Wade was just ten seconds back in 2nd.
10/23-Elk County Catholic girls put five in top 14 @ District 9
The Elk County Catholic girls placed five in the top 14, including 2-3-4 to win the AA title. Freshman Amy Gladd of Moniteau went 20:31 for the individual title. Bradford easily won AAA girls, but St. Mary senior Rachel Lanzel won in 20:44. In boys' AA, North Clarion didn't have one runner in the top ten, but every scorer was across the line by 27th to secure a 14-point win over Elk County Catholic. Smethport's Ben Hahn, a freshman, won the race I 17:32. Clearfield 's Trevor Gearhart took AAA in 17:10. Bradfrod used five points from their top two runners to set up a district championship by six over Clearfield .
10/25-Christiansen, Eisenhower boys 1st/Villa Maria score upset, Richard, McDowell 1st @ District 10
Villa Maria upset the experts by taking the girls AA title by nine over Seneca. General McLane was the 3rd team to make it to States. Nochole Smith of Mercer took the individual title in 19:07. In AAA. Erin Richard must be having too much fun to stop now in her first year of XC (she's a senior), going 19:59 to lead her team to a 21 point win over Warren . It was deja vu for the boys AA race, as Jed Christiansen, Greenville , won the title just ahead of Harbor Creek's Brian Soder and Eisenhower's Grant Allen. Christiansen won in 15:50. Eisenhower took the team title in AA. In AAA, General McLane was led by Hayden Harrison, who hadn't run until Erie County Championships last week because of a femur stress fracture, winning in 16:39.
10/23-Koons+ACC one-point Parkland @ District 11...(to be continued in Hershey)
One point is powerful. It's how Allentown Central Catholic started their score thanks to the 18:46 win by Frances Koons. And it's how much they beat their league, district and state rivals, Parkland , in another tightly contested race. The packs were evident at the front the entire race. But it was a late surge by ACC #4 Colleen O'Neill to eclipse two Parkland runners, that pulled out the victory. The two will certainly be top contenders at states, but ACC was without their #2 runner who was on a once-in-a-lifetime trip to Rome , and another top five runner was ill, placing back from the scorers. But both teams will have their hands full with the defending state champs from Hatboro-Horsham. Parkland 's :49 spread is a great way to win big meets, though. First year XC runner, junior Lauretta DeZubay of Freedom, was the only one to give chase on Koons, who held a 40-meter lead by 3/4-mile. DeZubay went 19:36 for 2nd. In boys AAA, Easton 's Rich Ryan finished 4th, to lead his team to a 69-87 win over Liberty , who was off to a great scoring start behind the 1st place 16:20 by Cris Pates. Notre Dame dominated the boys AA race, going 3-4-5-6 for just 31 points. Evan Chromczak of Saucon Valley was the AA District champ with a time of 16:52. Palisades ' Christa Plummer lead the entire race, and helped her team to the District title with a strong 19:19.
Elite:
For PCL's, Districts, and one other meet
Districts 5/6 - 10/25 @ Indian Valley Middle School 5k
Dave Mock, 12, Westmont Hilltop 15:31 AA
Jake Strayer, Forest Hills 15:48 AA

10/25 District 10 @ Buhl Park, 5k
Jed Christiansen, Jr 15:50 5:06 Greenville AA

10/25 District 3 @ Hersheypark 5k
Beltz, Adriene 12 Hamburg 18:51 AA
Young, Janelle Cedar Cliff 18:43
1 AAA
Papenberg, Kate 12 Red Lion 18:50 2
AAA
Schuler, Kylee 12 Chambersburg 19:02 AAA
10/24 District 1 @ Lehigh University 5k
Vernon, Kate 11 Gwynedd Mercy 18:34 AA
Morelli, Lynn 11 St Basil 18:40 AA
Mealey, Kahki 11 Gwynedd Mercy 18:55 AA
Morelli, Christine 09 St Basil 19:00 AA
Thaeder, Katie Unionville 18:09 11
AAA
Kearins, Liz Central Bucks West 18:19 09
AAA
Swayne, Kerry Hatboro Horsham 18:40 09
AAA
Myers, Val Central Bucks East 18:41 12
AAA
Pinzini, Maressa Cheltenham 18:45 12
AAA
Karaszkiewicz, Julie Garnet Valley 18:52 12
AAA
Wolfe, Jessica Pennsbury 18:54 12
AAA
Wilson, Annie Wissahickon 18:55 11
AAA
Kubala, Kristina Coatesville 18:57 09
AAA
Roberts, Sarah Perkiomen Valley 19:00 12
AAA
Reed, Kristin Upper Perkiomen 19:01 10 AAA
Reimer, Christina Downingtown (e) 19:03 AAA
Gottesfeld, Ian Henderson 15:27. 12 AAA
Williams, Greg Henderson 15:27. 12 AAA
Lawson, Matt Upper Dublin 15:37. 12 AAA
Murray, Kyle Central Bucks East15:43. 11 AAA
Gries, Jonathan Upper Merion 15:45. 12 AAA
Davis, Buddy Council Rock (n) 15:54. 12 AAA
Garnett, Amin Coatesville 16:00. 11 AAA

10/22 Philadelphia Catholic League Southern Division @ Belmont Plateau
5k
Steve Hallinan, Cardinal O'Hara 15:49
Tim O'Neill, St. Joseph's Prep 15:57
10/22 Philadelphia Catholic League Northern Division @ Belmont Plateau
5k
Amy Kelly, St. Hubert's 18:50

10/24 District 11 Championships @ DeSales University 5k
AAA Frances Koons, 12, Allentown Central Catholic 18:46 AAA
10/23 District 7 Championships @ Slippery Rock University 5k
James O'Toole, Sr 15:36 5:02 Mt. Lebanon AAA
Marrisa Umbel, Jr 19:01 6:08 Indiana AAA

Late from Conferences.
10/15 @ Mid-Penn Conferences @ Gettysburg 5k
Janelle Young, 11, Cedar Cliff, 19:03

10/16-YAIAA @ John Rudy County Park 5k
Kate Papenberg, 12, Red Lion, 18:35
Erin Zellers, 11, Red Lion, 19:00
10/16-Berks County Championships @ Kutztown University 5k
Adriene Beltz, 12 Hamburg Area 18:36