| Steel City | Central Catholic | Paul Short | Harrier | Grove City | Endless Mountains | Cumberland County |
Dave Mock, from one of PA's smallest schools, Westmont Hilltop near Johnstown, broke Danny Coval's course record at Steel City, beating the new Belmont Plateau record-holder Steve Hallinan of Cardinal O'Hara, who had beaten Ian Gottesfeld and Greg Williams at Briarwood 9/13. Janelle Young, a Cedar Cliff junior, won the race for the second year in a row.
Ian Fitzgerald loses to Jim O'Toole for the first time since 10th grade track at the Central Catholic Invite in Pittsburgh. Fitzgerald fell early in the race, and O'Toole collided with a non-competing athlete 600 meters from the finish.
Course Records fall at Steel City

David Mock, Westmont Hilltop, faced one of the best in a very strong PA senior class, and broke the course record of PA legend Danny Coval, going 15:29.


photos by Don Rich

Cedar Cliff junior Janelle Young won for the 2nd year in a row, setting a course record in 18:32.


Cedar Cliff junior Mike Fulton finished 11th in 16:31, leading his team to a 32-second spread and the win.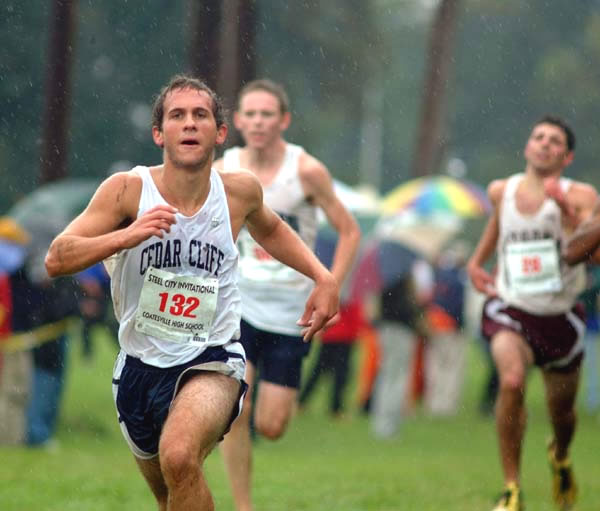 Kylee Schuler, Chambersburg, leads eventual winner Janelle Young
at 1.5 miles at the start the 800 meter climb.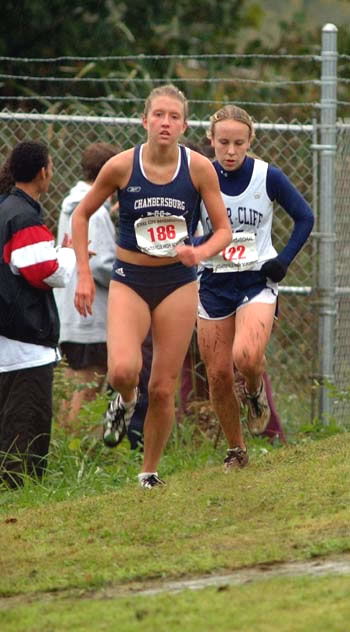 10/4-Steel City Invitational @ Coatesville HS (5k) - Janelle Young battled District 3 rival Kylee Schuler of Chambersburg the entire way in a cool rain on the slightly construction-altered course. Schuler held a slight lead heading up the big hill to the Vet Hospital, but it was tight until the final 100 meters. Young finished in 18:32 to set a course record, four seconds ahead of Schuler. But it was Schuler's Chambersburg team which placed two more runners in the top 11 and held on for a 113 to 139 win over 2nd place West Chester Henderson. In the boys race, Westmont Hilltop senior David Mock didn't get to race the top guys at Spiked Shoe on September 13th, but he did this time. Cardinal O'Hara senior Steve Hallinan said he kept trying to see which school his competitor was from, and didn't know until after he had finished 2nd in 15:35, six seconds back of Mock. The winning time broke the course record of Council Rock legend Danny Coval. Cedar Cliff didn't have a runner in the top ten, but they placed five from 11 through 29 with a 32 second spread to tally 86 points, 15 better than Council Rock-North.
10/4-Pittsburgh Central Catholic @ Schenley Park (5k) - Ian Fitzgerald led his North Hills team to a win over rival Mt. Lebanon, but Lebo leader Jim O'Toole finally won one even after colliding with a non-competing athlete during with 600 meters to go. North Hills placed three in the top ten to tally just 59 points. In the girls race, North Hills placed three in the top ten to tally just 59 points. Penn Hills' Katie Grimm continued her strong season with a 19:38 win, but Amy Ruffolo leads North Allegheny to a title.
10/4-Paul Short Invitational @ Lehigh University (5k) - Matt Lawson picked a big race to post a great run, going 15:56 at Lehigh. He was joined in the front by teammate Eric Bowles, but it wasn't enough to hold off the Parkland boys, who were three points better than Upper Dublin. Kate Vernon runs a quick 18:24 to lead her Gwynedd-Mercy team to a 17-point win. Teammate Kahki Mealey finished 8th.
10/4-Harrier Invitational @ Pottstown (5k) - Tim O'Neill led St. Joseph's Prep to a nine point win over Owen J. Roberts. His 16:53 winning time was the only sub-17 performance. Twin Valley easily took the girls' title behind the 3rd place finish of Mere Beaton in 21:02. Fleetwood's Christy Angstadt won in 20:52.
10/4-Grove City Invitational (5k) - Plum finished 2nd in both team competitions. The Meadville boys tallied just 27 points behind the 16:55 1st place effort of Joe Amoto, placing five in the top 12. In the girls race, Villa Maria Academy won by three points over Plum with two in the top three, including a 20:27 2nd place by Leigh Szoszorek in 20:07. Rachel Lanzel, a St. Mary's senior, won the race in 19:59.
10/4-Endless Mountains Invitational @ Wyoming County Fairgrounds 5k - On
a cool rainy day, with the course muddy and soft in spots, Caleb Fritz
of Northwest Area, and Elisabeth Hennip of Northeast Bradford, were
victorious. Fritz negotiated the 5k in 17:00, while Hennip won by 20
seconds, going 20:19. The Northeast Bradford boys won the team title by
behind the 6th place 17:30 of Reston Lockwood. In the girls team race,
Wyoming Valley West placed two in the top four, with juniors Megan
Dreabit going 20:39 and Kelly Weidwald, 20:50.
10/4-Cumberland County Championships @ Big Spring HS (5k)-East Pennsboro
travelled to Big Spring HS and ran away with two team championships.
Tim Swartz led the Panthers with a 4th place 17:57. Camp Hill's Zach
Smith won in 17:21, while Kyleigh Millhouse took the girls title in
20:42.