Results, pix and quotes: AAA Boys - AAA Girls - AA Boys - AA Girls | Donna on the Side | Honor Roll
| PennTrackXC coverage | Starting Lanes | Preview
| 2002 meet on PennTrackXC | Course Map | Photo Tour of Course |
Craig Miller - Frances Koons - David Mock - Adriene Beltz
Henderson - Hatboro-Horsham - Eisenhower - Dallas

AAA Boys - Manheim Twp soph Craig Miller 15:50 5k (right) catches Henderson's Ian Gottesfeld and Greg Williams in the stretch. Gottesfeld 15:59 holds on for second but Williams slows to a walk for 15th and was treated for heat exhaustion. Nevertheless, Henderson 135 (2-7-10-35-81) wins torrid team battle over North Hills 147 (Ian Fitzgerald 16:10 for third) as Henderson's fourth and fifth made up big ground in the stretch. Six more teams finished within 60 points.
AAA Girls - US #23 Hatboro Horsham girls 76 and Allentown Central Catholic sr Frances Koons 18:37 (right) romp. Koons leads four girls under 19 minutes on the tough Hershey course.
AA Boys - Westmont Hilltop sr David Mock 15:57 (left) wins when Chris Spooner 16:04 falls in the stretch but gets up for second.. Eisenhower 109 wins team title.

AA Girls - Dallas 49 and Hamburg sr Adriene Beltz 19:03 (left) win easily.

photos by John Dye
Honor Roll - performances qualifying for DyeStat Elite national rankings
BOYS
15:50
5k
Miller, Craig 2006, Manheim Twp PA
1 @ AAA State Meet PA 11/1/2003
15:57
5k
Mock, Dave 2004, Westmont Hilltop PA
1 @ AA State Meet PA 11/1/2003
15:59
5k
Gottesfeld, Ian 2004, Henderson WC PA
2 @ AAA State Meet PA 11/1/2003
GIRLS
18:37
5k
Koons, Frances 2004, Cen Cath Allentown PA
1 @ AAA State Meet PA 11/1/2003
18:46
5k
Umbel, Marissa 2005, Indiana Area PA
2 @ AAA State Meet PA 11/1/2003
18:51
5k
Kearins, Elizabeth 2007, Central Bucks West PA
3 @ AAA State Meet PA 11/1/2003
18:58
5k
Papenberg, Kate 2004, Red Lion PA
4 @ AAA State Meet PA 11/1/2003
19:03
5k
Beltz, Adriene 2004, Hamburg PA
1 @ AA State Meet PA 11/1/2003
19:04
5k
Thaeder, Katie 2005, Unionville PA
5 @ AAA State Meet PA 11/1/2003
Preview by Don Rich
complete preview and lots more pix on PennTrackXC
2002 Foot Locker finalist Ian Gottesfeld (L) and Greg Williams will run as a 1-2 team again for Henderson,
one of the favorites in AAA, but Williams says this is the first time all year he will race for the win.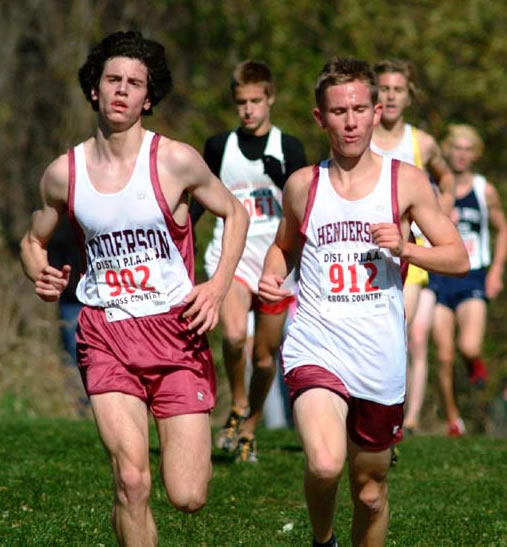 Team: Many teams contending. Henderson's great 1-2 punch (Gottesfeld and Williams) vs the packs of Cedar Cliff and Coatesville. And you can't ignore Carlisle, North Hills and Mount Lebanon.
Individual: Defending champ Ian Gottesfeld has to fight off several strong runners, including his own teammate, Greg Williams. From the West come James O'Toole and Ian Fitzgerald. Brian Fuller and Craig Miller may get separated finally.
Team: US#23 Hatboro-Horsham will try to defend its title against recent champions Allentown Central Catholic and Parkland, with Chambersburg and North Allegheny lurking if these three falter.
Individual: Allentown Central Catholic sr Frances Koons is on target for her first state championship. Also in the running are Katie Thaeder of Unionville, Liz Kearins of Central Bucks West, Janelle Young of Cedar Cliff, Kate Papenberg of Red Lion, and Marissa Umbel of Indiana.
Team: Scranton Prep tries for four-peat with a good pack overcoming the loss of Foot Locker finalist Jon Pastore. But Chris Spooner is primed to lead Lewisburg to the trophy.
Individual: Chris Spooner, who ran well against national competition at Great American, is favored in a close call over Westmont Hilltop sr Dave Mock, who broke Dan Coval's course record at Steel City on a rainy day in October. But the story doesn't end with these two. Jed Christiansen of Greenville, Brian Soder of Harbor Creek and Grant Allen of Eisenhower are added to the mix in what Don Rich calls "a race for the PA XC history books."
Team: Gwynedd Mercy Academy has the talent to stop Wyomissing's championship streak at 4 years, but Wyomissing has the winning way.
Individual: Gwynedd Mercy's ace Kate Vernon and Adriene Beltz of Hamburg are favored. Also in the running are Lynn Morelli of St. Basil, Nicole Smith of Mercer, Lindsay Petri of General McLane, Aryn Gruneisen of Fairview, and Christa Plummer of Palisades.