Wed 4/30: Nicole Leach, West Catholic sophomore, 55.85 400, 43.85 300H double @ Colonial Classic, Plymouth Whitemarsh HS
Villanova signee Mark Korich, Springfield-Montco, 1:53.40 800 @ Colonial Classic, Plymouth Whitemarsh Sat 5/3: Villanova-bound Drew Eckman, Oxford, 47.49 400, 37.39 300H Double @ Lower Merion
Sat 5/3: Justin Clickett, Union City, 60-01.50 SP @ Oil City Invitational
Drew Eckman at Lower Merion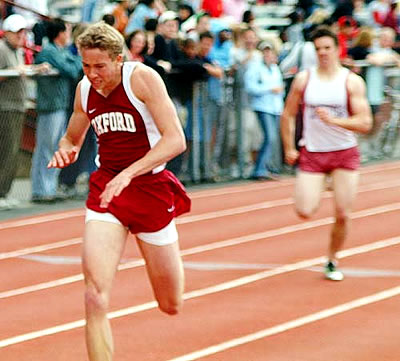 Elite
100:
11.99 | Jannea Bridgeford | Upper Darby | Saturday, May 3 | Delaware County Girls' Championships @ Upper Darby HS
400:
55.85 | Nicole Leach | West Catholic | Wednesday, April 30 | Colonial Classic @ Plymouth-Whitemarsh HS
300h:
43.85 | Nicole Leach | West Catholic | Wednesday, April 30 | Colonial Classic @ Plymouth-Whitemarsh HS
44.36 | Mycaiah Clemons | Penn-Trafford | Friday, May 2 | Baldwin Invitational @ Baldwin HS

4x100:
47.46 | Upper Darby | Saturday, May 3 | Delaware County Girls' Championships @ Upper Darby HS
4x800
9:31.67 | Merion Mercy | Saturday, May 3 | Lower Merion Invitational @ Lower Merion HS
JT:
136'10.00" | Rudy Radocaj | Williamsport | Friday, May 2 | Lock Haven Bald Eagle Invitational @ Lock Haven University
159-07 | Angela Hoover | Bald Eagle Area | Friday, May 2 | West Central Coaches Meet @ Mansion Park, Altoona
PV:
12-0 | Melanie Buczko | Butler | Friday, May 2 | Baldwin Invitational @ Baldwin HS

BOYS:
300H:
37.39 | Drew Eckman | Oxford | Saturday, May 3 | Lower Merion Invitational @ Lower Merion HS
37.8 | Phil Atkinson | Strath Haven | Friday, May 2 | Interboro Classic @ Interboro HS
38.06 | Shawn Colligan | Bradford | Saturday, April 26 | McDowell Invitational @ Erie McDowell HS
400:
47.49 | Drew Eckman | Oxford | Saturday, May 3 | Lower Merion Invitational @ Lower Merion HS
800:
1:53.40 | Mark Korich | Springfield (Montco) | Wednesday, April 30 | Colonial Classic @ Plymouth-Whitemarsh HS
3200
9:16.58 | Chris Spooner | Lewisburg | Friday, May 2 | Lock Haven Bald Eagle Invitational @ Lock Haven University
9:11.49 | Ian Fitzgerald | North Hills | Friday, May 2 | Baldwin Invitational @ Baldwin HS
9:13.52 | James O'Toole | Mount Lebanon | Friday, May 2 | Baldwin Invitational @ Baldwin HS

SP:
60-01.50 | Justin Clickett | Union City | Saturday, May 3 | Oil City Invitational @ Oil City HS
59-06+ | Tyree Suber | Glen Mills | Wednesday, April 30 | Colonial
Classic @ Plymouth-Whitemarsh HS
59-03.50 | Justin Clickett | Union City | Saturday, April 26 | McDowell Invitational @ Erie McDowell HS
59-03 | Tyree Suber | Glen Mills | Friday, May 2 | Interboro Classic @ Interboro HS
59-02.00 | Rob Kerris | Southern Columbia | Friday, May 2 | Lock Haven Bald Eagle Invitational @ Lock Haven University 59-01 | Austin Papay | Sharon | Saturday, April 26 | McDowell Invitational @ Erie McDowell HS
JT:
198'07.00" | Jesse Hershey | Jersey Shore | Friday, May 2 | Lock Haven Bald Eagle Invitational @ Lock Haven University
201-04 | Mike Holsberger | Penn Cambria | Friday, May 2 | West Central Coaches Meet @ Mansion Park, Altoona

DT:
171'7 1/2" | Ryan Whiting | Central Dauphin | Saturday, April 26 | McDowell Invitational @ Erie McDowell HS
HJ:
6-08.25 | Chris Nardi | West Allegheny | Friday, May 2 | Baldwin Invitational @ Baldwin HS
Saturday, May 3 - Blue Streak Relays @ Manheim Twp HS - Milton Hershey girls sprinters dominated the sprint relalys winning 3 sprint relays in record time: the 4 x 200 Meter relay team of Johnson, Mondie, Benjamin, and Ferguson in a time of 1:43.7; Brown, Mondie, Benjamin and Ferguson in a meet and stadium record time of 49.4 for 4x100; and their sprint medley (100,100,200,400) of Brown, Benjamin, Ferguson, and Johnson in 1:49.2. In addition, the Milton Hershey shot team of Griffen and Forsnn set a new meet record in the shot with a combined throws of 76' 0.75" The 2 x 1600 relay of Jackie Myers and Shannon Reese of Manheim Township in a time of 10:49.6. Garden Spot's girls shuttle hurdle relay team Orr, Heck Loncosky, and Andrews in a time of 1:03.5 On the boys side Milton Hershey's shuttle hurdle relay team of Sarpong, Holliman, Mickie and Mathews set the only meet record with a winning time of 1:03.8.
Saturday, May 3 - Lower Bucks Ct. Championships @ Neshaminy HS - Three days after his double win in the Montgomery Memorial at William Tennent, Ed Ruiz, Tennent, took both again; the Shot Put (50-02) and the Discus 161-09. Pennsbury captured three relays, the 4x100 in 43.4, the 4x400 in 3:26.3 and the 4x8000 in 8:08.9.
Saturday, May 3 - Lady Rocker Invitational @ Council Rock-North - Pennsbury won two relays, the 4x100 ((Kiya McBride, Sara Kirsch, Kiera Watson, Andi Glick) in 49.2, and the 4x800 (Supriya Desai, Rebecca Powell, Kyrie Wilson, Jessica Donovan) in 10:13.1. Individually, Watson captured the High Jump (5-0). The meet saw the return of Council Rock-North's Jessica Cickay, who was 3rd in the 1600 in 5:17.3.
Saturday, May 3 - Lower Moreland Inv @ Lower Moreland HS - Christopher Dock's Pat Landes won three events, the Long Jump with a 19-11/2 effort, the Triple Jump (38-10) and the High Jump, clearing 5-08. Fayle Korich won the 400 in 1:01.2. Lynn Morelli captured the 1600 in 5:16.2.
Saturday, May 3 - Lower Merion Inv @ LM HS - Two meet records in two great runs for Villanova-bound Drew Eckman of Oxford. His 37.39 bettered the 38.4 set by Central's Tony Fulton in 2000; and his 47.49 broke the 1997 record of 48.5 set by Great Valley's Nick Reynolds. The Merion Mercy relays are tuning up for post-season. With Tiffany Abney, they won the 4x400 in 3:57.41. They also took the 4x800 in 9:31.67. Individually, Abney won the 300 Hurdles in 44.88. Unionviille's John Zacharkiw won two events, the Shot Put (53-71/4) and the Discus (150-8).
Saturday, May 3 - Delco Girls' Champs - Under the lights at Upper Darby HS, the host school used their sprint depth garner 81.5 points, but it wasn't quite enough to catch both Cardinal O'Hara and Strath Haven, who tied with 85 points each. Jannnea Bridgeford, Upper Darby, posted an 11.99 to take the 100. She anchored her 4x100 teammates to a 47.46 meet record. In the distances, Prendergast's Nicole O'Dea won both the 1600
(5:08.02) and the 3200 (11:28.36).
Saturday, May 3 - Interboro Invitational (Delco boys) @ Interboro HS - Steve Hallinan, Cardinal O'Hara, won two individual events, taking the 1600 in 4:21. 1, and the 3200 in 9:33.9, and getting 2nd in the 800 in 1:57.2. (Imagine what he'll do only running one or two events). Tyree Suber, Glen Mills, launched a 59-03 Shot Put for another win. And Phil Atkinson, Strath Haven, took the 300 Hurdles in 37.8.
Friday-Saturday, May 2-3 - Shaner Meet @ Wyomissing - The Wilson boys scored 158 points to run away with the AAA team title Saturday at the 74th John H. Shaner Meet at Wyomissing Area High School. Speedy senior Andy Lehatto led the Bulldogs, winning the 100 (10.91) and 200 (meet-record 22.23) and anchoring Wilson's 400 relay team. Lehatto, who will attend the University of Richmond next fall on a football scholarship, along with teammates Travis Mosser, Chad Henne and Shawn Smith ran a meet-record 42.97. Wyomissing Area won the AA team title (130 _ points) behind a pair of wins from thrower Jon Hart (shot put and discus). The Wyomissing Area girls won the AA team title (156 points) behind the strength of their distance runners. Cross country standouts Amy and Debbie Huss teamed with Ashley Iwanowski and Jessie Schlegel to run a meet-record 9:33.78. They clocked a Berks County-record 9:30.6 April 24 at the Penn Relays. Reading High sophomore Jessica Forrest swept the sprints (12.63 in the 100, 25.82 in the 200 and 57.56 in the
400) and anchored the Red Knights' meet record-setting 400 relay team (50.11). Schuylkill Valley senior Laura Pucul continued to improve upon her breakthrough season with a meet-record 45.68 in the 300 hurdles.
Friday, May 2 - Lock Haven Bald Eagle Inv @ LHU - There's another Javelin challenger in the state in Jersey Shore's Jesse Hershey. He threw 198'07.00" to take the win. Southern Columbia's Rob Kerris won the Shot Put with a Meet Record 59-02.00 effort. He also won the Discus with a throw of 155'09.50". Chris Spooner, Lewisburg, set a Meet and Stadium Record with his 9:16.58 3200. For the girls, Williamsport's Rudy Radocaj won the Javelin with a Meet Record 136'10.00". She was also 2nd in the Discus and 7th in the Shot Put. Christa Sawko, Montoursville Area, took the 300 Hurdles in 47.38 and the 400 in 1:00.44; while Athen's Melissa Miller won the 100 in 12.86 and the 200 in 26.42. The other Meet Record was by Tricia Learn, the North Penn sophomore, who won the 3200 in 11:23.83 and the 1600 in 5:23.24.
Thursday, May 1 - Montgomery Memorial @ Tennent HS - Double wins for Bensalem's Shawna Ramsey and Ashley Kelly. Ramsey dominated the sprints, taking the 100 in 12.04 and the 200 in 25.63, while teammate Kelly won both the 1600 (5;16.43) and the 3200 (11:36.24). Ed Ruiz of host school William Tennent, won the Shot Put with a throw of 53-02.25 and the Discus with a toss of 171-06.
Wednesday, April 30 - Colonial Classic @ Plymouth-Whitemarsh HS (PennTrack on site) - They look like brother and sister. And they run alike, as well. Fast. From 800 to 3200 meters, they both are among the best in the state. Mark Korich, a senior, is heading to Villanova. He's well-known. But his sister, sophomore Faye Korich, has been dropping her times this season from race to race. "She's getting serious," notes her brother. Both won their individual 800's, Mark in 1:53.40 and Faye in 2:18.60, a PR. She's undecided about what she'll race at States. Top American in the Penn Relays' 400 Hurdles, Nicole Leach of West Catholic (also a sophomore) posted a 55.85 400 win and a 43.85 300 Hurdles victory. Penn Relays' Shot Put champ Tyree Suber threw for the win, going 59-06+. He was also 2nd in the Discus, throwing 140-03. Dior Lowry, (right) the Martin Luther King 110 Hurdles specialist, ran 14.48 into a headwind. And Exeter's Brian Dodds tied the Meet Record of 14-0 in the Pole Vault.
Tuesday, April 29 - Another PA girl joins the sub-5:00 club, as Frances Koons, Allentown Central Catholic jr goes 4:59.5 for 1600.
Friday May 2 - Baldwin Invitational @ Baldwin HS - The season gets late, and the weeks of training begin to show their desired results. Coming off a somewhat surprising (smartly run) 2nd place in the Penn Relays 3000, North Hills junior Ian Fitzgerald put his new found reputation to the test against Mount Lebanon's James O'Toole. Both ran very fast for an early May meet, as Fitzgerald pulled out the win in 9:11.49 for 3200. O'Toole was second in 9:13.52. West Allegheny's Chris Nardi raised the bar in the High Jump, clearing 6-08.25. He also took the 110 Hurdles in 14.78. Melanie Buczko, Butler, cleared 12-0 for the Pole Vault victory. ANd Penn-Trafford's Mycaiah Clemons went 44.36 for a win in the 300 Hurdles. She also won the 100 Hurdles in 14.86. Other double winners included Andrew Johnson in the 100 (10.79) and 200 (22.19); Galen Rivers, Great Valley (who went way west for this one), 39.13 in the 300 Hurdles and 44-05 in the Triple Jump: Austin Papay, Sharon, in the Discus (164-07) and Shot Put (57-11.50); and Elyse Good, Ambridge, in the 100 (12.47) and 200 (25.71).
Friday May 2 - West Central Coaches @ Mansion Park, Altoona - The nationally ranked performances came from the AA teams, and both in the Javelin, Angela Hoover, Bald Eagle Area, not only improved her PA#1, she vaulted into a US#1 with a throw of 159-07. Mike Holsberger, Penn Cambria, won the boys' AA Javelin with a toss of 201-04. Leanna Nastase, Forest Hills, won both the 1600 (5:07.74) and the 3200 (11:14.66). Elk County Catholic posted a fast 4x800 (9:40.94). For the AA boys, Westmont Hilltop's Steve Gonzalez posted wins in the 1600 (4:26.24) and 3200 (9:36.78). Jared Cecchitti, Kane, improved his Pole Vault to 14-09.00 and added the unusual double of a 156-04 Discus win. In AAA, Lewistown's Emily Lepley won the 100 Hurdles in 14.72, the 400 in 58.89 and was 5th in the 300 Hurdles in 48.55. State College's Amber Strouse won the 300 Hurdles in 45.80, and the High Jump, clearing 5-02.00. And Kelly Chadwick, State College, was first in the 1600 (5:23.45) and second in 800 (2:26.28). In AAA boys, Bradford's Shawn Colligan took the 100 Hurdes (14.56), the 300 Hurdles (38.20) and the Long Jump (21-03.50). Tanner Evak, State College, won the Javelin with a throw of 177-00 and the High Jump, clearing 6-03. Brendan Perretta, Altoona won the 200 in 21.97, and was second in the 100 by .01 to Johnstown's Greg Nash (10.87). Jay Harding, State College took the 1600 in 4:33.06 and the 3200 in 9:52.64. The Altoona relays were hot as usual, taking the 4x100 in 42.54, the 4x400 in 3:27.05, and extending their distance to capture the 4x800 in 8:13.49.