Jesi Christiansen at Lakeview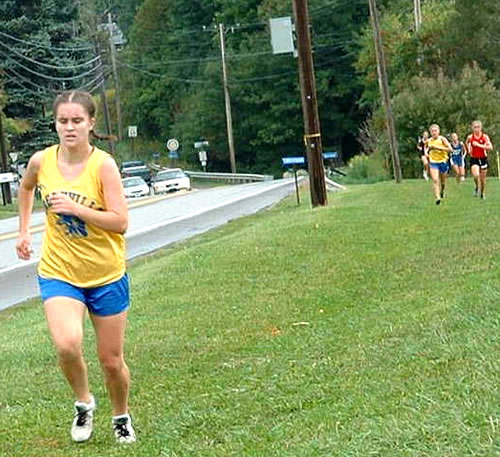 photo by Kerry Barry
Jessica Cickay is 5th in Briarwood Invitational Championship
race. Frosh Katie Kelly, Cardinal O'Hara, fastest time of day, 19:34. NJ
teams take two of six varsity titles, with Mainland Regional boys
apparently avoiding Hunderdon Central, with Mainland taking Division I
with 32 points, and Hunterdon taking Championship title with 55 points.
Mainland's Greg Hughes goes 16:10 for best of day. Highland's Jon Fox
goes 16:13.Pearl River NY takes Girls Division II.
Eric and Brian Soder, Harbor Creek go one-two at Allegheny College.
Jesi Christiansen wins again, this time at Lakeview Invitational.
Briarwood Invitational @ Belmont Plateau, Fairmount Park, Philadelphia,
PA - A few surprises on a humid, almost summer-like day on Philly's
Belmont Plateau. Course record-holder Jessica Cickay of Council
Rock-North finished 5th in the Championship race, 36 seconds off the
pace set by Cardinal O'Hara's Katie Kelly, who went the fastest time of
the day in 19:33.96. But North Penn, behind the 7th place effort of
Cheryl Dingman in 20:17.39, took the team title with 83 point, five
better than NJ's Shawnee. The Haverford Township girls were four points
better than West Chester Henderson behind Julia Somers' 8th place
21:39.41. In Division II, New York's Pearl River placed four in the top
13 to tally just 52 points. St. Basil's Lynn Morelli took the individual
title in 20:02.96. On the boys' side, New Jersey led a charge of top
teams from the Garden State. Hunterdon Central went 1-2 in the
Championship race, (Jon Fox, 16:12.59; Chris Pannone, 16:33.65), and
totalled just 55 points, to hold off last week's upset winner over US #9
Salesianum, Council Rock North, by 31 points. Rival Mainland Central
crushed their Division I opposiition behind Greg Hughes' 16:09.57 2, the
best time of the day, and a new Division I record. Cross Country (soccer
player) Eric Fleming of Bishop Shanahan, ran 16:29.61, the 3rd fastest
time of the day. And in Divison II, Great Valley held off Holy Ghost
Prep by a mere two points, 46 to 48, even though Bill Ferrence won the
race for HGP with his 17:11.45. Ben Franczuszki, Great Valley, was 3rd
in 17:24.29.
Lakeview Invitational @ Stonesboro - The only missing top boys' team was
Harbor Creek, but the Lakeview Invite proved a prelude to the District
meet coming in October. West Middlesex won again, this time by 30 over
Union City. Jed Christiansen, fighting off a fever, hung tough but lost
by 12 seconds to Eisenhower's Grant Allen. In the girls' race, Jesi
Christiansen continued unbeaten. But Eisenhower held off a nicely packed
Rocky Grove squad behind the 2nd place effort of Heather Wilmoth.
Allegheny College High School Cross Country Classic @ Allegheny College
- Brian (Jr) and Eric (Sr) Soder of Harbor Creek have been trading
one-two finishes during September. This time it was Eric's turn, by just
one second, winning in 15:58.6. Their team placed five in the top 23 to
garner just 51 points, taking the team title by 32 over Erie McDowell.
Pittsburgh's Taylor Allderdice girls beat McDowell by 38 points,
tallying just 53 points behind Molly Ainsman's 3rd place 20:08.2,
getting their scoring five in the top 21. Meadville's Maris Reutzel was
first in 19:42.6.
Chestnut Hill Invitational - Mark Korich of Springfield (Montco) broke
the old meet record on the 3.0 circuit with his 15:44 over host school's
#1 Evan Lodge, 2nd in 16:18. But Cardinal Dougherty, with three top ten
finishes led by Dan Foley's 4th place 16:28 prevailed in the team
competition with just 51 points.
Bulldog Invitational @ Northern Lehigh HS - Saucon Valley only had one
top ten finisher (Sean Quinn 17:52.9), but they had five in the top 26,
all within 30 seconds, to beat Emmaus by just four points. Pottsville's
Shane Clauser went 17:01.0 for the win. The Governor Mifflin girls went
3, 4, 8, 9, 14 for just 38 points and an easy win, behind Demetra
Koutsaurais. The Liberty tandem of Molly Lare (19:14.9) and Erin Matyus
(19:26.7), were first and second.