Gottesfeld (R) and Williams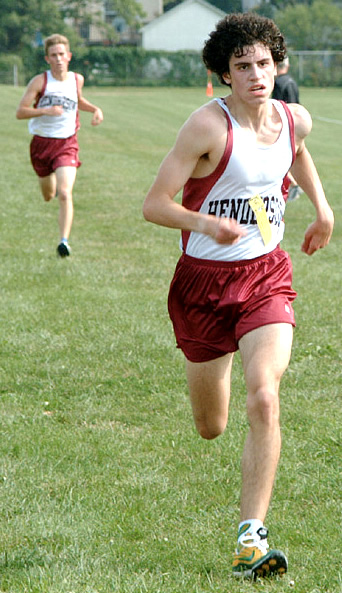 photo by Don Rich
Pre-Season Harrier US#9 Salesianum (DE) was rocked by Council Rock-North
at the DeSales Invitational.
Ryan Blood responds to unexpected loss at Gettysburg 9/7 with a 50-second course record 15:28
5K (was 16:18 by Chris Spooner, Lewisburg) at the Bear Mountain River Run @ Lock Haven University.
West Chester Henderson boys, a pre-season favorite to win AAA States in PA, won their season
debut despite being short one of their top five (Senior Mike Misselwicz) going 1-2-6-7 behind
Juniors Ian Gottesfeld (16:08) and Greg Williams (16:13). They'll next compete at the Great
American in the Championship race.
Jesi Christiansen continues to roll as younger brother Jed wins another invitational, holding off Brian
and Eric Soder @ Slippery Rock.
Pre-Season Harrier US#9 Salesianum (DE) was rocked by Council Rock-North
at the DeSales Invitational. As perennial state title
contenders/champions prior to this year's split into Council Rock-North
and South, it was North that inherited most of last year's varsity. The
experience showed as they went 3-4-11-17-18 (19-29) for just 53 points in
the 36-team field to win by 43 over 2nd place Salesianum. Leading
Council Rock-North were Pete Hewins (16:37) and Buddy Davis (16:38), as
Salesianum #1 PJ Meany was 10th in 16:51, just four seconds up on Rock's
#3 guy, Alex Heitman. Red Lion's Kate Papenberg dominated a strong field
with her 18:46 to win by almost a minute. But Hatboro-Horsham, behind
Janine Ricci's 7th place 20:02, scored just 76 points to hold off
Philadelphia Catholic League power St. Hubert's. Red Lion was 3rd.
Lebanon Valley College Invitational @ Lebanon Valley College (5400
meters) - Cardinal O'Hara showed depth and tenacity as they took the
team lead at a mile and held on to hold off Allentown Central Catholic
at the 5400 meter distance, 52-70. Frosh Katie Kelly of O'Hara pulled
away from Allentown Central Catholic's Frances Koons to win by 15
seconds. St. Joseph Prep junior Tim O'Neill went 18:09 to lead his team
to an easy win over Cedar Crest, who was running without ace Pat Clark.
Results, including JV, courtesy of The Tracker Timing Service with
photos by Mike McMillen.
5K: Bulldog Invitational @ Big Spring High School - Boiling Springs'
Kyleigh Millhouse is one of the top Central PA runners this early
season, and she showed it, taking 16 second win in 20:55. But it was
Shippensburg's girls, behind the 3rd place finish of Sarah Bounds, that
took team honors in a sixth-place tiebreaker over Greencastle-Antrim,
both with 70 points. In the boys' race, it was Donegal's Jeremy Del
Rossi with the win in 17:30, leading his team to the 47-54 point win
over Shippensburg. Results courtesy of Big Spring HS.
Bear Mountain River Run @ Lock Haven University - Ryan Blood, East
Pennsboro, responds to G-burg with 15:28 5K, Kelly Chadwick, State
College, 19:08, both course records. Blood's fast little sister Kari , a
9th grader, goes 19:21 to get 2nd. State College girls win by 14 over
Conrad Weiser. Philly-area Owen J. Roberts gets 56 for eight point win
over State College boys behind Phil Sibley's 17:04 3rd place.
Abington Invitational @ Abington High School -
West Chester Henderson has not won a state title since 1996, but during the time
since, they have always been in the hunt. They were 2nd in 2001, with
mostly underclassmen. That's the good news. The so-so news is they are
not as deep as they'd like to be, with a solid first five that can run
with most in the U.S., but too many seconds to #6. Today, one of their
top five (senior Mike Misselwicz) didn't run nursing a minor nick. The
result, though, was as expected. A team win behind junior Ian Gottesfeld
and his 16:08. Teammate, and fellow junior Greg Williams was just five
seconds back. Mike Merrick and Jim Alexander went 6-7 in 16:41 and
16:45, but their fifth guy was 41st, which tallied 57 points, still good
enough to hold off Chester County rival Coatesville, with 79. Haverford
senior Eddie Dutch battled with the top and rallied for a strong 3rd in
16:28. For the girls, Gwynedd-Mercy outdistanced a Paige/Erin-less
Wissahickon team by 35 points behind the dominant 18:59 of team leader
Meghan Bishop.
Slippery Rock Invitational @ Slippery Rock
University - The Christianson's of Greenville refuse to lose. Jesi makes
a statement with a 19:25 and an easy win, but Quaker Valley goes
3-7-12-14-15 for just 51 points. Harbor Creek, now AA, wins the team
title behind brothers Brian and Eric, as the team tallies 2-3-16-19-33
for just 73 points, but Jed Christiansen goes 15:54 for an individual
win. In AAA. North Allegheny's girls show signs of being a top team,
behind Amy Ruffolo's 19:58. Lauren Bricker, a Hempfield senior, went
19:29. Frosh Kaitliln Grimm of Penn Hills, slipped in between Bricker
and Ruffolo with her 19:39. And with a 1-4-5 grouping, North Hills' boys
tallied just 66 points behind junior Ian Fitzgerald's 16:16.
Central Bucks East Invitational @ CB East HS -
The Downingtown boys, behind the 6th place 16:30 of Ben Sheldon, took
the team title by a narrow two points over North Penn, and just six over
Upper Moreland. But it was Upper Merion's Jon Greis who took home the
individual title with his 16:01. The North Penn girls placed two in the
top ten, and took the team win behind the 3rd place 19:10 by Cheryl
Dingman. Downingtown's Jessie Yester went 18:49 to hold off CB East's
Val Myers, who was :06 back.
Co-ed Invitational @ Upper Dublin High School
Quakertown's Adam Breisch set a course record on the 3.0 circuit, going
15:29 to hold off the host team's top runner, Matt Lawson, by 16
seconds. In the girls varsity race, Lower Moreland's A. Divinney took
the win in 20:04 on the warm, sunny day.
Conneaut Lake Invitational - The Titusville
girls, behind a solid 2-3-5 finish by their top three, dominated second
place Fairview by 22 points. Courtney Ranken led the winning team with
her 20:04, followed closely by Theresa Favelli, just a second back. But
it was Fairview's Natatia Rambish who took individual honors, going
19:46. The Fairview boys also finished second, thanks to LeBoeuf's Bruce
Hordusky, who went 16:16. Teammate R.J. Smith contributed only four
points, going 17:00.