US#11 Henderson wins AAA title by 12 over Council Rock-North as 2nd man Greg Williams crawls across the finish in 50th (below) after sharing the led through 2.5 miles. He finished 4th for the team. Teammate Ian Gottesfeld wins in 16:04.
Gut Check for Greg Williams saves win for Henderson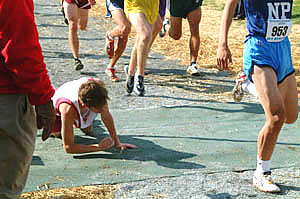 US#14 Wyomissing girls tally just 37 points, 84 better than 2nd place behind 4th and 5th place finishes of Debbie and Amy Huss. Eisenower's Heather Wilmoth goes 18:57, a time matched by AAA winner Christine Taranto, a West Allegheny senior. Hatboro-Horsham takes AAA girls crown by 100 points with 87.
Lewisburg's Chris Spooner takes AA with 16:01. Scranton Prep three-peats by 13.

AA GIRLS "One for the thumb in 03" doesn't rhyme, but it's gotta work for Wyomissing, one of the top teams in the US (#14). The squad simply took their 4th straight AA girls championship behind the Twins Huss, Debbie in 19:21 for 4th and Amy in 19:25 for 5th. Their point total of 37 was 84 better than 2nd place Gwynedd Mercy. Heather Wilmoth, the District 10 Champ from Eisenhower, which produced last year's AA boys' champ Andy Weilacher, won in 18:57, a very fast time on the windy, rolling course. Wilmoth "wanted to beat Jesi (Christiansen, 2000-2001 State Champ) once." She did at the District 10 meet last week, and once that happened, "I got a lot of confidence." Leanna Nastase, Forest Hills, was 2nd in 19:05, while early leader Kristen Groff, Lancaster Mennonite, was 3rd in 19:17.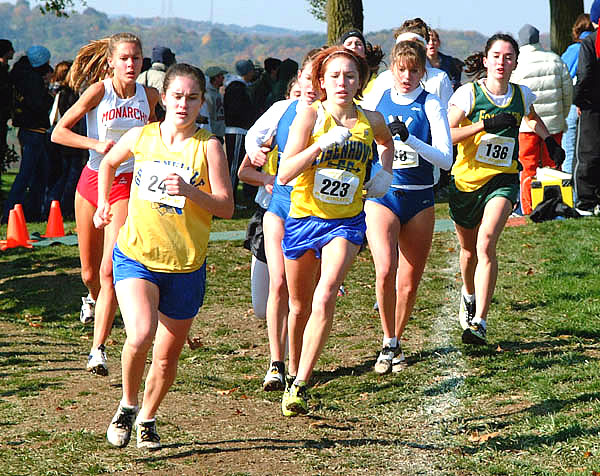 Wyomissing's Debbie and Amy Huss trail eventual champ Healther Wilmoth, 18:57, Eisenhower, and defending state champ Jesi Christiansen,
AA Boys: "My coach told me to go for the win, or to control the race. When I came through the mile in front, I said 'let's see what I can
do'" And all Lewisburg's Chris Spooner (left) did was win in the day's
fastest time, 16:01. East Pennsboro senior Ryan Blood took the
lead as they started the final stretch, but was unable to hold off
Spooner over the final 400 meters. Blood had sustained a minor
hip injury on the States course the week before at Districts. Blood
was eight seconds back. Scranton Prep captured their third
straight AA championship with 80 points, just 13 better than
Harbor Creek, which was led by brothers Brian Soder (3rd in
16:16.2) and Eric (8th in 16:26.3), was 2nd.
| | |
| --- | --- |
| | AAA Girls: Janine Ricci of Hatboro-Horsham believed her team had the talent to contend for the state championship. And she was right. Ricci did her part, finishing 12th in 19:34. Their 87 points were 100 better than Governor Mifflin. Christine Taranto (left) , the West Allegheny senior, ran a very strong 18:57 to hold off Red Lion junior Kate Papenberg, who was 15 seconds back. Taranto took a little extra rest last summer, and with two weeks under her feet, was 42 seconds back of Gettysburg Invite winner Emily Kruger, Lampter-Strasburg, who would finish 4th today. Taranto used the season to get into shape, and "went for it, never looking back" approaching two miles. |
AAA BOYS West Chester Henderson has been close to a state championship a few times in the past several years, but the last one was in 1996. They finished 2nd in 2000 with underclassmen, and dedicated themselves to making it happen in 2002. But Council Rock-North, despite splitting into two schools, made their journey interesting, winning the District One Championship by five over the US#11 team last week. This week, Henderson wouldn't be denied. Literally. Winning 83-95. As State Champ Ian Gottesfeld was crossing the line in 1st in 16:04, his friend and constant #2 runner on the team Greg Williams, was struggling to finish. Williams had shared the lead with Gottesfeld and Bishop Shanahan's Eric Fleming through 2.5 miles. But at that point, he began to feel ill. When it happened, he "thought about the team" because he knew if he went with Gottesfeld and Fleming, he may not be be able to finish. Ten meters from the line, he collapsed. "I knew I couldn't walk. So to give the team a chance, I knew I had to crawl across." First year coach Kevin Kelly echoed his team's sentiments. "He showed a lot of heart getting 4th for us today. It's why we won." Gottesfeld wanted to run wire to wire for the first time this season, and he did, using everything he had to take Fleming over the final 400 meters. As for next year, Kelly says "with the addition of couple of soccer players, we will be even better." It helps to start with Gottesfeld-Williams in front.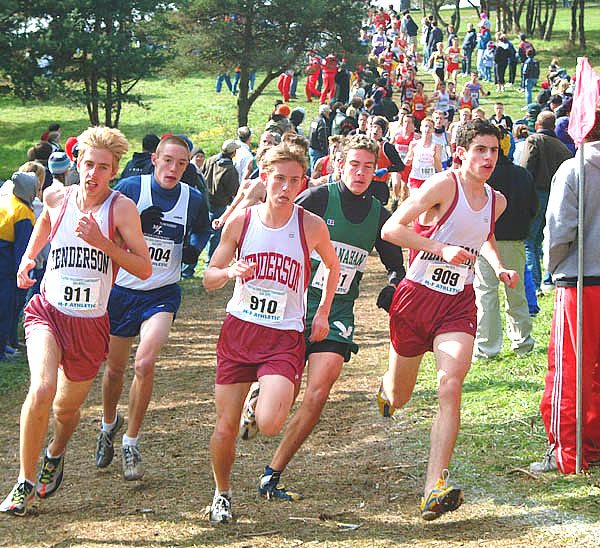 West Chester's Mike Merrick, Greg Williams and Ian Gottesfeld made an early statement at 1.4 miles. Merrick would finish 29th, while Williams, normally the #2 guy on champ Ian Gottesfeld's shoulder, would collapse with 10 meters left, crawling across for 50th and valuable points.